One Step Ahead
Legendary Trio Return To Action With Grace Under Pressure
By Bill Banasiewicz, Hit Parader, August 1984, transcribed by pwrwindows
---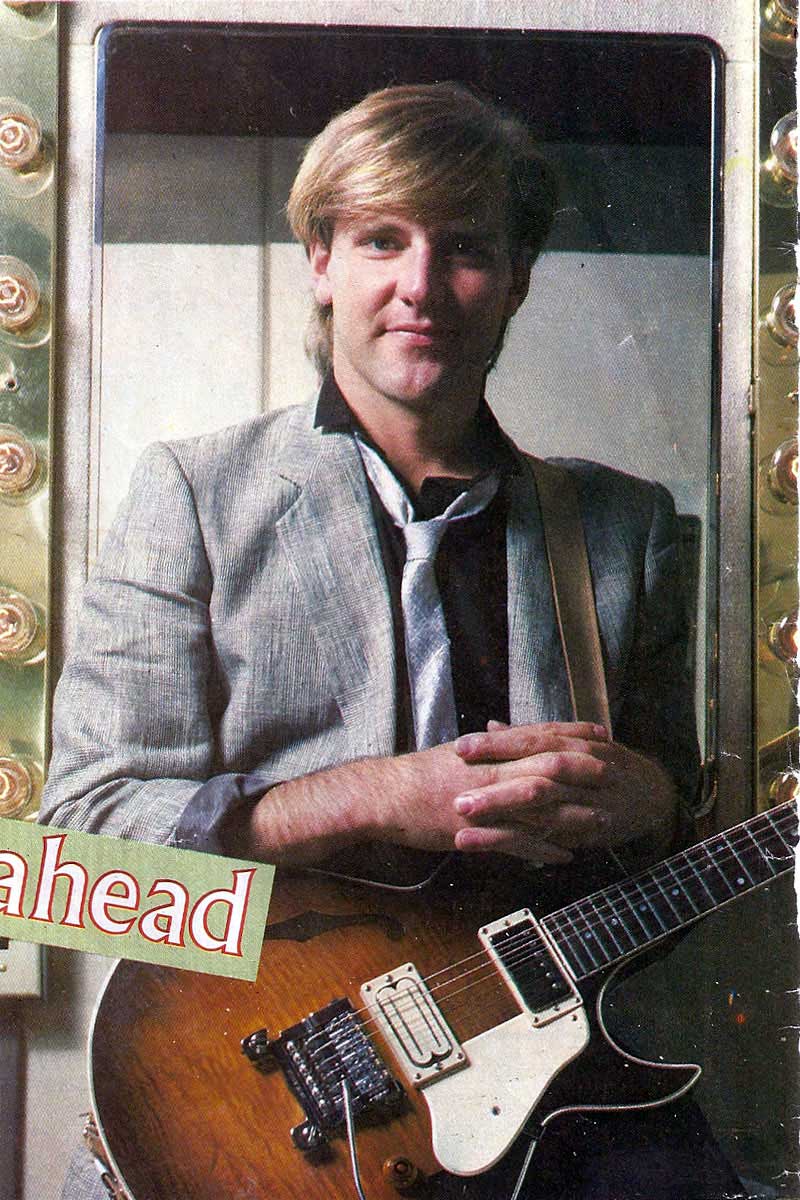 DATELINE 1976 - An angry Rush fan hacked it out with yet another Philadelphia disc jockey to have his favorite band aired. Deejay's reply, "Rush is raucous! They're awful. That band will always be a bar band." Statements like that only gave the fan renewed determination.
1980 - The fan's wish came true - Rush is on the 'Spirit of Radio', daily.
NEW YEAR'S DAY 1984 - Alter a subsequent friendship, many interviews, and some 82 Rush concerts later, that same fan (myself, of course) was invited by Alex Lifeson and Geddy Lee to travel north to Quebec's Le Studio to look in on how the band recorded their latest LP Grace Under Pressure.
JANUARY 12, 1984 - On a blustery Montreal day, Geddy Lee (complete with toque) awaited my arrival al Dorvalle International Airport. The flight was an hour late. Geddy said, "What's new, B-Man? (My designated nickname.) Neil (Peart) let me borrow his car. It's an Audi four-wheel drive turbo. It's got great pickup!"
We shot north up the freeway, a picturesque road in the middle of winter, amid many snow-covered ski trails. On the drive up we discussed the upcoming baseball season, one of Geddy's favorite topics. I interjected, "Geddy, I'm really looking forward to hearing the new tunes. I still have those three songs you debuted at New York's Radio City Music Hall last September going around in my head." Including soundchecks, I probably heard them 40 or 50 times.
''I'm anxious to play them for you. Wait until you hear the songs we've written since then," Geddy replied. "I think the material is very strong. This is the longest we've ever taken actually writing an album. I'm really proud of the new songs."
On a back road in Northern Quebec we turned off, and entered the driveway to Le Studio's homey guest house. "We'll go to the house before the studio, so you can drop off your things."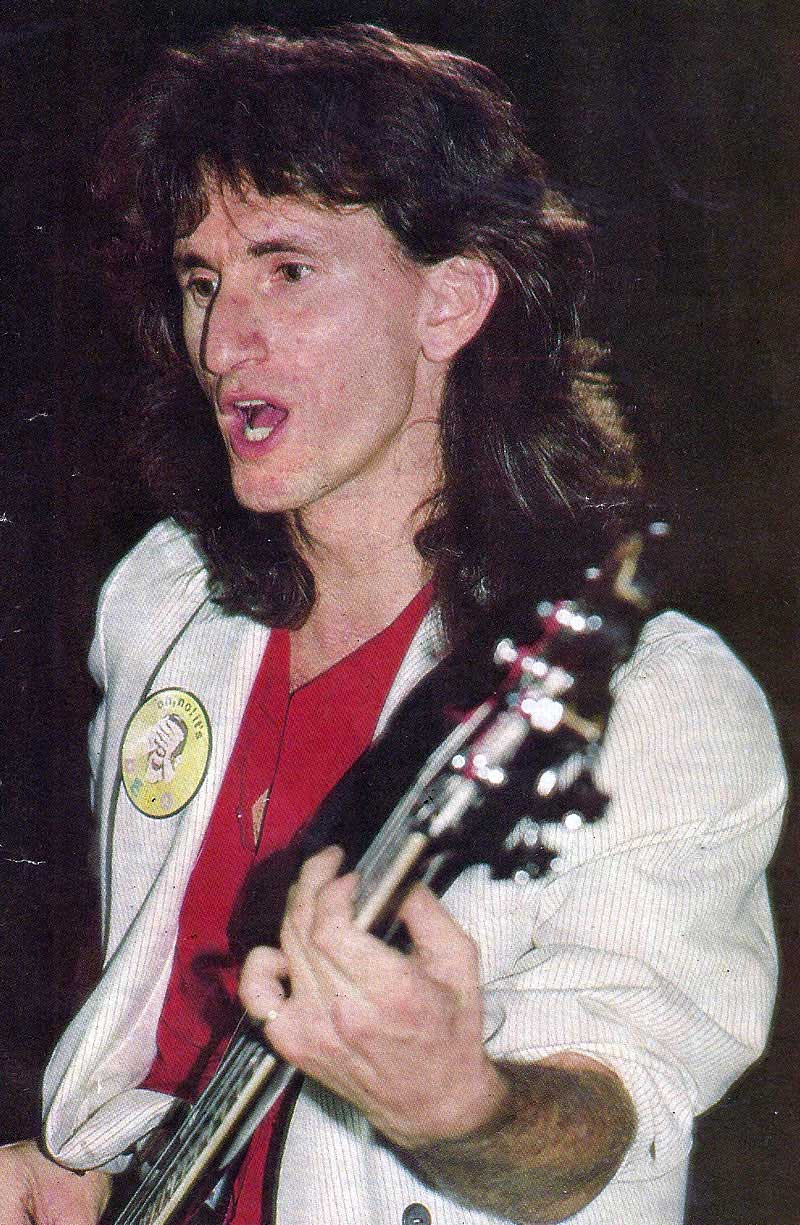 Outside, Geddy gestured to two trails atop the four-feet-plus of snow that covered everything and remarked, "That's the trail Neil and Alex cross-country ski to the studio. The studio is right across the lake." Geddy asked, "Are you cold enough yet. B-Man?" I responded, "It feels great!" My exuberance for being with my idols made me forget the minus forty degree wind-chill factor.
Driving later, we approached a beautiful wooden building standing among scenic snow-covered mountains. Walking up to Le Studio, Alex Lifeson's blistering guitar gradually got louder. I began to walk faster; after all, I am one of their biggest fans, and couldn't wait to hear the new music. Alex was working on Between the Wheels. The guitar work on the track was simply incredible! What I found out then, and what all Rush fans have discovered since is that Alex got some amazing sounds recorded on Grace Under Pressure. Upon entering, Geddy gives me the studio tour. "Make yourself at home, and feel free to ask any questions."
After a few fleeting hours in the studio, it was back to the house for dinner, where a great meal was prepared by "Awesome Andre," the famous French chef. After dinner Geddy and I raced to the television to watch the hockey game between the Montreal Canadians and the New York Islanders, broadcast in French. Both Geddy and I wanted the Canadians to win, but they lost 7-3. While we were absorbed in the game, however, Alex continued working on overdubs all night.
Friday morning saw Neil drive to Toronto to work on the album cover with Hugh Syme, while Geddy and I walked over to the studio, where Alex and co-producer Pete Henderson were working on Afterimage. Alex sat in the control room playing his guitar, with the amps set up in the vocal room. He would then hear the basic track and his guitar track through the control room monitors, turned up to maximum volume. I would just sit there with Pete, Geddy, and Alex. To see the band work together was just amazing. It was apparent that they were very close, lifelong friends. All are extremely funny, and this combined with the English wit of Henderson made for some hilarious moments. These light-hearted interludes were necessary diversions, as the amount of work that goes into the recording of an album is immense, with week after week of long nights in the control room.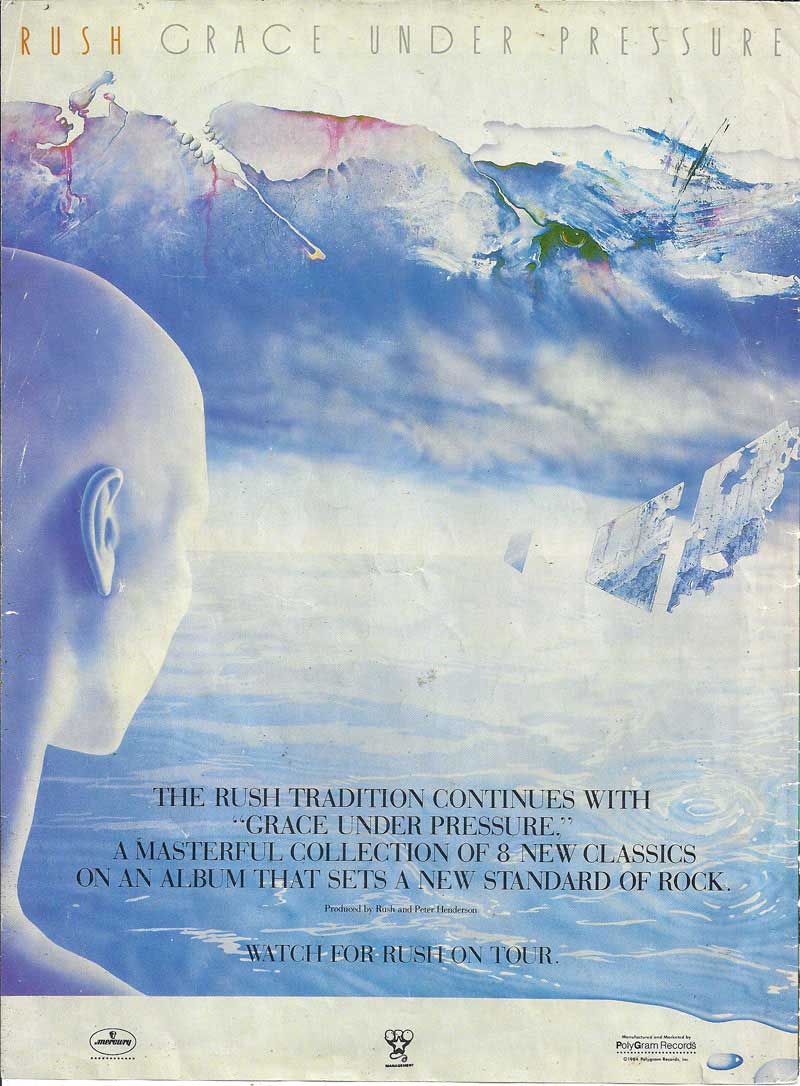 Alex continued working on Afterimage, through the day and night. It's a song that Henderson felt, "Is a track that is strong enough to stand on its own. It's a natural single."
At the end of Alex's session, Pete played me all eight songs on Grace Under Pressure in the control room, loud! Quite an experience.
Saturday morning Geddy had a glowing smile on his face. He just found out his wife Nancy would be visiting.
All day Geddy kept repeating, "It's weird sounds weekend," making reference to the fact that they were going to be recording various sound effects for the record this weekend. Anything and everything became potential sounds for the album, including noise from a television set and steam whistling through a cappuccino machine. Those sounds would then be added to the songs Kid Gloves, Red Sector A, Between the Wheels, and Distant Early Warning.
After a full day in the studio blending sounds and music, the evening meal was special. It was the birthday of Rush's synthesizer technician Jack Secret, and a great time was had by all, complete with hats and noise makers. True to form, Alex made the most noise!
On Tuesday, I got a chance to discuss the album with Neil as he worked with a marimba in the studio. After hearing Neil's lyrics, I asked, "Is it one specific person you're writing about?" Neil responded, "B-Man, do you think I'd go to all that trouble just for one person?" I persisted, "Are the songs related?" Neil smiles. "There is a thread running through them. We'll discuss them after you get the album."
This went on for a week or so - the greatest time I've ever had. The material on Grace Under Pressure is a refined musical progression, with state-of-the-art recording, and the best songs ever played by Rush.
At the week's conclusion, I was saddened to leave my friends, and their music. However, the sight of the chauffeur-driven limo to take me back eased the pain, but just a little.