A Touch Of Glass
'Power Windows' Album Review
By Paul Elliot, Sounds, October 19, 1985, transcribed by Dave Lythgoe
---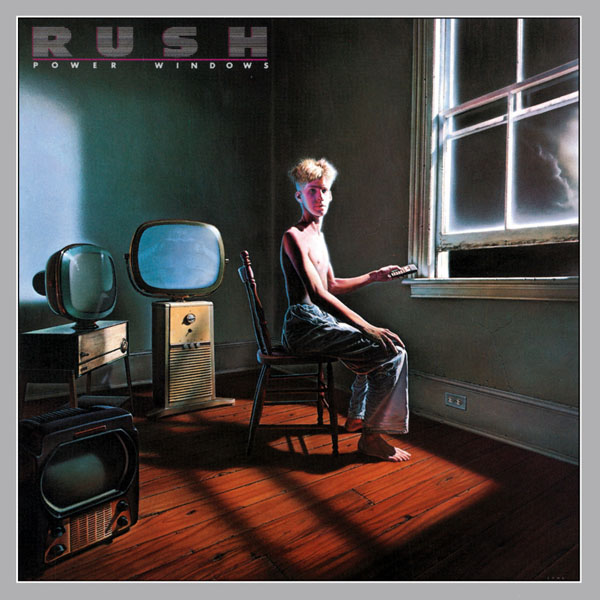 Rush 'Power Windows' (Vertigo VERH 31) (5 Stars)
Sharp, vibrant and intoxicating, 'Power Windows' is a masterstroke which might well give a long overdue poke in the eye of those who've clung on to cobwebbed preconceptions of Rush.
For, despite the complete overhaul in sound and image made since the heady, satin-cloaked '70s era, there are clearly still many for whom the mere mention of Rush's name simply stirs up garrulous indulgence, Tolkienseque lyrics, conspicuous finery and heads-in-the-sand, 'Hemispheres'-style pomp rock intricacies. This is an album to cleanse way such weighty prejudices.
'Power Windows' offers a panoramic sweep of sound, alive with graceful yet almost lusty guitars, billowing synths and typically energetic rhythmic excellence. Geddy Lee's vocal is impassioned but without the famed yelp of yore, and Peter 'Mr Big' Collins has blessed each individual song with a sparkling production that flows sympathetically with the moods invoked by both musical and lyrical sensitivity.
Neil Peart's lyrics provide a window to a world troubled by obsessive capitalism ('The Big Money'), inherent nationalism ('Territories'), and war-like aggression, ('Manhattan Project' rues the relentless search for "the best big stick"), but matters never grow too suffocatingly depressive.
Ultimately, stand-out tracks don't really emerge from a product of such uniform excellence; one which will hopefully prise open a still wider audience for Rush's breathtaking progression.