Mind Over Metal
Canadian Trio Promise Big Things On Latest Album
By Peter Ross, Hit Parader, December 1985, transcribed by pwrwindows
---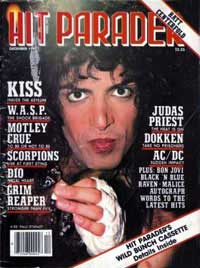 Ask 10 people to describe the music of Rush and you'll probably end up with 10 radically different answers. Heavy metal, progressive rock, power pop, and art rock are all labels that have been placed on this Canadian trio during their decade-long reign as one of the most popular - and unpredictable - bands in the world. Now, with the release of the group's latest LP, bassist/vocalist Geddy Lee, guitarist Alex Lifeson and drummer/lyricist Neil Peart have added a new chapter to one of the most intriguing stories in rock history.
"This is an interesting album," Peart explained. "Each of the records we do represents a step in a new direction for us. There is what could be called a characteristic 'Rush sound,' but we've never been limited by that. We're determined to bring new elements into Rush all the time. We're never satisfied a sit back and play it safe, and I'm quite confident that we never will."
Formed by Lee and Lifeson in Toronto in the spring of 1974, Rush went through a series of drummers before settling on old friend John Rutsey to sit in with the band for their self-titled debut LP [sic - webmaster note: this is false, as John Rutsey co-founded Rush]. Originally set to be released only in the Great White North, the Rush album's metallic riffs and wailing vocals soon netted the band a cult following in the States. By late summer of '74, the band had signed an American record deal. A tour was planned soon after, and realizing that Rutsey just wasn't strong enough to match the musical barrage provided by Lifeson and Lee, Peart was recruited from another Toronto-area band.
"Originally, Rush was very influenced by Led Zeppelin and Black Sabbath," Lifeson said. "We wanted to be as heavy as we could. Looking back now, it's a little strange to hear what we sounded like. It's so different from Rush today. But we were very proud of that first album. It will always have a special place in my heart, not necessarily for the music that we made, but just because it meant we had reached a certain level of success."
In the wake of the debut disc's release. Rush was hailed as "the new Zeppelin" by many members of the rock press who noted a marked similarity between Lee's high-pitched vocal range and that of Robert Plant. But by the release of the band's second album Fly By Night, that similarity was less noticeable. The band had replaced many of its more bombastic elements with a pop-oriented sound that seemed geared to expand Rush's commercial base. Yes, they were still heavy, but the raucous sounds displayed on such early favorites as "Finding My Way" was nowhere to be found.
Unfortunately, the group's transition caught many of the band's followers off-guard, and by the release of Caress Of Steel in 1976, many of Rush's original metal-maniac fans had deserted the band. Undeterred, Lee, Lifeson and Peart sought a more expressive outlet for their increasingly varied sound. Throughout their world tour that year, the band members would gather in pre-concert soundchecks to experiment with new sounds and song structures. The results of those efforts eventually led to the group's breakthrough LP, 2112, one of the most ambitious hard-rock albums ever recorded.
"We had reached a point where we felt we had done all we could do with a conventional song format," Peart explained. "We wanted to create something that would challenge both us and our fans. 2112 provided that challenge. It was unheard of for bands in the late Seventies to record a side-long composition. We thought we could create something that would stand up to repeated listenings while utilizing that format. And we did."
The success of 2112 transformed Rush from a struggling opening act into one of the premier attractions in the rock universe. They followed up that success with A Farewell To Kings and Hemispheres which expanded the formula first presented on 2112. In addition, the group began incorporating adventurous video presentations during their concert spectaculars. The combined impact of the group's audio and visual presentation was, in the words of one leading rock writer of the era, "a feast for both the eyes and ears."
Still, for all the band's success, they remained a favorite target of certain members of the press who cited Rush's overblown concepts as prime examples of rock's tendency to create something from what was essentially nothing. This stream of ridicule had little effect on the band members themselves, who were too involved creating exciting, new music to be bothered.
"We've always believed that everyone is entitled to their opinion," Peart stated. "The only time it bothers us is when the critiques become personal vendettas instead of music reviews. If people don't like us personally, that's their business. But it shouldn't affect their attitude toward the music."
To answer their detractors and further please their fans. Rush released a series of LPs in the Eighties which further cemented their position atop the progressive- rock pantheon. Such albums as Moving Pictures - which featured the band's first hit single, "Spirit Of Radio" [sic - that's from Permanent Waves] - Signals and last year's platinum Grace Under Pressure, displayed Rush's ever-increasing musical dexterity. They also proved that Rush could play with a power and precision that few other bands could match. Now, with their latest LP prepared to soar to the top of the charts, it seems that Rush has once again succeeded by defying convention and producing music that is unique.
"Bands that allow themselves to become caught in a creative trap are foolish," Peart said. "There is little reason that fans won't grow and expand with you if you can be creative. Rush has maintained a high level of quality as we've grown, and that is a key to our continued success. I can't see why that won't continue for many years to come."