A Parallax View
On their latest opus, Power Windows, Rush conduct an extensive study of Power and its many manifestations from two opposing perspectives: good and evil
By Keith Sharp, Music Express, December 1985, transcribed by Eric Hansen
---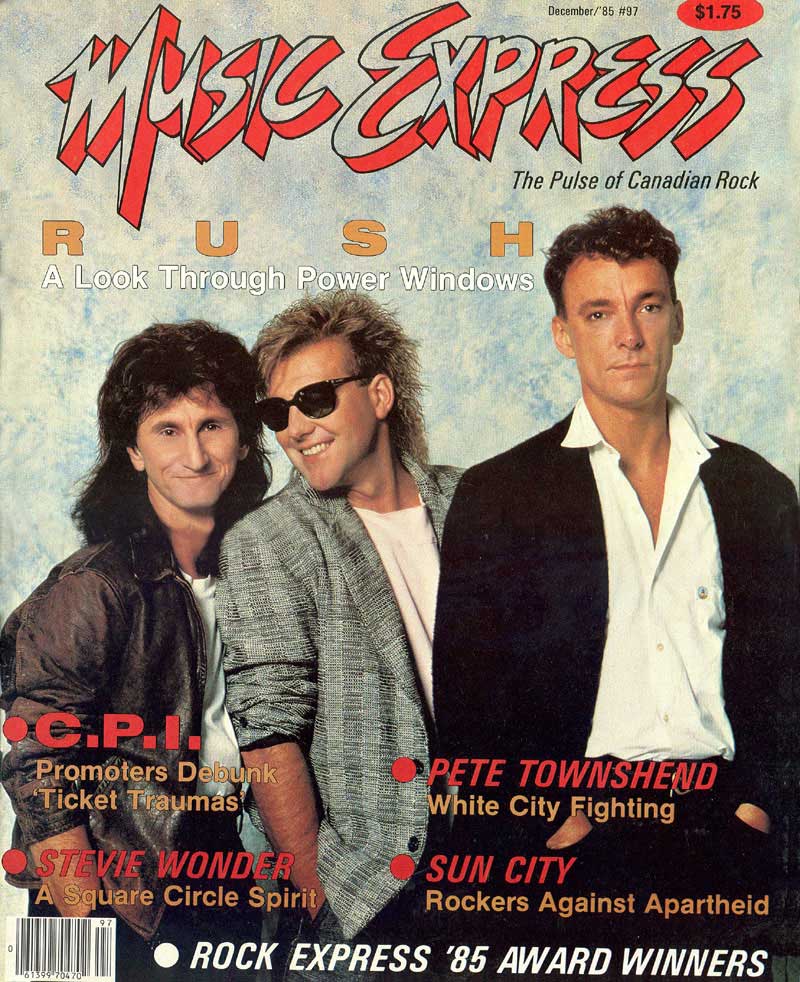 SURVIVING CHINA IS THE OMINOUSLY TITLED GUIDE BOOK that sits atop Neil Peart's desk in his neat attic study, which looks out across Toronto's Rosedale Valley. An aptly titled book, agrees the amicable Rush percussionist. Having slogged his way though some of that country's remotest terrain on a recent cycling holiday, Peart is painfully aware that there's more to China than the Great Wall and Peking Duck.
Taking a well deserved break after spending more than six months completing the group's latest opus. Power Windows, Peart teamed up with three other Canadians, nine Americans and one Australian - all total strangers - to tackle territory almost alien to most Westerners.
"We certainly got to see the negative side of China." agreed Peart. "The over-population is a real problem and the sanitation left a lot to be desired. Our leader came down with dysentery and had to be hospitalized in Peking. We all came down with varying degrees of dysentery, chest colds and head colds - there were so many germs floating around."
"The physical part of cycling was tough too, we cycled 80 miles one day, 70 miles the next, then we'd stay at small village hotels with no bathrooms - you'd arrive at the place, all hot and dusty and you couldn't even take a shower.
"We were quite a novelty to the Chinese. They don't see us on TV. To them, Western culture consists of Richard Nixon, Coca-Cola, Wham! and Rambo (First Blood had just opened in the major Chinese cities). It's quite sad to think that those things represent us to the majority of Chinese people."
Geddy Lee is looking quite sad - no, make that suicidal. His beloved Blue Jays had been ousted from a World Series berth by the Kansas City Royals and the famed Rush warbler is still fuming over pitcher Dave Stieb's fifth inning collapse.
"As soon as Stieb walked (Steve) Balboni, all the season-ticket holders around me started to shout in unison, 'Get him outta there.' But nooooo. Coach Bobby Cox sticks with him and he gives us a bases-loaded triple. I blame Cox (since departed for the GM spot in Atlanta), he coached the series like he coached the regular season, which you can't do. The epitaph on Cox's grave will read: 'Here lies Bobby Cox, Great over 161 games, tucked up over Seven.'"
Lee, Peart and guitarist Alex Lifeson have been distancing themselves from their craft, catching up with personal hobbies and taking it easy after a six-month recording odyssey which commenced last February with demo sessions in Ontario's rustic Elora Sound studios and continued on through late spring and early summer in the Manor Studio in Oxford, England. Relief came with a short safari to George Martin's Air Studio on the Caribbean island of Montserrat in May, where they laid down guitar overdubs and escaped England's incessant rain.
Success has jolted the Rush triumvirate back to reality. Power Windows and the debut single, "Big Money", have skyrocketed into the U.S. charts, which means another round of tours in support of the album.
You can almost sense the relief as Peart and Lee draw comparisons with last year's Grace Under Pressure, which was a relative stiff by Rush standards. Yes, G.U.P, was a cold, somewhat sombre ode to environmental destruction - yet both contend that the public missed the sense of optimism which they claim pervaded the album.
"I was surprised how that album was perceived by a lot of people because to me it was a balance of both sides," puzzled Peart, "'Red Lenses' balanced out 'Red Sector A', they were similar titles but they reflected an opposite way of looking at the world - both with anger, but one with defiance and one with fear. The songs reflected an angry state of human nature but there was nothing really depressive."
As Rush braved the elements of a wintry Ontario to formulate ideas for the new album, Peart parked himself at a diminutive desk in Elora Studio and started focusing his attention on his latest thesis: Power and the different aspects of power on both a grand and human scale.
"I started to make mental notes on all the different forms of power and tried to generate some concept around these ideas," explained Peart. "I was also working on improving my style of lyric writing - the saturation of imagery that I've been learning from reading some of the top prose writers like James Joyce and John Updike. It's like a progressional stream of consciousness in capturing every-day themes in a romantic way."
An earlier trip to China had planted the seed for "Territories", the pivotal track on Side Two. "The lifestyle in China is too different for us to comprehend, there was little I could parallel with our style of life. So I took a small image and translated it into a larger one," explained Peart. "China calls itself The Middle Kingdom and sets itself apart from everyone else. That mentality translates across the world. For example, every country we've ever visited always claims to have the world's best beer. It's become an in-joke with us, we laugh everytime somebody says it because we know everyone else says the same thing."
A different launch
A trait on recent Rush albums has been for the first song to stylistically and thematically be the anthem for the overall concept. This was the case with "Spirit Of Radio", "Tom Sawyer" and "Distant Early Warning". But with Power Windows, Rush opted to launch the album with the singular idea of "Big Money", as opposed to the more broad-ranged "Grand Designs", which follows.
"'Grand Designs' is probably the most appropriate opening track; we attach a lot of importance to the running order," explained Peart. 'We toyed with each alternative but in the end, 'Big Money' was impossible to ignore. Its dynamic entry smashes everything else into insignificance."
Whereas 'Big Money' shows the pros and cons of financial power and 'Grand Designs' deals with the power of creativity, the album's most controversial theme is 'Manhattan Project' which deals with the scientific power of creating the world's first nuclear weapon. This was the hardest track for Peart to write because he had to get his facts straight - not only the technical data but also the motivation of Robert Oppenheimer and his scientific staff.
"Creating the bomb was a very human event." noted Peart. "It wasn't just a bunch of faceless potentates in the Pentagon ordering the destruction of millions of people, it was a bit more complicated than that. We're talking about America's top scientific brains getting this patriotic job to help the cause of freedom, democracy and the American way by building the bomb. They couldn't say no. If they did, they'd be branded as neo-Nazi and would have been ostracized, if not executed. Once they had the power, they had to use it for fear that if we chickened out - the enemy wouldn't."
In examining Peart's other thematic ideas, "Marathon" deals with the power of going the distance - one of physical and mental endurance. "Middletown Dreams" deals with the power of following one's dreams and ideals; "Emotion Detector" addresses the power of personal relationships; while "Mystic Rhythms" deals with escapism and the power of the supernatural.
"Where there's power, there's always the danger of misusing that power," agrees Peart. "Each song addresses both sides of the argument, but overall, I think this is a lot more positive than the message in Grace Under Pressure."
With the songs in rough, demo form, Rush left Elora and relocated in England for the actual sessions, their first return to a British studio since cutting Hemispheres at Rockfield, Wales in 1980.
The selection of The Manor in Oxfordshire was made by the band's new co-producer, Peter Collins, whose previous credits included work with Nik Kershaw and Gary Moore.
"We heard about Peter from Gary when he toured with us," noted Lee. "Collins is a producer from the old school and that's the type we wanted. We wanted someone who could focus on the song, watch what is going on and tell us when the melody isn't good. A guy who would say, 'Why spend 12 hours on this when you're missing that!'"
There was some initial concern about the direction Collins would try to take Rush - they didn't want to sound like Nik Kershaw or Howard Jones. Fortunately, an understanding was quickly worked out.
"Rush is still hard rock'n'roll, we like to play hard and fast and it was something we had to make Peter understand," Peart noted. "We had to explain to him that 'Marathon' has a large instrumental part with a 7/8th in the middle - something he had no comprehension of. That was part of our value system which had to stay in our music.
'Working with Peter was an exercise in personal sacrosanctity, there were certain borders from beyond which we were not prepared to go. We weren't prepared to make compromises to make our music more commercial, but we were willing to make it more interesting."
In this respect. Collins was more than accommodating. Considered to be one of the trendier figures in the London music scene, Collins has succeeded in giving the Rush sound a total face lift. He imported keyboardist Andy Richards (a studio session player for Frankie Goes To Hollywood), convinced the band to let Art Of Noise member Anne Dudley introduce some string arrangements on a couple of tracks ("Marathon" and "Manhattan Project") and even added a couple of choral arrangements.
"Peter insisted on using Anne Dudley, the string arrangements and the choir," noted Peart. "He wanted us to use as many different sounds as possible and change the effect to some degree."
"Watching a 30-piece string section play Rush music was bizarre to say the least," explained Lee. "We thought it was hilarious. But at the same time, we're going up to Anne and saying, 'Score these while you're at it.' The choir was pretty strange too. All these pregnant women and middle-aged men singing our songs."
London an influence
Lee feels that just being in London for such a long time had a direct influence on the progressive music that's featured on Power Windows.
"There's no doubt that London is the capital of contemporary rock," enthused Lee. "It's so competitive, there's so much music being created in such a comparatively small area and there's a lot of brilliant people to work with. Just listening to British radio gives you ideas."
Of course, all the string arrangements and choral infusions are bound to create headaches when it comes to a live performance. But this time, Rush didn't allow such problems to impede their sessions.
"In the past, we'd be thinking, 'Can't do that live - stop! Won't be able to reproduce that arrangement - stop!' This time we said to ourselves, 'Let's worry about that later,'" explained Lee.
"I think technology has caught up with us," added Peart. "With all the emulators and presets and synthesizers available to us, it is possible to reproduce almost any sound on stage - it's just a little more work. We're still basically guitar, bass...and drums. It's just that now we've added a whole new level to our music."
In between the main sessions at The Manor, mixing at Sarm East and special sessions at Abbey Road and Angel Studios, Rush took a brief excursion to Montserrat, where Lifeson laid down the guitar overdubs.
"It was like a carrot being dangled in front of our noses," laughed Lee..."'Come on, boys, do a good job here and we'll go to Montserrat.' It's something we'd talked about doing when we were recording in the freezing cold of winter in Morin Heights, Quebec but all we ever did was talk. This time though, we said to hell with it - we're going,"
Many groups (including Duran Duran) had become unhinged in Montserrat and found the opulence of the island was not conducive to serious work. Rush, being true-blue Canadian lads, ignored most of the temptations and treated the experience like any other sessions. "The studio had its own bartender and he was always trying to give us one of those tropical drinks," smiled Lee. "We literally had to kick him out,"
Despite the high-gloss production, Power Windows still maintains the kick-ass rock'n'roll punch of earlier albums, yet avoids the dinosaur brand by being in step with '80s technology.
"I would say the biggest change is our focus on melodies," noted Lee. "We're not locked into those rambling. 20-minute, instrumental concepts anymore. We're more receptive to more condensed ideas that have a sharper focus. It may not sit well with some of our more heavy-metal oriented fans and we probably lose a chunk of them with every new album. Yet, I like to think that our hard-core fans are still with us and that we're picking up new fans all the time."
As Power Windows begins to assume a lofty position on the world's charts. Rush prepare for the inevitable circus of videos, interviews and live performances. All three being family men, the prospect of spending six to nine months on buses and planes away from their families is hardly an appealing prospect. Yet, the exhilaration of playing a new album on stage is adequate compensation.
Videos are a waste
"The thrill of playing is still there," notes Peart. "Composing and creating is still the big thrill and mixing the album is the biggest drudgery. Yet there's always this big anticipation about how the music will sound on stage. This is the motivating factor for us to continue touring."
For someone who likes things to be constantly under control, Peart finds the actual exercise of touring to be a nerve-wracking experience. "Walking into a hotel lobby and battling crazy, excited people is not natural and not right. I've never gotten used to it. All the pressure from so many people to do so many things which have got nothing to do with the show. You want to keep your mind on the performance at all times. After playing for 10 years, you've got standards to maintain and any distractions can hurt you."
Peart is not big on videos either, saying they are a waste of money considering the limited attention span they generate and the quick burn-out factor which can prematurely ruin an album's potential.
"Your average video is shown for a few weeks and then tossed away - it's a big waste," fumed Peart. 'We did four videos for Grace Under Pressure and only one got a reasonable amount of exposure. The rest were a total waste of money, time and effort. What's even more disturbing is that the major video channels like MTV are starting to cut videos down to a running time of under four minutes. They've already butchered our 'Big Money' video to the point where it doesn't make any sense."
Considering that Rush has become a Canadian institution during the past 10 years, it is still public acceptance which spurs on their collective creativity. The public's favorable response to Power Windows injects more adrenalin into the Anthem juggernaut.
"The bottom line is that you want people to like your work and you want the albums to be an honest representation of your craft," analyzed Peart. "A new album is like sending your kid out into the world. You're worried about it but you want it to do well."
"In my mind, our albums are like Alfred Hitchcock movies," adds Lee. "Some are brilliant, some are not - and some are just a technical exercise."