Rush Confronts The Big Money
By Richard Hogan (Longplayers column), Circus, January 31, 1986, transcribed by pwrwindows
---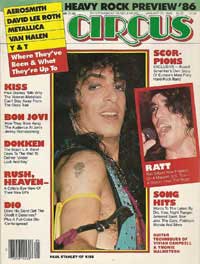 Rush - Power Windows
(Mercury)
It's almost unbelievable that the high-tech music of Rush's latest album actually had its inception at a humble barn and farmhouse in southern Ontario. There's so much sonic dazzle in the eight songs of Power Windows, you'd imagine Rush would have frightened the cows browsing near the outbuildings. Yet Elora studios-the rustic 24-track facility where the band convened to pull its 13th LP together - proved a sound choice, setting the stage for the most fully fleshed-out record this Canadian trio has ever made. Name an embellishment, from bongo drum to computerized synth; chances are you'll find it on Power Windows.
Indeed, the richly textured compositions sound as if they've been fussed with and worked over, scissored, layered and rearranged as if in the hands of some musical hairdresser. Singer and bass player Geddy Lee has said that his trio's slogan during the six months it took to make the album was "Let's not hold anything back." Obviously, they didn't. From the 30-piece orchestra that appears on two songs to the 25-member choir which augments band and strings on "Marathon," Rush has spared no experiment and no expense (including the use of at least seven recording/mixing/mastering studios) in this lavish, high-voltage production.
Beneath the maze of hi-fi sound, Rush's musical foundations remain strong. Geddy Lee and Alex Lifeson keep a tight line on melodic structure - especially in the choruses, where the tightly packed words by drummer Neil Peart mesh with the tunes most effectively. "Grand Designs," "The Big Money" and '''Emotion Detector" have more hooks among them than a shipful of one-handed pirates. In fact, "Grand Designs" is probably Rush's best marriage of music to lyrics yet. And Lifeson's hypnotic music to "Mystic Rhythms" becomes more haunting thanks to the sparkling images in Peart's refrain: "under northern lights...or a canopy of stars."
But Rush has a darker side, one that will never make Power Windows the life of your next party. The pessimism of "Manhattan Project," which chronicles the nuclear devastation of Hiroshima in 1945, can only revive bad memories, and may well leave those who listen closely to lyrics cold.
Musically, however, "Manhattan Project" remains a striking segment of Power Windows: a diatonic, Beatles-like piece that breaks suddenly into a soaring chromatic guitar solo. This is a tension-shattering move by Lifeson that evokes the shift in the world's power structure after the Hiroshima/Nagasaki debacles. Judging by the deftness of this particular arrangement, Rush has secured its own window view on musical power. And if the band can sweep away some of the studio clutter, it should never be any other way again.