A Conversation With Geddy Lee
By Lisa Fantino, The Music Paper, May 1986, transcribed by pwrwindows
---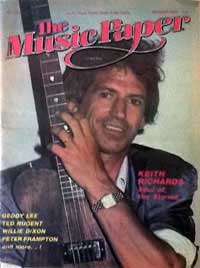 On a day when New York City is overgrown with foreign dignitaries, presidents and prime ministers, holding court nine floors above Manhattan's hustle and bustle is one of rock's most prominent, yet elusive, figures. Geddy Lee of Rush rarely grants audiences to the press, so I seized the moment, acknowledging the opportunity as an honor reserved for few journalists.
As I waited in the lobby of a palatial hotel, thoughts of intelligent questions raced through my mind. What do you ask a rock star of the highest magnitude, a leading figure in one of the industry's most successful bands? "How did you, uhm, get into rock 'n' roll?" just won't do! So I relied on years of experience and a bit of research to pull me through a most interesting discussion.
Top security prevailed. A phone call, an escorted elevator ride and there I was being introduced to the man whose identifiable voice is somewhat of a trademark for Rush.
So let's get right to it (after a few sips of Perrier). What is behind the majestic sounds of the band's latest album, Power Windows?
"There is a lot of synthesizer, but the synthesizer is of a higher quality and there's more innovative sounds," says Geddy. "And there's been a lot of effort to bring the guitar out to be more contemporary sounding in some ways."
The band's singer-bassist says previous albums Signals and last year's Grace Under Pressure were transitory records that helped bring Rush to a new sound. He maintains it is part of a natural ten year progression and says the creative forces that came together for Power Windows were a good blend of Neil Peart's lyrics and Geddy's and Alex Lifeson's music.
The band's partnership is one that has weathered the tides of the fickle music business; dozens of gold and platinum albums prove that. Their musical goals have always been focused on entertaining an audience but the steps to that end have changed over the years. As they developed and refined their musical talents, a new priority entered the 'moving picture' so to speak.
"It seems to be more important to us to get better at songwriting than concentrating on the technical side of things now. That seems to have taken a shift," says Geddy. "It used to be musicianship first, songwriting second, now it's sort of songwriting first, musicianship a very close second. It's still important to us to be musicians and to play real well - those values are always there - but we're more challenged now by the songwriting thing because it's not as simple to figure out."
There's sort of a matching game that goes on to put a Rush album together. Neil is off writing words, usually about substantial issues like nuclear war or "Big Money," as their latest single is titled, and Geddy and Alex are together creating melodies. Then they take one from Column A and one from Column B until the pieces fit. However, there is a rare occasion when synchronicity occurs, such as with the new song "Emotion Detector." The tunesmiths and lyricist were in separate rooms creating simultaneously and they developed two halves to one song. Geddy says it doesn't happen often, but "Emotion Detector" came together almost effortlessly.
In addition to the writing chores, Neil plays drums, Alex plays guitars and Geddy handles bass and synthesizers. He is alone on stage with his sequencers, but he occasionally gets a bit of help in the studio. Producer Peter Collins suggested Andy Richards for the Power Windows sessions and Geddy says it worked out really well. "His input was really refreshing and a lot of the parts remained the same and I played them," recalls Geddy, "and at the same time, a lot of parts he improved...so it turned out to be a lot of fun and I could use him as my hands."
The Canadian-born musician is modest about his keyboard talents and maintains he is more of a synthesizer player than a piano player, so he was delighted to work with someone like Andy who quickly programmed parts he had only envisioned. The two agreed on musical ideas and even instruments. They used a PPG 2.3 and a Super Jupiter on the album with a Yamaha QX1 as their main sequencer. That's a lot of equipment in a studio but what happens when the band hits the road?
"I'm going to try to use every sound," promises Geddy. "I may not use all the same equipment to get it, but I'm gonna try to have most of the sounds. I mean there's inevitably gonna be little things lost. There's gonna be some details that are strictly studio...There will be some differences. And little pieces that help the record don't necessarily make any difference in a live situation to the song. I'm not gonna feel the pressure to reproduce some little detail that is gonna be lost in the confines of an arena anyway."
The opportunity to see Rush perform live may be reduced in the future, however. Geddy says they will be touring less for a number of reasons. Life on the road isn't really good for the home environment and the band doesn't want to overplay its hand. Geddy believes moderation is the key to keeping the band fresh.
"We like to tour and we like to play live," he says, "and there's nothing as thrilling as getting up in front of a live audience, but there's no point in doing that if you're just on automatic pilot."
Robots, however, could never generate the sound and energy that Rush does on stage. Whether you're a fan or not, you must give credit where it's due and most industry people would agree that Geddy, Alex and Neil are musicians' musicians. They rank in the top of players' polls and that's a position that Geddy cherishes.
"That's really important to me," he admits. "To be appreciated by other musicians. I think that's the greatest complement because when I started I didn't start out as a songwriter or as a rock personality or anything like that, I just started out as a musician. That's what I am first and foremost, so the appreciation by other musicians is tremendously important to me."
The past is golden (and platinum) for Rush and the present is just as bright. With the charting of "Big Money," Power Windows could be the band's most commercially successful album yet. Geddy says they have arrived at a new sound but he's not sure how long the current influences will last until the next time around. As for the future of Rush...who knows? Will they be around for another decade?
"I have no idea, I'll probably be locked up by then," predicts Geddy, "It's hard to say. I'd be real surprised if we're together in ten years, but you never know; stranger things have happened."