Here's To The Winners
Peart Drum Giveaway Results
by Neil Peart
Modern Drummer, October 1987
---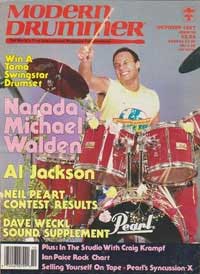 Well, I have to tell you, this has been a very interesting and rewarding contest! 1,767 entries - from places as far off as Zimbabwe and Finland - came flowing into the offices of Modern Drummer. They represented many different styles and approaches. One of the more unusual entries was sent in by a female drummer with a minimalist credo: The whole tape contained just a single tom beat. Boom. She should have known I am not one of those who believe that "less is more"!
The first time around, each of the tapes was listened to by the individual editors of MD. Once the entrants were narrowed down to about 150, these were listened to by a panel consisting of Ron Spagnardi, Editor/ Publisher, Rick Mattingly, Senior Editor, Rick Van Horn, Managing Editor, and Bill Miller, Associate Editor. Together they scored each one and then sent on the hightest-scoring 46 to me.
Then my part of it began! I sat down with my Walkman and played each one of the tapes, making notes as I listened. Also, I was careful not to listen to more than 10 or 12 at a sitting, so I wouldn't get burned out or overlook anything. I just closed my eyes and listened hard, and then I wrote down what I liked and didn't like about the performance. When I was particularly impressed by one, I put a big "star" beside the name.
After I'd listened through once to each of them, I went through my notes, choosing the "starred" ones for reevaluation, and checking to see if any of my written comments on others seemed to merit a second listening. After this, I was left with a lucky 13 semifinalists.
I have to say that I was very impressed with the overall quality of these 46 performances. In the little paragraphs that I wrote about each tape, almost every drummer got a good review. (You won't find that out in the real world!) All of these players had very good technique, very musical sounding drums, and there was plenty of imagination and excitement. There is no question in my mind that there are a lot of very good drummers out there.
The question might be raised: What did I judge them on? I must admit the criteria were necessarily pretty subjective. Of course, I was aware of technique and ability as I listened, but what moved me and the other judges, too, I'm sure, were more subtle qualities of imagination, rhythmic feel, and arrangement. I listened through those 13 tapes once more, this time a little more critically, and once again made notes as I listened, this time a little more analytically. That got me down to four finalists - and now the judging got really tough. I listened to those last four again and again - but I just couldn't decide. I really liked then all, each for different reasons. They really couldn't be qualitatively compared. Sure, one of the things I'm happiest about is that these final four were all so different in every way - in musical style, indiviual style, and overall approach. But it didn't make deciding any easier.
For three days, I just kept coming back to those four and trying to make up my mind - which three, and in which order? They are all great, but none of them is entirely the perfect choice. Who should be number one?
Well, I decided, there really can't be a number one. What I have here before me are four number ones. But I only have three prizes. So what else? I'll have to get another prize!
At this point, I decided to call my good friend Lennie DiMuzio at Avedis Zildjian, to see if he might be willing to help me out in this. Sure enough, Lennie came through for me, and now there is a "Fourth First Prize" - consisting of a set of Zildjian cymbals. My sincere thanks go out to Lennie and the good people at Avedis Zildjian for their help in this (and other) matters.
In keeping with the idea of "four number ones," my ranking of these four is somewhat arbitrary, based on the slenderest of prejudices, as is the awarding of the prizes, so I won't degrade their efforts by that kind of distinction here. These are some of the reasons why I like the winners.
The entry by Jack Hess of Indianapolis is very original, in that he spiced up his performance by triggering occasional synthesizer sounds. He was one of a few entrants to think of this - a very imaginative idea, but he was the one to carry it off the best. He obviously spent a great deal of time working on this piece, and the work pays off in the tightness and integrity of the whole performance. The playing is first-rate, the rhythms are very modern, and the dynamics are effectively varied both by tough and by some tasteful rim playing. Overall, it's an excellent piece of music, and it is very satisfying to listen to.
I like the one by Wayne Killius, because it has such a nice approach to a traditional, but abstract, form. His playing demonstrates a lovely touch. It is also one of very few to use a bit of brushwork - and is very musical and unusual. The groove is very sophisticated, based around a funky, walking kind of rhythm, and there are some great sections of what I call "stiff-armed" syncopation - a difficult style to control so smoothly. This is a superbly restrained and deceptively simple piece of work.
Mark Feldman of New York City sent in a nice tape also. I liked the dark mood, the interesting construction, his smooth technique and combinations of nice tonalities. I thought it was technically and rhythmically quite sophisticated and very smoothly performed. Again, this is not an easy style to pull of as well as Mark has done. The refrain of the intro is a tasteful idea, and frames the whole piece nicely, making it, like the others, truly a piece of music.
The fourth one - one I just couldn't leave out - is by Mikel Masters of Clearwater, Florida. I was impressed most of all because it is such an exciting solo, but it also shows great technique, is smoothly delivered, and is thoroughly bombastic and overplayed. I like that! The arrangement revolves around an excellent melodic tom pattern, and I like the sound of his drums very much, too. Part of my second set of notes reads: "interesting, original, flashy..." and that about captures this one, a very flamboyant and exciting performance, firmly in the Gene Krupa tradition.
HONORABLE MENTION (in alphabetical order) Each of these was an exception entry, and if I'd had more drumsets to give away, these people would surely have gotten one, too:
Terry Carleton, Palo Alto, California; Scott Cutshall, Meadville, Pennsylvania; Roli Garcia, Laredo; Texas, Christopher Gately, Haverford, Pennsylvania; Kevin Hart, Bourbonnais, Illinois; Scott Hobgood, Norman, Oklahoma; Jari Kettunen, Iisalmi, Finland; Joey Nevolo, Neptune City, New Jersey; Yuergen Renner, Roosevelt Island, New York
---
Webmaster notes:
First prize (Red Tama kit used in the recording of Power Windows, Grace Under Pressure, and Signals, as well as the subsequent tours) went to Jack Hess. Click here to read Neil's congratulatory letter to Jack Hess, dated July 17, 1987. Jack Hess later sold the kit for $26,100 on ebay.com, Aug. 17, 1999. The kit would appear on ebay without a buyer at least two other times before selling again on ebay May 2nd, 2003 for $14,621.12. The buyer, Ian Coley, later sold the kit to Mereley Players [sic] author, Robert Telleria, who was reportedly attempting to restore the kit to its former glory.
Third prize (Chrome Slingerland kit used in the recording of Fly By Night, Caress Of Steel, 2112, All The World's A Stage, as well as the subsequent tours) went to Mark Feldman. Mark sold the kit and used the funds to found BANG! The Drum School in 2009.