In The Beginning...
The Story Of The Discovery Of Rush
by Donna Halper, circa 1998
---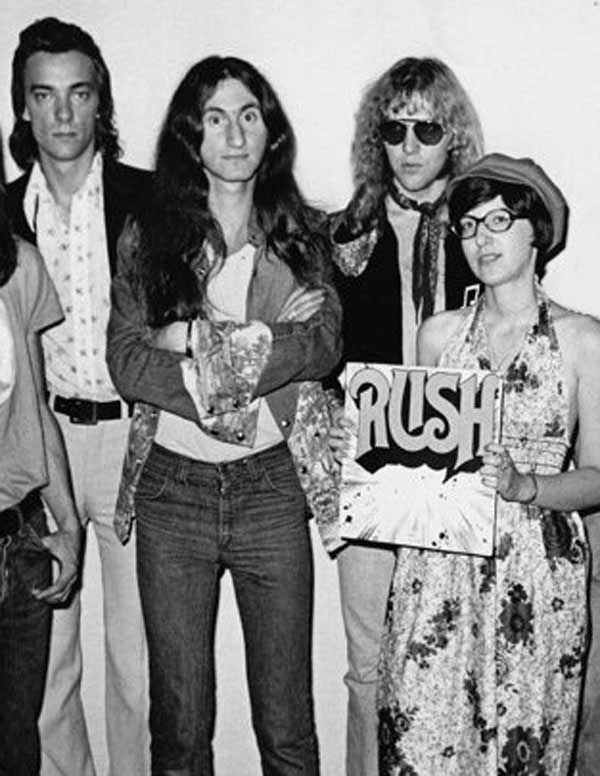 Neil Peart, Geddy Lee and Alex Lifeson with Donna Halper, 1974
A number of people on various newsgroups have asked that I tell the story of how I met and discovered Rush. It is a story I don't tell very often, because it might sound vain or egocentric. I told the story to a couple of reporters and writers, and a very condensed version has appeared.
It was 1974, and I was alone in Cleveland. I don't mean that to be dramatic-- it's part of the story. I was working for an album rock station, WMMS-FM, which had just begun to become the powerhouse rocker it would be for many years. When I was hired, I think the staff expected a 'hippie chick' type, because that's how most women in AOR were type-cast back then.
So, there I was, far from Boston (where I grew up), in a city where I didn't know anyone, working for a station where partying was a way of life. Almost immediately, I felt totally out of place: I mainly had come to Cleveland to play rock and roll and to be the station's music director. I am not a partier by nature-- actually, I'm rather shy unless I'm working. Being on the air never scared me: being in a room with people I don't know and am expected to say clever things to still makes me uncomfortable. Add drugs into the mix, and I was REALLY uncomfortable. But there I was, and I was determined to somehow make my time at WMMS work out in a positive way. But it became very clear to me that the staff found me rather strange (an album rock d.j. who teaches Sunday School was not the norm). Luckily, being a music director was a very time-consuming job, so I was able to keep busy listening to all the albums that WMMS got every week and choosing the ones I would call to the attention of the airstaff.
I had always gotten along well with record promoters, because I loved to play new music and give new bands a chance. And I was especially interested, for some reason, in Canadian bands. In Boston, I had been among the first to play Bruce Cockburn, Murray McLaughlin, and several French-Canadian groups. As a result, when I moved to WMMS, the Canadian record promoters kept sending me product, in the hopes that I might hear something I liked (I had always been told I had a good ear for hits). One day, I got a package for Bob Roper, an old friend who worked for A & M of Canada in those days. In the package was an album and a note. The album had a sort of 'home-made' look, and the note explained that this band was local (Toronto), but that none of the Canadian labels-- his included-- had any interest in signing them. In 1974, Toronto radio was going through its 'wimpy mellow-jello' phase, and hard rock got little airplay.
The group had put out their own record, as a result, on Moon Records. As a courtesy to Roper, who didn't normally send me something he didn't personally believe in, I put the album on my record library turntable. I'd like to say I was immediately impressed-- I wasn't though. The single was "In the Mood," and I just didn't hear it for our station. But there were some longer tracks, and we were an album rocker, so I dropped the needle on a track called "Working Man," and suddenly I understood why Roper believed the band had potential. The vocalist (I didn't know their names then) sounded a bit like a Led Zeppelin clone. But the band had a certain energy that I knew was perfect for our audience. When I listened to another track-- "Finding My Way," I was convinced of it. I took the record downstairs (my record library and small office were upstairs; the studios were downstairs) and walked in on Denny Sanders' show. Denny also had a good ear. I asked him to listen to something-- and he put the cut I showed him (it was "Working Man") on cue and listened to it through his headphones. It didn't take long for him to have the same reaction I had. He asked who the band were and where they were from. I said I didn't know much about them other than that they were from Toronto. My love of Canadian music was a standing joke at the station, but in this instance, Denny agreed 100% that this album deserved to be played NOW. And he did play it. That is how I can say with certainty that the first Rush song ever played in the US was in fact "Working Man" because I was there, I handed it over to Denny, and he played it. Almost immediately, the phones lit up with people asking when the new Led Zeppelin album was coming out (sigh). Denny explained that it was some new Canadian band, not Led Zep.
Cleveland fans were heavily into imports, so right away, the question came up as to was this record available. Well, it was early evening, and as far as I knew, I had the only copy, so the next day, I called Bob Roper to thank him for the interesting new album, and to ask him how i contact their management to get some import copies into a record store in Cleveland. He gave me the names of Ray Danniels and his partner Vic Wilson, and I called them right away. To be honest, I don't recall which one I spoke to first-- I think it was Vic-- but suffice it to say the band's managers were totally shocked to get a call from a big album rocker in the States. They told me nobody in Toronto would give them any airplay, and they were really grateful that they were getting some spins in Cleveland. They had no idea how popular the song "Working Man" would become over the next few days; we added "Finding My Way" too, and also "Here Again." And, yes, "In the Mood" got a few plays too. The requests kept growing, and suddenly, I was getting phone calls from record stores. I asked Vic and Ray to send me down some copies of the album, which they did. The big import store was "Record Revolution," and the manager, whose name was Peter, sold out of the few copies he had fairly quickly.
Meanwhile, a concert promoter who watched WMMS's playlist very carefully, Jules Belkin, noticed the sudden addition of a band he had never heard of, and also noticed that there was a lot of reaction to the band. He called to ask me if I would put him in touch with the band's management, and suddenly, I was the conduit that was getting Rush music into the stores and getting Rush themselves to come to Cleveland for a concert-- it was to be their first trip to the States, I believe. Memory can play tricks on us, but I have several very clear memories of my first meeting with the band. Immediately, I felt like their Big Sister. They were so young then-- very new at the 'rock star' game. I wanted to make sure nobody would take advantage of them. I was very impressed with what nice guys they were; I had met my share of musicians over the years (I worked for ABC Radio for almost 3 years, writing specials about music, so I had done lots of interviews with so-called 'big names'), but there was just something real about them-- no pretences, no bullshit, what you saw was how they really were. Geddy was really surprised, as I showed the band around when they first arrived in Cleveland-- just from his picture on the import album cover, people were calling out his name as he walked down the street. And when the band performed their first gig in Cleveland, people knew several of the songs and sang along. They were very nervous and very stiff on stage-- who wouldn't have been-- but Vic (who came with them on their first trip) and I stood at the back of the hall and Vic said to me, "Don't worry, we won't let you down." And they never have, to this day.
Geddy and I became friends almost immediately. I was surprised to find out that he was Jewish (I didn't know a lot of Jewish rock singers, other than perhaps Kinky Friedman), and he told me how he had gotten the name 'Geddy' from his grandmother's Yiddish accent when she tried to pronounce his real name, Gary. (Besides, he and I share the same middle name-- Lee) He told me where to go for good Kosher deli the next time I was in Toronto. He talked about his girlfriend (now his wife), about how disappointed his parents were that he hadn't finished high school, and about how he and the band had struggled for acceptance and recognition in their hometown. For the first time since I got to Cleveland, I felt as if I had made a friend, and I was glad I could help to make Geddy's dream a reality. I had always loved being a music director even when I never met the band whose record had become a hit. But now, I felt as if I was really a part of something. Geddy didn't care that I was a non-partyer, he didn't care that I didn't do drugs or that I didn't even drink. He in turn seemed to be gradually moving away from his own drinking and partying days towards getting married and living a more stable existence in a working band-- getting the chance to break big in the United States was what could get Rush airplay in Canada, you see. Back then, Canadians were still a bit underwhelmed by the talent of their own musicians, forcing many of those musicians to have to move to the States in order to get recognition (Neil Young, Joni Mitchell, etc). Once they made it in the States, ironically, they were suddenly considered 'okay'. Right or wrong, getting US airplay was giving Rush credibility.
Suddenly, they weren't just another Toronto bar band.
When the record stores stopped calling, the record companies started. Several big labels such as Columbia were interested, and several smaller ones like Mercury. They were of the opinion by this time that I was a big influence on the band (I saw myself as more of a friend, and, as I said, in some ways like their Big Sister), so they began trying to persuade me to put in a good word for their label. I ultimately did put in a good word, on behalf of Mercury Records, a label that had the time and the interest in developing them, and wouldn't let them get lost in the shuffle. The head of promotion back then was Cliff Burnstein, and he promised me he would devote large amounts of time and energy to Rush if they signed. Mercury had BTO, and they needed another rock band. Ultimately, Vic and Ray cut a deal and suddenly Rush had a label. Since time was of the essence and they didn't want to lose any momentum, Mercury decided to just re-issue that Moon album-- the only differences were that the Moon logo was in a sort of deep red colour, while the Mercury cover ended up sort of a weird shade of magenta... and the other difference was the band decided to dedicate the American release to me for, 'getting the ball rolling'. I had never had an album dedicated to me-- people often ask me if I got any money for my discovery (a finder's fee, perhaps?), but what I got, in my opinion, was much more important, namely, a friendship that sustained itself for years.
The story of why John Rutsey left the band has been told in a variety of versions, but suffice it to say his health was a large part of it. The band auditioned numerous drummers, and I am told they chose Neil because they felt his style was more British (kind of like Keith Moon) and very creative, as well as because he enjoyed writing songs. But the next time the band came to Cleveland, there was an interesting little drama. Geddy and Alex and I were already friends; Neil seemed a bit stand-offish, almost rude. He seemed to resent my relationship with the other two. I then found out that for some reason, Geddy felt intimidated by Neil-- somehow, Geddy was convinced that Neil was more intelligent and more articulate. I reminded Geddy that Neil hadn't finished high school either, and I became determined to get to know Neil better so that I could do my little part to help them communicate better. I would be lying if I said to you that I personally brought them together as friends-- time and getting used to each other's styles probably did that all by itself. But I invited Neil to my apartment and we talked for hours; among the subjects was that Geddy and I had both noticed that Neil seemed to have a very strong contempt for SOMETHING-- and we hoped it wasn't either of us... Turned out that Neil has a basic personality where it takes him time to get to know people, and it has to be when HE is ready.
I was glad I had invited him over, and it turned out he can be very pleasant. He is also very loyal. Once he realised what I had been doing for the band, he evidently decided that I was okay, and to this day, when I see them, Neil is always cordial to me and when I brought my step-daughter backstage once, he couldn't have been nicer to her, and no he didn't know either of us was coming back to say hello. He just spontaneously gave me a hug and talked with my step-daughter for a couple of minutes. She never forgot it. I do not agree with some of his attitude about women-- my perception of him was that he felt men were definitely superior-- but he always treated me with respect, and I treated him the same way. It probably sounds like a cliche, but in this case, we all did work it out, we all did learn to take our personality differences and get along with each other. Geddy learnt that he could stand up to Neil. Neil learnt that sometimes he sounds a lot more abrasive than he means to. And I had the privilege of watching it all unfold, and facilitating some of it. I got a mention on the inside sleeve of the second Rush album (Fly By Night), an album with several songs that showed immediately Neil's impact on the band. And yet, for me, Neil was just the next step in the band's growth. Geddy and Alex had no intention of being a Toronto bar band. Both liked to write, both had many ideas for songs, and they wanted Neil in the band precisely because of what he had to offer.
It was exciting to hear some of the new material performed live for the first time. It was great to get back stage anytime I wanted to. I saw Kiss without their makeup (the band was booked on the Kiss tour several times). I saw the gig where ZZ Top became irate over how enthusiastic a reception Rush, the opening band, was getting, and when Rush tried to do an encore, ZZ Top's people disconnected their amps... I met Howard "Herns" Ungerlieder, and the rest of the wonderful Rush road crew. I saw the band become famous and yet never change much from the guys who were so down to earth back in 1974. Yes, they are more polished now.
Geddy doesn't worry as much-- the inspiration for the song "I Think I'm Going Bald" was that sometimes Geddy would worry so much that his hair would fall out in clumps (alopecia). As time passed and their fame spread from Cleveland to other cities, Geddy no longer had so much to worry about...
So that's my story and I'm sticking to it. Thanks to Rush, I was able to escape from Cleveland-- Mercury Records decided that if I could find one excellent band, perhaps I could find more, and I became the first woman Director of Artists and Repertoire, working back east in their New York office. I got free trips to Canada, limousine rides, and lots of free lunches and dinners. I never did sign another 'Rush'-- how could there really be another Rush-- and eventually Mercury closed their New York office, but it was fun while it lasted, and ultimately, I returned to radio.
How to end this story-- well, it really has no end. To this day, although we don't keep in touch as much as we once did, I know I can still go backstage and the guys will still be the same as they ever were. Perhaps that's why I feel very fortunate to have been even a small part of their success story. I have several gold albums of theirs hanging on my wall, and I have my memories of a time when nobody believed in Rush, when nobody knew who they were or what their potential was except for Bob Roper and me. It's strange how just when you least expect it, things can change so dramatically. After I discovered Rush, I had a certain level of popularity too, and although all I really did was believe in them and make a bunch of phone calls to music industry folks on their behalf, it only goes to show that one person's determination CAN make a difference. I haven't been back to Cleveland since 1975 (stopped at their airport several times on my way to somewhere else), but I can still see every hall where Rush played, I can still see Geddy and me sitting up late and talking about radio, I can still hear Vic and Ray telling me that Rush would never let me down, that my faith in them would not be taken lightly. Maybe I was in the right place at the right time, but it sure felt good to see their records become hits and to know that I was the first one to introduce them to the American audience...
I hope this didn't bore you good folks, and to those who wrote and asked me to tell it, thanks for giving me the opportunity to go back to a time and a place that changed all of us... Cleveland in 1974...
In 1980, after music and program directing in New York, Washington, and of course, Cleveland, I ended up going back home to Boston, where I work as a radio consultant, a broadcast historian, and an instructor at several colleges...