Visions
The Official Biography
By Bill Banasiewicz, 96 pages published April 4, 1988 by Omnibus Press, ISBN 0.7119.1162.21988
---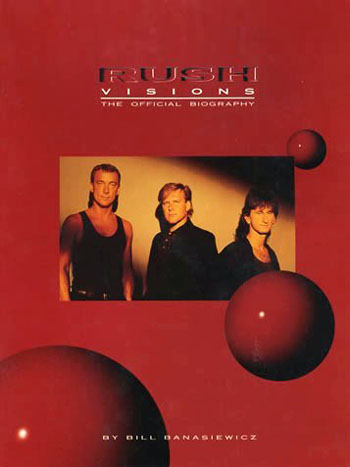 "Over the course of 16 albums and thousands of concerts throughout the globe Rush have established themselves as the most popular heavy metal and progressive rock trio in the world. Their unique blend of power rock and intelligent lyrics has won them a following as devoted as any in rock.

"This first and only official biography follows the career of Geddy Lee, Alex Lifeson and Neil Peart from their earliest days as a Toronto bar band performing cover versions of sixties rock to their most recent LP 'Hold Your Fire'. Along the way Rush have faced critical indifference with an uncompromising stance that has justly increased their popularity."
---
Chapter 1
© Bill Banasiewicz
Reprinted by Permission
All Rights Reserved
In 1968 psychedelia ruled. Flowers and guitars, protest and imagination, dominated the airwaves and the headlines. While students around the world tried to change politics, musicians expanded the way people listened. Along with the gentler strains of The Beatles, Donovan and The Byrds, another type of music was making itself heard. Bands, mainly from England, sang about young men's blues, strange brews, and being experienced, over the sounds of bass, guitar and drums. Groups like The Jimi Hendrix Experience, The Who and Cream all shared a mixture of speed, aggression and feedback.
Thousands of kids in basements from Great Britain to the United States and Canada were occupying their time trying to emulate these new sounds.
To a 14-year-old boy who played in the basement of his house on Pleasant Avenue near Yonge and Steeles Streets in the Northern Toronto suburb of Willowdale, many of the events of the late 1960's were far away, but the feedback was as immediate as the nearest amplifier.
Alex Lifeson, the son of Yugoslavian immigrants, had been playing guitar for two years. He was given a $13 Kent Classical for Christmas in 1966 and the strings felt natural to him because he had already practised with a viola and a neighbour's guitar. The first tune that emerged from his guitar was the jingle to a Noblesse cigarette commercial.
Born in the mountain town of Fernie, British Columbia, just north of Glacier National Park, his family soon moved to Toronto, into one of its many ethnic neighbourhoods.
When his good friend John Rutsey, who lived across the street, began banging around with the drums, the two started playing together. At first John used a rented kit, but eventually his parents relented and bought him some battered second hand Slingerlands. They shuttled back and forth between each other's basements depending on whose parents were willing to put up with the noise that week.
Other area kids soon joined in. Basement bands were formed. There was a whole bunch of kids who would hang out together, listening to the music and carrying equipment when needed. The first band formed by Alex and John in the Spring of 1968 was called The Projection. By the end of the summer that band had broken up.
In August, Jeff Jones came in as bass player and lead singer and a formal line-up of John, Alex and Jeff was formed. They spent their evenings and weekends trying to learn the hard rock songs of the day and scheming for an opportunity to play outside their basements.
The boys were soon able to work out an agreement to play in another basement, but this time they would be paid. Their salary was $25. The gig consisted of playing on Friday nights at an oddly named coffee-house located in the basement of an Anglican Church. The Coff-In served coffee, doughnuts and music to local teens for 25 cents a head.
The band was excited, but they had a big problem. While they had been dreaming of playing, they had neglected to come up with a name for their group. So a few days before the gig they sat around in John's basement trying to come up with an appropriate monicker. They weren't having much luck when John's older brother Bill piped up, "Why don't you call the band Rush" and Rush it was.
The Coff-In was one of many so-called drop-in centres sprouting up in Canada at the time. By telling friends and acquaintances about the gig they were able to draw in nearly 30 people for the show. They were received pretty well, and with one live performance under their belts, the members of Rush were ready for a return performance. Well, at least two of them were.
The following Friday saw their new-found careers almost come to a halt. At around 5pm, just a few hours before they were due to perform, Jeff called and cancelled because he wanted to go to a party. It was time for some quick thinking, so Alex called up another bass player he had jammed with a few times.
"Often I would call Gedd up to borrow his amp. When I called him up this time, right away he thought, 'Oh, he's going to want my amp', and I said, 'Do you think you could come and play with us, because Jeff isn't coming, we don't have a bass player, and we have this gig tonight. We'll just play the songs'."
The songs consisted of half a dozen Cream tunes that most of the neighbourhood players thought they knew by heart.
Alex later told Geddy that he would have to sing. Geddy was not thrilled about this, but as the new man on board and with lead singers hard to find, he didn't have much choice. Alex had first met him in a history class at Fisherville Junior High. Their history teacher, Mr. Bissle, remembers Alex as being "very likable, fun, outgoing and level-headed. I always had Alex sit right in front of me where I could reach him. Gary (Geddy) was more quiet and studious. He had his feet on the ground and was soft-spoken. The two of them would sit around the school playing their guitars all the time."
Geddy was excited if a little surprised by the request. He had never met John. "Alex used to borrow everything," says Geddy. "He borrowed my amp regularly and one day he called up to borrow me."
Gary is from a family of Polish Jews who survived the war and moved to Canada to start a new life. The name Geddy comes from his mother calling him Gary in a heavy Yiddish accent, which of course sounds like Geddy, and the name has stuck ever since.
Geddy had started out on guitar, an acoustic with palm trees painted on it. The first song he ever learned was 'For Your Love' by The Yardbirds. He switched instruments when his first band lost its bass player and the group elected him to lose two strings and fall into the rhythm section.
Geddy's debut with Rush in September of 1968 was solid. When they had exhausted their repertoire of the half dozen Cream songs they knew, they played them again, and then again.
After the show the trio split the $25 and went out to eat. At the restaurant they decided Geddy was in, and Jeff was out. Their first rehearsal was set for later in the week. Jeff was already playing in another band (Lactic Acid) so his dismissal was not that big a deal at the time.
When the new version of the band assembled for practice they had a rather motley collection of equipment. Along with borrowed amplifiers and other gear, they had a few things of their own. John had his Slingerland drum kit, Alex a Conora guitar. He bought the Japanese solid body for $59. Geddy also had a Conora.
"I painted my Conora bass myself. It had all these beautiful colours on it. In those days, Cream were my heroes, and Eric Clapton had this guitar that was beautifully painted, so Alex and I thought we'd paint our guitars."
Rush rehearsed as much as possible. They slowly expanded the number of cover versions they did, and tunes by Jimi Hendrix, The Who, Jeff Beck, The Rolling Stones, Blue Cheer and Elvis joined the original set list of Cream songs. Perhaps the most unusual song in Rush's sixties repertoire was Presley's 'Jailhouse Rock' sung in Yugoslavian! The band also began writing original material. The tunes usually didn't even have names; they were mostly 12-bar blues, simple in structure, almost glued together with plenty of room for solos and hollering.
The first composition that got a name was titled 'Losing Again'. Geddy and Alex wrote most of the music with an occasional contribution from John. The lyrics were made up on the spot.
"On 'Losing Again' Alex and I kind of hammered it out," John remembers. "I had an idea, and I didn't play a melodic instrument, so I kept repeating to Alex verbally what it should sound like. I had this song running through my head and I couldn't play it. We worked it out together and finally it sounded like it did in my head. That was our first song."
But with most of the songs, "Gedd or Alex would come in, have an idea and they'd start playing," says John. "They'd have a riff, or a chord, or a few bars of something and we'd all go 'That sounds good'. It would then be practised and we'd stop and say, 'Let's put this little bit in here'- that sort of thing. It was not unusual that somebody would have a complete concept of a song, a beginning, a middle and an end. The first song someone had totally written out was 'In The Mood'. Gedd came in and said, 'I've got a good idea for a song' and played it from beginning to end."
Rush continued playing with borrowed equipment at the Coff-In. For one show Alex managed to convince his friend Nancy Young to borrow her brother's Gibson Firebird guitar. Her brother Lindy came along for the November Coff-In show. Everyone was quite impressed as Lindy began fooling around on the piano. He met Alex, Geddy and John and eventually started hanging out with Rush and their friends.
Rush began to gig at other drop-in centres and high school dances which could pay as much as $40 for one night's work. But a lot of the band's playing was still confined to each other's basements.
Geddy's brother Allen says, "The rehearsals could have an unintentional comic note. My grandmother would be yelling about the noise and the band were playing so loud they couldn't hear her. They just kept jamming while she kept yelling and cooking."
Since volume was as important as skill, the band could be heard for blocks around. Allen would catch neighbourhood kids sitting outside the basement window and chase them away. Many of these kids would later show up at the Coff-In.
On Christmas Day 1968 Alex phoned Lindy Young and asked him to join Rush as keyboard player. He agreed and they rehearsed at Geddy's house every day during the holiday break.
"Rush was not a heavy metal band," recalls Lindy. "We were more like a blues/rock band. Geddy was singing in a low register and had not even thought of singing falsetto."
The four-piece Rush debuted the first week of January 1969 at the Coff-In. The show featured cover versions of songs by Traffic, Willie Dixon and Ten Years After. The band was beginning to evolve with Lindy's electric piano and vocals, according to John Rutsey.
"Lindy was a real good musician. In addition to keyboards, vocals and guitar, he played harmonica and drums on the side. He was a fine musician and the band evolved musically with his addition. We were really trying some different things for the time. We were getting into early Grateful Dead and things of that sort."
Throughout February 1969 Lindy began playing more guitar and singing with Rush. 'You Don't Love Me' by John Mayall which Rush covered, featured lead vocals from Lindy. The band were on a roll into March and April. They were the main band at the Coff-In and Alex was really coming into his own on guitar. The future seemed bright even at this early stage. Bright that is, until John convinced the others that Geddy's spotlight should be turned off. So in May Geddy was kicked out of the band. Alex, John and Lindy got Joe Perna to play bass and sing and the name Rush was changed to Hadrian.
Hadrian practised in Lindy's basement with a new admirer looking on, someone who would prove crucial to Rush's later success. Ray Danniels had frequently stopped by the Coff-In to hear Rush, so when he heard of a new band formed from Rush he insisted on booking them. He was 16 at the time and already an aspiring rock mogul. He even had a small booking agency named Universal Sounds. He produced shows at local high schools and drop-in centres.
"Ray was enthusiastic, talkative, a salesman type of guy," remembers John. "He asked us if we had an agent and we said, 'Of course not.' So we went in with him and he started to get us a few jobs here and there."
Ray soon became Hadrian's manager. "They were a part-time band playing in basements," he recalls. "But even then they were writing original tunes. That was the thing that separated them from the rest of the bands at the time."
In June Geddy founded a rhythm 'n' blues band called Ogilvie. He was actually having more success with his band than Hadrian. Gedd will never forget going to a Hadrian gig to help Lindy out with the words, since he now had to sing lead on most of the songs. He went to the Willowdale church instead of going to see the last Toronto performance of The Jimi Hendrix Experience.
During July Ogilvie changed their name to Judd. Ray Danniels was also booking shows for Judd, but unlike Hadrian, Judd were getting lots of work. In that same month Lindy quit Hadrian and joined Judd. Hadrian's last gig was at the Willowdale United Church. Joe Perna didn't play all that well, so when Lindy left they disbanded.
Geddy and his band Judd continued working hard right through the summer, while Alex and John were in limbo. They didn't know what to do. Finally in September Judd broke up. John phoned Gedd and asked him to reform Rush. Gedd agreed. Lindy was beginning studies at Seneca College so he didn't rejoin. He was also tired of performing; while he liked playing at parties, he was not as serious as the others, and they were now very serious.
During the autumn of 1969 while hanging out at Al Denokowski's house everyone was blown away by the first Led Zeppelin album, especially Alex, Geddy and John. They were amazed at the sound Jimmy Page achieved on a recording. Zeppelin, the prototype heavy metal band, built on the hard rock sounds of The Yardbirds, The Jeff Beck Group and Cream, but they managed to make their music thicker, harsher and louder than anybody else. The style entranced Rush and they soon began trying to emulate Page's unique style.
By November 1969 Rush were playing heavy rock, Alex with a stack of G.B.X. amplifiers, Geddy with a double stack of Sunn amps. He was also starting to sing like Robert Plant, developing a piercing falsetto.
Lindy Young jammed with Rush in their basements once again, but this time they were playing so loud he couldn't hear his electric piano. "If you want to be in this band, " said Alex, "I think you're gonna need a bigger amp." Rush were obsessed with heavy music and even their original songs took on more of a Zeppelin-like tone. Ray Danniels began dreaming of Rush as the next Led Zeppelin.
Alex, John and Geddy resumed gigging at the Coff-In where their playing improved and more people began to take notice. Orme Riches, who ran the Coff-In at the time, later told Toronto's City Magazine about the way the band built up its audience. "At first there was just 40 or 50 kids, but as word on Rush spread attendances soared up to 300 in a space that could comfortably hold half that number. Kids from all over the city came to see Rush swamping out the locals."
This success backfired because the ever increasing number of people coming to the shows eventually caused the Coff-In to close. Church officials thought things were getting out of hand.
Ray worked hard at getting other shows for Rush, but it was difficult to find work for a power trio that did so many original songs. Sometimes at high school dances they found that their brand of hard rock did not go over well with teenagers eager to dance to the latest Creedence Clearwater Revival single. Kids would shout out "Play some rock 'n' roll." John remembers screaming into the microphone, "We're not playing fucking jazz!" One song in particular, a Rush original called 'Child Reborn', almost always drew a hostile reaction for its complex tempo changes. The band even threw a bit of 'Hava Nagila' into the number.
"You can imagine how this sort of thing went over in front of high school kids wanting to hear Top 40 tunes. It got rough at times," says John.
So the band took on odd jobs to support themselves. Alex pumped gas and worked with his father as a plumber's mate, while Geddy worked in his mother's variety store and as a part-time painter. Alex and Geddy were also still going to school. John had dropped out. All three were under pressure from their parents who were beginning to suspect that their sons might actually be planning to make music a career, not just a hobby, which was something they could not accept.
Ray's efforts at getting them gigs began to get more successful, but occasionally these shows would be some distance from home. "They'd get out of school at three o'clock," says Ray, "and drive like hell to get where they were going. They would play high schools in Sudbury, North Bay, Cochrane, Kirkland Lake, London, Deep River and Windsor, Ontario. These cities and towns are anywhere from 200 to 500 miles from Toronto, so it was a pretty hectic schedule for kids who were going to school."
But for the guys in the band it was anything but a chore. Alex couldn't wait for the school bell to ring on the days when they were going to play. "I remember it being great!" says Alex. "We'd finish school and everyone would make their way to where the band was leaving. Doc Cooper lived across the street and most of the time he would drive us to gigs in these old beat-up limousines. We also had another guy, Larry Bach, who drove his car, and we'd put a U-haul trailer on the back with all the gear in it. We played all over Ontario and we loved it."
Rush usually played by themselves at these shows. The performances consisted of two one-hour sets or three 45-minute sets. The band played original compositions such as 'Number 1', 'Keep In Line', 'Run Willie Run', 'Mike's Idea' and 'Tale'. Also thrown in were the ever-present Cream, Hendrix, Who and Zeppelin covers as well as other hard rock hits.
As many as 200 or as few as a couple of dozen people would come to the shows. John was the band's front man, although he didn't sing. He would introduce songs and talk in between them. The stages were usually set up in high school gyms.
"There were some gigs we played in Northern Ontario where kids were lined up against the wall," says Alex. "At other times only 35 or 40 people would come to a dance, pretty dismal! Around Toronto we did pretty well, selling out to 150 or 200 people. Up north it took a couple of years before the band really got going."
Throughout 1970 Rush continued gigging and working on original material. They composed 'Sing Guitar', 'Morning Star', 'Margerite', 'Feel So Good', 'Love Light' and 'Garden Road' during this first year of the new decade.
In February 1971, the group again gained a fourth member. Mitch Bossi joined as second guitarist. Bossi, later told City magazine that he was a mediocre musician who was more interested in having fun and wearing flashy clothes than in making music. He only stayed with the band a few months. He told the magazine that he quit because the others took it all so seriously. He added, "I didn't see too much future in the band. They were a different kind of people to me. They didn't worry about security, they thought everything would turn out all right." They were right.
During the late spring the band was helped by a new provincial law. The Province of Ontario lowered the legal drinking age from 21 to 18. This opened up a whole new range of possibilities for Rush. They could now legally perform in bars, although it wasn't easy to find a place that would hire them.
"I remember the first bar gig," says John. "It was really something else. We were suburban kids. None of us had really gone out drinking in bars. Ray got us a job at the Gasworks. I was petrified because this was playing for grown-up people. Everybody in those days had really lame equipment when you come to think of it. Terrible stuff. Cornball lighting, Christmas tree lights like you use in your front yard. Ian Grandy and the other roadies would painstakingly put it together. That guy did a lot of work for the band. He also helped us out at that first gig. We played really low because we thought the audience would throw beer bottles at us. We got a kind of muted reaction during the first set. Ian came up to us and said, 'Turn it up'. I was really shocked. So the second set we took his advice and went over pretty well."
The band's insistence on playing original songs caused problems for Ray. During the summer of 1971 he was able to find them only three gigs. They later called those months 'The Dead Summer'. It was during this time that Mitch was thrown out of the band. It was particularly tough for Alex who had left school and was living away from home with his girlfriend Charlene.
Ray kept on trying to convince Rush to play more cover versions. His booking business was expanding through the success of his other acts, and for a long time Rush were the most unpopular band on his roster. He'd get club owners to take Rush as a favour for having given them a more popular act.
Ray's biggest success at the time was one of the first rock bands to cover just one group's material, Liverpool, who specialised in Beatles' songs. Ray managed to set up contacts throughout Canada and in parts of the United States because of their success and was later contacted about using the group for the original production of Beatlemania, but the band members refused to wear costumes and cut their hair to look like The Beatles.
Rush used their spare time to develop their music and identity as a band. They continued practising and writing new material. It was about this time that they wrote 'Working Man'. Perhaps the song reflected the jobs the guys had to take to keep going. The sound of the group still echoed Led Zeppelin, but the distinctive interplay between Alex's guitar and Geddy's bass, still a band trademark, now began to emerge. One song, 'Slaughterhouse', even had a slight political tone. "It was a hard rocker," says John, "about what was happening to the environment and the animal world. Whale and seal hunts and that sort of thing."
Things picked up in the autumn and by the end of 1971 the band were regulars at the Abbey Road pub, a bar located on Queen Street in downtown Toronto. They could pull in as much as $1000 a week for six evenings of five-sets-a-night gigs. Most of the income went straight into new equipment.
As 1972 got under way they found themselves getting work in a whole series of southern Ontario bars, places like Larry's Hideaway, The Piccadilly Tube and The Colonial. They were performing many songs that later made it on to the first album, including 'Working Man' and 'In The Mood' (still an encore song).
A two-man road crew carted the equipment around in that staple of aspiring rock bands, an Econoline Van. They had amassed a fair amount of gear. Geddy was playing a Fender bass with two Sunn twin 15-inch cabinets, Alex used two Marshall four-by-twelve cabinets, with a 50-watt head and a makeshift pedal board incorporating a phaser, echoplex and crybaby wah-wah. John would bash away on his blue Gretsch drum kit: two bass drums, two tom toms, two floor toms and a snare.
Ian Grandy, the main crew member for Rush, mixed sound and set up the drums and lights for the band. He saw them start to build a loyal following of older fans and later recalled that some even started to request individual songs like 'Fancy Dancer' and 'Garden Road', both bar-room favourites never released on record. As their club gigs gave them more money Alex expanded his musical horizons by studying classical guitar for about six months with his friend Eliot Goldner. The lessons were cut short when Eliot cracked up his motorcycle and landed in hospital.
During the early 70's rock music began to fragment. Trends that had somehow seemed to be part of post-Beatles rock began to be separated into soft rock, exemplified by singer/songwriters Carole King and James Taylor and harder types of music - heavy metal - as played by Led Zeppelin, Deep Purple and Black Sabbath.
Other bands took a more experimental route, incorporating elements of free jazz, classical and folk music into something that was called art rock. Pink Floyd, Emerson, Lake & Palmer, Yes, Genesis, King Crimson and Gentle Giant all mined this musical terrain. While heavy metal was still the main source of inspiration for Rush, Alex's classical guitar lessons and Geddy's interest in some of the pioneering art rock bands, signalled the direction the group would take in the future.
Alex, Geddy and John often made amateur recordings in each other's basements and at various shows, and in 1972 they were able to record in a primitive studio at Rochdale College. According to Alex it was, "More like a place to buy drugs than a school. "
Bill Bryans produced in the tiny two-track garage facility called Sound Horn. "It sort of made you feel like it was the real thing," says John, "even though it was a small rinky-dink studio ... it was a good feeling that we were getting to the point where we could actually put something down."
Unfortunately the tapes were later lost.
End of Chapter 1 - Buy Used Here
Special thanks to B-man for sharing the first chapter with us.