'We Have Always Wanted To Be A Mini-Orchestra'
An Interview With Geddy Lee
By Willebrord Elsing, Sym Info, October 1988, Dutch translation by Alex van Loon, edited by pwrwindows
---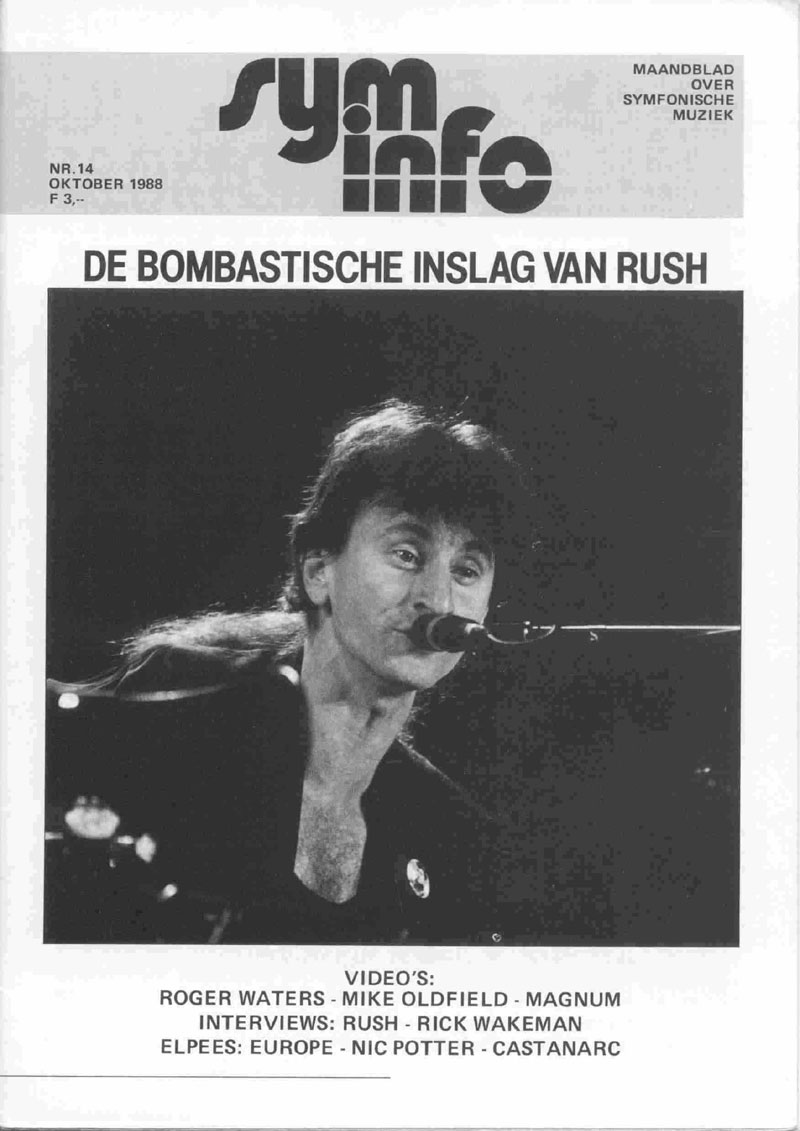 Many of you may have wondered during the show of Rush in Ahoy in May this year how someone like Geddy Lee would have felt at the end of it. I think exhausted is the right word. He doesn't really look how you would expect. People on stage or television are often bigger than life itself, but Lee is the exception on this rule. He is not small, nor lank, he is mainly tired. As the notable tour manager of the band guides him just fifteen minutes after the end of the show to the dressing room where the interview will take place, it gave me quite a turn when someone stumbled across the doorstep, bended like an little old man. Who says that pop musicians lead an easy life?
Geddy Lee is all dressed up in black, with an imposing shock of hair, tied up on the back of his head to a no less imposing tail of hair. He wears a pair of glasses with a Perfect Sight 1962 frame, a well known black frame with a metal edge. From the tired face, a pair of beady eyes stare to me from behind his spectacles. Just like his colleagues Alex Lifeson (guitar) and Nell Peart (drums), Geddy Lee is an extraordinary friendly, very gentle person. He expresses himself not in hackneyed phrases, not an indelicate word passes his lips and he expresses himself with well considered understatements.
The immediate purpose of this conversation is the new live-album of the band. Just released this autumn [webmaster correction: the album was not released until January 1989; it is believed this statement was based on an early release date that was pushed back...], but the fans have waited a half year since the concert for sure. Why has everything taken so long?
We recorded some of the material at the Power windows-tour and we thought we didn't have enough for a live-album and we have waited until the release of this album (Hold Your Fire) to record more shows. All in all we recorded 23 shows of the last two tours. It will be a hell of a job to make a selection of the songs.
So it won't be a single-concert recording like the previous two live-albums?
No, there will be several tours and different cities.
Can you notice any difference at all between one city and another from stage?
I think so. It is no general assumption, but in every city, especially in Europe, you get a slightly different audience. In America, cities seem to flow over into each other. But even there, there is a difference when you travel from one coast to another. But all in all the audience in North America is basically the same. When you play here, the audiences feel different immediately. Even when you enter the stage, you feel another atmosphere in the hall. In North America it seems there is always a row somewhere in the hall. Here in Europe they react only to certain things, at least with us, and when they don't react, they listen.
Your albums have a certain sense of High Tech. You make maximum use of your available equipment. Undoubtedly that requires certain compromises when you go on tour?
On stage we are extremely active (laughs) to perform our music in the right way, because as you just said, the High Tech quality of our recordings and the complex... eh ... texture of synthesizers and guitars of recent years. We have to use a lot of different sequencers and sampling equipment and synthesizers to reproduce everything on stage; that is very complicated. We have a complete midi-center behind the stage, that is being fed constantly with diskettes end other settings during the show so Alex and I can control them from stage. One person is constantly busy with the right settings so we call the right sound at the right moment. It is a sort of choreography to balance it all.
Besides that, you have to concentrate on vocals, bass, and keyboards. That seems to be tough to me.
Eh ... yeah. (laughs)
Wouldn't you prefer to concentrate on one thing at a time?
Yes, I prefer that sometimes, but taking it all together, it makes my task challenging, night after night after night. Sure, there are moments that I'd love to close my eyes and play nothing but bass guitar, and there are moments that I would tear myself away from the keyboard racks to get free of that caged feeling. I have always enjoyed playing bass-guitar and singing simultaneously, but it is the responsibility that I have, to play all the keyboard riffs which are sometimes tough to perform.
It of course would be rather easy to take someone else extra on tour.
(Sigh) I know, but ... If we have come along this far without someone extra, it doesn't make sense to do it now anyway. If we could have done what we have done so far with the three of us ... somebody else on stage would be so... weird (laughs apologetic). Maybe we should put in more feeling in future songs to get the whole thing more balanced.
Another possibility is to take advantage of the technology of the future. You were after all one of the first users of MIDI (an industrial standard where different instruments coordinate each other).
Yes, certainly. I am the king of MIDI. I have so much MIDI, you wouldn't believe it. I have, like I just said, a complete MIDI-station behind stage. The four keyboards I use are in fact MIDI-controllers. To give you an example: I have six Akai S-900 samplers, three D5-50's, two DX-7's, two Prophet VS's, two QX-1 sequencers ... etc, etc. And everything is connected to a gigantic MIDI-station, and every song has a different setting which changes everything on stage. To secure everything against errors and failures we have another identical MIDI-station and a switchboard which was made especially for us which we can use to switch from one station to another when something might go wrong, without a drop out. And it is working perfectly. The system is very complex, but we have thought about it in advance and it is working - knock on wood - very well this tour.
Do you use tapes?
Eh ... no. There are a few moments during the show where we use film, and the music is on the sound-track of the film. But those are moments where we are not really on stage. We have tried to sample, sequence, or trigger all the other stuff ourselves. We use one tape for the intro of Distant Early Warning, the wooshing-sound, that's on tape.
The beginning of 2112?
That's on the sound-track of the film.
The singer in Time Stand Still?
That's also on film. That was very difficult to work out because Neil (Peart) has to listen to a click-track of the film, and he has to stay tuned to the film, otherwise everything will fall.
Does it fail sometimes?
It went wrong two times this tour, but ... if it falls we stop; if there is no synchronicity anymore we just quit. We keep eye-contact and everybody knows immediately when something goes wrong ... Neil throws off his headset immediately. It is an essential part of the song, and if we can add that, it will be fine. We did the song in the beginning of this tour, when the film was not ready, without Amy's voice and I like that version as well. But this is enjoyable for us too. We are able to look behind our shoulders during the show.
This afternoon during the soundcheck I heard the synthesizer tune of Red Sector A without somebody on stage.
Oh that; that's called an arpeggiator. It is a part of a Prophet and the advantage is that it plays endless in the same key till you touch another one. So that is very useful to that song.
Wouldn't you be better off with more advanced keyboards like the E-Mulator or the Fairlight?
I played the E-Mulator last year but I prefer the Akai's. They are more reliable and do actually the same things. The only other way to do it, is to use a computer. That's what we do in the studio; there I use a Mac with music-software. But I am not very fond of switching on a machine and play with it. I prefer to control them separately, because then we are more involved with the show. Even if you play a sequencer or a sampler, you are still doing the show. You must be there at the right moment. It is different to connect to a box and play. He have discussed this matter, but it is not guaranteed; if the computer fails, the song is ruined. I prefer to rely on several small ones than a single big one.
Your show is, to say the least, impressive; a kind of total theater, pushing the rockshow to the limit.
I think that is true, to a certain extent. We are limited to our freedom on stage because we have to stay with our instruments. I thlnk you ought to provide the audience with more visual sights besides three guys standing there like saltbags. I enjoy working on ideas for the film and the screen, and it adds a lot of ambience to the show. And Howard (Ungerleider) takes care of the lights and the lasers. It brings the space closer to the stage; you try to extend the show to the audience.
Howard is brilliant. He has to feel the music just the way you do?
Correct. He is a musician too. He lets himself go into the music. I like that, also for the audience. You sit there and watch, and suddenly the space is captured by a cave of laser-beams. It gives the whole a magic touch.
All this equipment must have cost a fortune?
Yes, indeed (laughs loud for the first time).
According to some people it is impossible to finance a tour without a sponsor.
It is not impossible. It is a question of if you want to get your name linked to a main sponsor, and we have always been skeptical about that. I feel good with that point, how we represent ourselves at least. We don't sell any product from stage; nothing else but ourselves anyway. There are a lot of ways to make touring profitable. Certainly if you are well organized. We try not to worry about this too much; we pay the bills and try to arrange that the costs pay back themselves. It is true that we now give away some money. Because of our mental health we can't do that much touring anymore, and we can't be on tour that long. We start to lose our motivation, we feel too much pressure, and then we don't play that well anymore. So we keep our touring as fresh as possible; no more than two shows in a row and no touring longer than three weeks. If it means that we will visit Europe once in five years, then that's the price we have to pay. At the same time it means that it's harder to make money touring because of all these concessions. But we have reached a certain level with our show, and we must keep it that way, regardless of the costs. It does not mean that we should start something with a financial suicide in the end, but we could try at least to make touring pay itself.
There is a Rush-biography by Brian Harrigan...
Eh ... yeah. That one is a little bit ... incomplete. It is not authorized, let me say it that way.
According to his story you were in debt for a million before you started the Permanent Waves tour because of the money you had to invest in equipement?
I can't remember that. During our career, we have been in debt several times, but as late as Permanent Waves ... You know, at the beginning of a tour you are always in debt; also now, we haven't been on tour for the past two years, we keep our people on the pay-roll and the accounts keep on raising. The costs of starting off are usually higher than you imagine, so... But at the time you go on tour, you create some income. Nothing serious to worry about.
I would worry about a million?
Well, I think everything is rather exaggerated in that book to tell you the truth.
Something completely different now. Can you remember your worst show?
My worst show ... Well, I can remember more than one! Once we were the support act for Sha-na-na in Baltimore, Maryland. It was a terrible evening. That kind of typical Sha-na-na audience with Brilliantine in their hair and everything. We walked on stage, and were the last thing they were expecting. They totally ignored our kind of rock. But we all have those nights which we hope will pass by as quickly as possible. But this tour - knock on wood - it isn't that bad.
The best concert?
There have been moments that we left stage and we all felt we had a great night. I remember a show in Hammersmith Odeon. No, not with Marillion as support-act, it was before that. The support-act was Stray. Back in '78. And at Madison Square Garden a few years ago. Each tour you have one of these nights. This night for instance, was a very good night for me, but I don't know how the other guys think about it.
Many people say that pop music is in a poor state, and it is getting worse since 1978.
I am not that sure about that, but is a very boring period. It looks like everyone is waiting till something bursts out, although I can't see what it should be at this moment. It doesn't look like a creative period for musicians. Thinking aloud, I think we are experiencing an overproduced and computerized generation. The emphasis laid too much on production and computers, the world of Synclaviers and Fairlights. It became a game of producers and engineers. And I think that less skilful people made albums, with the consequence that the good performers and musicians have suffered. As far as I'm concerned you can only find music with the emphasis on musicality and talent in metal-bands these days. There are also musicians who try to learn from Jazz-music but they fall a bit apart from the mainstream. It is not that bad to go through this period because somewhere the energy is loading and sooner or later something will happen and everyone will be inspired again. I see it as a period of waiting.
But also a period of extremes; something popular nowadays besides the metal-bands is New Age music.
Yes, in America we call that yuppie-music. Certainly, it is popular, but to me not with the young generation. I don't know much about it but there are a lot of talented people working in that area. Musicians go either this way or the way of Heavy Metal. There is a big gap in between, there are not many symphonic bands. Well, OK, there are a few but there are still people who prefer to hear a more orchestrated form of rock music. Certainly people like me, who also like to play it. But it is not the trend.
Do you think Rush is a symphonic band?
To a certain extent. We don't feel ashamed for our bombastic impact. We always wanted to be a mini-orchestra. Though we have always seen ourselves as a hard-rock band. And that combination of hard-rock and orchestration is also important for us. It is not in any sense a pure form of rock, but to me it is interesting.
Will your Fourth Stage, which will be reached after this live album, go in that direction?
The Stages are purely coincidental, I can assure you. We don't plan before hand. But I think that the previous three albums were very melodious, and were strongly orientated on the arrangements. Maybe we will disengage from that a bit, with a bit of rebellion. Just like Force Ten; that was the final song we wrote for the album, and that was a sort of rebellion too regarding the structure and the discipline of the rest of the album.
Each Stage, your voice has changed. Rolling Stone described your voice in the beginning as 'a cross between Robert Plant and Donald Duck'.
Hahaha. What can I say, it is original anyway. I think I changed my voice because I wanted to become an all-round singer. My voice has always been adapted to the kind of music we played. Accordingly as our music changed, more subtlety, more melody, my voice changed accordingly and I am very happy about that. For instance a song like Mission is a great experience to sing as a performer, because it goes very deep and I can put a lot of emotion in it. This style gives me more space, and it is at the same time more acceptable for people who don't like Donald Duck, haha.
Did you take singing lessons?
As a child I sang a lot in school choirs. I have always been a soprano. As a kid I had a voice like a little angel. Not that it was very useful in our early albums. My singing teachers would have been horrified if they could hear the way I sang, hahaha. (Puts up a harsh voice:) 'In my choir he never sang like that, I assure you!'
Alex starts to sing along secretly.
He really tries to make the best of it. He never has done much singing but he has always wanted to. He has a reasonable voice, but he has to work hard to become a good singer. He was really working hard on it; it is good to see him working it out.
Of course the best solution would be to work out the two-part vocals of the album on stage?
Yes, and if he sings in the right way, his voice doesn't differ that much from mine. But singing and playing at the same time is very tough if you're not used to it.
What would you like to do in the future besides Rush? Maybe some producing?
Yes, exactly, I have produced some albums and I would like to do that more often.
Is it true you offered to produce IQ? (a British neo-progressive rock band)
That's not really true. I got a tape from a friend who releases their albums in the U.S. He asked me if I liked them, and I did. He asked me, more or less off the record, if I was interested in working with them if the possibility would arise. And I answered that I would think about that very seriously, but the conversation didn't go further than that. It surprises me, by the way, that you knew about that. But tell them they can call me, and we can discuss it.