RUSH: A Chronology
A Show Of Hands Press Kit, Mercury Records, 1989, transcribed by pwrwindows
---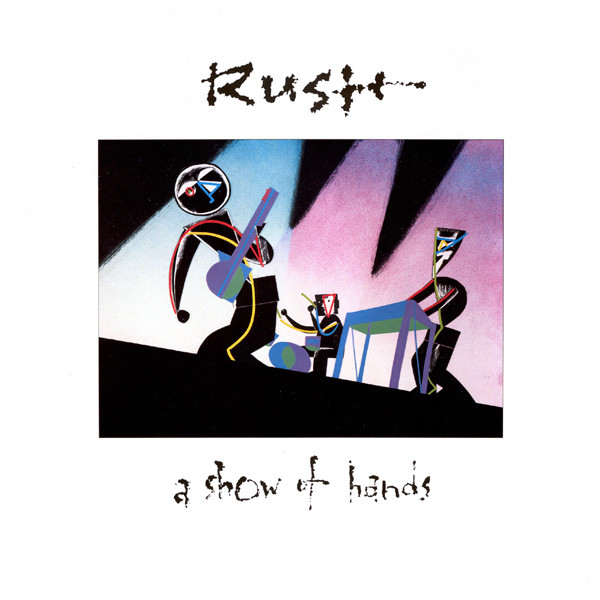 Transcriber's Note: This five page type-written chronology and essay was found in a case of promotional notch-cut copies of the A Show of Hands vinyl album shipped from Polygram. Neil's essay was previously published in the 1988 Backstage Club Newsletter as "The Drummer Sounds Off".
---
ALEX LIFESON: lead guitar
GEDDY LEE: bass guitar, synthesizers, lead vocals
NEIL PEART: percussion, lyrics
1974
RUSH releases their debut album, Rush, on their own label, Moon Records, in Canada. Import copies begin to surface in America, and several thousand are sold in the Cleveland market alone.
Mercury Records signs group and releases Rush in the U.S. to coincide with a debut tour. Prior to the tour, Nell Peart joins the group ss drummer and soon-to-be chief lyricist.
1975
Their second LP, Fly By Night, is released and RUSH begins a four-month, ground-breaking tour as special guests of Aerosmith and KISS.
RUSH receives their first Juno award (the Canadian Grammy) as Most Promising New Group. The trio commences recording their third LP.
Caress of Steel is released as the band begins their third U.S. tour.
Fly By Night is certified gold in Canada.
1976
RUSH's breakthrough album in the States, 2112, is issued.
The group tours North America, which includes three sold-out nights at Massey Hall in Toronto. The shows are recorded for a live album. RUSH receives gold awards in Canada for both Rush and Caress of Steel.
All The World's A Stage, a live double-album, is issued.
1977
RUSH tours England for the first time to great response.
A Farewell To Kings, considered by many the most adventuresome RUSH LP to date, is released. A U.S. tour commences.
Three RUSH albums are certified gold in the United States simultaneously: 2112, All The World's A Stage and A Farewell To Kings.
1978
A 16-date tour of England sells out two months in advance.
Archives, a deluxe package of the first three RUSH albums, is released in the U.S., Canada and England.
RUSH draws well over 1 million people on their A Farewell To Kings world tour.
RUSH receives a second Juno Award, this time for Best Group of the Year. At this point, the band has a total of six gold and three platinum albums in Canada.
Hemispheres is released, and RUSH scores their fourth gold LP in the U.S. The group also sells out three nights at Maple Leaf Gardens in Toronto, setting an indoor Canadian attendance record.
1979
RUSH wins their second consecutive Juno award as Best Group of the Year. The group commences a six-week sold-out European tour, including stops in the U.K., Germany, Holland, Norway, Sweden, Belgium and Finland. While playing London, RUSH is presented with a silver disc award for British sales of A Farewell to Kings.
RUSH also plays two isolated dates in England, which draw over 20,000 fans. Thousands more are turned away. The group's international success establishes RUSH as a world-class act.
1980
RUSH emerges as a star attraction for the eighties. The group's seventh album, Permanent Waves, reaches No. 4 in the Billboard Pop Album charts and stays there for three weeks. It climbs to No. 3 in the U.K. charts. By March, Permanent Waves goes gold in the U.S., platinum in Canada and silver in the U.K. RUSH becomes the first act to sell out the 12,000-seat amphitheatre in Chicago for four nights. The entire five-month tour is a consistent sell-cut.
RUSH and each individual member place in the Top 10 of every applicable category in the annual Sounds and Melody Maker polls in Britain.
The group begins recording their next project.
1981
Moving Pictures is released. RUSH garners heavy airplay on 98 percent of the album-oriented radio stations in the U.S. out of the box. The album tops the airplay charts for weeks, and RUSH embarks on another sweep of U.S. concert halls.
RUSH becomes the only group to score three U.S. platinum albums in 1981 as 2112, All the World's a Stage and Moving Pictures are certified for million-plus sales. "YYZ" (from Moving Pictures) earns a Grammy nomination for Best Rock Instrumental. By year's end, RUSH has been seen by over a million fans and they are voted the "Top Grossing Act in Arenas" by Billboard magazine. To answer the demand, RUSH releases their second live double-album, Exit?Stage Left.
1982
Geddy Lee's guest spot on the Bob and Doug McKenzie single "Take Off" (from the gold Mercury album The Great White North) hits the Top 10 in the U.S. RUSH's Exit?Stage Left is certified platinum and Moving Pictures approaches double platinum. The group is nominated for four Juno awards, including two for Album of the Year and one (again) for Group of the Year. RUSH is also voted Band of the Year in the Sounds Readers' Poll, while Neil Peart tops the Readers' Polls as Best Rock Drummer in Modern Drummer, Circus and Sounds. Geddy Lee is voted Best Bass Player in Sounds.
"Laserium" devotes a full one-hour show to the music of RUSH. This is the first time "Laserium" has featured a complete show devoted to one group's material. Meanwhile, SelecTV begins airing the RUSH concert film, "Exit.. .Stage Left," across America with FM simulcasts in various markets.
"New World Man" is released to immediate and amazing response at FM radio. It eventually reaches No. 21 on the U.S. Hot 100 singles chart.
The LP Signals is released. "Laserium" mounts a new RUSH presentation in planetariums in Los Angeles, Seattle, Pittsburgh, Louisville, Denver, St. Louis, Montreal, Toronto and London, England. The show debuts Signals and never-before-seen laser effects, marking the first time "Laserium" has premiered a new group album simultaneously with entirely new visuals.
1983
Signals goes platinum in both the U.S. and Canada. The "New World" Tour of America sells out, including five nights at New York's prestigious Radio City Music Hall. RUSH is the first rock act of its kind to perform a series of shows in the world famous venue.
RUSH tours the U.K., selling out Wembley Arena four consecutive nights.
1984
Grace Under Pressure is released. New co-producer Peter Henderson, who produced the three previous Supertramp albums, is at the controls. The "Grace Under Pressure" Tour begins in May and takes the famous "Laserium" show on the road.
RUSH tours the Orient, where they sell out shows in Tokyo and Osaka.
1985
New co-producer Peter Collins and other elements - including a 30-piece string section and a 25-member choir - are introduced while recording the next album.
Power Windows is released. It becomes the band's sixth consecutive Top 10 album, impressive considering the group has never had a Top 20 single.
Geddy Lee captures his fifth consecutive win in Guitar Player 1985 Readers' Poll as Best Bass Player, placing him in the magazine's "Gallery of Greats." Power Windows goes platinum in Canada and the U.S. as RUSH begins its North American tour.
1986
With a sell-out North American tour behind them, the band goes off the road for a summer break and to begin work on new material.
1987
RUSH heads to England to record their next album with co-producer Peter Collins. The LP, Hold Your Fire, is their 14th. Its first single, "Time Stand Still," features background vocals by Aimee Mann of 'til Tuesday.
RUSH begins a major North American tour which eventually extends into 1988. "Time Stand Still" is a No. 1 request track at U.S. AOR; it enters the UK charts at No. 42 and is the first time a RUSH single makes the Radio One "A" list.
Hold Your Fire is a major success, approaching double platinum in Canada and nearing platinum in the United States as RUSH performs to sell-out crowds on tour.
1988
RUSH tours throughout Europe: Birmingham, Glasgow, London, Rotterdam, Frankfurt and Stuttgart. Shows in the U.S. and U.K. shows are being recorded for a live album to be released in early 1989. The three Birmingham shows are filmed for a live concert full-length video, also to be released in early 1989. Larry Jordon (who filmed a full-length video for Pink Floyd) is the director.
RUSH finishes their sold-out European tour. They go into the studio to mix their double live album.
A Show of Hands, the soon-to-be-released RUSH live album, is completed. The album, their third double-live set, is produced by RUSH and engineered by Paul Northfield.
1989
A Show of Hands is released in six formats: double-LP, one cassette, one Compact Disc, VHS video and CDV 5" and I2" configurations.
---
Yes, it's that time once more. A new live album, A Show Of Hands, is probably being released as you read this, or maybe a long time ago, or maybe not yet. But anyway, it's finished.
Choosing the material was difficult. We didn't want to use anything that had appeared on previous albums, with the exception of "Closer to the Heart", as it had that snappy "improv" bit at the end that we liked, so we decided to put it on. Other than that, all the material is from Signals on, except for "Witch Hunt", which hadn't been recorded for a live album previously.
Most of the performances came from the Hold Your Fire tour, many of them recorded in Birmingham England during our European tour in April, with others recorded in New Orleans, Phoenix and San Diego. "Mystic Rhythms" and "Witch Hunt" were recorded at the Meadowlands in New Jersey, during the Power Windows tour.
The CD giveth and the CD taketh away.
While the growing popularity of CDs and cassettes allowed us to make Hold Your Fire a little longer than a record likes to be, this time we were in the quandary of making a double-record set that we wanted to fit on one CD, so you, the hard-pressed consumer, wouldn't be obliged to shell out for two CDs. So we had to keep the time down to around 74 minutes, and had to be fairly selective about the songs we included. There are some we had to leave off which we would like to have included, and no doubt some of you will be disappointed not to find one or two you would have liked too, but we had to be ruthless. (And now we have no more ruths.)
The approach to sound was a difficult balance too. In retrospect we always felt that All The World's A Stage was a little too raw, and that Exit Stage Left was a little too refined, so we were trying to find the right balance somewhere in between. We're pleased with what we've got, and hope you will be too. We wanted it to sound good, but we wanted it to sound live too, and it's difficult to find the right meeting point sometimes.
There will also be a concert video to accompany this album, which Geddy is working on right now (I weaseled out of that job!). It was filmed during two of the Birmingham UK shows, and by all reports is going to turn out very well. Of course, that's another aspect of the live show that's very difficult to capture and reproduce; the visual performance. Really, it's impossible to record or film a live show in the way that either the musicians or the individual members of the audience experienced it, but again it requires a subtle blending of those varying, and sometimes diametrical, points of view. We can only try.
Here and now, in September 1988, we have just finished a summer of rest and recuperation from the Hold Your Fire tour, which ended in Europe at the beginning of May. The tour began the previous October, and so stretched over about seven months, and it was a difficult one for us. The pressure of the performances, the musical and technological challenges, and the scheduling were all very demanding, and we finished up tired, but very proud of the quality of the shows we were able to produce, and satisfied with a good tour.
Sometime in 1989 we will start work on a new studio album, and each of us is already at work on ideas for that project. But at the same time we're enjoying the luxury of a little more time than we usually take, time to become reacquainted with life, and explore some of its other interesting avenues. In our fourteen years together we have never lived a second without a deadline hanging over us, whether five minutes, a month, or six months away, and for once we haven't got any external pressure on us, so we're going to enjoy it for a little while.
We deserve it!
(And yes - so do you.)
Neil Peart