The Weigh-In
By Keith Sharp, Illustration by David Flett, Music Express #132, January 1989
---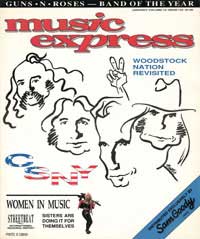 RUSH enters the ring again for live album number three - a testament to a band that's in rocking trim for the '90s
Alex Lifeson is facing a crisis. Only five days to go and the Rush guitarist has to shed seven pounds to cash in on a bet he's made with a friend. The consequence of losing is too embarrassing for Lifeson to contemplate.
"We bet each other that we could lose 20 pounds in 10 weeks, the loser buying the winner a suit of his choice," explains Lifeson.
"But that's not all. The loser has to pose in a skimpy Speedo swim suit and pay for the winner to place the offending photo in the magazine or newspaper of the winner's choice with an appropriate caption. He didn't show up for our tennis match last night so I think I'm in good shape."
Shaping up for the bet and the release of the latest Rush double live release, A Show of Hands, has become a priority for Lifeson.
"I put on weight really easy and I was getting really depressed about the excess poundage and the more upset I got the more I went to the fridge for something to eat," Lifeson confesses. "I don't want to be big and bloated, but the older you get the tougher it is to lose.
"Being on the road doesn't help either; any diet just goes out the window. Sure you run around for two hours and sweat a lot but you don't really lose much weight. And then you go back to the dressing room and gobble down three tables full of food.
"Being off the road is even worse. You spend a lot of time at home watching TV. And that's when you start reaching for the pizzas and the cases of coke. You can't win. So you have to discipline yourself at some point."
Lifeson's staging his battle with the bulge by working out regularly in the gym with former Rush drummer John Rutsey, who provides a competitive element. The horrific thought of posing in that Speedo has provided additional incentive for the blond-maned guitarist to trim 13 pounds off his sturdy frame.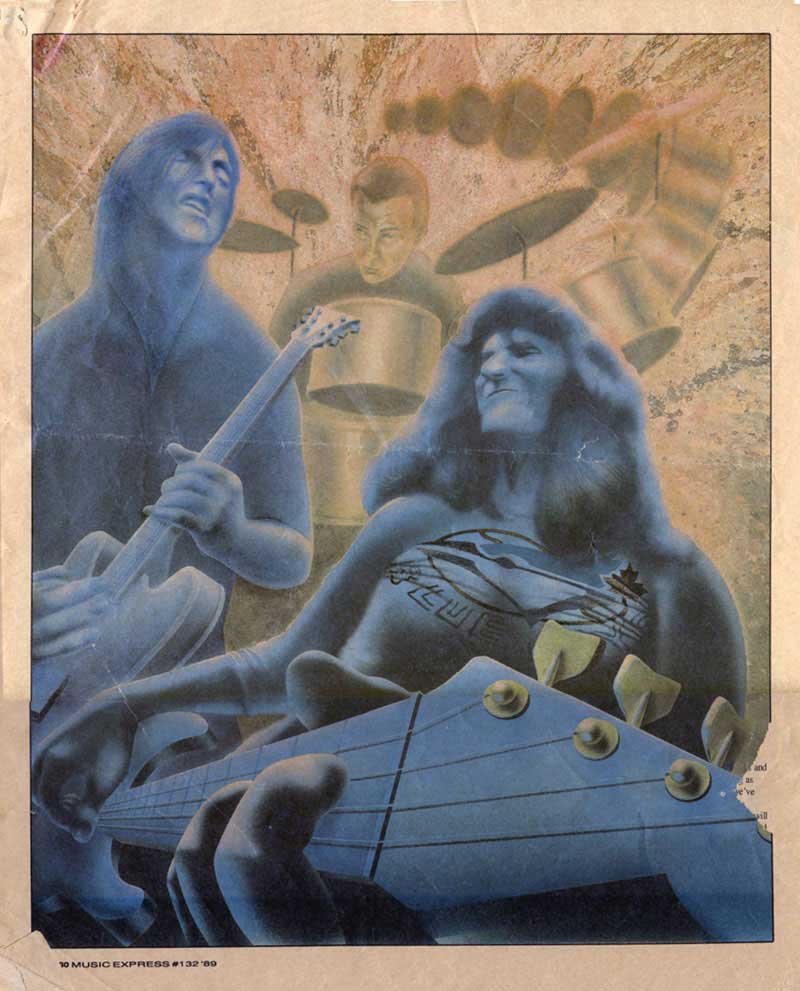 To gauge the results, Lifeson only has to look at the 60-minute concert video which has been shot to accompany the album release. Shot during the band's '87-'88 Hold Your Fire tour, the multi-media package reflects the band's technical development as a live act over the past 18 years. While this is the third live Rush album (All The World's A Stage and Exit...Stage Left being the first two), it was almost the last Rush album period!
"We promised we wouldn't make another one after this one," the Fernie, B.C. native reveals. "After we mixed the album in June, everyone was tired and disillusioned about the future. Fortunately, we just got together a couple of weeks ago to discuss schedules and what we wanted to do in the future. Neil (Peart) has been working on some lyrics. I've been messing around at home in my studio, and so had Geddy (Lee), so the wheels started to turn again. Next thing you know, we're booking studio time in January for a new album which should be out this fall. The discussions we've had have been very positive. Ultimately, the six-month break we've taken has made everyone optimistic, which is a great relief."
The genesis for A Show of Hands was the trio's desire to close off a chapter in their discography and also fulfill a record company obligation.
"It either had to be a 'greatest hits' or a live album," Lifeson explains, "and since we had been taping dates during the Grace Under Pressure, Power Windows and Hold Your Fire tours, we had a good cross-section of different stages of playing to choose from.
"Our treatment of the songs is different and we've also included Closer To The Heart again even though it was on our previous live album. This time it's a little more drawn out, there a different feel to it."
Considering that some of the shows were taped in Los Angeles and some during the British tour segment, Lifeson says it's interesting to note the subtle differences between the performances.
"We taped three shows in L.A. and every one of them sounded different, even though it was the same hall and the mics were left in the same place each night. We used different equipment in England and those shows sounded totally different. That's what makes live albums so interesting. No single performance is ever quite the same."
According to Lifeson, one of the underlying reasons for recording A Show of Hands was to cut a live album which is a little grittier than Exit...Stage Left, which the band feels was too clean-sounding and not truly representative of their live performance.
"In retrospect, I don't think we were happy with Exit, it seems too clean for a live album. It's always tough to find a balance between a raging live show and something that's closer to a more controlled ambient studio sound. With this album we wanted to find a middle ground between that and the first live album, which was a lot rawer.
"I think we found that mid-point with A Show of Hands," Lifeson observes. "I think it's an honest album. A lot of the live albums you hear are 50 per cent live and 50 per cent repair jobs in the studio. Fortunately, we didn't have to worry about that. We spent weeks going through the material, picking the songs and the best parts, getting all the right stuff. To me, it sounds like a live album, it's got that atmosphere to it."
What the new album indicates to Lifeson and his two cohorts is the amazing technical progress Rush has made over the last three or four albums, and even more amazing, how successful they've been in bringing their audience along with them. What was once construed as a high-power heavy metal unit is now capable of some of the most sophisticated sounds on vinyl.
"The funny thing is, we always used to hold back in the studio," Lifeson says. "Then we started working with Peter Collins on the last two albums. He encouraged us to become freer in our expression and not to worry about playing the songs live. We put our toe in the water with Power Windows and took the first full step with Hold Your Fire. We learned with Power Windows that you don't have to be restrictive. With today's technology, you can reproduce anything live. All you need is some deft footwork and the right timing."
Aware that Rush is in danger of getting too sophisticated, Lifeson indicates the next studio album could go in a totally different direction.
"The next step may be to strip it right down and become more of a core three-piece. A little bit more showing off the musicianship, while playing down the keyboards and sampling. The trick is to always be pushing forward and experimenting with new ideas. When we did Time Stand Still with Aimee Mann (of Til Tuesday), some people said, 'They've lost it; they're getting old.' Now 2112, that was an album! But that's 12 years old; you can't stay there and stagnate. You have to move on and try new things. That's what makes it exciting."
Lifeson is proud of Rush's accomplishments. He notes that they've successfully changed with the times, become melodic and softer at appropriate moments but ar also capable of being as heavy as they've ever been. "The difference now is that we've learned to control those dynamics."
The Rush fret merchant feels the 60-minute concert video will emphasize the band's ability to display all facets of its arsenal and prove that Rush is still a relevant force heading into the '90s.
"We shot the film in Birmingham over three nights, the first night for test shots ad the final two for the live footage," Lifeson explains. "A lot of the live album was recorded during those dates so it was easier to mix. About half of the clips are from the other shows and there are a couple of extra songs featured that aren't on the album."
The experience was a necessary evil for a band which abhors videos at the best of times and steadfastly refuses for the sake of artistic licence.
"There's always the video director who'll say, 'Hey Neil, just take your tom tom and walk about with it in the mist. Neil's reply is, 'Yeah, right, I'll see you around.'
"For us, videos are a hassle. We get through them by making each other laugh. I sense they are becoming less and less important. Hopefully, there won't be a need to make a video for every song in the future."
Considering that Rush views A Show of Hands as the closing of a chapter, one has to wonder how many chapters are left in the Rush encyclopedia. Lifeson has no definitive answer, but says their longevity has been based on their ability to work together at appropriate times but to also distance themselves from the band and absorb themselves with outside projects - in Lifeson's case, producing Toronto band Clean Slate and guesting on other artists' projects.
"Personally, I'm always excited about the creative process of recording a new album, but the touring aspect is always tough to get mentally psyched for. Consequently, we think less about the future and tend to think more day to day. Like right now I'm totally turned off the band until we start recording again on January 20th. But come January 19th, I'll tune myself into it and slide back into that Rush groove. It's when you try to slide back into that groove and nothing happens - that's when you know you have a problem."
In analyzing the creative process which produces a Rush album, Lifeson explains that the dynamic interplay between the three members has changed somewhat over the years.
"It's always difficult, but sometimes it's harder than others," he allows. "With Power Windows, we recorded all our jams at the soundcheck. We had a lot of material we could pull ideas from and we took about 60 per cent of the final tracks from those tapes.
"With Hold Your Fire, we did the same thing, but only took five per cent from the tapes. Most of those tracks came from sitting down and physically working out the ideas. It's always a challenge to come up with something new and different. At the same time, we've learned to write in blocks - do simple sketches of mood and melody and develop it into as complex a piece as we want. As we learn from more and more with each album, we become more efficient and creative.
"We used to compose on acoustic guitar all the way up until Permanent Waves. Then we started to use more technology. Now we set up the eight-track studio decks and a vocal mic, work the parts out more fully on demo cassettes and have almost everything worked out before we go into the studio."
Lifeson admits that Rush has enjoyed more than its share of good fortune in surviving almost two decades in the music business and says he empathizes with any new band trying to crack it today. He suggests the odd are stacked against new outfits and blames video as a prime culprit.
"When Rush started out, we played any chance we could get to learn our chops. Quite often, we were first on a three or four-act concert bill. But those shows don't exist anymore. Video has efficiently killed that.
"Rather than providing tour support, record companies now have videos. Which means that all their legwork is done for them; they get lazy and don't hustle the product like they used to. As a result, the young bands get killed. They don't get the experience to become better musicians. That's why people are freaking out over Guns N' Roses. They look like a band that's that's been around for a while and played every bar there is - and they sound like it too.
"Another problem is having records produced by non-musicians," Lifeson continues, warming to the subject matter. "These guys are programming sounds to the point of making them intentionally messy to simulate someone playing live. As a result, the seeds of creativity don't have anywhere to be planted anymore. When we first started doing it, there was that fertile ground."
Rush has survived all the usual pitfalls to attain rock music's version of the Good Houskeeping seal of approval. They've never over-commercialized themselves, have always stood by sound ethics of quality and superior performance. They deliver a first-class effort, whether live or on vinyl, and only release product when they have a definitive statement to make.
"We always feel there is a certain level of quality we must achieve to justify releasing an album," acknowledges Lifeson. "We're good enough musicians to play live and there's that whole peripheral picture of lighting and presentation which we're noted for. And our albums have always retained certain high standards.
"I guess the mark of our endurance is the long-time support of our hardcore fans. These are people who don't go to many other concerts anymore because they can't deal with the hassle. But they come out for us and they're our harshest critics. They're not afraid to tell us what they dislike and that's important to us because we know our music means so much to them. It's that loyalty which differentiates our audience from a lot of other bands. It's nice to know they're always there when we need them."