You Need Hands
By Neil Jeffries, Kerrang! #224, February 4, 1989, transcribed by pwrwindows
---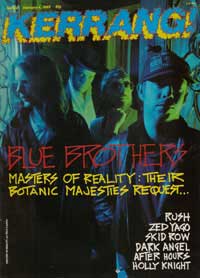 ...a notepad, some crayons, and a roll of sticky-backed plastic: to construct your very own RUSH feature. A decent tape recorder wouldn't go amiss either as NEIL JEFFRIES found out when he tried to interview the band's drummer NEIL PEART, about the band's latest release, 'A Show Of Hands', on LP, cassette, CD, video, video-disc, old cotton-reels, empty washing up liquid bottles, etc etc
"I hate rapid communications and tend to frown on telephones and Faxes, but the point about that stuff is that it's for real." - Neil Peart talking to Chris Watts, Kerrang! 188.
"Hiss-crackle-hiss-hiss-buzz-hissss-crackle." - Neil Peart talking back from my Maxell C60 via a transatlantic telephone line for Kerrang! 224.
THE IRONY is not lost on me. For years now, ever since I returned home the proud owner of an import copy of Rush's '2112' album, I have harboured an almost insatiable interest in the thoughts of Chairman Peart. In his lyrics and his interviews he has always been to me an oasis in the desert of Great Thinkers In Rock.
Don't, get me wrong, I also love to read interviews with Ozzy Osbourne or Slash, and I'll play Motorhead's 'No Sleep At All' as often as I'll put on Rush's new 'A Show Of Hands' double-live - but I've always wanted to talk to Neil Peart, to hear his own words before they reached the printed page or lyric sheet, to capture a little of that rare magic first hand.
Well I just did. But the world of rapid communications and the microcosm of a telephone bug conspired to make the recorded evidence a lot less real than the conversation itself. Life's a bitch and I've got the tape to prove it.
Neil Peart, on the other hand, is a gentleman of the highest order, and one who next time, I will interview face-to-face. He had actually asked his record company to fly in European journalists to speak to him in Toronto but Phonogram had said no.
Their refusal probably stemmed from the fact that Rush's deal with the company has just expired and the band are moving on, but a little more on that later.
Faced with this stonewalling, Neil had done his best to ensure an uninterrupted phoner by requesting that Phonogram line up one of our US correspondents; seems he didn't trust transatlantic phone lines. (No problem there this time Neil, but I will be selling my shares in the firm that made the phone-bug.)
So it was that at nine o'clock one evening last week he placed a call to Don Kaye...
"Hello there, is that Don Kaye?"
"Yes it is, who's calling?"
"It's Neil Peart."
"Er...hi Neil, what can I do for you?"
Neil laughed at the memory as he related the episode to me. Don had volunteered for a bit of left-field work as a contrast to all things Death but nobody from the US side of Rush's (former) record company had contacted him to give him time to prepare for the call.
Much earlier, Howard Johnson had requested the same interview and - given assurances from a nameless (and now jobless?) Phonogram US person that she would, "stake her reputation" on the interview happening on time - our Next Issue Trailer writer brazenly lined it up for the cover of issue 222...
Neil: "Oh really? I didn't know about that, nobody said anything to me. I was up in my log cabin in the mountains writing some lyrics for the next album, and I don't answer the phone while I'm up there working."
You'd think someone at his record company would have known that, wouldn't you? In the end, I eagerly stepped into the breach, given just six hours notice by Paul, a rapidly greying Phonogram UK press officer who had been speaking to me almost daily for the past three weeks complaining that he still hadn't heard anything from 'over there'.
You could say that this whole story was star-crossed and ill-fated from the off...you could do, but that would go against the tenets of Neil's lyrics to 'Free Will'. Ha! I wish I'd mentioned that to him at the time. Hee-hee-hee.
So anyway, what follows is less than I would have hoped, less than you deserve, and less than Neil warrants. But a deadline is a deadline and given what had happened to date, rescheduling could have delayed this until the next Rush album...
'Big money make a million dreams/Big money spin big deals/Big money make a mighty head/Big Money spin big wheels.' ('Big Money' from 'Power Windows' and 'A Show Of Hands'.)
I BEGAN BY asking how it would feel to leave Phonogram after 14 albums with them (15 if you counted the 'Archives' re-package of the first three). Wouldn't it be a bit of a wrench after all this time?
"Yes it would, but we like to be courageous and adventurous, we like a challenge."
He doesn't know anything about any pending future deals, dismissing the question with polite disinterest: "I don't expect our manager to write lyrics and he doesn't expect me to get involved in the business side of things. It works best that way, all the band feels the same."
One facet of business that the band are engaged in, however, is the hunt for a new co-producer, Peter Collins having decided not to work with the band again...
Neil: "It was a difficult decision for him, but he has decided he doesn't want to spend six months working on another Rush album and will instead move into the shorter time-span of the singles market. We respect his choice and wish him well."
Which leaves the band searching for someone new to oversee their arrangements, to lend an objective ear to assessments of their song arranging.
What kind of shift in direction - if any - the next studio album will take is anybody's guess at the moment, as the band are still in the very earliest stages of composing for it.
My guess is that Rush have just about reached the physical limits of what a threesome can perform onstage - Neil himself was called upon to trigger sequencers on the 'Hold Your Fire' tour - and that any swings in the new material will be of a subtle almost cosmetic nature.
Maybe the orchestrations will change.
Neil hinted that while the majority of recent Rush material had been written with the three of them gathered around a keyboard, the next batch could be based around the guitar, could have a little more urgency and immediacy.
Early days yet, but things were starting to happen he told me. His lyrics were progressing (he writes them up front of the music because he hates going into the studio with that extra pressure oh him) and, "suddenly there are a lot of tapes and lyrics buzzing around Toronto." The band typically get together every three weeks or so at this stage in a new album's conception to discuss ideas, but thanks to a longer than usual lay-off since the last tour he senses an increased sense of urgency.
'Hands perform, and hands respond. Hands gesture, and hands respond. A show of ears and eyes, a show of hearts and minds. A Show Of Hands.' (Neil Peart, sleeve-notes to the forthcoming Rush video, 'A Show Of Hands'.)
BUT THE next album is a way off yet. I'm talking to Neil because Rush have just released their third double live album, 'A Show Of Hands', with a video of the same title due out on February 10. The album was compiled from tapes of 18 shows, 12 from the 'Hold Your Fire' tour and half-a-dozen from the previous 'Power Windows' excursion.
Considering that Rush hadn't toured the UK since their 1983 'New World Tour' to promote 'Signals', it was perhaps odd that they chose to take a mobile and invite a film crew along to Birmingham's NEC to record two nights there in May of last year.
After all, three albums and five years later how could they have anticipated such a warm welcome?
They needn't have worried. Rush are extremely pleased with the video - filmed entirely in Birmingham - and eight of the 14 tracks on the album were recorded in the Midlands arena. A productive visit - Neil considers this very fortunate.
"We set ourselves such high standards that a perfect show is impossible. We operate amidst utter chaos on stage, trying to keep everything running smoothly. The presence of those extra microphones recording our performance means we normally just freeze-up when the tapes start to roll. We end up playing for the tape and not for the audience.
"But at Birmingham, the film-crew forced us to ignore the microphones and play to the audience as we should do, as we normally do. So we got that certain feeling back, the film-crew actually gave us more than they took away.
"It was great, we normally only get, say; six shows every tour that make it like that."
Oh to have been in Birmingham then, I'm hard pushed to believe it could've been better than the two Wembley shows I saw. And as I suggest to Neil, I'm surprised to hear that they needed so many shows taped; did they vary so much?
Every time I see Rush I'm always stunned by the apparent perfection of their performances...
'''Apparent' is the key word there, I'm afraid!"
Nevertheless, it still sounds almost too good to be true, so I ask: is any of it on tape?
"All musical parts are produced by us three onstage. But sound effects, in the manner of say Pink Floyd, we feel quite happy with in pre-recorded fashion - things like the introduction to '2112' and so forth, but we would never use offstage keyboard players. We wouldn't find that acceptable.
"Some music, is produced by sequencers..."
('Black boxes' connected onstage to synths etc that deliver pre-recorded keyboard notes programmed for pitch, tempo and tone that are operated by the touch of a button. Normally used for simple, or repetitive backing tracks but actually 'performed' by the band.) "...and that is treading a very fine line ethically. It's a touchy moral issue but we consider it to be just as skilful, it requires the same degree of concentration and puts us under equal pressure to deliver the music all in its proper place and time."
Hence that verse in 'Prime Mover': 'Alternating currents/Force a show of hands/Rational responses/Force a change of plans...anything can happen'.
'It's the test of ultimate will/The heartbreak climb uphill/Got to pick up-the pace/If you want to stay in the race'. ('Marathon' from 'Power Windows' and 'A Show Of Hands'.)
NEIL'S ESCAPE from the pressures of touring and from the general humdrum in day-to-day life is his bike. But it's not a Harley Davidson, and its engine is Neil himself: he is a very keen long-distance cyclist.
It was by bicycle that he toured North Eastern China in 1984 where he found inspiration in his perception of the region's ancient history and in the faces of its youngest children to write 'Tai Shan'.
He has also toured East Africa, and more recently the central African republic of the Cameroons. He says he finds such excursions - usually begun among a party of strangers who have no knowledge of his life behind a drumkit - immensely satisfying. He enjoys the feeling of escapism and the return to the primitive, gaining a thrill from simply being the first white face ever seen by many he has visited.
Cycling itself, "is perfect for me. It provides all those things I enjoy most about life: solitude, privacy, the opportunity to think, a constant rhythm and the chance to travel as an anonymous observer."
Travel these days is his biggest inspiration when it comes to lyric writing. But he still reads much and often; to help him with his craft, to keep him stimulated.
"I have been very much influenced by 20th century American prose. My lyrics used to be very profligate with imagery but I have learned to strip them down now. I think much more about the structure, and about how they will sound when sung by someone else. I try to take great care about the placement of vowels and consonants..."
To this end he is "dabbling" in the classical poets:
"Particularly TS Eliot, I find he has a very lyrical style and the power of his refrains really relates to rock.
"I very often don't understand his poems but I can sense the passion and emotion."
He also says he regularly disciplines himself to read Shakespeare although tends not to enjoy watching it in a theatre as much.
"The spectacle I can appreciate but, as I think John Updike once said, it is hard for me to believe in the lines delivered on stage because I know the actors have already delivered them so many times. On the printed page, although they may have been re-written, at least they represent the author's single and definitive performance."
His words trail off. Seizing on the opportunity I fumble around for a parallel between what he has just said about ol' Shakerags plays and his own lyrics - on record/inner bag and on the concert stage. He laughs.
"Everything onstage becomes consumed by the whole. But words act as a touchstone, a point of relation for those in the audience who have studied them and can sing along.
"Whereas on record, if you choose, they can be a focal point..."
A single definitive performance?
"Yes!," he laughs. "I think we did it, we managed to contrive your simile! A bit forced perhaps but we managed it!"
45 minutes had never passed so quickly on a telephone, nor passed so irrevocably into an unintelligible hiss on a cassette tape.
If anyone else was bugging that conversation, please send me the tape!
But until then...that's a wrap.