Rush Video Victim Of Own High-Tech Pomp, Gadgetry
By Greg Quill, Toronto Star, March 19, 1989, transcribed by pwrwindows
---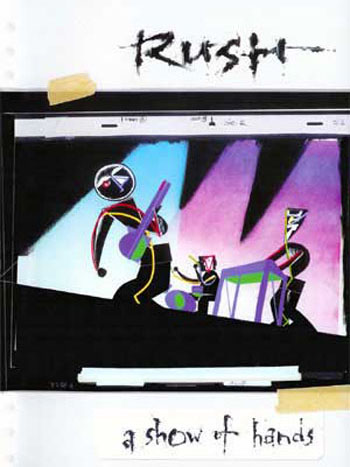 "For these two nights," drummer Neil Peart writes in the cover notes for Rush's new 90-minute concert video, "the gods smile."
And he's right. If there's a single glitch - technical, physical or spiritual - in the performances captured last year at the National Exhibition Centre in Birmingham, England, and reproduced on A Show Of Hands, it's imperceptable to anyone but Peart and his bandmates, Geddy Lee and Alex Lifeson.
Musically, this is classic Rush, the Toronto progressive band rendered at its expansive best, inasfar as video can render anything so big, noisy and complex.
And there's the rub. Music's one thing, and video's quite another. A visual complement to Rush's current live album, Anthem Music Video's A Show Of Hands doesn't at all match its aural counterpart, nor do the images presented here correspond to the quality and depth of the music on the soundtrack. In fact, this production proves what critics have long believed of this band: its impact is deeply personal, and most meaningful in the live performance context.
Not that director Larry Jordan hasn't gone out of his way to try compensating for the natural limitations of the video form, or for the trio's well-chronicled inability to project itself personally from the stage. There must have been seven or eight cameras involved in this shoot, including a crane rig, from which images are cut and sliced at a dizzying rate, implying movement and grand passion where none exists.
Anyone who has seen Rush in concert knows the band - two thirds of it more or less imprisoned behind a massive percussion cage and a bank of keyboards - relies largely on epic-scale visual technology to underscore or illustrate the deeper textures of its songs. Lasers, back-projections of specially prepared movie and animation footage, a light show so powerful that it actually takes on physical dimensions, are necessities to Rush.
And though we catch glimpses of them in A Show Of Hands, and though some of the prepared footage is inserted into the video, the over-all effect is negligible, the concert enhancements are lost in the rapid-fire edits, sweeps and close-ups of Lee, Peart and Lifeson involved in feats of quite athletic concentration.
The three-dimensional laser figures, ciphers and maps in "Marathon", for example, look almost like a graphic artist's overlayed doodles; the swirling discs of colored light on stage and the three animated red globes - symbols of the three whole units that grace the cover of Rush's latest studio album, Hold Your Fire - dancing above the band on a giant screen during "Turn The Page", are passing intrusions without size or significance.
And the devastating impact of newsreel footage, animation and concert lights that make such an unequivocal anti-nuclear statement of the live "Manhattan Project" are reduced in this video to dispassionate, merely decorative trim.
And for what? It's not as if Rush is incapable of using the video medium to maximum effect; in fact, such studio productions as "Red Sector A" (a live version is included here) and "Distant Early Warning" (absent) prove the band has the intellectual wherewithal to interpret difficult philosophical and musical concepts visually.
It's my suspicion that A Show Of Hands was intended somehow to personalize Rush, to break through the pomp and circumstance of their live shows and recorded music and to present the three bright, hard-working musicians as the sentient human beings we in Toronto know they are.
Unfortunately, the effort is in vain. So bound are they by an abundance of theatrical and musical cues, by computer gadgetry and by a lingering need to prove they are physically and mentally more astute than any other group of musicians on the planet, that all we can admire in this video is profiency, not passion, not heart, nothing personal at all.
Ironically, Peart's inventive drum solo, "The Rhythm Method", and the final encore, a tossed-off version of the band's first local hit, the almost primeval blues-rocker "In The Mood" are the only truly revealing pieces in this set. Sound purity aside - and that is spectacular, thanks to Lee's production - A Show Of Hands eschews the epic and more heady qualities of Rush's live show for a literal and rather shallow treatment of what must have been a couple of memorable concerts.
Fans will love it, of course. The pity is that in the hands of a director with some understanding of the depth and breadth of Rush, this video could have been so much more.