Presto Album Review
By Bob Mack, Rolling Stone, January 25, 1990, transcribed by Jimmy Lang/Meg Jahnke
---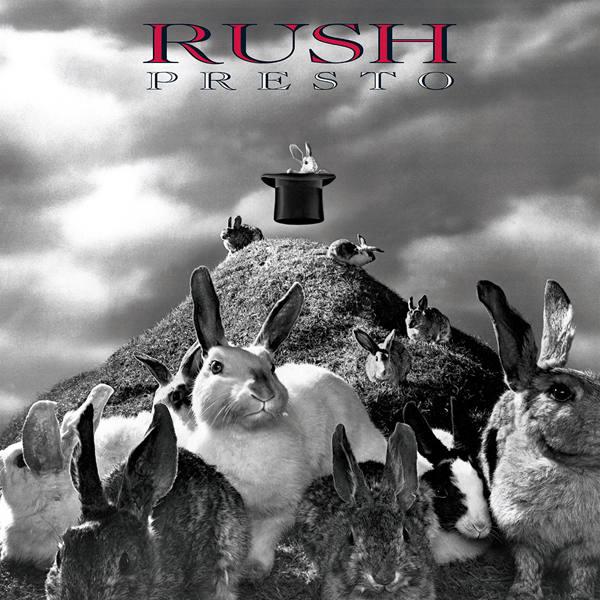 3 stars given (out of 5)
When critic Lionel Trilling said, "Immature artists imitate. Mature artists steal," he wasn't talking about Rush, but he might as well have been. For the past sixteen years, as the group has gone from mimicking Led Zeppelin and Yes to approximating the Police, Rush has been too immaturely concerned with originality to just go ahead and rip off a riff or two from the greats. Consequently, there has always been something missing from the band's immaculately played techno metal. The band members admitted as much on "Mission," a song from their last studio LP, Hold Your Fire: "I hear their passionate music/Read the words/That touch my heart/I gaze at their feverish pictures/The secrets that set them apart."
With Presto, Rush makes a stab at greatness that rivals its one landmark LP, 1981's Moving Pictures. This has a lot to do with Rupert Hine's deft production, which camouflages Geddy Lee's typically shrill vocals to great advantage. But it's also because "Red Tide" doesn't imitate the Police, it simply steals the melody from "Message in a Bottle." Similarly, "Anagram (for Mongo)" doesn't recall Foreigner, it wisely just pilfers the epic chords from "Long, Long Way From Home."
Of course, Presto features lots of classic Rush (the fancy drum-bass interplay of "Show Don't Tell," the triumphant guitar solo on "The Pass"), as well as all the foibles — like overarrangement — that make the band's style so unpalatable. Although Rush-bashers still have plenty to bitch about, Presto is undeniably loose — evident in ballsy excursions into dance grooves ("Scars") and virtual folk rock (the title track) - by the band's standard.
Most surprisingly, it's not Alex Lifeson's beyond-Steve-Vai guitar work but Lee's infectious choruses that stand out on Presto. The album's only dog, "War Paint," contains a truly great sing-along finale: "Boys and girls together/Let's paint the mirror black." To be sure, ever since "Subdivisions" ("In the high school halls/In the shopping malls/Conform or be cast out"), Rush has been the only band that mattered to lone-wolf suburban kids. Lyricist Neil Peart has typically been too much of a sourpuss to address that constituency intimately and effectively. Until now.