Rush Climbs Rock Of Ages
By Joe Brown, Washington Post, May 4, 1990, transcribed by pwrwindows
---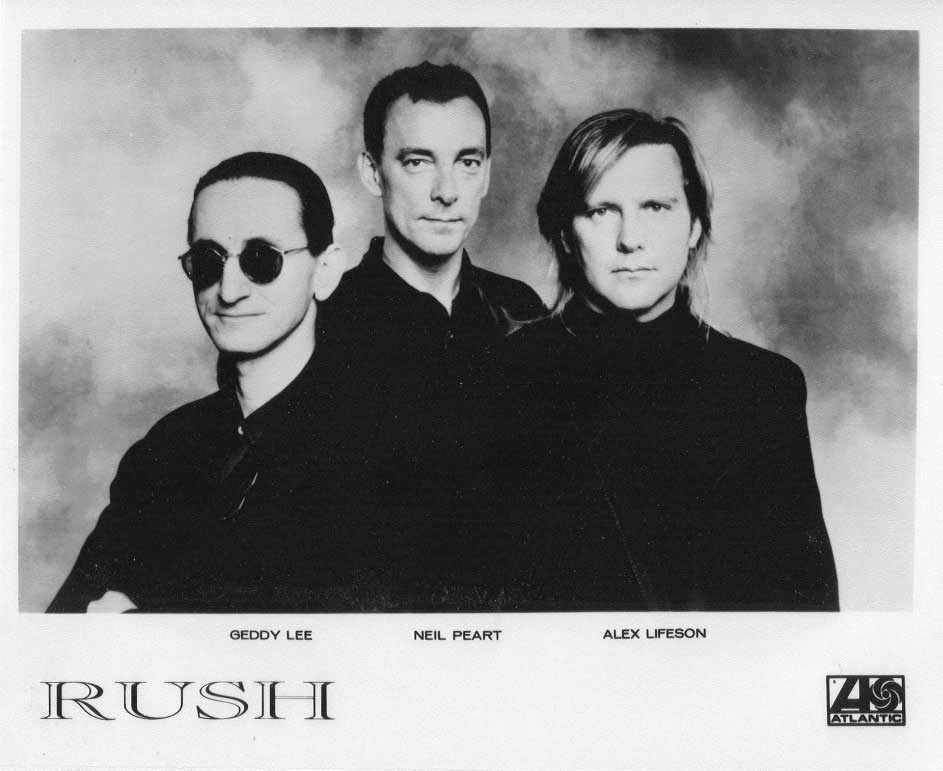 Purveyors of fine metal for 20 years, the Canadian group Rush is a rock institution. And in these days of synthesizers and taped backing tracks, Rush has stuck staunchly by its classic guitar-bass-drums (and shrill, screaming vocals) power trio format. Whatever its secret formula for perpetual youth, Rush has remained popular through several waves of record-buyers and concertgoers, and shows no sign of flagging, despite a gray hair here and there.
"Yeah, we've been doing it a long time," says soft-spoken drummer Neil Peart, who's been with the band, which includes banshee singer-bassist Geddy Lee and guitar pyrotechnician Alex Lifeson, for 16 years and 15 albums. "But it never seems that way, maybe because the three of us have stayed close. We live near each other in Toronto - Geddy's son goes to school with my daughter. And a lot of the guys on our crew have been with us that long, some longer than I've been there. With that continuity, the friendly aspect still remains."
Amazingly, some of Rush's original audience has remained loyal, despite the band's sticking to a resolutely teenage music form.
"Playing every night, I tend to look around at the audience," says Peart. "You often see a couple there who obviously have been fans for a long time, while others drifted into their lives and their mortgages. And you can see that they're our peers - they've grown up with us, and they probably had to get a babysitter to come to the Rush show. At the same time, there are people who are there who literally weren't born yet when we got together, who weren't born when I started playing drums. So that's strange, too."
The band certainly can't ascribe its long-lived fame and fortune to rave reviews. As a matter of fact, the band has soldiered along, selling out arenas and moving millions of records, in spite of an almost universal critical cold shoulder, though the latest album, "Presto," is receiving some of the warmest notices in the band's long career. Rush has long been rapped for its reputation as a musical sponge - once they sounded like Led Zeppelin, then it was Yes; the Police are the most current audible influence.
"We certainly have not been over-appreciated in the musical community over the years," says Peart with a wry sigh. "We're certainly appreciated as individual musicians by other young musicians. But, yeah, we tend to be slagged off in a way just because of the mechanics of the rock business. We don't take ourselves so seriously as people, but certainly we do our music, and we really do try and push ourselves and try to evolve as many different stylistic approaches as we can, and we learn from other people and shamelessly adopt influences all over the place."
Whatever the critical opinion on Rush's riff-rock, everyone agrees that Rush are perfectionists, musicians with chops to spare, adept at complex compositions, with a fanatical attention to live sound quality. Peart says the "Presto" tour, which arrives at Capital Centre on Saturday, is staged like an elaborate magic show, with lots of rear projections and flash.
"Technologically, from our point of view it was necessarily ambitious in order for us to reproduce the record. It's kind of an old argument, really, between arranged music and spontaneous music," Peart says. "We certainly have room for spontaneity in our show. But the main goal is to reproduce the record as closely as possible.
"The record represents the ultimate performance, because it's superhuman, it can truly be perfect as far as the realization, the performance," Peart says. "Of course, you never know till later if you had the right idea. So, when we go out on the road it is very much a challenge to try and recreate that perfect performance. When we walk on the stage every night, it's 'This is the night, tonight we're going to do everything perfectly!' But then, Geddy was saying the other day that he doesn't start to relax until he makes his first mistake.
"We've been very fortunate that as we've become more ambitious on record, technology has allowed us to be more ambitious on stage, so there's very little we can't reproduce. It would be very frustrating to create a huge production number on record and to strip it down to a bare-bones replica on stage."
That rarest of rare creatures, the polite rock star, Peart phoned from his New York hotel room at precisely the scheduled time. He's the band's designated spokesman, which is appropriate, as he also writes most of the lyrics, an unusual situation for a drummer. Because of Peart, Lee ends up singing about some serious subjects - "Red Tide" addresses the global environmental crisis and AIDS - and ends up sounding smarter than your average metalhead.
Maybe all this politeness and lyrical introspection can be attributed to the age factor. After all, at two decades, Rush should be right up there on rock music's Mount Rushmore with the Grateful Dead, the Rolling Stones, Paul McCartney, and other graying rockers who just will not fade away.
But then, is rock necessarily a young man's game, after all?
"I'd have to say no," Peart says, emphatically. "In a certain sense of course, it's about energy and idealism, certain things that are associated with youth. But they're not necessarily exclusive to youth. And the thing about being a musician, too, is you're allowed to stay an adolescent a long time."