Presto Brings Magic Back To Rush Performance
By Kim Hughes, Toronto Star, May 10, 1990, transcribed by pwrwindows
---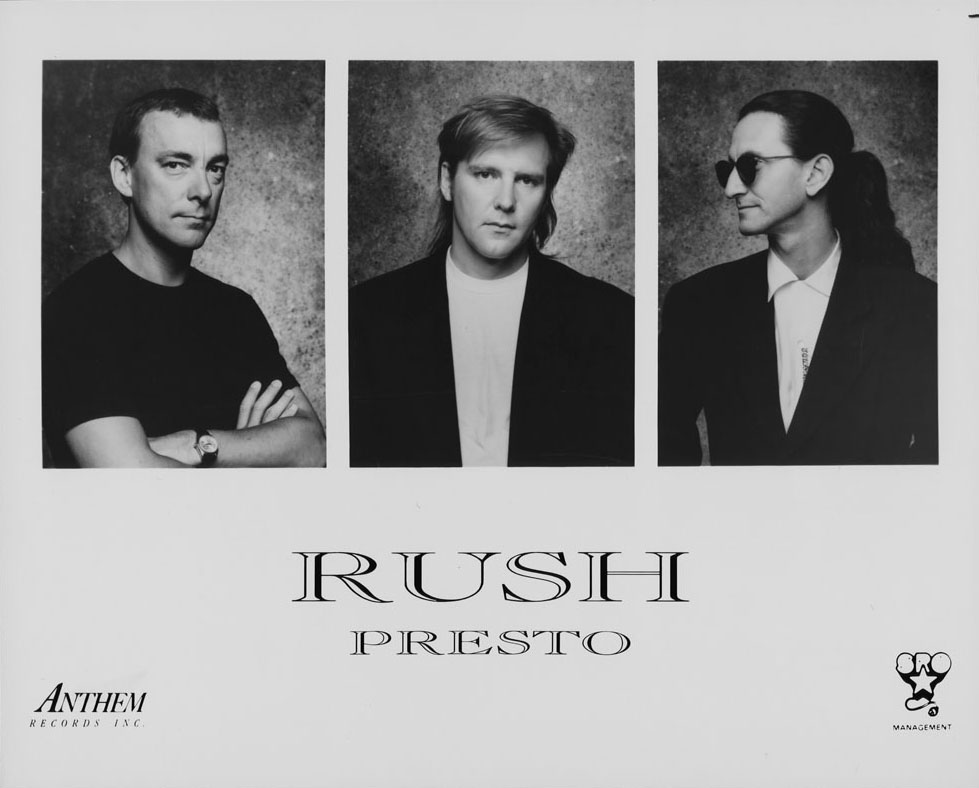 Rush has little left to prove after 20 years. The Toronto-based trio are progressive rock's most enduring and adaptable players and their latest LP, Presto, is their most commercially successful to date.
While other bands cruise on nostalgia, Rush continues recording and performing new material and scoring pockets of support through-out North America, sometimes in the most unlikely places. Four recent Rush concerts in southern Florida, for instance, were greeted with the same crazed anticipation witnessed during the Stones reunion tour.
It's hard to explain, and the band is the first to point out they've never been anyone's idea of "pretty boys." Says bassist and vocalist Geddy Lee, "We've always had a largely male, young musician-type audience, but it seems to be expanding. It's nice to see girls out there, for a change, instead of just guys, who want to know what guitar picks we use."
Part of the appeal is that Rush is consistent. Each of their albums showcases tough, clever instrumentals, drummer Neil Peart's poignant, metaphorical lyrics and ela-borately detailed songs.
Family Men
But consistency can mean stagnation, and prior to the release of Presto, the future of Rush was uncertain, less because of inner turmoil than simple indifference among the members. For Lee, Peart and guitarist Alex Lifeson - all committed family men with many outside interests - another album and tour was a major endeavour that required a new and fresh approach as well as an attitude in keeping with the times.
"We're at a point where we can discuss arrangements without having to play something 15 different times 15 different ways," Lee says from a tour stop in Connecticut. "We can almost second guess our material, which is nice because I'm the kind of writer who'll keep playing with an arrangement until it's taken away from me.
"I'd say our biggest challenge is writing, but at the same time that's the one aspect we'd all admit we enjoy the most. It's a very special time for us, getting together and writing material. And with this album, we spent a lot of time concentrating on vocal melodies. Once we got together to write, we talked a lot about how, in the past, the melodies had to be subservient to the lyrical structures.
"We decided that was wrong and we wanted to change the approach, make the lyrics a little more flexible to the vocal expressions, to leave room for einotion to make a more interesting feel. That was a big step forward on this record and something we'd bear in mind throughout the writing process."
Perhaps more telling of Rush's attempts to align itself with the 90s and earn second-generation fans are the opening acts they've selected for this tour. Pop upstarts Mr Big warmed up dates in the U.S. and western Canada, while Voivod's been added to the eastern Canadian leg of the tour including both Maple Leaf Gardens shows, May 16 and 17. And while Lee says the pairing of Rush and Voivod was more random than deliberate, there's little doubt the hardcore Quebec rockers have given the tour a serious and intense boost.
Good Word
"Whenever we pick an opening act, we're supplied with a list of who's available. How that list comes to be is always beyond me," Lee insists. "You say, 'Tell me who's around and who's good, but you don't really know that the people on that list made it because they're the best talent around or because their politics won.
"It's a pretty political thing until it gets to us, and all we try to do is pick a decent band that will work with us. For this tour, we thought it would be nice to have a French act play with us. To be frank, that's as far as we thought about it."
While artists like Kim Mitchell struggle for a shot at international success, America has always been an easy sell for Rush - even more so than Canada. Says Lee, "Way back when, when we started, it seemed easier for us to break in America than in Canada. With the exception of Toronto, which is where we grew up. the rest of Canada didn't really come along until we broke America.
Constant touring is a more likely reason Rush has gained that foot-hold and kept it. With every album, there have been major, cross-country treks, some better than others but all successful in getting the songs out. These days, Lee confesses touring is tough, but he says the band's learned to make the most of their time on the road.
"The first month or so of a tour always seems very challenging, quite enjoyable," he says. "It's the latter half' that's the enduring part. You have to take almost a zen attitude on stage because it's not fresh, not new, and you hope to bring those things to it. That's starting to come now.
Tennis Time
"But this tour is paced very carefully so we have lots of days off. Alex and I play tennis, and Neil's an avid cyclist. We look for opportunities to do things, look at art galleries. So this tour, we've had a day off almost every third day. It's better than vegging out in your hotel room.
"Still," Lee says, "this band is a finite thing. If you'd asked me about how long we could go on together about a year ago I would've had a negative answer. But this has been a really positive tour - the album went really well, not just musically but personally. We enjoyed each other."