Rush Drummer: Causeless Rock Rebels Duping Young Fans
By Cliff Radel, Cincinnati Enquirer, June 10, 1990, transcribed by pwrwindows
---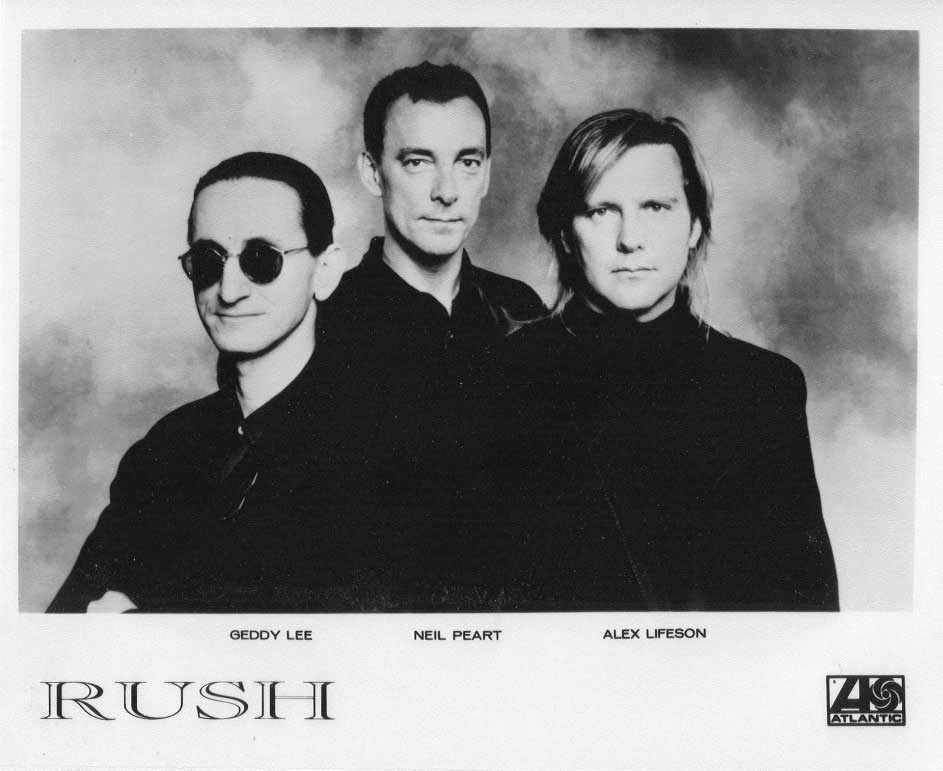 Neil Peart doesn't bleed. Cut him, and he drips irony.
As Rush's drummer and lyricist, Peart supplies the tempos and the words to the melodies of band mates Alex Lifeson and Geddy Lee. His rhythms are like his rhymes - with a cutting tone that always rings true.
"I'm an irony addict," Peart confesses. "On this album, from a lyrical point of view, I'm seriously addicted to irony."
This album, Presto, has Peart blasting his favorite targets: pretense, self-importance and making a big deal out of nothing. He even takes aim at Rush's line of work on "Superconductor."
Packaged like a rebel or a hero
Target mass appeal
To make an audience feel
He really means it...
SUPERCONDUCTOR
"I love pure pop music," Peart declares, "when it doesn't pretend to be anything else. But, there is a certain lunacy about pop music when people adopt the image of pretense. That's why there's that line in the song about packaging the image of the rebel.
"When people like Bon Jovi, Richard Marx, and George Michael pretend to be rebels and outlaws with their leather jackets, they pretend to symbolize the rebellion young people naturally feel. At the same time, they are not fighting or protesting anything. They're just these big money-making factories bowing to the common denominator."
As if he were anticipating the question. "So what if these bogus bad boys are in it for the money?" Peart adds:
"A business man being devoted to making money doesn't bother me. There's nothing immoral in turning a profit. It's the illusion, the pretense, and that young people are being fooled by it."
Following this line of reasoning, Peart is not disturbed by the financial successes of New Kids on the Block. Nor is he troubled by their efforts to imitate the Beatles on the "Tonight" cut from their recently released album, Step by Step.
"They don't offend me whatsoever," he said of the New Kids. "Their stuff is pure pop music. It doesn't pretend to be anything else. They're just five young white guys being five young white guys. The kids listening to their music aren't being hoodwinked. They're being given music that's made by people who basically are their peers."
It's a good thing Peart doesn't think the New Kids' pure pop is pure poop. He has "a 12-year-old daughter. So, I'm well indoctrinated into New Kids-mania."
He's also well versed in the intracacies of what Joni Mitchell once coined "the star-maker machinery." He decires packaged rebellion and freeze-dried images, he is not speaking from the persective of being a much-decorated veteran (with a chest-full of gold and platinum albums) of the rock 'n' roll wars.
Ornery since beginning
Sure, Rush has sold 30 million albums since it's first release in 1974. Nevertheless, the Canadian trio, which originally had John Rutsey as it's drummer, has been a bunch ornery cusses ever since Peart signed on just after the release of the band's first album, Rush.
"In our early days, overtures were made where the record company tried to pass along what they thought we should be doing.
"When we were discussing doing a side-long piece on our fourth album, 2112, our manager said, 'That's not what the record company wants.' Even though our first three albums sold the same 'modest,' (to be generous), amounts - around 100,000 copies each - and young bands are supposed to be susceptible to thinking that they have to please the record company, his comment just hit me like a rock. I replied: 'Who cares what they want?'"
That question has guided Rush ever since. "We're concerned first about exciting ourselves," Peart notes. "Then, by extention, the audience."
Grew out of early work
What excites Rush most is its new material. Long before David Bowie made such things fashionable as headline-grabbers, Rush was retiring old numbers from its concert repitoire.
"All of our work prior to 1980 has no emotional attachment to me," Peart says. "It's like an essay you wrote in grade nine or the pictures your mom used to stick up on the fridge. You grow out of such things."
Well, some people do. Peart recently read an interview with Paul McCartney and found it "very ironic. He said, 'when you go on tour, don't try to present your new material. People don't want to hear that.' He was patently acknowledging he was expecting to draw hundreds of thousands of people and make all that money from VISA on the basis of a nostalgia tour.
"That's the antithesis of what I would say," Peart adds. "If your new material isn't the focus of what you're doing and you don't consider it to be the best thing you've ever done, you better just become an oldies act and send yourself to Vegas. The dream is dead."