Living In A Big Rush
By Karen Krenis, Rochester Times Union, October 24, 1991, transcribed by Andrew J. Wilson
---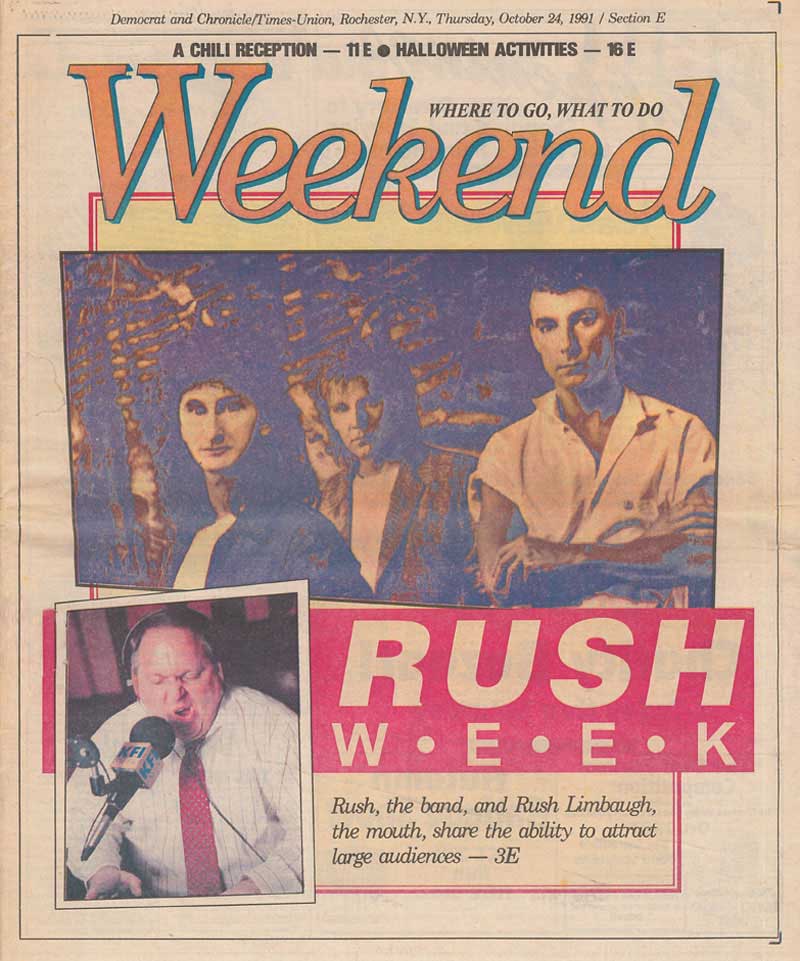 We seem to know every last, tawdry detail about the members of Guns 'N Roses, but think fast - are the guys in the Canadian rock band Rush even married? Do they have kids? Do they come to blows over musical ideologies?
If you're a fanatic Rush follower - and judging by the speed with which this Saturday's concert sold out, Rochester has plenty - these might be easy questions. But the average Rush fan probably doesn't have much of a clue; he or she simply likes the music.
That's exactly how the band likes it.
"The privacy aspect of Rush is really just self-defense," says Rush drummer and lyricist Neil Peart. "And from a writer's point of view, it's to make sure I can continue being an observer instead of being observed all the time. It's hard to write about the real world when you're not living in it, so it's been important for us to protect that element of reality in our lives. We need to get outside the bubble that being a rock band could certainly allow us to create. You could build such a wall of defenses that suddenly, you'd have no contact at all with the world outside."
In other words, Peart is happy to admit that all three members are amrried and have children. But beyond that, he says, the band has learned, without much difficulty, how to keep its public and private lives separate. Rush may have sold more that 20 million records in its 18 year history - and it may have sold out the Community War Memorial in just hours on both this tour and the last one - but it doesn't attract a whole lot of media attention.
"Luckily, we're not Michael Jackson or anything - the National Enquirer doesn't par on OUR doorsteps," says Peart, laughing. "We're not super-popular, although we're self-sustaining and our albums and tours do respectably. But at the same time, we don't sell the same number of records that Guns 'N Roses do. They get a lot more attention because they're a part of many more people's lives. And anyone who lives that kind of fishbowl existence, well, people will find something to write about."
So, no - Peart and Geddy Lee, Rush's high-pitched lead singer, have never knocked each other down. Bassist [????] Alex Lifeson has never gone to the bathroom in an airplane aisle. And none of them has paternity suits pending. It makes for fewer inches in the tabloids, but according to Peart, life in Rush is uneventful. The trio rarely disagree on their musical pursuits and genuinely enjoy working with each other.
Saturday's show is only the second on the new Roll the Bones tour, so on this mid-October afternoon, Peart is on the telephone from the band's Toronto rehearsal space. The guys are trying to hammer out the tour's song list, which is no easy task.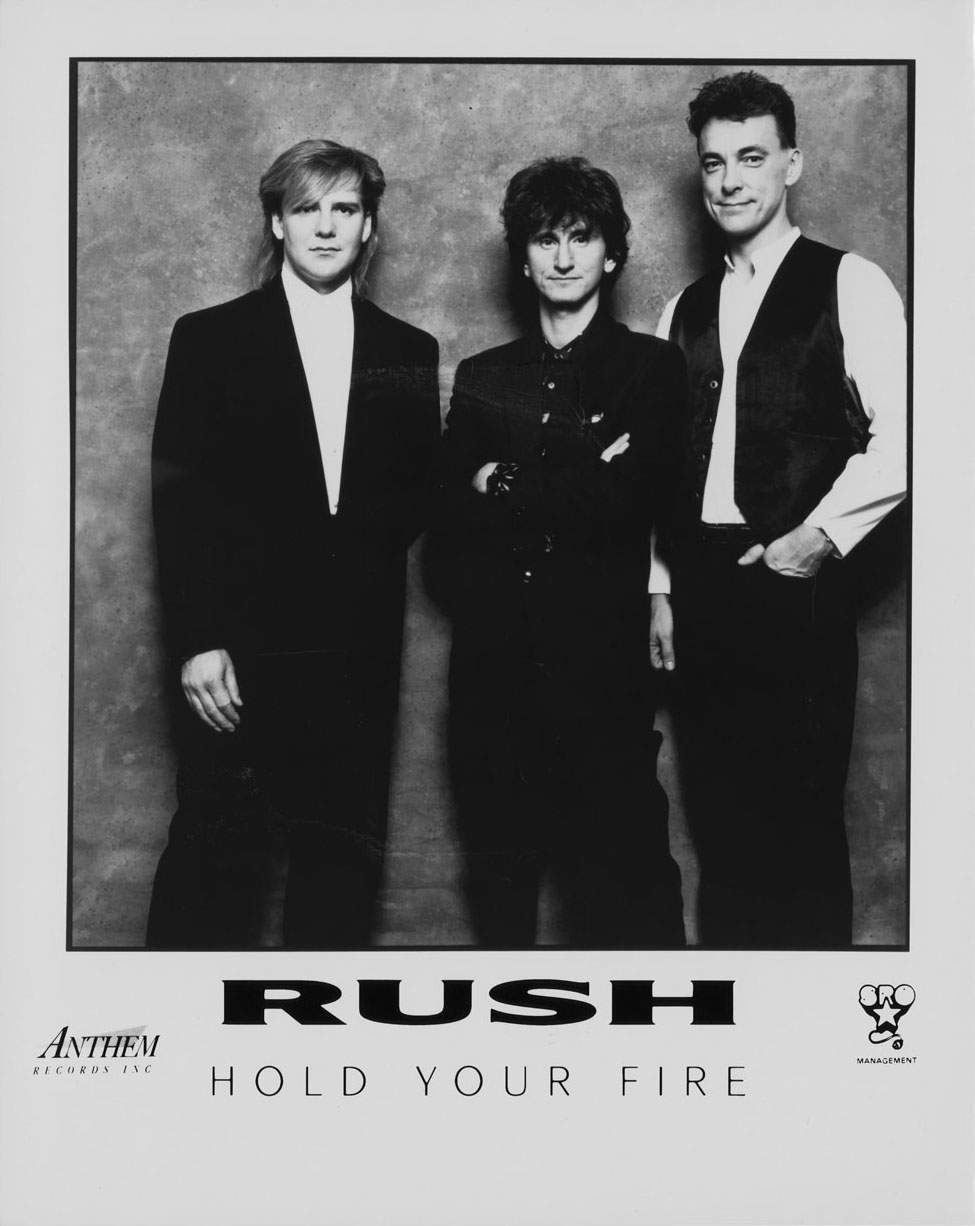 "We basically start from last year and decide which songs have become stale," Peart explains. "Sometimes we put songs away for a few tours, until we feel refreshed enough to bring them back, and that's been the case with Limelight. Now, we're ready to play it again."
But a concert can only be so long, and for every new song that's put into the rotation, another has to exit stage left. The toughest part, Peart says, is deciding what to play from Rush's new Roll the Bones album. He doesn't say for sure, but fans might expect Peart's own two favorites - "Ghost of A Chance" and "Bravado" - and "Dreamline", the first hit played locally on WCMF, FM 96.5.
"Changing arrangements can also be fun," Peart says. "In the past, our ideal has been to play as close to the record as possible, and that's an incredible goal to shoot for. But this time, we began messing with new songs right away."
Another tour highlight will - once again - be Peart's lenghty drum solo. It came at the end of YYZ on the last tour, but this time Peart has a different plan; a "history of percussion" solo that will feature African, rock and jazz rhythms.
"I'm not going to comeo out of a song this time," he reveals. "I wanted a free standing piece of music with its own dynamic structure. I haven't worked out every beat, though - I know where I'm going next, but I don't always know how I'm going to get there. It actually becomes a metaphor for the whole show: We do have to plan it out because we do want consistency, but there's room for it to breathe bigger on a good night."
Another question from fans might be, "Are we going to hear the old Rush on Saturday night, or the new Rush?"
It's a valid question. The band did in fact change its approach after 1981's Exit...Stage Left album, and those changes - more synthesizer-pop than the band's traditional metal-pop approach - annoyed many of the faithfuls who'd been with Rush from its Fly By Night and 2112 days.
"It's so difficult for someone on the inside to judge between early and late; to me, the band has been a series of evolutionary steps," Peart says. "I mean, what we went through in the '80s were a wealth of experiments that have served us so well in the long run. For us it wasn't like we lost our way or anything. Quite the contrary. We went off in some interesting ways and tried a lot of things that expanded our range. I would agree that the last two albums (A Show of Hands and Presto) have been more focused, but I think that's been a result of prior experimentation, whether those experiments worked at the time or not. For me to compare Roll the Bones with, say, Hemispheres would be, 'Thirteen years of evolution.' There's been a lot of change and well there should be."
It's not just the group that has changed, though - Peart as band lyricist has also matured. He's always been lauded by the press and fans for his insightful, well-drawn phrases, but he says that on Roll the Bones he was comfortable, for the first time, with subjects like eternal love ("Ghost Of A Chance"). So what's been his secret?
"Discipline," he answers without hesitation. "People think songwriting is all about mysterious inspiration, but really, it's about being on the edge of sleep, having an idea, and forcing yourself to get up and write it down. Or if you're in the middle of something and a phrase pops into your head, it's about saying, 'Well, this is inconvenient , but I'm going to write it down so it will be there in a year when I need it.' You have to save up your little inspirations and then sit for three days if you have to, until you get the song right."