Twist Of Fate
By Keith Sharp, Music Express, Vol.16, Issue 165, November 1991, transcribed by pwrwindows
---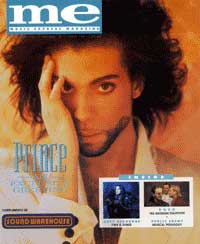 After being close to disbanding, the members of Rush experienced one of those fateful "moments of clarity" that in this case resulted in a creative rebirth and a slew of new songs. Fittingly, their new album, Roll The Bones, is all about fate, chance and the random equation.
Rush bassist Geddy Lee is in a quandary. He's trying to plot North American tour dates around projected playoff games for his beloved Toronto Blue Jays. But as the Jays went into their annual September nosedive, it was looking as though the self-confessed baseball nut might have few distractions when he hits the road with Rushmates Alex Lifeson and Neil Peart to push their latest opus, Roll The Bones.
Of some consolation is the album's No. 3 debut in the Billboard charts, Rush's highest showing since Moving Pictures (1981) and a response which has triggered talk of extensive touring outside of North America.
"We were overly cautious about the Presto tour," relates Lee as he tackles a lunchtime sandwich at the group's Toronto headquarters. "We only played a few U.S. and Canadian dates, and by the time we were finished, we were so charged up we wanted to keep on playing. With this tour we've made more of a commitment, and if the album does well enough, we'd like to do Europe and other outside markets."
By Lee's admission, the band's renewed enthusiasm was triggered by the 1989 release of Presto, which, although being one of Rush's least commercial successes, sparked a creative rebirth within the ranks. "We felt like a group again - it was a feeling we hadn't had in quite some time," says Lee, who confirms the rumor that the band almost split up while mixing the A Show Of Hands live album. "The optimism spread through the recording of Presto and continued on through the sessions for Roll The Bones. We actually finished ahead of schedule...and Rush never does that!"
Like other recent releases, Roll The Bones reflects a specific conceptual theme, that of chance and how it plays a role in people's lives but as Lee is quick to point out, there's many layers and twists to that theme. "It's about those unsolicited appearances, about best-laid plans gone to hell because of a strange twist of fate," Lee explains. "It has a lot to do with the random equation of life. You think your life is organized, but there's always that random element which will continually change things, the elements which separate the winners from the losers."
For the most part, the songs offer an optimistic message. In "Bravado," drummer/lyricist Peart writes: "Though everything is lost, we will pay the price but we will not count the cost." "Dreamline" and "Neurotica" also take an encouraging stance - but on the flip side there's "Heresy," a song that humanizes the deconstruction of the Eastern Bloc. "It's a documentary essay about people who are cut off from freedom, find it again after such a long time and ask themselves why they were denied these basic rights in the first place," Lee explains. "There's a sense of outrage about their plight."
Although the lyrical theme is clearly obvious, Lee notes that Peart's motives can be fairly subtle as well. "It's important to Neil that there be many layers to his writing," he says. "He puts in subtle nuances that nobody else grasps but he knows are there. That's rewarding for him. He wants there to be depth under the surface."
Of special interest is "Where's My Thing?," the band's first instrumental track since "YYZ." "It's something we should do more of," notes Lee. "We should indulge ourselves more often because we had so much fun doing it.
"We were going to do one on Presto, but every time we did something decent, Neil added a lyric and turned it into another song. So this time, when we found the right instrumental track, Neil refused to give us a lyric. It was great because it was something we weren't supposed to do!"
Like Presto, Roll The Bones was co-produced with English studio wiz Rupert Hine, whom Lee says has helped create some artistic tension in the trio's performance to loosen up their natural tightness. "When you've played together for 17 years, that tightness of performance comes naturally to us," Lee says. "What Rupert has helped us do is become more relaxed and casual without being sloppy. He's pushed us to get a good live sound before we start applying the technology."
So technical in nature is Rush's sound that they've evolved into a complex, Pink Floydian triumvirate, far removed from their heavy metal genesis. In fact, when they were honored (along with Bryan Adams and k.d. lang) as Canada's artists of the decade earlier this year, Rush were unable to mount the stage and join in on any impromptu live performance.
"I appreciate it's a problem," acknowledges Lee, "but we can't just hop up on stage and say 'Let's do...what? - 'Big Money'? 'Hemispheres'?' I know it's a dangerous trap to get ourselves into, but there's so much technology involved and we want to reproduce our music as accurately as possible. We could perform like that as individuals, but as Rush, that's another matter."
It's a problem the trio have tried to come to terms with in the writing and recording process, preferring to develop the song's core first before elaborating the arrangements with synths and computers. "I remember the feeling of walking into the Presto writing sessions and coming face to face with a bank of computers. So many screens, but I couldn't get a baseball game on anyone of them - they were all plugged into computers and synthesizers. I thought I was going to die of cathode ray exposure!" Lee laughs.
"I remember looking at Alex and saying, 'I don't want to touch this stuff.' It was almost like we were afraid to get into it - like it would control you. I don't want to compose by spending all day staring at a TV set! It seemed so removed from writing music.
"So Alex got his guitar and I got my bass and we started writing like we did in the old days. Once we got a skeletal song together, we could look at that bank of electronics, hook up the eight-track machine and start playing around with it to add a little colour. Then it's a lot of fun because you can use it is a paint-box, knowing the core of the song is already there."
Reproducing the material live on stage is another matter, though. Lee admits that the average two hour Rush concert is a complex operation for three musicians and that the videos, lighting and other special effects are at times used to distract the audience.
"Parts of our show are technically demanding and require a lot of concentration," he says. "So we use those effects to enhance the moments where we can't put a lot of personality into the performance. We try not to make things too calculated, though. Alex and I don't rehearse dance steps or movements but we try to be loose and let our bodies take on their own language."
Although Lee acknowledges that Rush has vastly transformed itself over the past 17 years and 18 albums, he feels the metamorphosis has been gradual and at times hard to gauge. "I look at old videos and I see this band wearing long robes, preposterous clothes and a drummer with long hair and a moustache, and it's hard to recognize those people as being us," he laughs. "But there's a part of my memory that's very sure of what we were doing at the time.
"In a way, it's hard to be objective because when I think we've made a big change, nobody seems to notice. But when we do something relatively minor, everyone thinks it's a big change - so it's hard to observe these things in their proper perspective. I'm sure we'll make a few more changes before we're finished."
The Toronto-born bassist admits that the threesome have gone through times when their personal lives threatened to take precedence over the band, and there has been serious talk in the past of disbanding.
"There have been certain moments when each of us thought it was going to end," Lee concurs. "When you start redefining personal goals, it's inevitable that the band suffers. Your personal life becomes much more important to the point of being ridiculous - where you won't give in on anything for the band's sake; it becomes your very last priority. You actually start resenting its intrusion into your personal life.
"But then you turn a corner, a twist of fate, where in a moment of clarity, you see yourself appreciating your career, the fact you have two partners you enjoy working with, who share the same musical vision - which is so rare - the fact you've been allowed to create music without any real pressure to compromise and you look around and feel very positive about it. I think Rush is over that hump and is back in that positive mode."
With major touring activity planned for the next six months, Lee admits he's more than a little concerned about the current economics of going on the road - particularly considering this past summer's depressed concert market.
"We approach this tour with more than a little trepidation," Lee admits. "All you hear are horror stories about people developing sore throats and cancelling entire tours. You have to hope that you've developed enough of a reputation that you won't be affected, but it is scary."
Lee feels that a decline in live concerts would adversely affect the entire industry, particularly the new groups and artists who can't rely on radio and video for public exposure.
"The pressure to get on MTV and MuchMusic has warped the sensibility of some bands," he says. "They can't always rely on those mediums to break their records. So they have to go out on two-act or three-act concert packages. Particularly with the heavy metal bands, it's the only way they're going to get that initial recognition. Take that away and you're cutting off the lifeblood of this industry, and we can't afford to do that."
Rush themselves are good for at least a couple more albums, according to Lee. "I still like the idea that we go into a writing session without any preconceived idea of what we're doing," he says. "So long as that creative spark is there, I'm sure we'll come up with something worth recording."
That is, providing Lee's Blue Jays don't continue interrupting their schedules. "Hey they beat Oakland 3-2 last night," he says cheerfully, "they're 1 1/2 games ahead of Boston with 12 to play. Let's take another look at our touring itinerary!"