Older, Wiser And Still Rockin' Rush
By Lynn Saxberg, Ottawa Citizen, November 21, 1991, transcribed by pwrwindows
---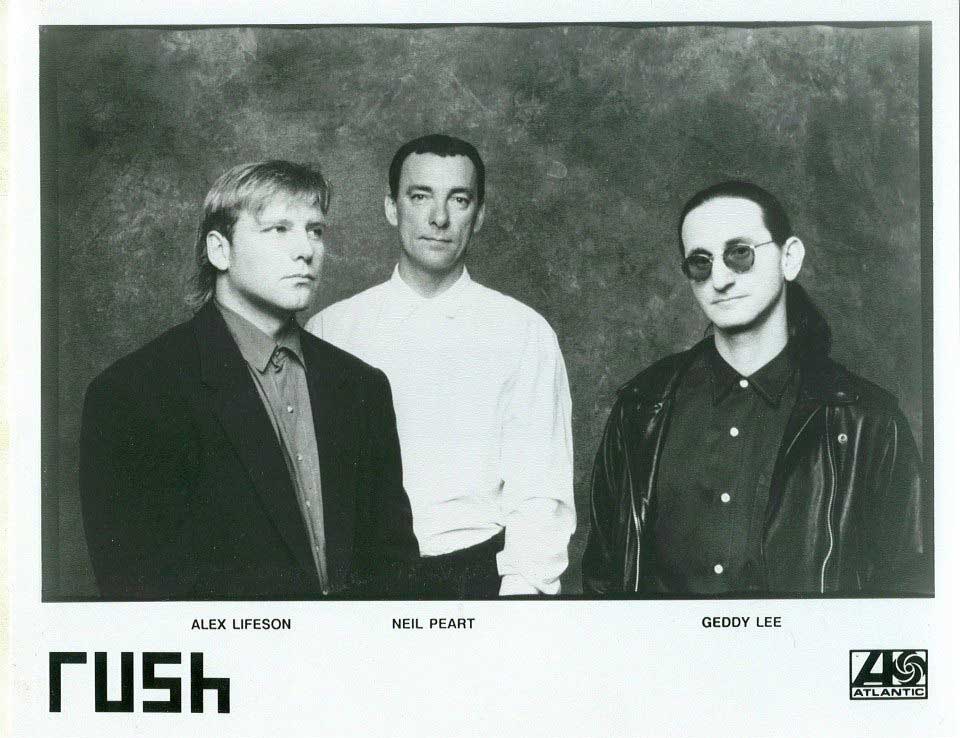 When Rush is touring, drummer Neil Peart's peace of mind depends on giving a good performance.
"My whole life hinges on how well I played last night," he says. "It's so important and so critical that a show day is like nothing else. I judge my whole reality based on how well that two hours on stage go."
That's the kind of uncompromising professionalism that has propelled the trio to become the most respected of Canadian rockers.
But 18 years ago, neither the band members - Peart, guitarist Alex Lifeson and singer-bassist Geddy Lee - nor the critics would have predicted that the band would become so firmly established.
They've released 14 studio albums worldwide. They own their own record company, Anthem Records, and each band member makes a comfortable living. They even have a health and dental plan for their roadies.
Not bad for a band that used to play every high school dance north of Toronto.
The band is three weeks into a world tour, backing the newly released Roll the Bones album. They perform at the Civic Centre Tuesday.
To some, the enduring appeal of the music lies in its consistency - complex lyrics over intricate bass and drum work, with Lee's soaring vocals providing a distinctive hook.
But from Peart's perspective as a musician and songwriter, the playing and writing has changed enormously during the years.
"To me, early things are like your fridge paintings from Grade 2 that your mom used to hang on the fridge. You grow out of them and you're either embarrassed or a bit nostalgic about them," he says.
"That's probably a good analysis with the early stuff for me. For me, anything much before 1980, I don't honestly relate to in any direct way anymore. As with anybody, you look back at your adolescence and it could be, maybe not embarrassing, but uncomfortable at least.
"I've become much better at communicating ideas and sensations and responses to things," he says.
Although Peart sounds like a hard-to-please perfectionist when he talks about his work, he is happy with the new album.
The song "Ghost of a Chance," for instance, is a rare Rush love song. The band usually shies away from love songs because they tend to sound shallow, Peart says.
"Falling in love, as everyone knows, is a pretty common occurrence. But beyond the falling in love, to create a real enduring love is an effort of will and discipline and sacrifice and all those other things that are work in a sense."
"I was able to address a nuance of love like that, just through having the technique of being able to think about it and then verbalize it with exactly the right words."
In the past few years, Rush has enjoyed a growing sense of respect from a wider audience. Peart speculates that it may be because of renewed interest in heavy metal. While Rush's music is more accurately termed progressive rock, it's often been lumped in with metal.
And that used to bother Peart. "Three or four years ago, the definition of heavy metal was pretty lame," he says.
"Now it's actually a very respectable genre. In fact, it's often attributed as the return to real music and real musicians.
"Before we were guilty by association and now we're kind of heroic by association. We're still doing the same things and growing our own way but suddenly everything's changed around us."
Rush fans who discovered the band in the early days have grown up with the band. Many are now in their 30s with careers and families. Peart says he's beginning to see fans in the audience with their spouses and children.
And the fans are definitely a devoted bunch. Rush has been bombarded with petitions from fans in certain Canadian cities, including Ottawa and Halifax, to bring the band to their town.
Peart received the Ottawa petition, started by a local radio station, when the band was in rehearsal. After checking with the band's manager he faxed back a positive reply.
"At the time, we didn't know exactly when but those things do matter. You hear about something like that and you want to respond to it."
Artists: Rush
Dates: Tuesday, 7:30 p.m.
Place: Ottawa Civic Centre
Tickets: $25.64 plus surcharges, available at TicketMaster, 755-1111