Rush Rolls With More Organic Sound; Latest Set A 'Reaction Against Technology'
By Jim Bessman, Billboard, November 23, 1991, transcribed by pwrwindows
---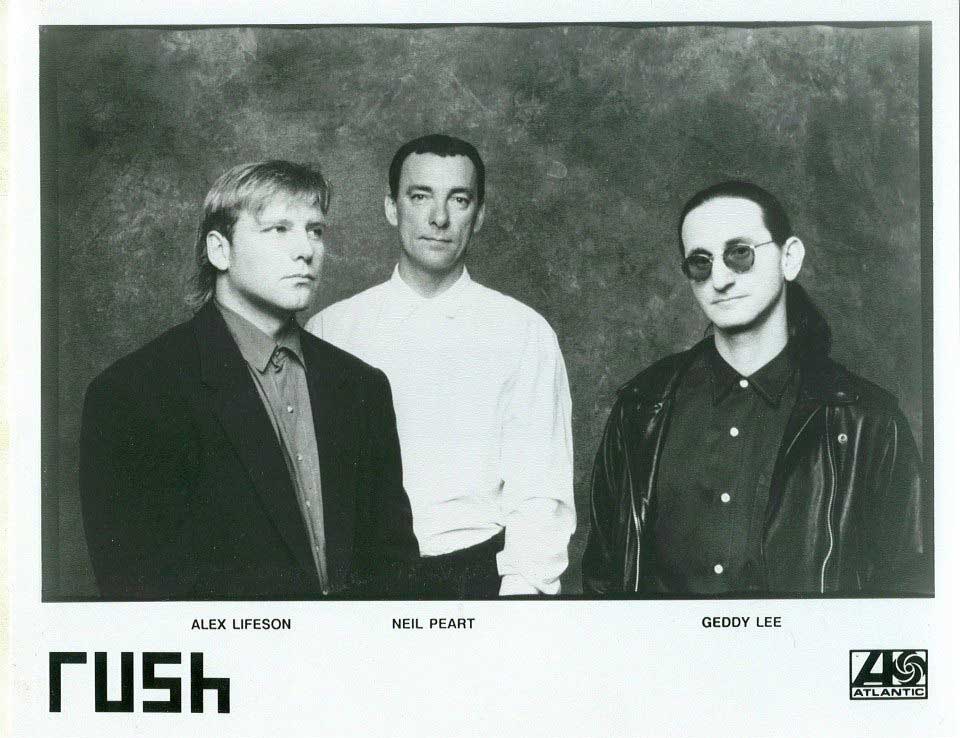 "Roll The Bones," the second Atlantic Records release for Rush, debuted at No. 3 on The Billboard 200 Top Albums chart in September and has already hit gold certification, sending the veteran band on the road with a renewed sense of creativity and purpose.
The venerable Canadian techno-power trio, whose self-titled debutbowed [sic] in 1974, came to Atlantic from Mercury Records with the 1989 album "Presto." That album, according to front man Geddy Lee, paved the way for the "organic," less synthesized production method used again on this latest release.
"It's a continuation of that we started with 'Presto,'" says Lee, singer, bassist, and synthesizer player for the band who with guitarist/backing vocalist Alex Lifeson puts music to the lyrics of drummer Neil Peart.
"It was kind of a reaction against technology, which we felt we were drowning in. We were seeing mountains of synthesizers, computers, and TV screens, and didn't really want to touch nay of it. So Alex and I got an eight-track and mike, guitar and bass, and decided to see how far we could get before getting desperate for the other stuff, and it really sparked a change for us."
The change has already sparked success on radio, with the song "Dreamline" hitting No. 1 on the Album Rock Tracks chart. MTV has had the song in active rotation.
Of course, Rush has not completely cut out technology but uses it now as an arranging tool rather than primary writing device. Lee says that the fresh approach to composition was further reflected in the band's optimistic outlook, having "sorted out the nagging debate" over how Rush could continue - and for how long.
"You have to allow yourself time to be a human being and cut ties once in a while," he says. "You can't be afraid to say what's on your mind, or remind yourself what a competitive - and very unhealthy - environment the music business is."
After so many years of writing, recording, and performing together, Rush reached a point where the members lost confidence in both themselves and the group. Lee says that at the time of the 1987 album "Hold Your Fire," each had "different mindsets," much to the detriment of band solidarity.
"We went through a period of restructuring our personal lives and priorities and now, a few years later, we're three adults in a rock band as opposed to three postpubescents. That's certainly affected the spirit of the new record, and the lyrics to a certain degree."
Also helping is the new label affiliation, as Lee feels Rush's momentum suffered over the years at Mercury/PolyGram because of numerous changes in regime. Otherwise, he notes, "Change is a good thing," and he offers as proof the band's new road manager, new lighting designer, and relatively new co-producer (with Rush) Rupert Hine.
"We've committed ourselves to not changing members, so we change something else every now and then," says Lee, who credits Hine - who also worked on "Presto" - for helping realize a slightly looser sound on "Roll The Bones."
Recognizing Rush's "curious history" and "definitely crooked road to success," Lee is grateful for the band's dedicated fan base and the good will generated by its quality concert showmanship. "I'm not really sure who's out there, but there's great variety, and we've managed to remain headliners for over 10 years," he says.
Rush embarked on a North American tour Oct. 25 that is due to continue through mid-March. Meanwhile, the title track from "Roll The Bones" has followed lead track "Dreamline" as the second cut serviced to album radio.