Three Is Never A Crowd
By Lisa Fantino, The Music Paper, December 1991, transcribed by pwrwindows
---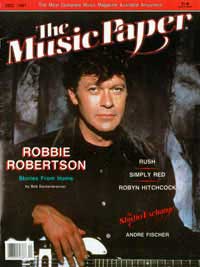 Baseball and rock 'n' roll - they just go together. I can still remember the first time I saw the Yankees play at the Stadium in the Bronx and I can still remember the first time I saw Rush play at the Carrier Dome in Syracuse. Some memories, especially the good ones, just last. After I saw the Bronx Bombers win in person I was a fan for life, and oddly enough, the same thing happened after I saw Geddy Lee, Alex Lifeson and Neil Peart in concert.
The Canadian trio has scored dozens of gold and platinum albums in more than two decades together; whatever the strategy, it's definitely working. The problem is, the more you do something, the better you get at it. And the better you get at something, the more complacent you become. So how do you keep it fresh? How do you keep yourself from falling asleep in the middle of the game? I ask myself the same question at the start of every interview. After 12 years in this business, you get tired of asking rock stars if they're having a good hair day! So you make it interesting for yourself, and if you succeed in doing that, then everyone around you will have a great time. And that's exactly what Rush is banking on with their latest album, Roll The Bones (Atlantic).
"I don't know how people are going to take our songs and I can't really be worried about it," says Lee. "I just have to do what I think is right. The three of us write what makes us happy and that's the way we've always done it.
"And you can't second guess yourself too much or you just drive yourself crazy."
After getting as elaborate as possible in studio production on 1982's Signals and 1984's Grace Under Pressure, Rush is getting back to basics with the new material. It's always been Lee on bass, Lifeson on guitars and Peart on drums and now you can hear those instruments again in tracks like "Dreamline" and "Bravado." The songs are not bathed in sound effects but enhanced sparingly.
"It's a cleaner, more direct approach," says Geddy Lee. "I feel good about this one because we wanted to try that as we started writing and we carried it through. And it's fairly well representative of the goals that we set for ourselves on this album."
The music is a lot funkier, too, than in the past. Rush has always been categorized as heavy rock bordering on heavy metal, but Roll The Bones is more universal. Peart, as always, has written some thought provoking lyrics, and Lee and Lifeson have come up with some of their best music to date. The instrumental "Where's My Thing" is one of the best tracks on the album and gets you moving in the same groove as the old Alan Gorrie and Hamish Stuart funk from the Average White Band.
This is sophisticated music played by big boys who know what they want and how to get it. They don't have time to waste in the studio; they get right to the heart of the matter. This time producer Rupert Hine coached them there. Lee says Hine is a tremendous asset to Rush, is a great vocal producer and lends a talented set of objective ears to the band, but he adds that Rush is a closed club. It's always been just the three of them and they've become very protective of that special clique over the years. Once spring training starts - or whatever season it happens to be when they start a new album - Lee, Lifeson and Peart lock themselves away and isolate themselves from the rest of the world. It's the only way for them to get in shape and get their chops down.
This time it meant living together in London with no wives, no kids, no girlfriends, no roadies - oh no! Yet it worked, as it has before when Rush felt the stage slipping from under them.
"The Hold Your Fire Tour was a tough tour for us. Physically it was a demanding tour," says Lee. "We weren't sure if we wanted to tour anymore. We weren't sure about a lot of things and we needed time away. Through the course of making Presto, the three of us were living together in a house in London, and we hadn't done that without any outsiders for quite some time.
"We had to fend for ourselves and we had the greatest time. You know, we each took different responsibilities for keeping the house together and we really had a lot of fun.
"Through that time we talked a lot about the band and what we wanted to do and whether we should tour or not tour. We needed to talk and we needed to get down to the heart of the matter and we did. I think we went away from that feeling more of a band and I think that rubbed off on the Presto tour, which turned out to be our happiest tour in many, many years. And I think that snowballed through this album."
Lee says the process of making Roll The Bones renewed his commitment to Rush and he believes it did the same for Peart and Lifeson as well. He says the secret to the band's longevity is their professionalism and their acceptance to separate that professional life from who they are as people. That could mean Peart leaving a bus tour in the middle of the night to go off on his bike, Lifeson scuba diving off the coast of some exotic port or Lee antique hunting for bird cages and Coke bottles. The point is that they can do whatever they damn well please, still making good rock 'n' roll or enjoying the benefits they've worked so hard to attain.
"You can kind of view your life with a certain calmness and look at the things you like about it and the things you don't like about it and act on those in a more direct way and it's not such a panic," Lee confesses.
"When you're younger you're all tied up in knots. You're tied up with ambition and you're so busy doing it that you don't have time to look at what you're doing or appreciate where you're going. There's a lot of fire there and there's a lot of passion and ambition that's all mixed up. It's all tied together in a kind of thrust and now, for me, it's much easier to see what's going on and appreciate the good things that happen for the band, as well as understand the negative things that can go on."
The band is happy being a band but that doesn't mean Rush never has a problem. Lee says they talk out the personal kinks but just keep going over the professional ones until they get it right. That's what happened on this album with the track "You Bet Your Life."
"That was probably the hardest track to record," admits Lee, "But it wasn't the hardest track to write. It was actually a lot of fun to write. It was very hard, though, to get a balance in the chorus between the chanting vocals and the main vocal line. It was a tough song to mix and one that I never felt confident that we actually nailed.
"On the other hand, 'Bravado' was a tune where almost everything you did felt good about it. And then you're left with the problem where you could very easily overdo a song like that because everything sounds good on it. And for us, I think pulling things out of that song was the key, simplifying the arrangement."
Less work, more work - it all depends on how you look at it. Geddy Lee has been reworking his trademark vocal style for the last several years. He says it's a matter of getting older and wiser about how to put more emotion into a phrase.
"Over the years, it's been an area that I take much more seriously in knowing how to use my voice properly and writing songs in the right key and getting the most emotional delivery that I can.
"It's something that Neil and I talk about a lot, in terms of writing lyrics, that makes it easier for me to put more expression into them.
"He's such a professional to work with and such a pleasure to collaborate with. There's absolutely no ego involved in working with him."
They get along marvelously. I'd guess they'd have to, to stay together for more than 20 years. I mean, even champion ball clubs don't stay together for half that amount of time. But being a trio must have its advantages and autonomy must be one of them.
"You know, you can't really take sides, because two against one just ain't fair," Lee says, laughing. "And if there are four people you'd break down into factions, two against two and so on.
"And three people can fit anywhere -three people on the back seat of a car, three people in a taxi; you're so mobile. It's such a great mobile number. You have no problem getting reservations, whereas if you have four or five people, then you have trouble getting into a restaurant, getting here and there. [Three is] just a very portable number." Well, in baseball it's three strikes and you're out, but this Canadian trio keeps striking and coming up gold or platinum.