Alex Lifeson, Rush's Class Act
By Bill Pulice, Industrial Music, January 1992, transcribed by pwrwindows
---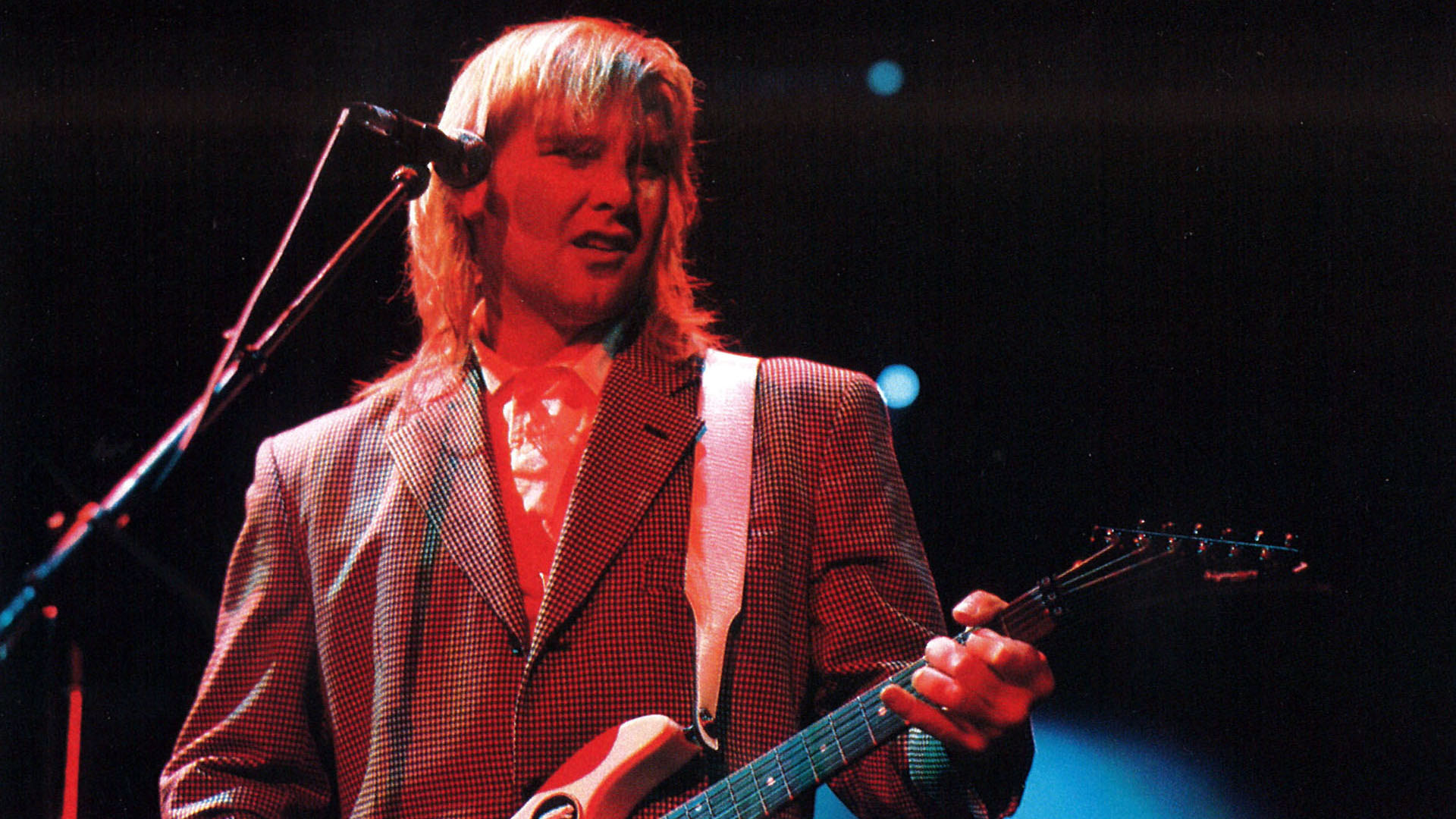 To exchange thoughts with a 20-year music vet who's music has had a great influence on my life was clearly the greatest journalistic thrill I've yet to experience. Since their 1974 self-titled debut, the Canadian progressive metal trio, Rush, have unfailingly delivered continuous quality to their ever-growing, ever-faithful fan base.
Guitarist Alex Lifeson shines as a true innovator to the field of progressive metal. His patented use of open bar chords, soundful solos and distinct rhythmic patterns are among the many distinctions of his style and prominence. Rush are currently touring the states in support of their latest triumph, Roll The Bones. Alex was wistfully informative and engagingly nice.
INDUSTRIAL METAL: Let's squash any possible circulating rumors, what's the current and future state of Rush?
ALEX LIFESON: After the Hold Your Fire tour, everybody was burnt out. There was a lot of sickness, it was very stressful and very long. When we finished the European leg of the tour, we came home and had about six days off. We then went right into the studio to mix A Show Of Hands. When we finished that, we couldn't even talk about touring again. We decided to take about seven months off; everybody got a chance to separate themselves from the band and everything that it stood for. When we went in to record Presto, everybody was really fired up. We still didn't talk about touring until the last days of mixing. We decided to tour for Presto but it was to be done very carefully. We didn't do a really long tour; we came back feeling like we could have stayed out longer, which was just the right time to stop. With this record something happened. We've got a new found enthusiasm and excitement about what we do: touring, recording, everything. We're looking at a very long distance future now. This won't be our last tour, that's for sure.
You are the only guitarist I can think of who has had two trademark guitar sounds. During the Fly By Night, 2112 days, you had that clean, Gibson bite. Then around Grace Under Pressure, you started to load your signal with multiple effects and you incorporated the bar a lot more. It seems as if this was a time where you progressed most as a guitarist?
Yeah, absolutely. That's pretty accurate. I think it was more of a tonal change on Grace Under Pressure. I went for a more chorusy sound, more active echo repeats. I brought things up front a little more. I've always felt very comfortable with effects but I did get into them more at that time. This record is a little more straight forward then it's been on the last few records.
I've known you to do various spontaneous solos and then flying them in with one another, almost like editing?
Yeah, I'll do four or five solos then we'll piece things together, though on this record we took a different approach. Three solos were done in one take, on an eight track when we were writing. I think they're the three best: "Bravado," "Roll The Bones" and "Ghost Of A Chance." It was total spontaneity and that really appealed to me. I don't want to get bogged down doing a million takes of a solo just to be flashy or to do something someone hasn't done before which is impossible with guitar nowadays.
Is there a Rush album that you are most uncomfortable with?
Signals. Actually Signals and Grace Under Pressure.
Oh no, not Grace!
Grace Under Pressure was very difficult. We were supposed to do that record with Steve Lillywhite. We were in rehearsals finishing the material and we're talking about going into the studio in two weeks' time when Steve's manager called and said "Steven is backing out of the project. Here's our lawyer's phone number. Call him if you want to sue us." We had to scramble to find someone to work with. We had already broken away from Terry (Brown). We really wanted to work with someone else and didn't really have much of a choice. Two weeks' notice to a producer is not much time. Peter Henderson came along. He wasn't very busy and seemed like a nice guy. We said 'great, let's do it.' In four and a half months we had only one day off. It was murder. Peter was not a strong enough producer to take the reigns, to suggest a direction. He sort of turned out to be more of an engineer then a producer. So it put a lot of pressure on us. I don't dislike it. I like that record a lot. I think there's a lot of good songs on it, but I think some of those songs could've been even better.
The break between Hemispheres and Permanent Waves was a bit more extended for Rush. "Spirit Of Radio" took off on AOR radio more than any previous Rush single. You certainly didn't sell out with accompanying tracks such as "Natural Science" (still considered an all-time progressive metal classic). Was that a transitional period for Rush to be a little more mainstream?
Yeah, it was. I think after Hemispheres, we decided that we'd taken the idea of concept records or one song on a whole side as far as we were gonna take it. Generally, we were quite satisfied that we'd written enough long songs. With Permanent Waves, we made an effort to change the direction to shorter more compact songs, trying to get the same elements of an eight to nine minute song into four or five. We've stayed on that course ever since.
In the past five years, has there been any conflict in the band's direction and have you by chance had a personal desire to get Rush back into being a little harder, somewhat similar to your early days?
I'd say no and no. We're always together on direction. We don't know where we're going when we arrive in the studio. But once we start writing it quickly forms. It's definitely a band thing. I just can't see us taking a giant step back to stuff we were doing ten or fifteen years ago. That's not to say we won't take a more direct approach in our music in the future. I think with Presto and Roll The Bones even more, we've gotten back down to a more basic three-piece. We use keyboards much less than we did on Power Windows or Hold Your Fire. Now they're where they belong, as an enhancement in the coloring, and the guitar is a bit more up front. I could stand to hear the guitar even more up front.
I recently read where Geddy almost admitted embarrassment over Rush's early material. I couldn't believe this. Did he mean his voice or what? And do you feel the same way?
You'd really have to ask him. There are things when I look back that seem so innocent they're embarrassing. On Caress Of Steel for instance, there's a lot of stuff that I would cringe to listen to now. At the same time, that was a very important point in the bands development. Without that record we wouldn't have done 2112. So there's a special place in my heart, even though it is, maybe, a little embarrassing to listen to now. I think that's what Geddy may have meant.
How much of an influence was Jimmy Page and Led Zeppelin on Rush when you first started jamming?
Jimmy Page was my biggest influence. When we first started, Cream and Hendrix were big. Later that year, I guess in 68, Zep came along and they were a very big influence. Geddy's voice changed; that's when he started singing a lot higher. We used Zeppelin songs in our set. I believe "Whole Lotta Love," "Heartbreaker" and "How Many More Times" and a few more.
Have you ever met Jimmy Page?
No, I haven't. I want to meet him. I loved that guy for so long; his playing and everything about him as a guitarist. But, I'm not sure I want to have that dream, that image of him shattered (laughs). I'm trying to be diplomatic.
Can you recall your first signing?
We were just a little bar band from Ontario. We financed and released the first record ourselves because we couldn't find anybody who was interested in the band. A friend of ours sent a copy to a program director of a radio station down in Cleveland, WMMS. She played it and got incredible phone response. In tum, she called a friend of hers that worked at Mercury Records, Cliff Bernstein. She said, "Listen, I got a record here that I'm getting amazing phoners on and you might want to check it out." She sent it to him and basically the next day we had a deal. Two weeks after that we had our first tour. We rehearsed with Neil for about a week and went right on the road with Uriah Heep. The fact that we got on a tour as big as Uriah Heep was something else cause they were an enormous band back then. We only did twenty minutes as an opening act, but we played before twelve to 14,000 people the first time we ever toured.