Thinking Fan's Band Plays Chapel Hill
Rush Roll The Bones At The Dean Dome
By Randall Patterson, Durham Herald-Sun, March 6, 1992, transcribed by John Patuto
---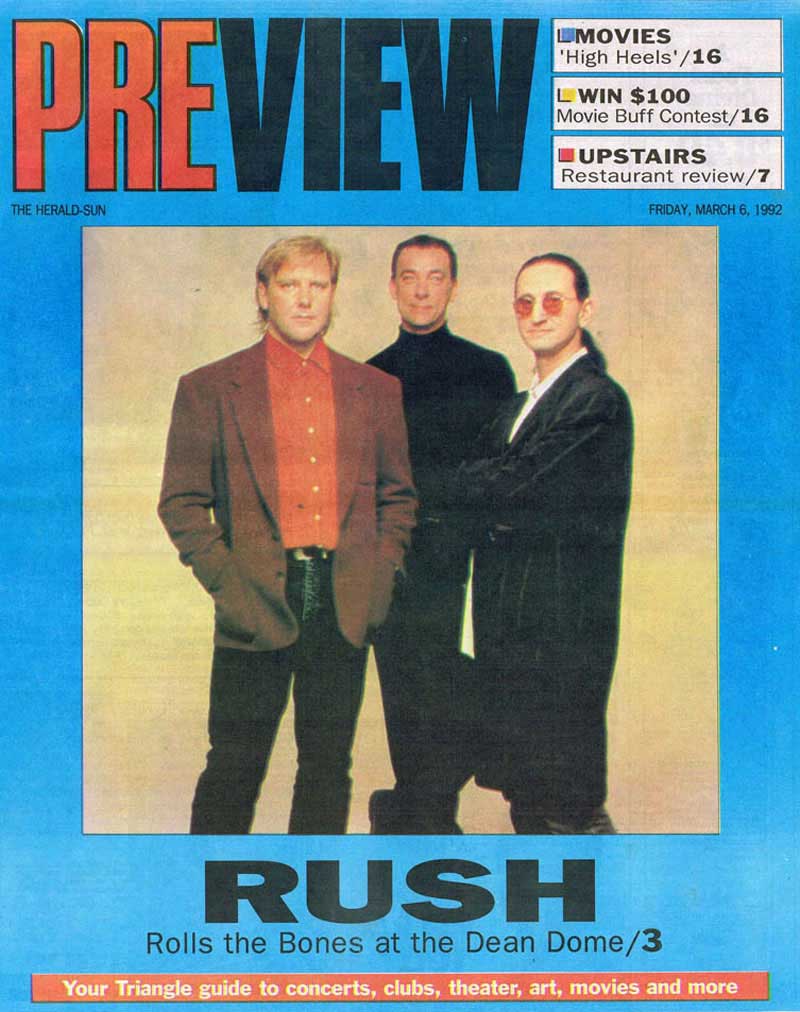 Twenty some odd years ago, Geddy [sic] Weinrib and Alex Zivojinovich dropped out of a Toronto high school and formed a rock band. They wanted wealth and fame.
Nothing exceptional in that. The same dream has been the source of thousands of parental nightmares. But Weinrib and Zivojinovich were different.
Designing themselves for mass appeal, they cast off their ethnic names. They became Geddy Lee and Alex Lifeson, and with another dropout, Neil Peart, they became Rush. And Rush became a rock 'n' roll phenomenon.
From the beginning, young audiences loved what one writer called Rush's "bone-crunching sound and mystical message." As Karen Schoemer wrote in a New York Times review of a November concert, the band's music has become "a kind of rite of passage. With lyrics about such grand philosophic issues as free will, destiny and apocalypse, Rush creates music that is bigger than life, dazzling in its technological feats. The teenage mind is chaos; Rush is perfect order. It's like a sonic video game."
Years later, the members of Rush are among rock's elder statesmen, rich and famous perhaps beyond even their imaginations. With Atlantic Records, they have one of the most lucrative recording contracts in music, and in 1990 alone, they earned $16 million.
For the first time, the band comes to the Smith Center on Saturday night. The middle of a nine-month world tour, the show should be similar to what Schoemer saw, a sound-and-light spectacle "so overwhelming that it was easy to forget there were actually three men on stage ... Thousands of teen-agers, mostly male, screamed every lyric and punched their fists in the air. They played air guitar, air keyboards and air drums."
Critics haven't always been kind to Rush. Lifeson's guitar and Peart's drums and lyrics usually rate OK, but Geddy Lee has been described variously as "pop music's whitest-sounding singer," whose high-pitched voice is like an "air-raid siren" or "a wailing banshee."
But to fans, Rush is energy and depth. Gary Jones, the manager of Camelot Records in Sound Square Mall, began listening to the band when he was 13. He's seen Rush in concert three times, including once on the current tour.
"They're so complicated, so complex, so deep," he said. "They're a thinking man's band. It's more than just 'I love you' love songs."
As illustration, Jones pointed to the lyrics to "Entre Nous," from the group's 1980 album Permanent Waves:
"We are secrets to each other, each one's life a novel no one else has read / Even joined in bonds of love, we're linked to one another by such slender threads..."
The song goes on to compare the lovers to planets, strangers and islands.
"You've got to hear it," Jones said. "It's different with music."
But many critics still believe the band is only heavy metal for teen-agers. Ten years ago, fans swarmed band members at their Toronto homes, peering in windows, knocking on doors, asking for autographs, old guitars and even money. Lee, Lifeson and Peart took their families into more affluent neighborhoods and kept the press away. Only recently, to improve their musical reputation, have they begun giving interviews again.
"We may never be digestible for a giant audience," Lee said for a September MacLeans article, "but there's a part of us that wants to be viewed in the proper light."
In his free time, Lifeson is busy with sports and weightlifting now, trying to recapture a youth given to music, but Lee doodles with his bass and keyboards and listens to a range of music that extends from Billie Holliday to the Cure.
Peart fashions himself as the thinker of the group, a rocker who reads books and corresponds with authors such as John Barth. With one dream achieved, his next is to become an author of prose. His reading influences his lyrics, he admits. Two albums, Fly By Night and Caress of Steel, owe a debt to J.R.R. Tolkien's fantasy trilogy, The Lord of the Rings.
The surrealism of the band's music brought one critic lately to call Rush "the Pink Floyd of Canada." Nearing platinum status, the latest album, Roll the Bones, offers more of that mystical music. From the title track:
"We come into the world and take our chances / Fate is just the weight of circumstances / That's the way that lady luck dances / Roll the Bones"
Reviews of the album have been better than what the band is used to, but Lee said Rush's music hasn't changed. It's just that, in the age of punk and slasher rock, it seems better than the alternatives.
"Things around us have become more raw," he said, "and we have become more palatable."