Rush To Play And Help Canadian Rockers Are Into Making A Difference, Not Backslapping
By Susan L. Rife, Wichita Eagle, May 23, 1992, transcribed by pwrwindows
---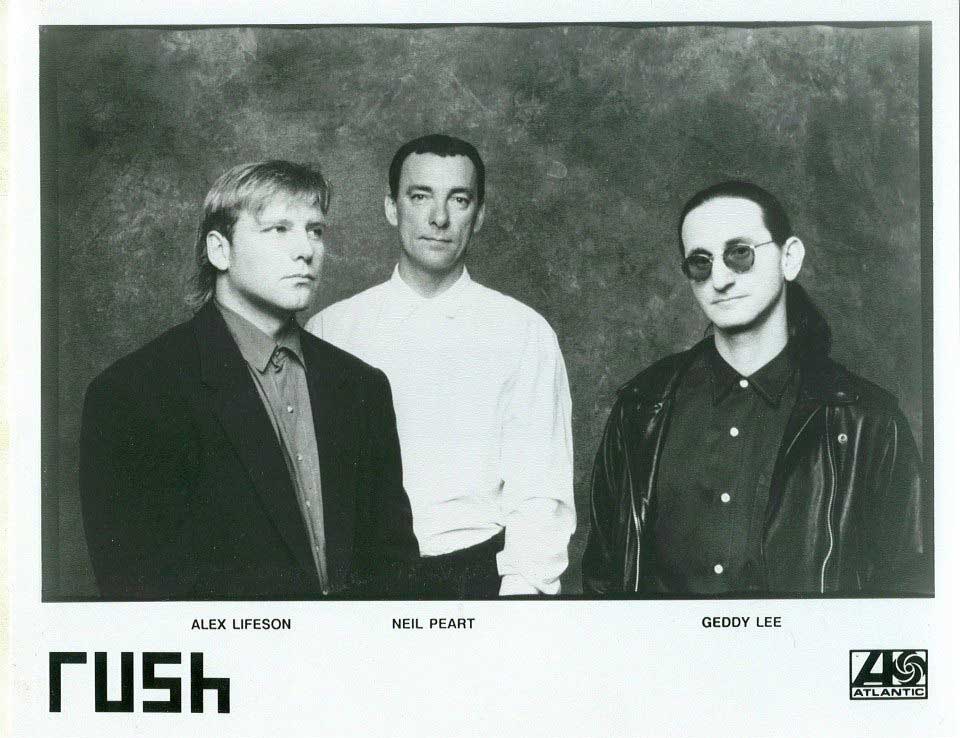 Eighteen years. Eighteen albums.
Pretty heavy hitting from the Canadian rock trio Rush, which rolls into the Kansas Coliseum Sunday night.
Rush members Alex Lifeson, Geddy Lee and Neil Peart have yet to tire of the unceasing life of a musician, touring the world and spending the rest of their time writing and recording music.
It's also something the band members couldn't imagine when they released their self-titled debut album.
"I never expected to be this far along," said Lifeson in a recent telephone interview from Toronto.
"When we released our first album in 1974, I thought it would be great to have five years. Here we are 18 years later and still at it."
Those 18 years have included Juno awards from the Canadian music industry, several gold and platinum albums in the United States and tours that have taken the band around the world several times.
Rush has just returned from a European tour that took it to Berlin for a couple of dates and, more importantly, a couple of days off. The band members hired a tour guide to show them around both east and west Berlin.
"There's certainly a grayness and more dour personality to the east side," said Lifeson.
Rush played in west Berlin to an audience largely from the eastern part of the city.
"These were people who would pay hundreds of dollars for our record," he said.
Concerts by Western bands are a rarity there, and perhaps surprisingly hard to sell.
Rush ended up playing to about 2,200 people in Berlin far smaller than their crowds in other European cities. But that was OK, said Lifeson.
"We wanted to be there just to have a look around. Of all the other places we played in Europe, that was the one that was going to be a soft date."
Lifeson is an articulate spokesman for the band. He's played lead guitar alongside Lee on bass, synthesizer and lead vocals, and Peart on percussion.
The band continues to focus not only on its music but on making a difference in the world. To that end, Rush has been supporting food drives at its concerts. Non-perishable food items collected at the Coliseum Sunday night will be given to the Kansas Foodbank Warehouse.
The band has supported the United Way through its performances for 12 or 13 years, and last December combined the United Way benefit concert in Toronto with a food drive. The audience brought 15,000 pounds of food.
"The people at the food bank were almost in tears, they were so thrilled and excited by that," Lifeson said. "We thought this would be a wonderful thing to do on a larger scale."
At Sunday's concert, each concertgoer who brings at least three items of non-perishable food will get a number. Before the show, 11 numbers will be drawn, with each winner to receive two front-row tickets for the concert. A grand-prize winner will also be given new CDs by Rush and by opening act Mr. Big and will go backstage to meet both bands.
Lifeson said the food drive is simple to coordinate and directly benefits the community.
Lifeson said the band has purposely stayed away from some of the higher- profile rock benefits.
"You don't like the notoriety that goes along with it," he said. "It's a wonderful thing that artists get involved, but at the same time there's a lot of backslapping and 'aren't we wonderful?' I don't mean to sound so cynical, but we try to be very low-key about what we do. We're not out to get a handshake and a pat on the back. We're out to help and do something that is beneficial."
TICKET INFORMATION
WHO: Rush, with opening act Mr. Big
WHEN: 8 p.m. Sunday
WHERE: Kansas Coliseum
HOW MUCH: Tickets are $20 at Select-A-Seat outlets