Rush: The Comic Book
By Jay Allen Sanford, Rock & Roll Comics #49, July 1992 / Revolutionary Comics Canadian Rock Special #1, April 1994
Transcript and images by John Patuto
---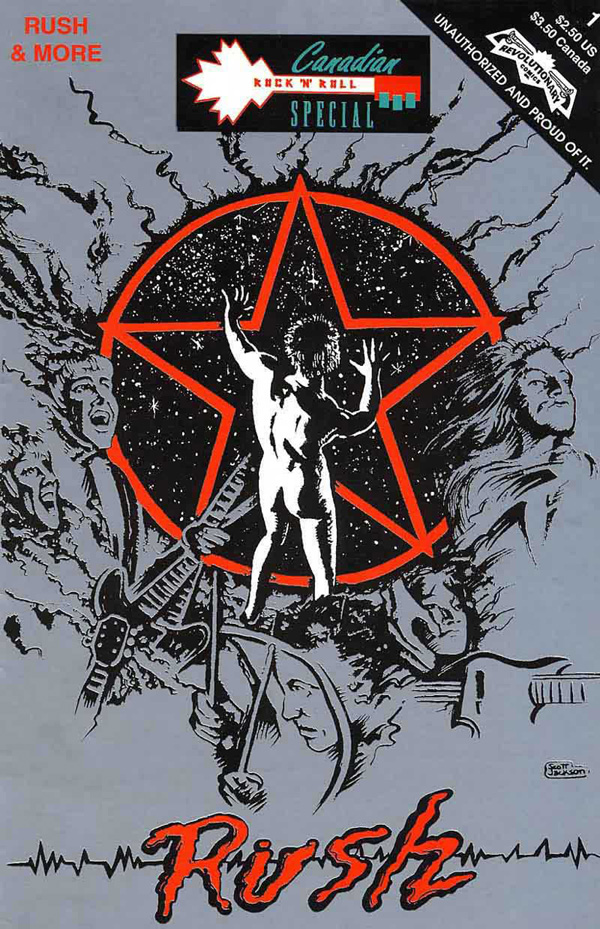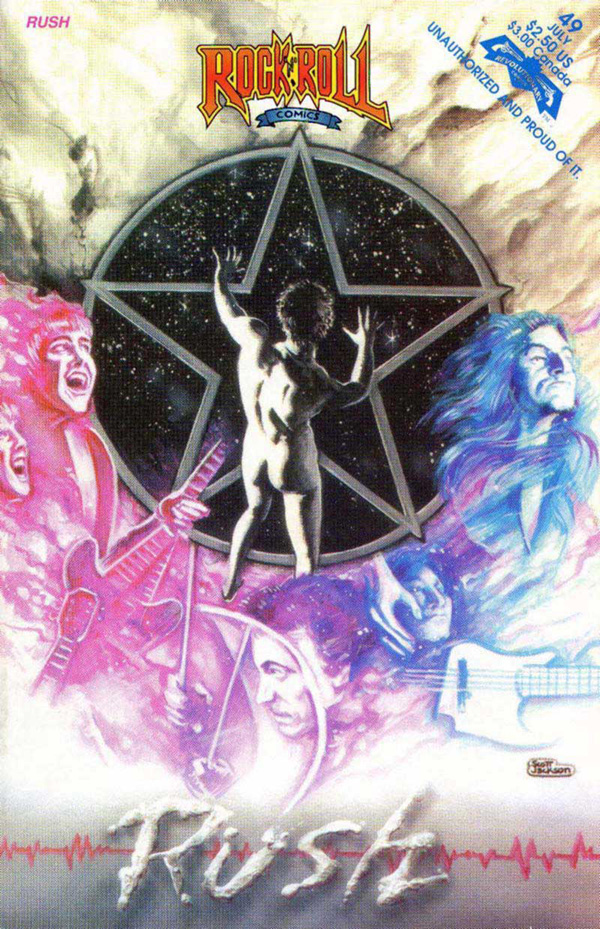 "The Canadian power trio Rush is profiled in a comic which details the formation of the band and their rise to platinum superstars. Meticulously researched, this comic provides a rare inner view of the makining of classic albums like Fly By Night, 2112, Permanent Waves and others. Art by Terry Pallot (Adventures Of Superman), cover by Scott Jackson (Heavy Metal Monsters)."
[Webmaster Note: Published in the US by Rock & Roll comics in July 1992, the comic was republished in Canada by Revolutionary Comics as Canadian Rock & Roll Special #1 in July 1994. Besides the alternate gray cover, the Canadian release included a supplementary article written by the original author where he discusses Counterparts; this article follows the comic pages below.

Rock & Roll Comics later included Rush as part of their "Sci-Fi Space Age Rockers" anthology, issue #65, with one page concerning the making of 2112 taken from the below Rush comic.]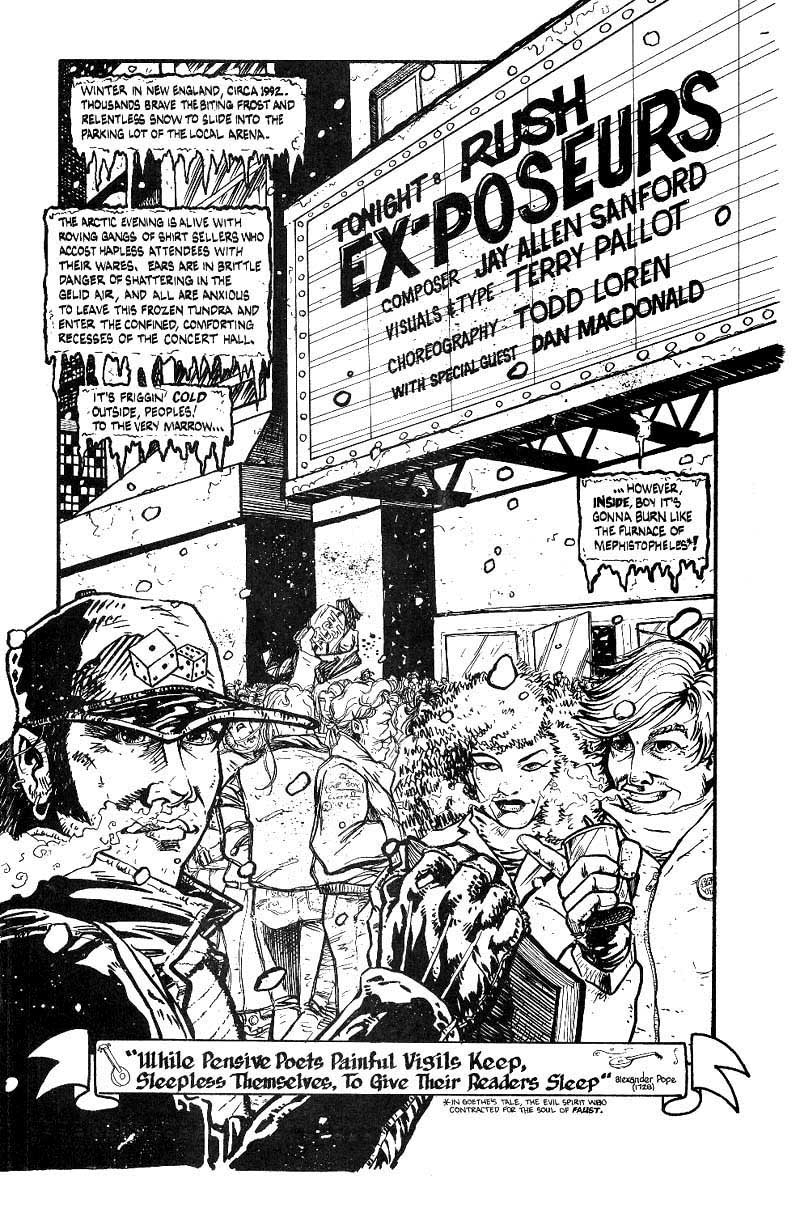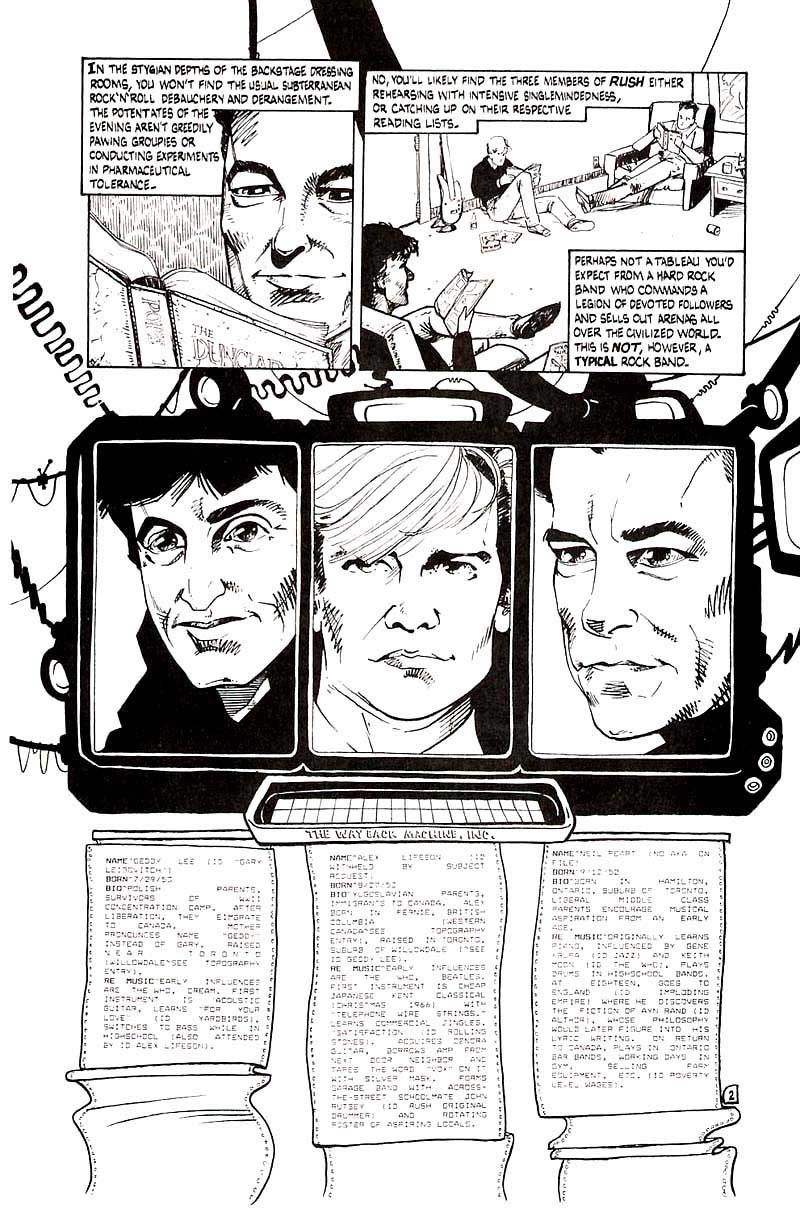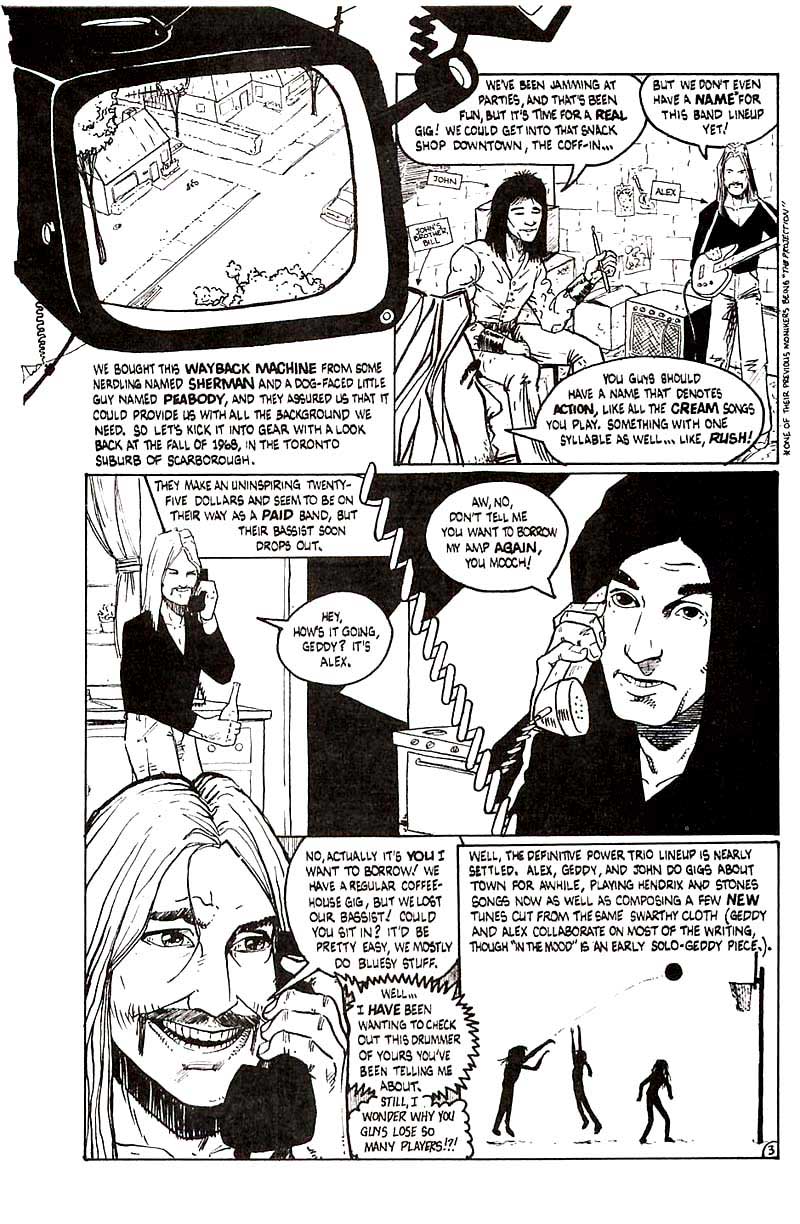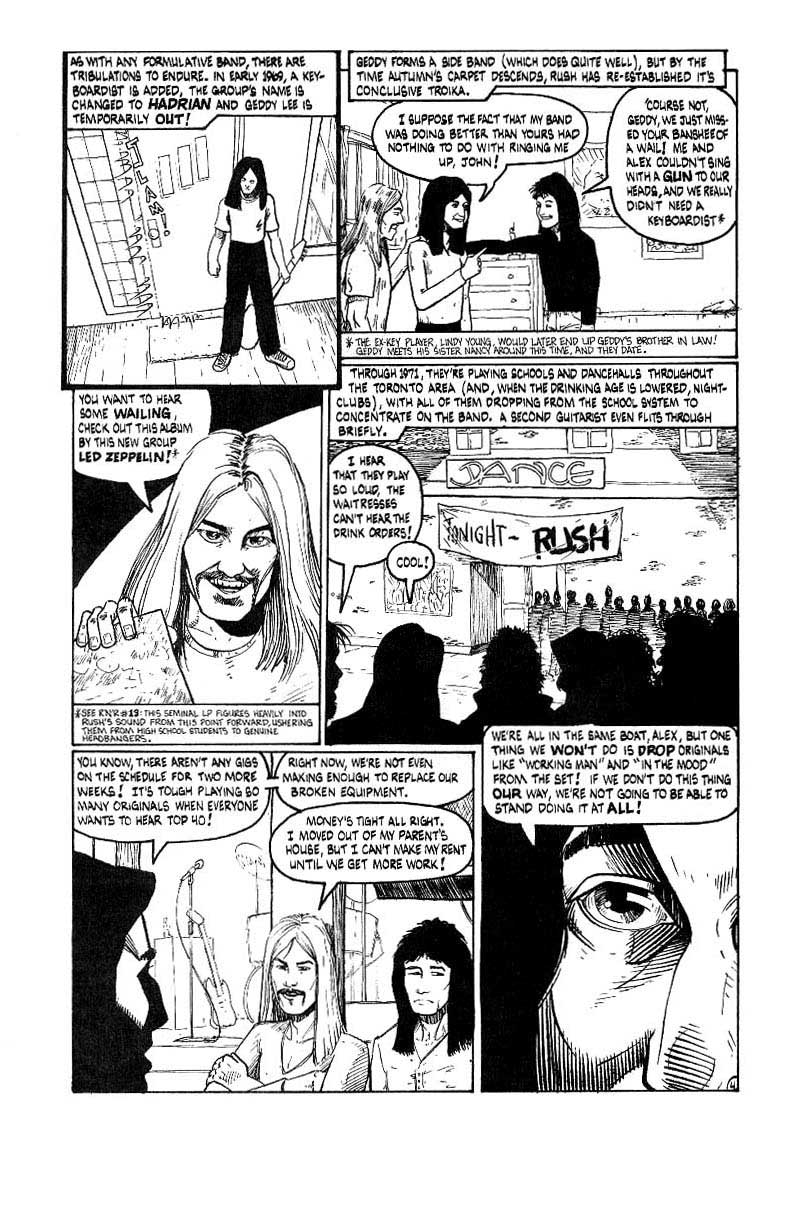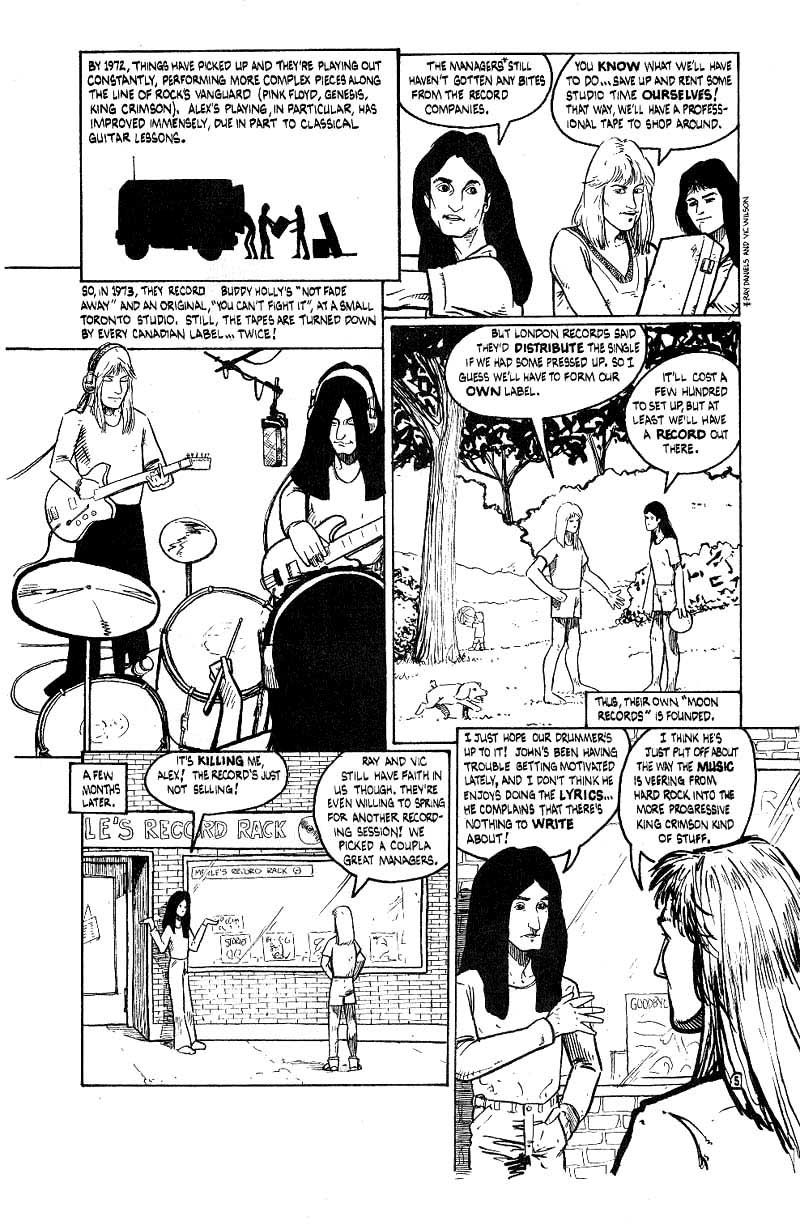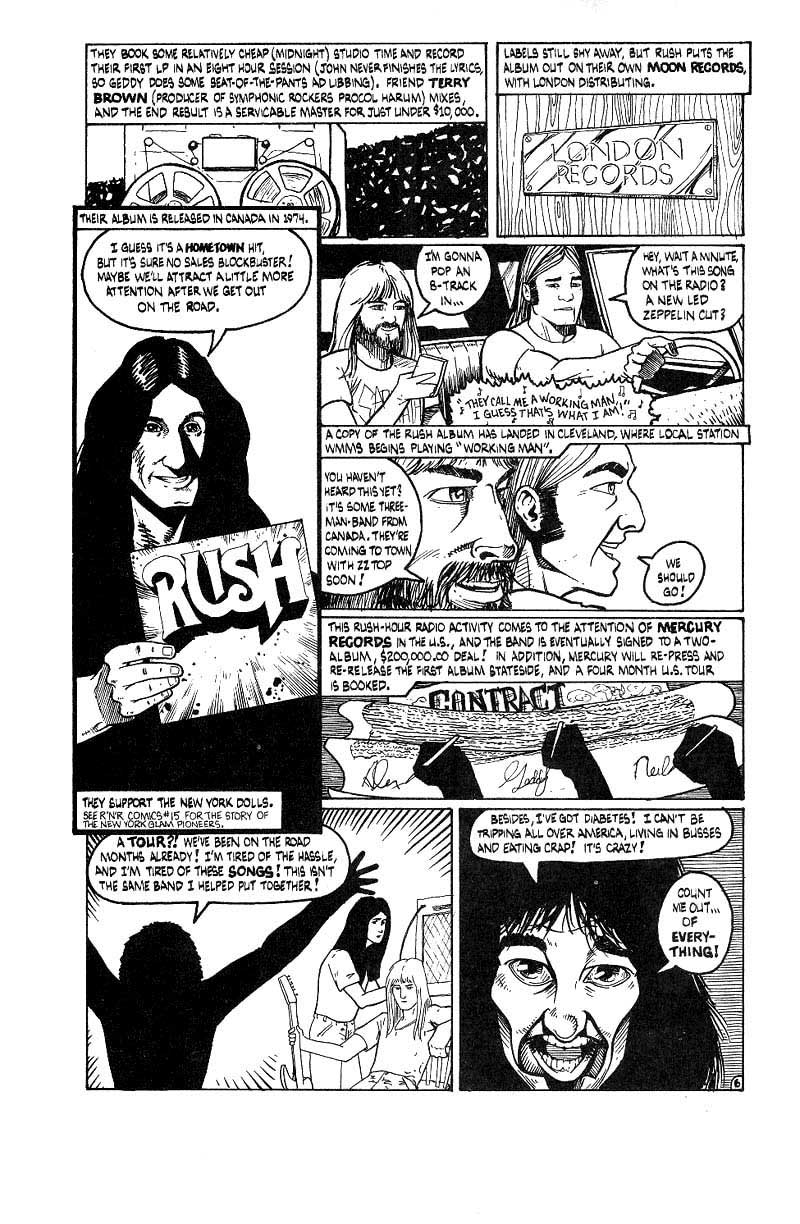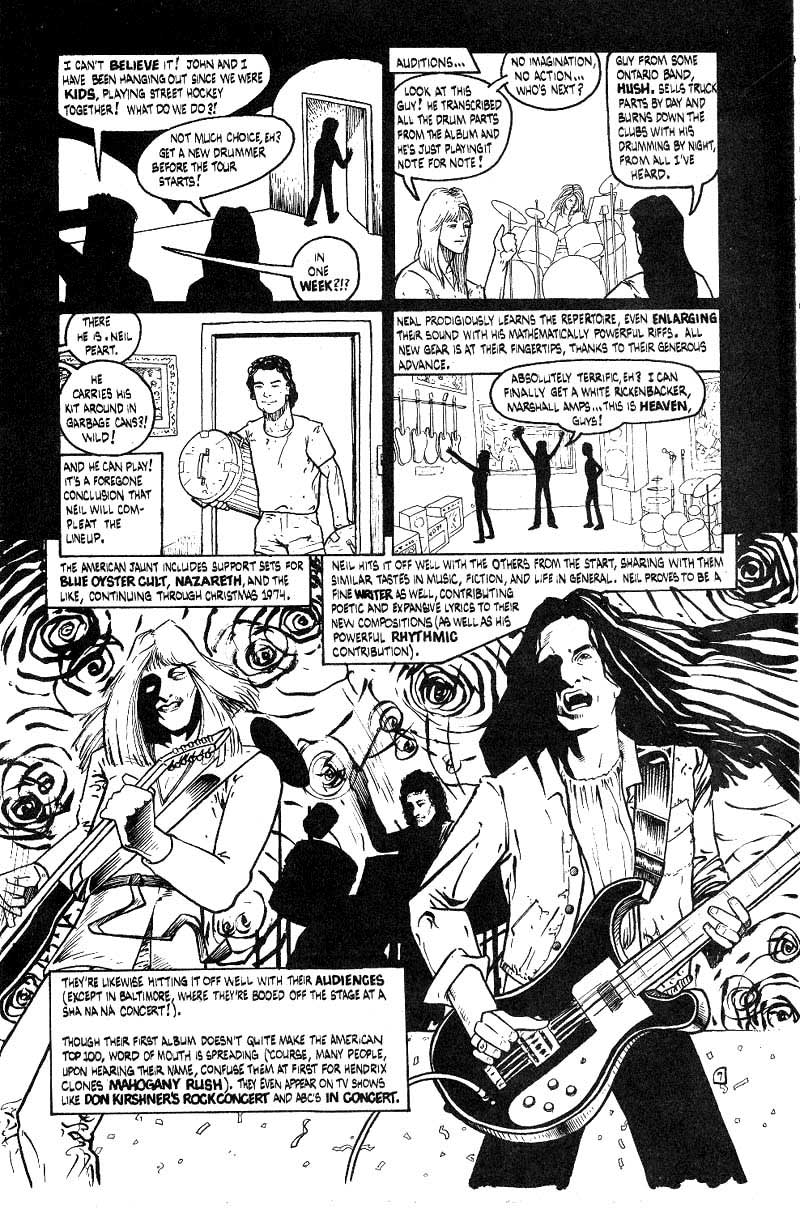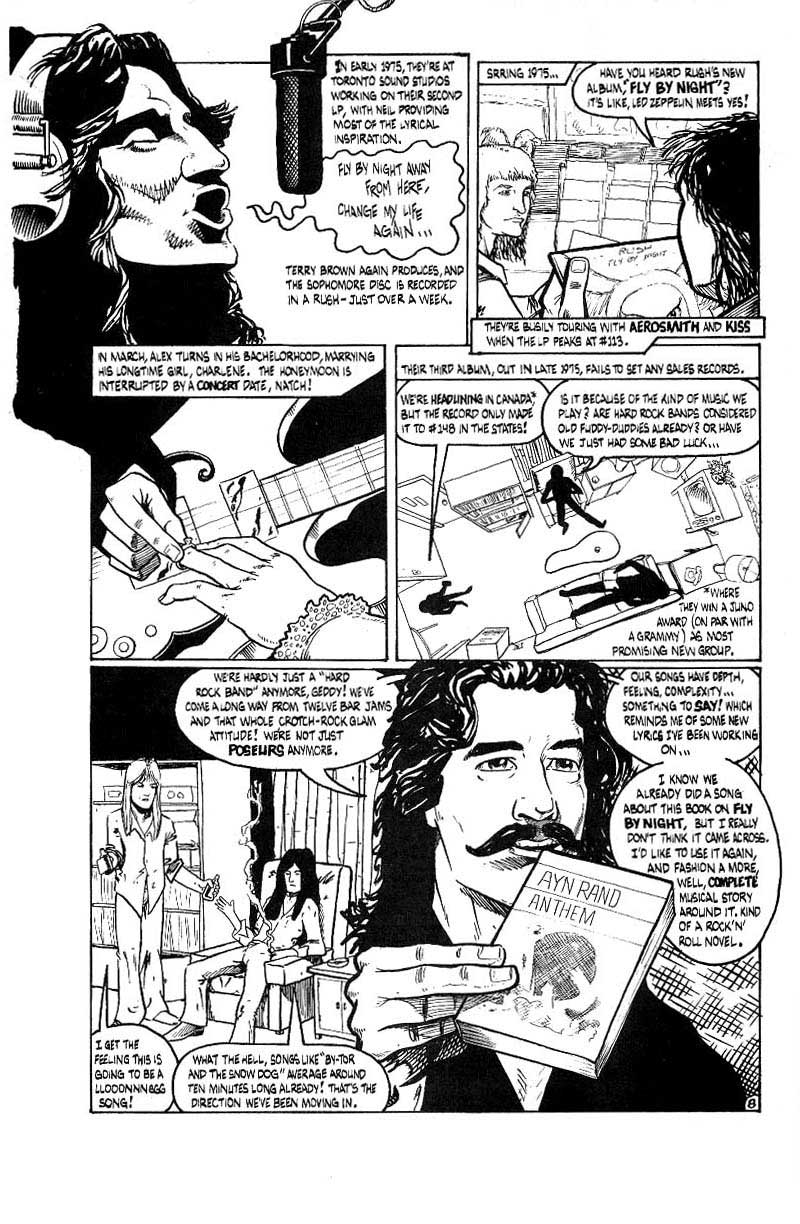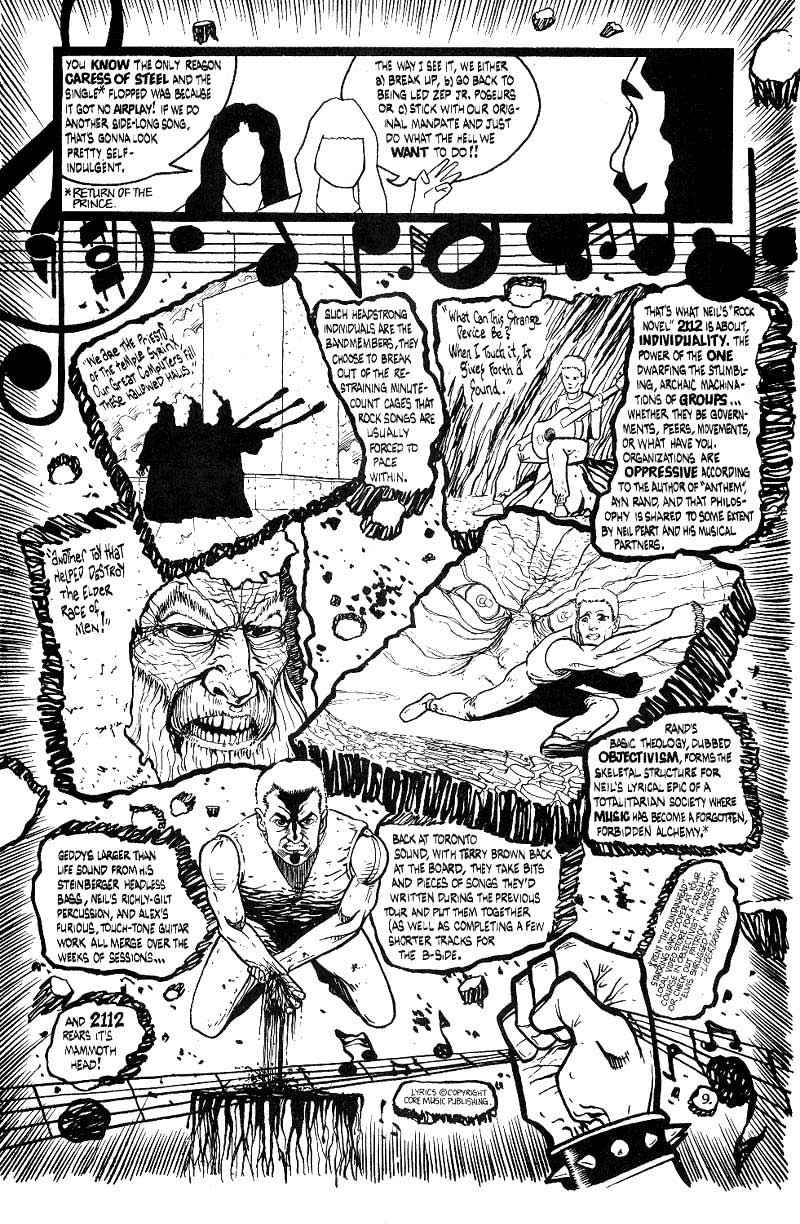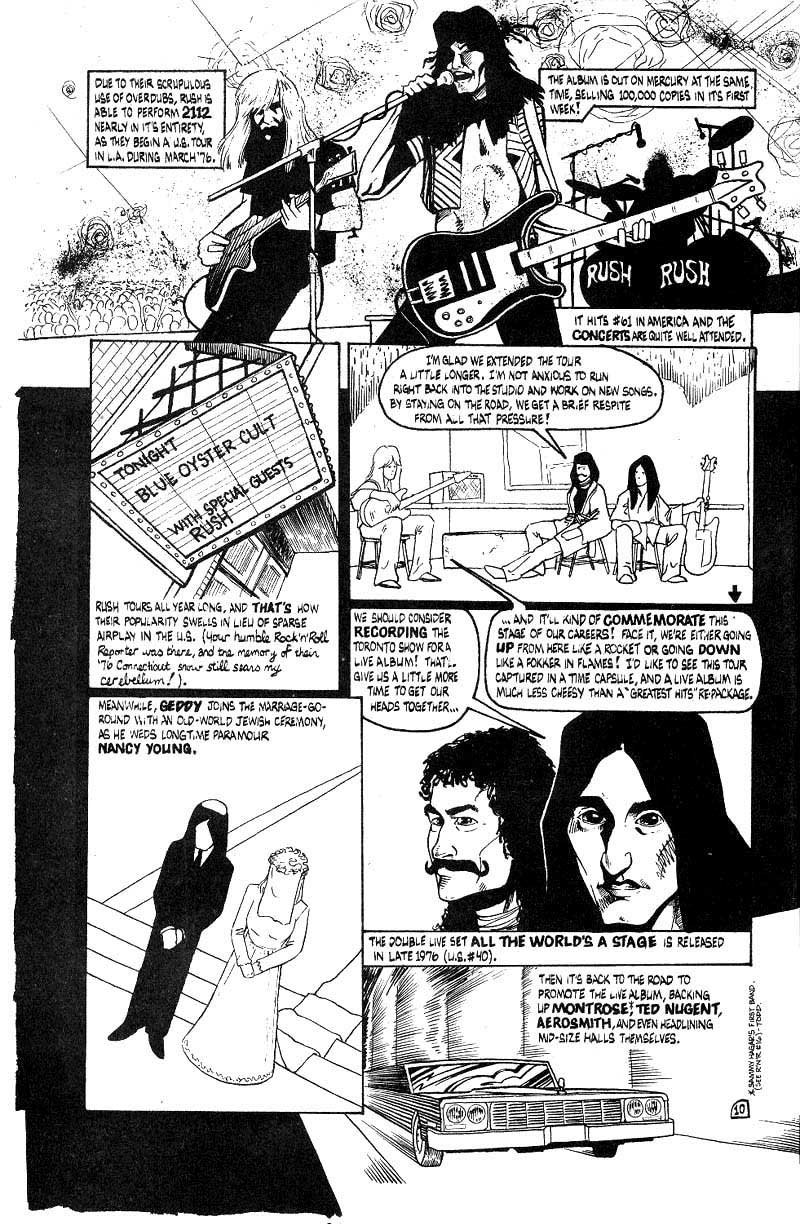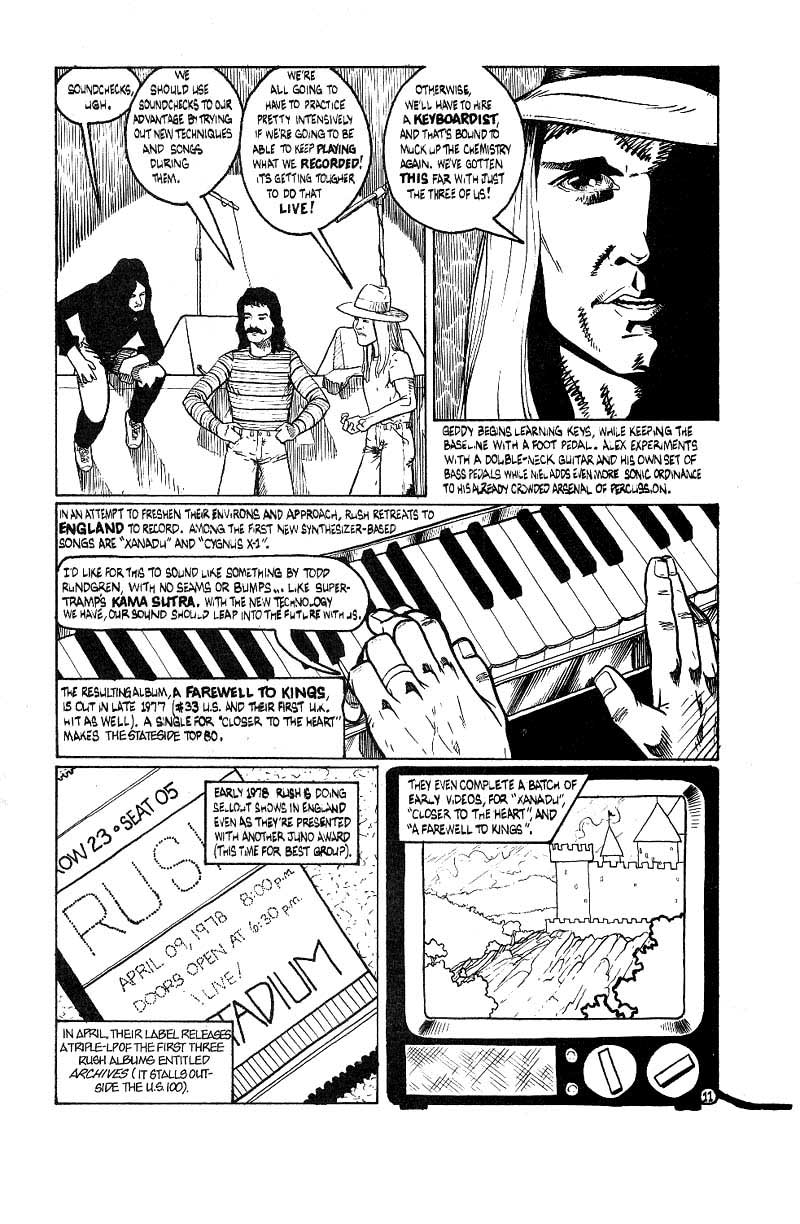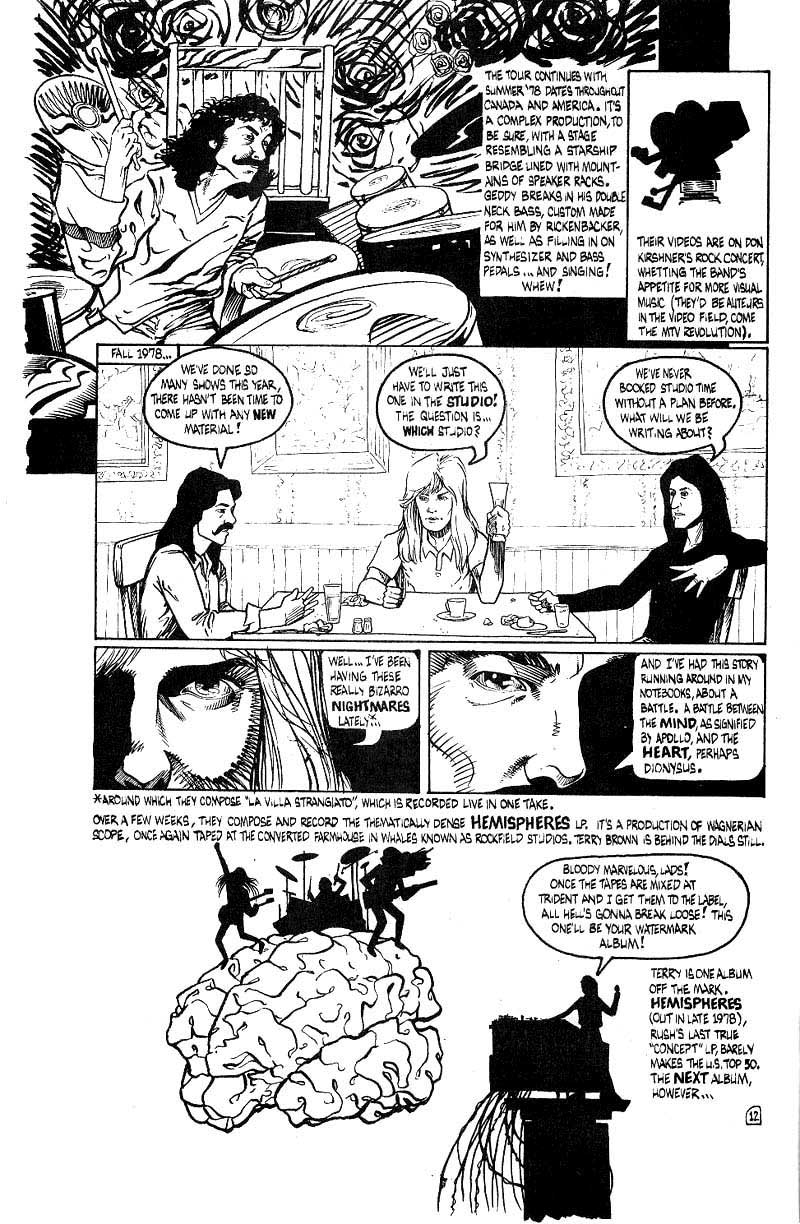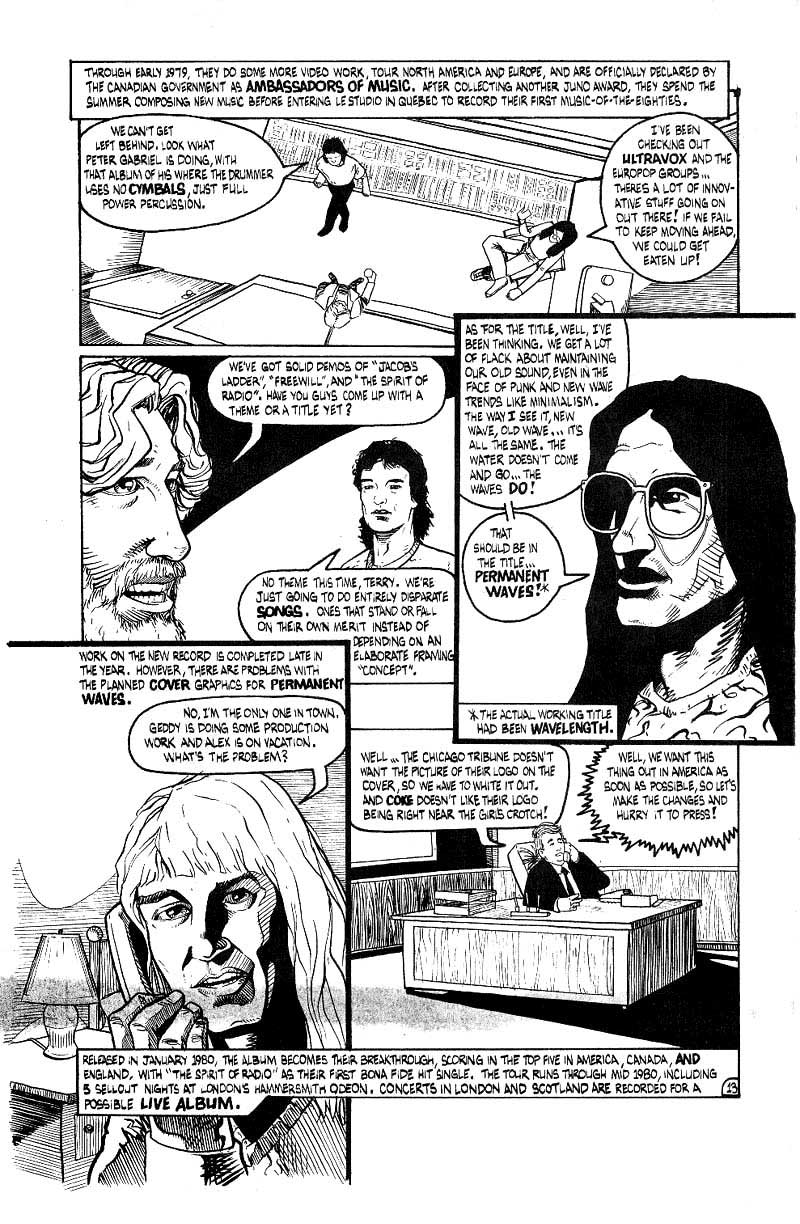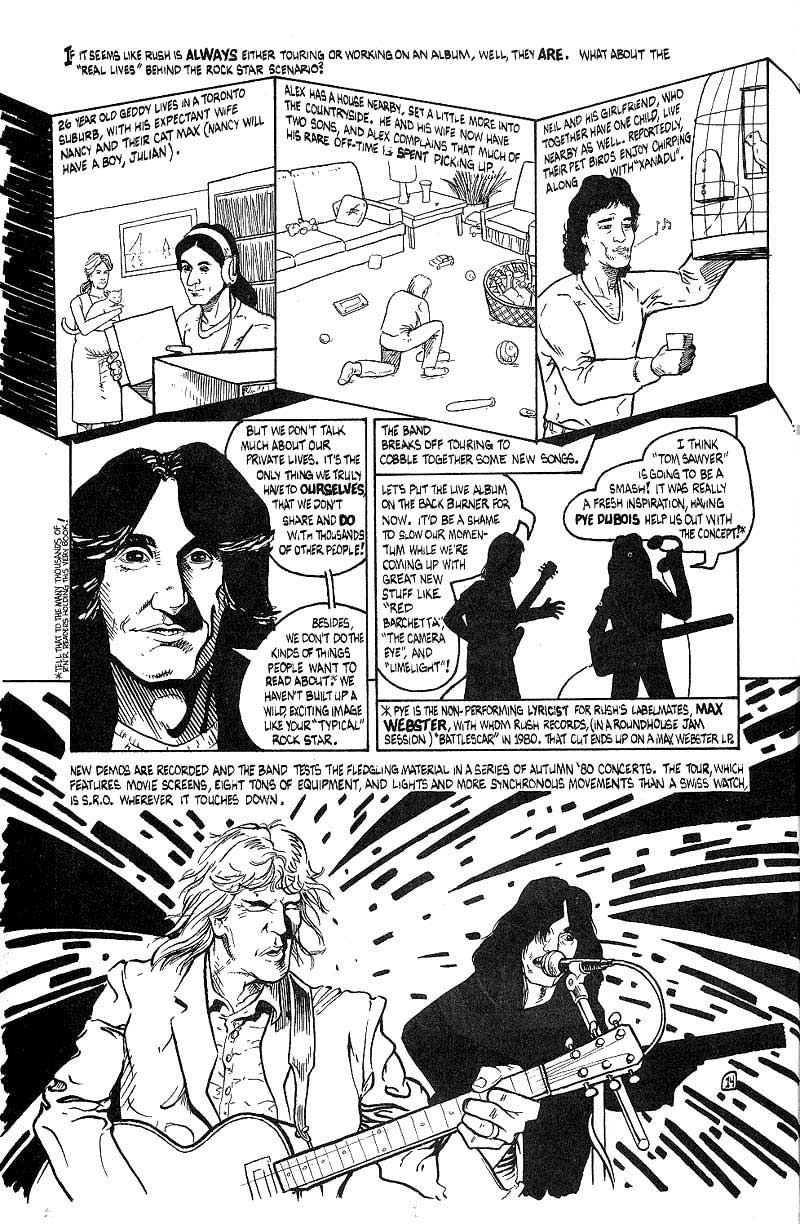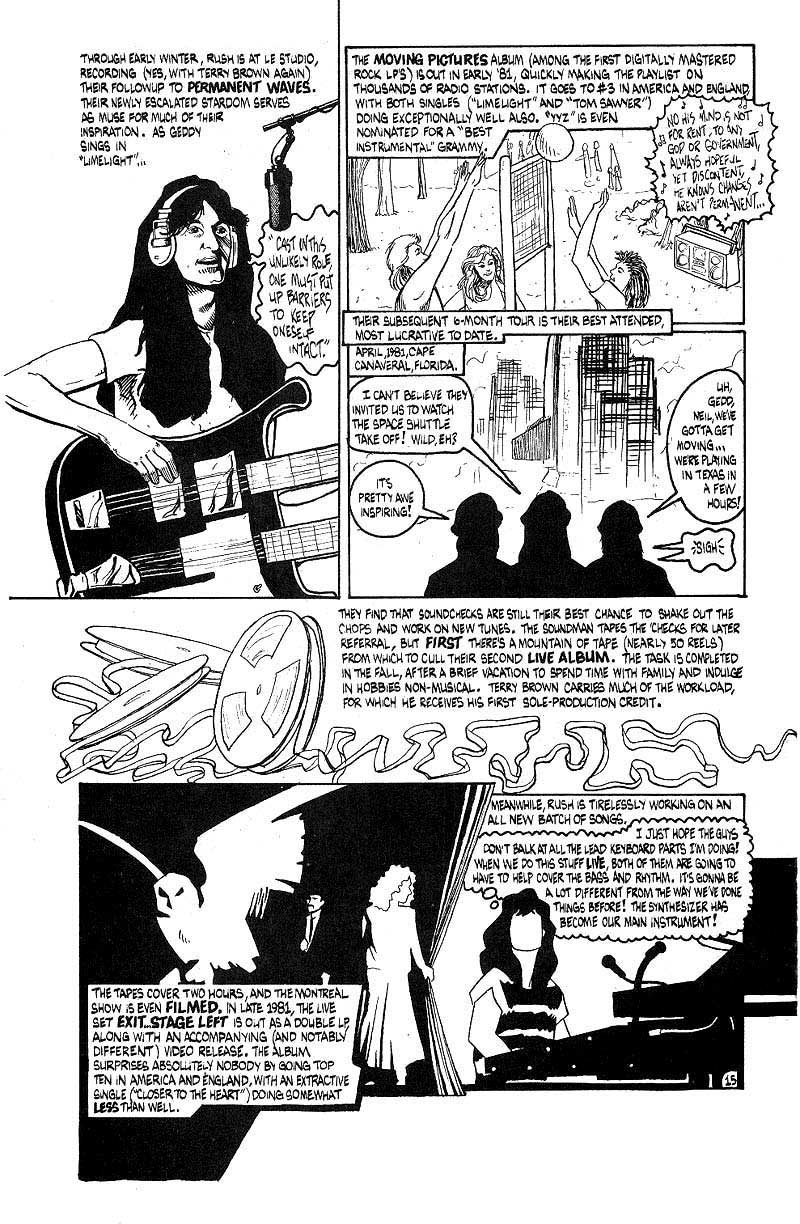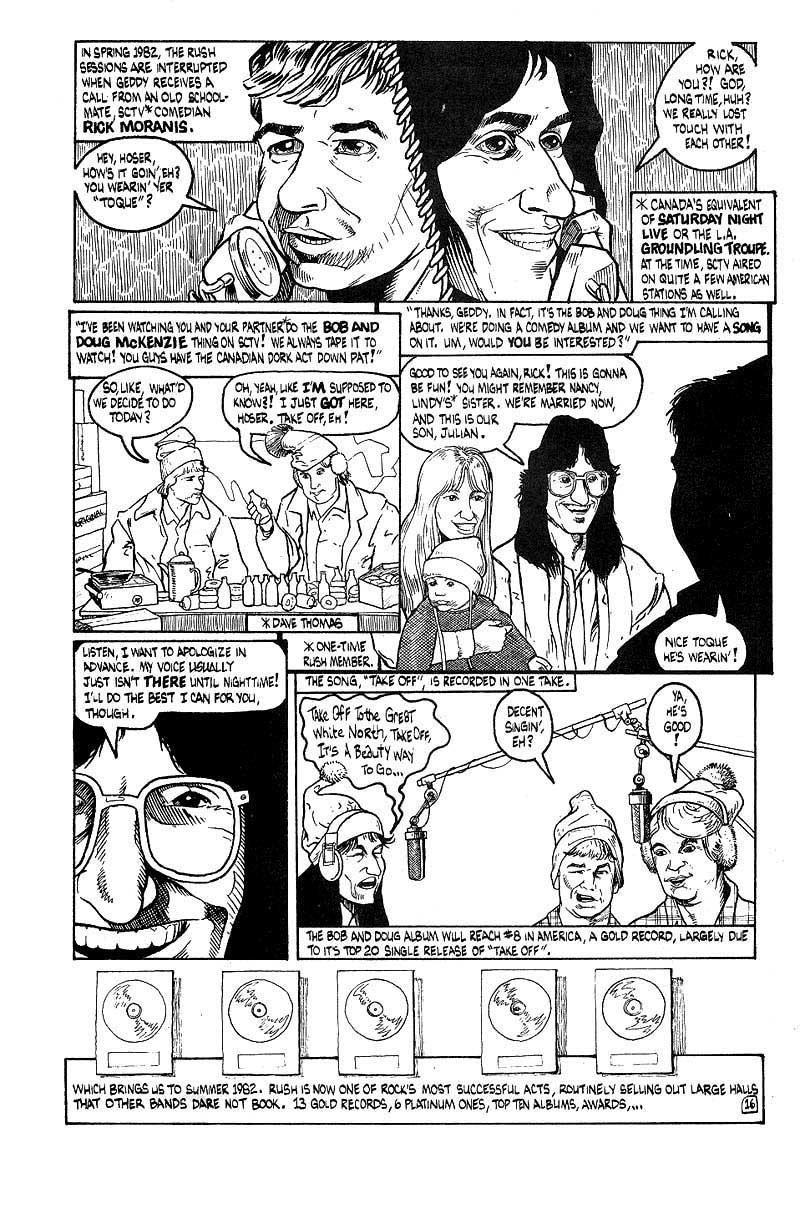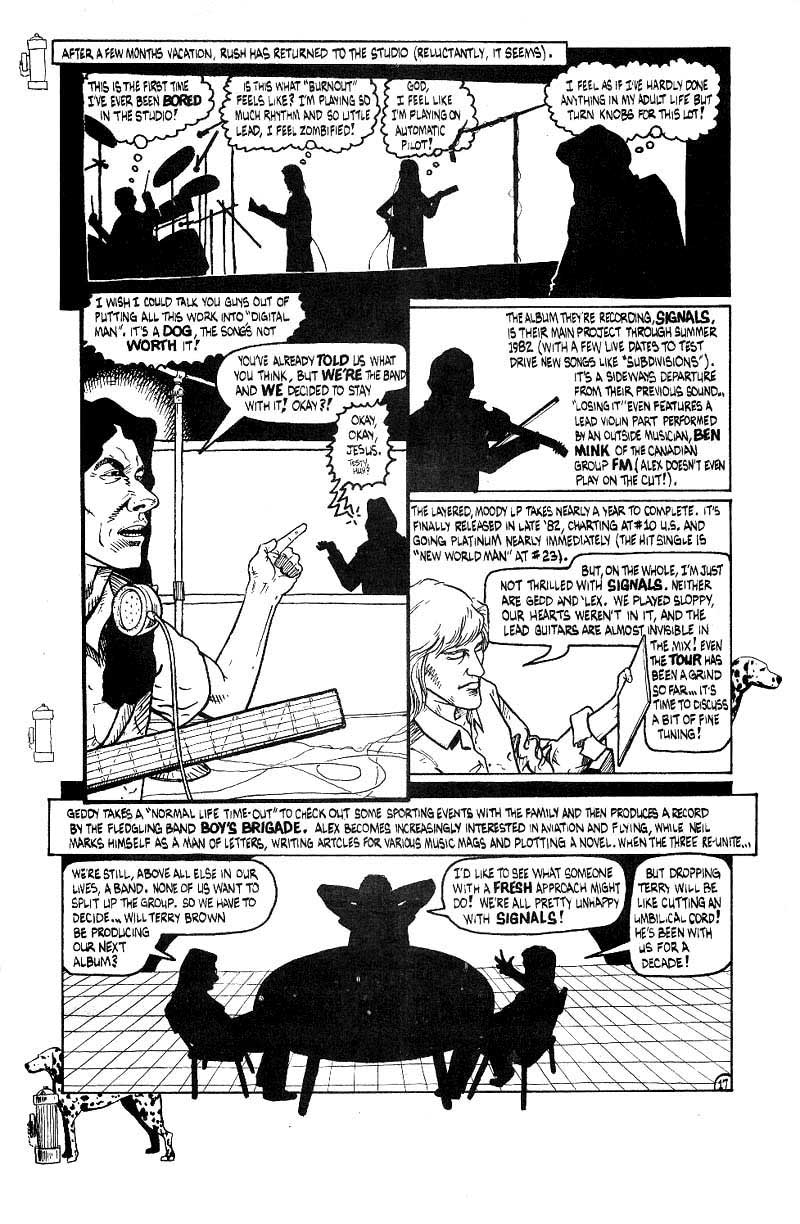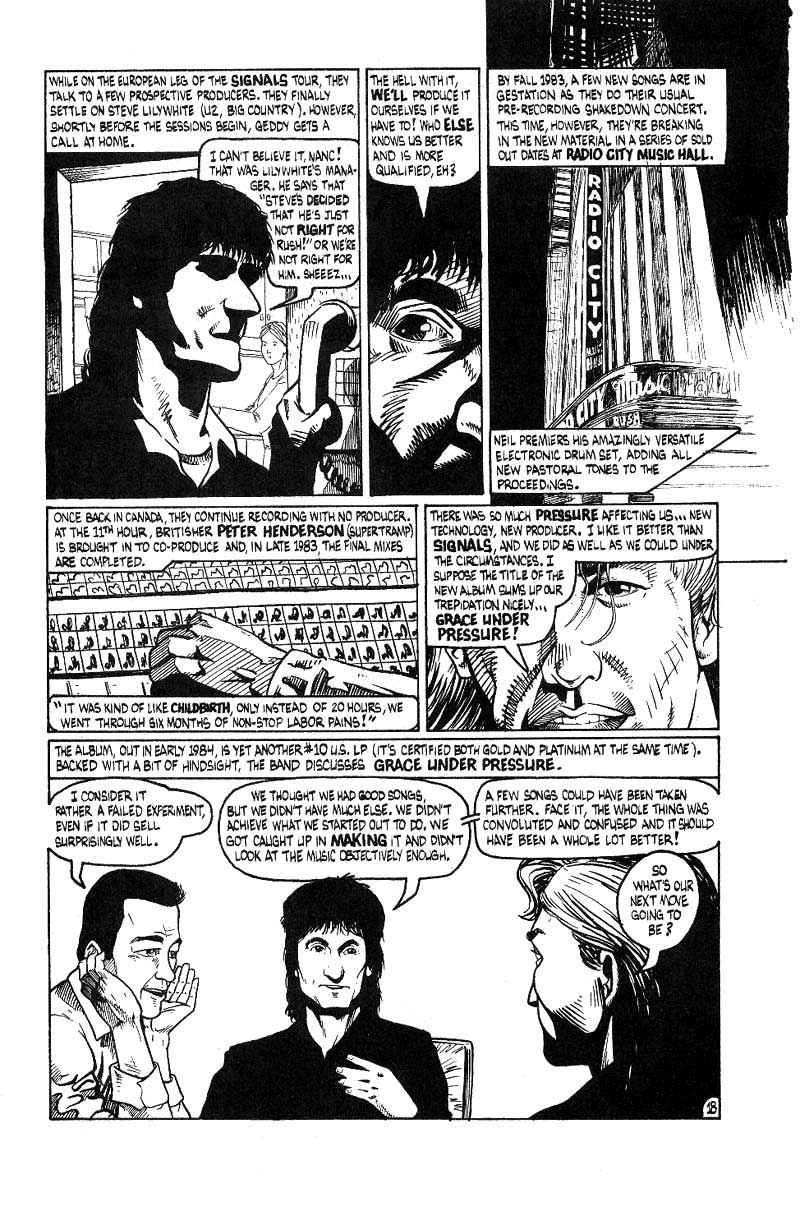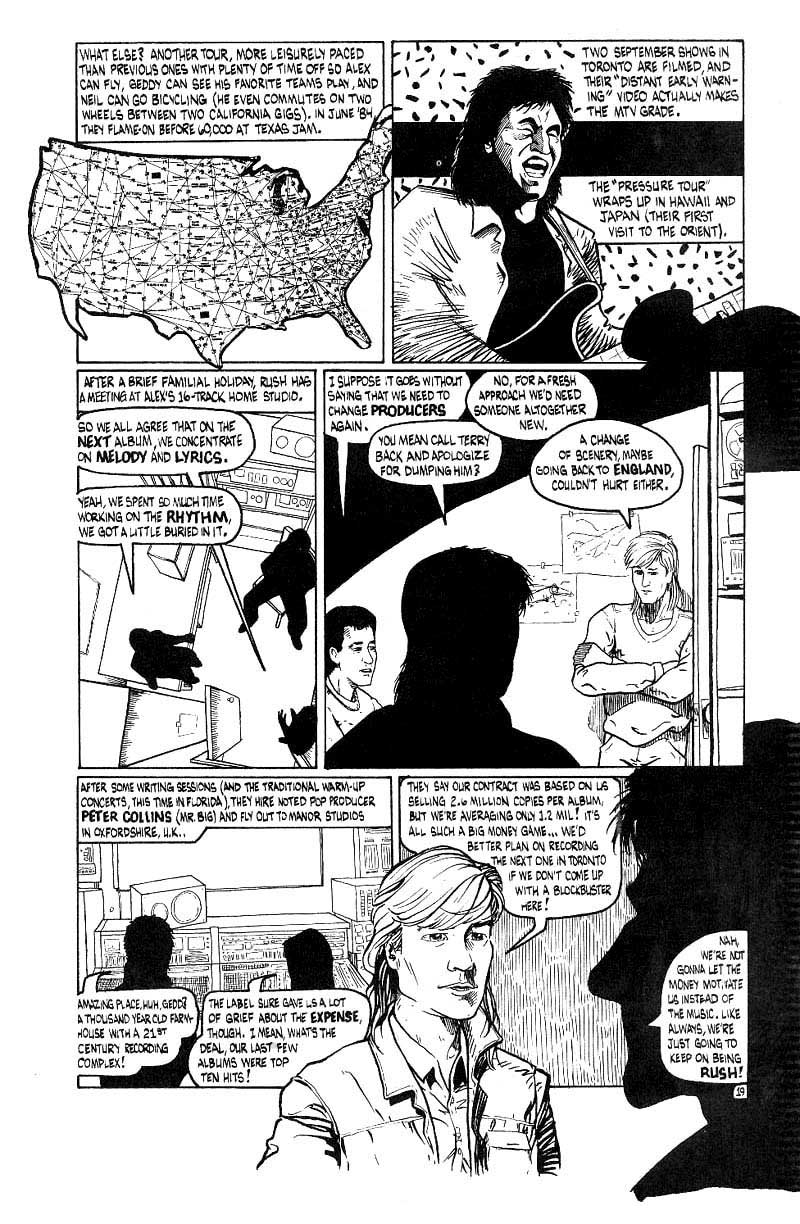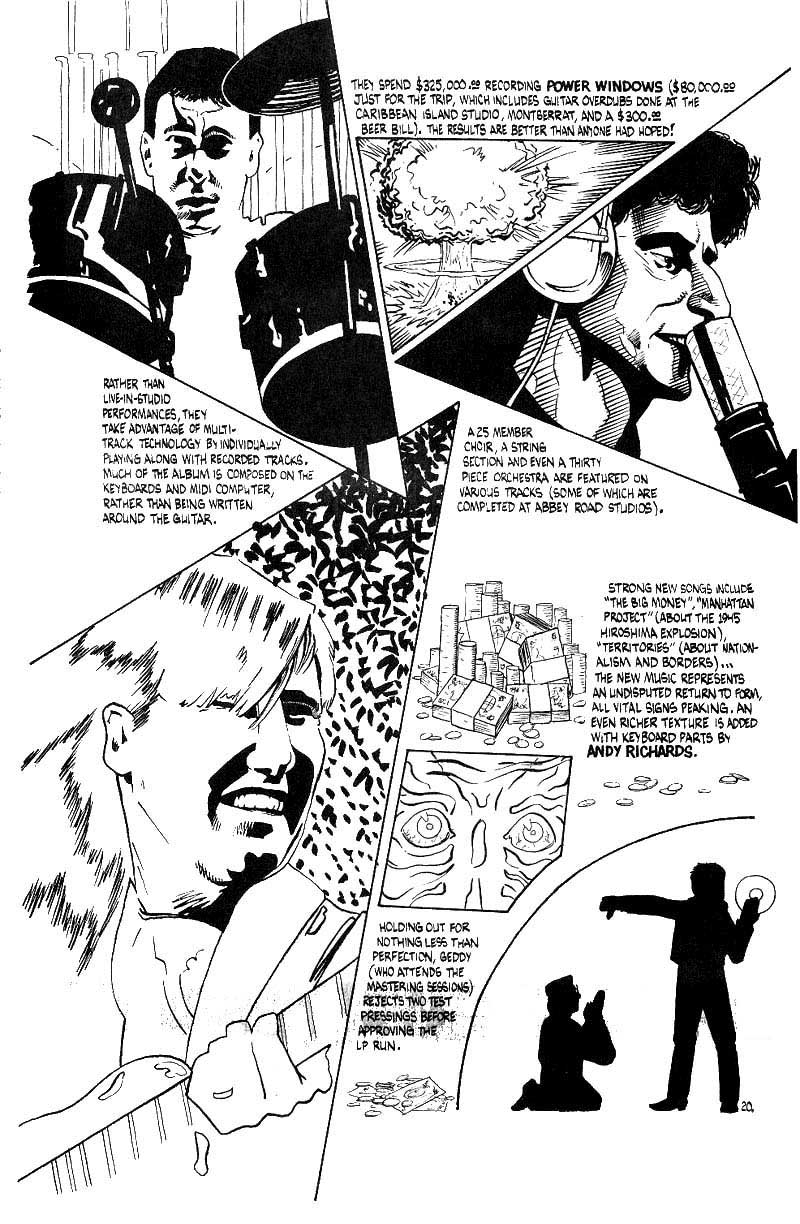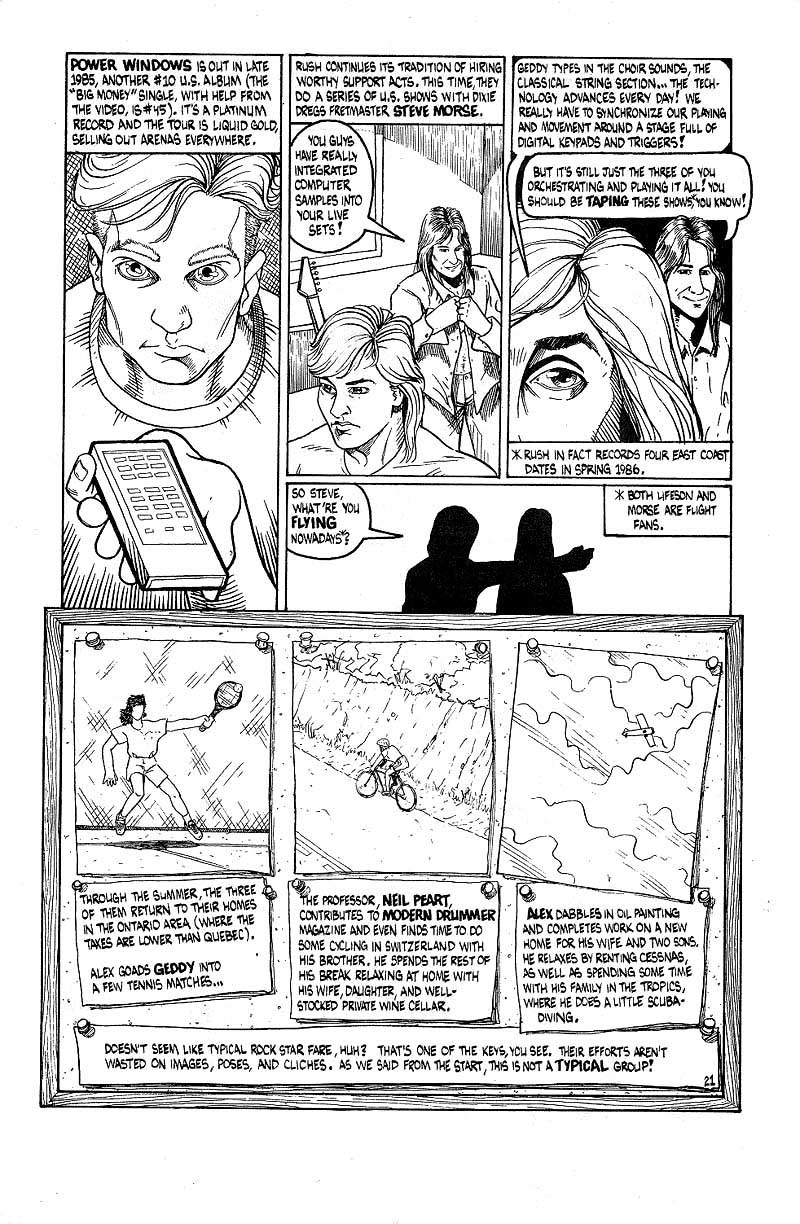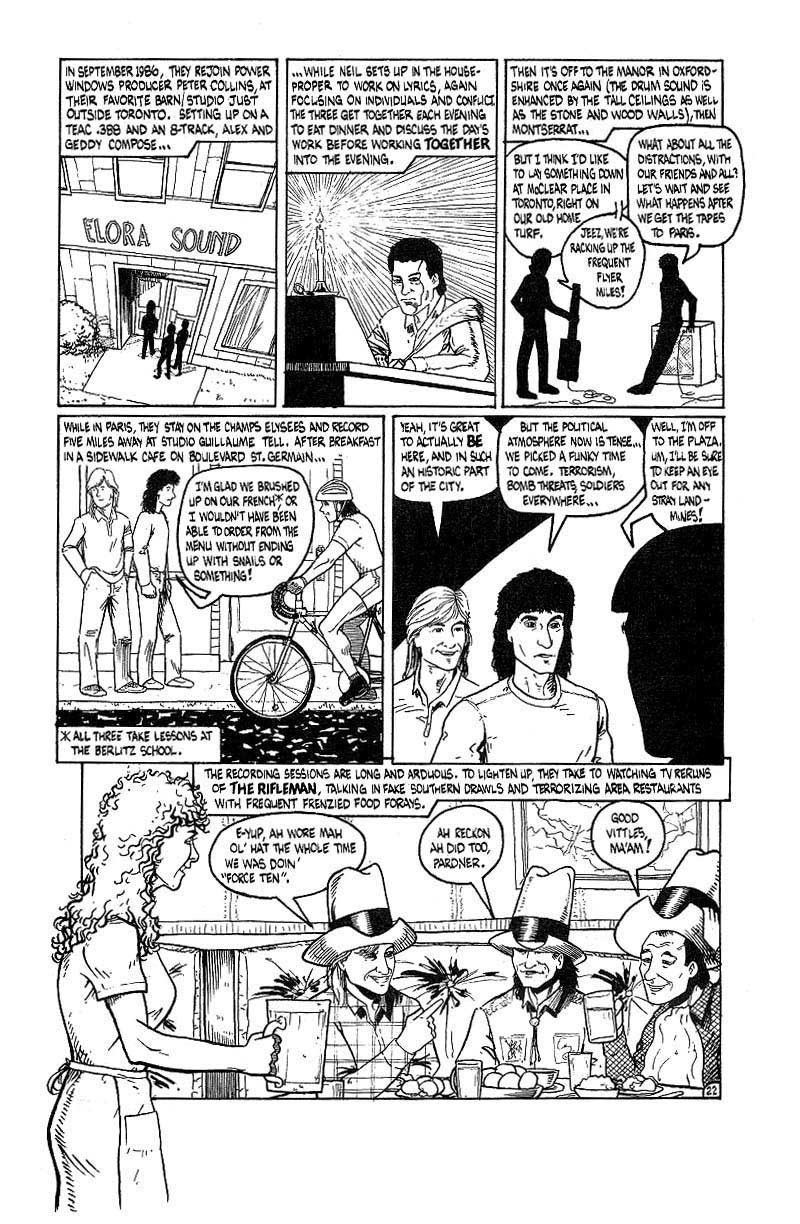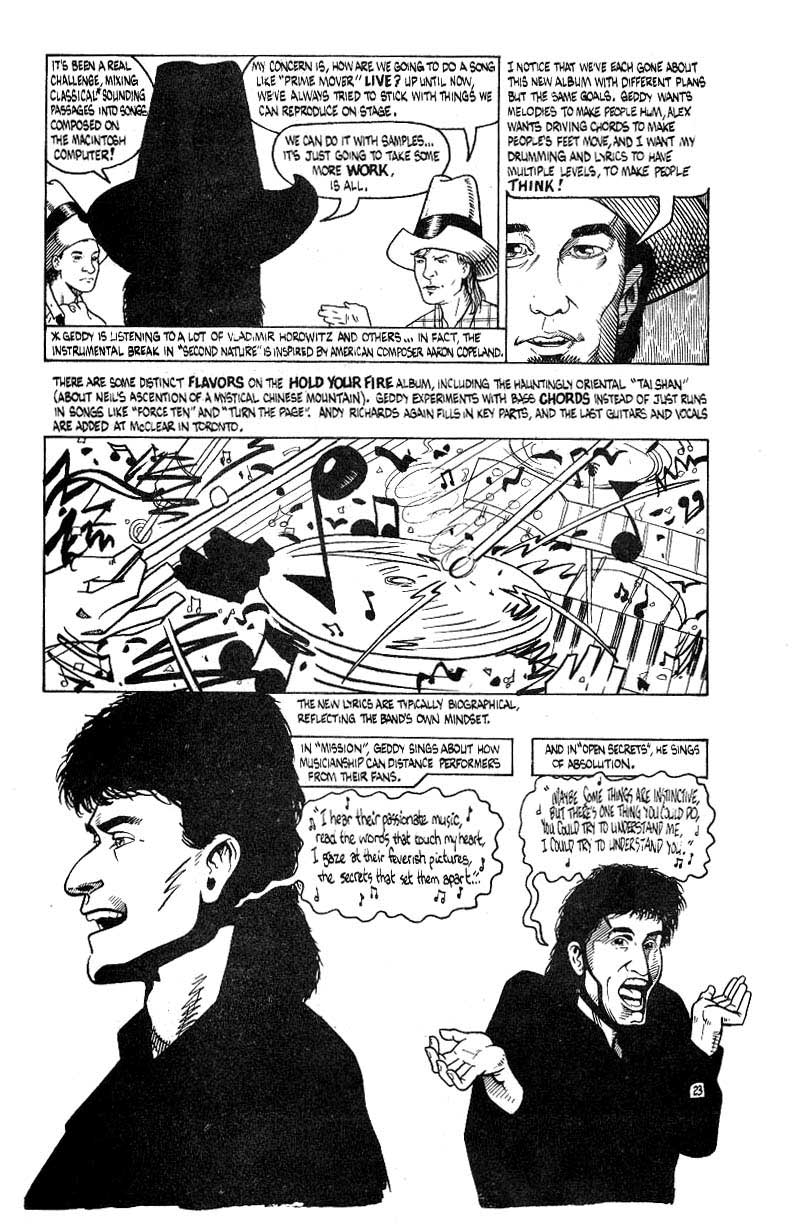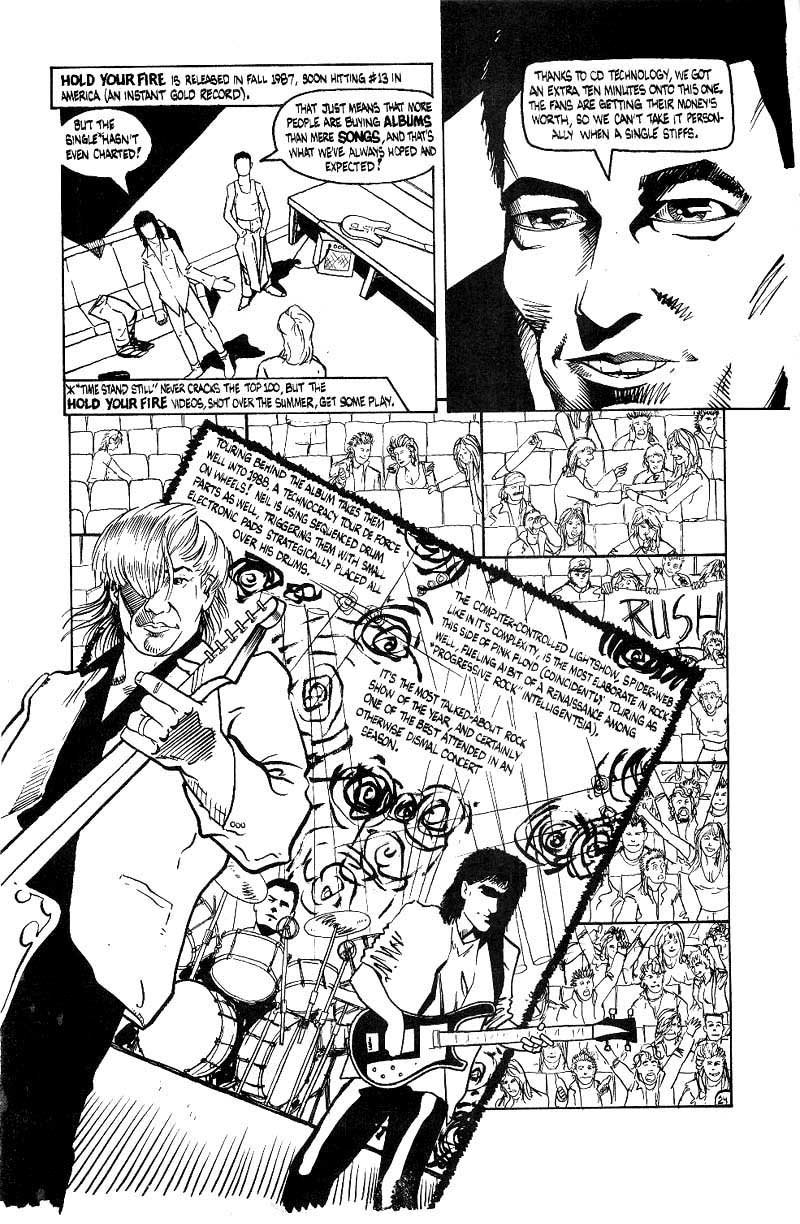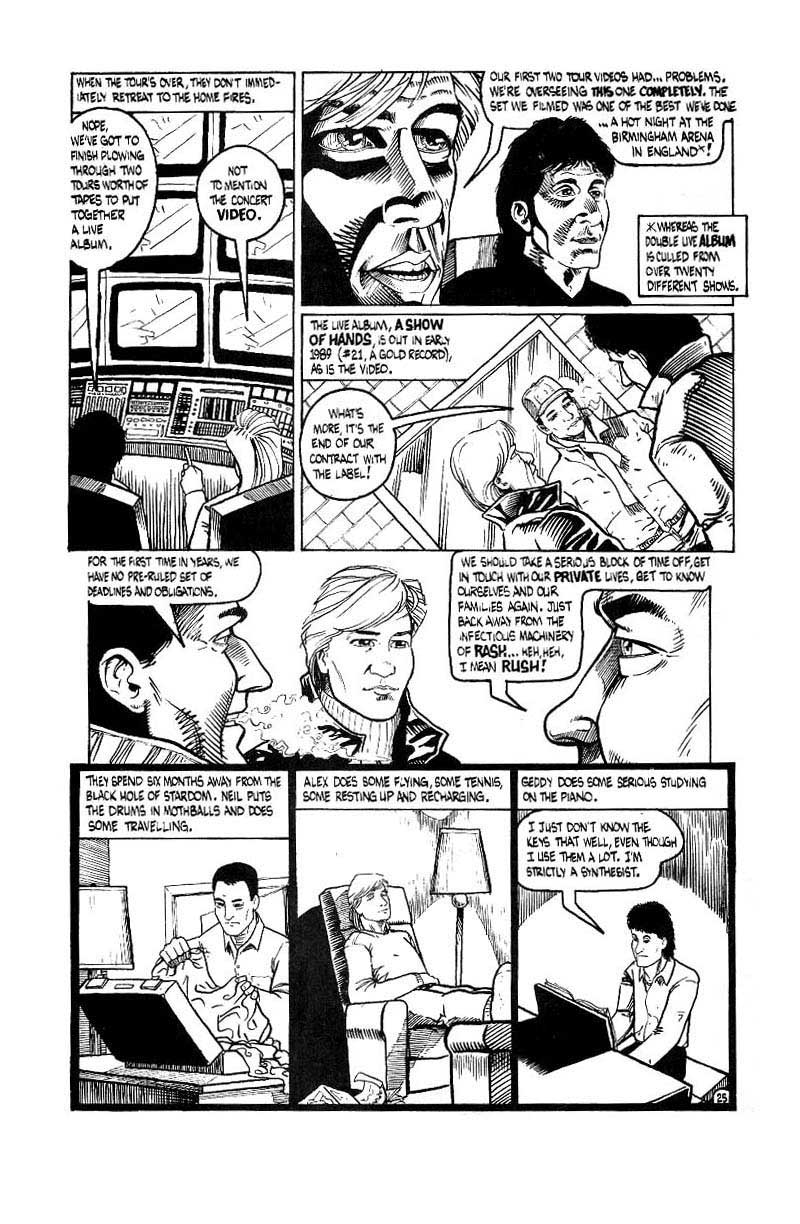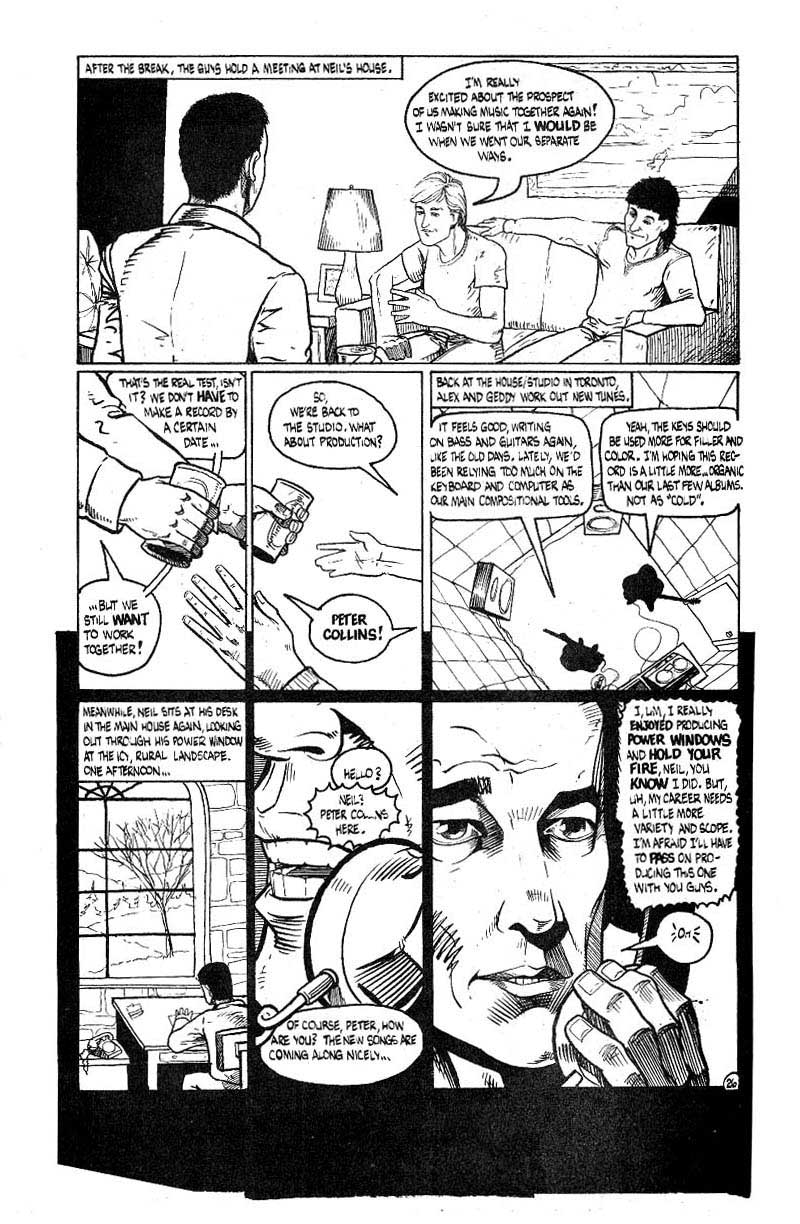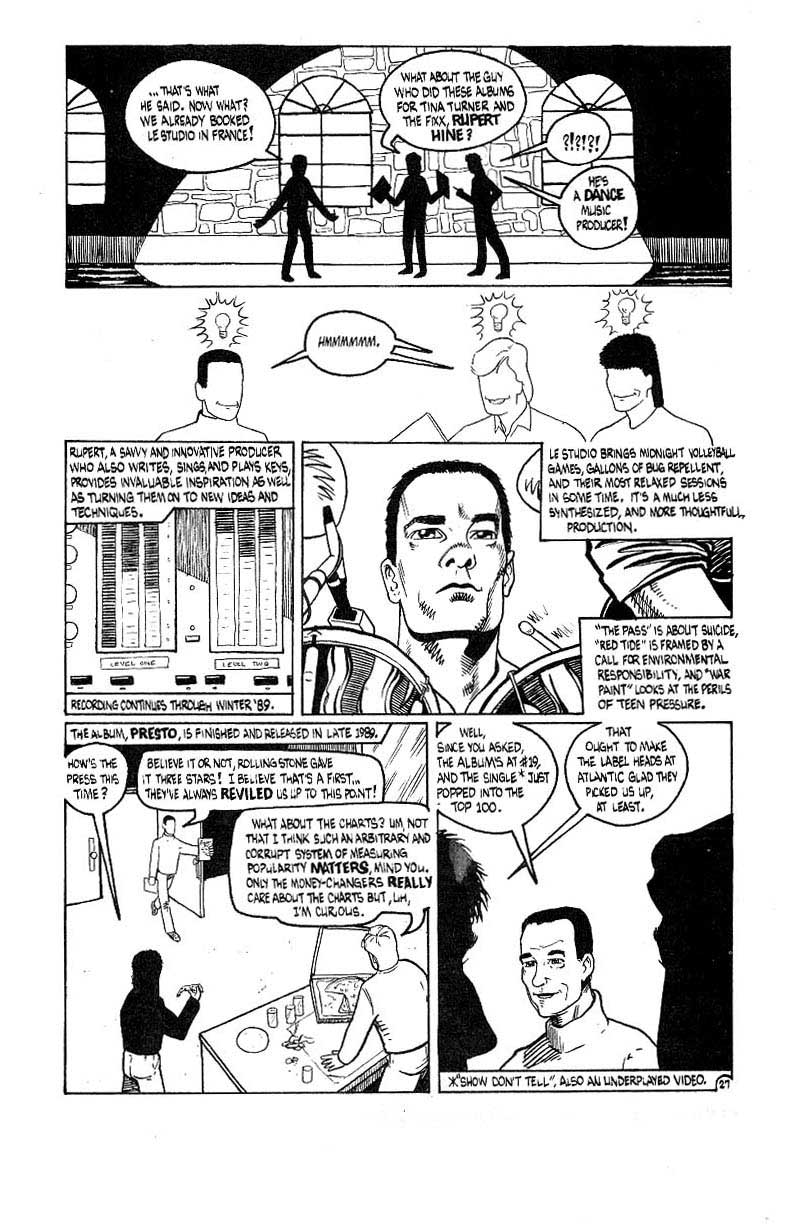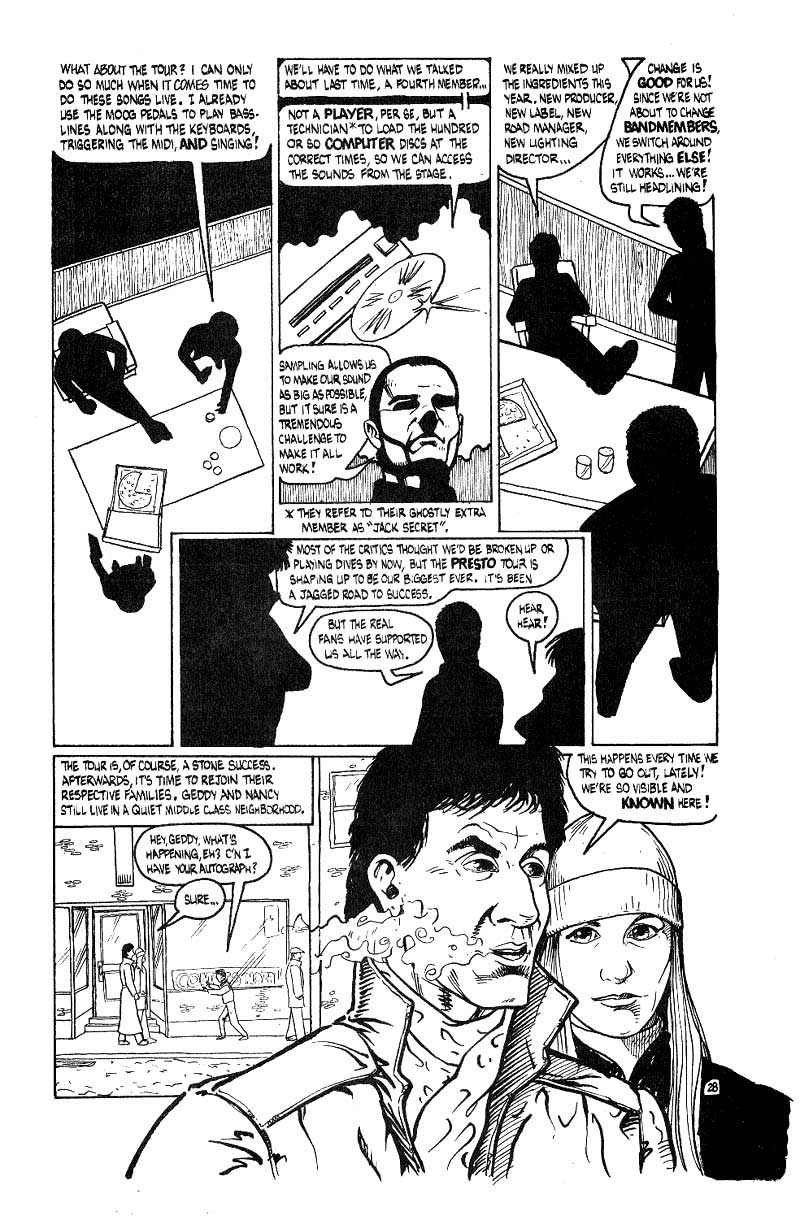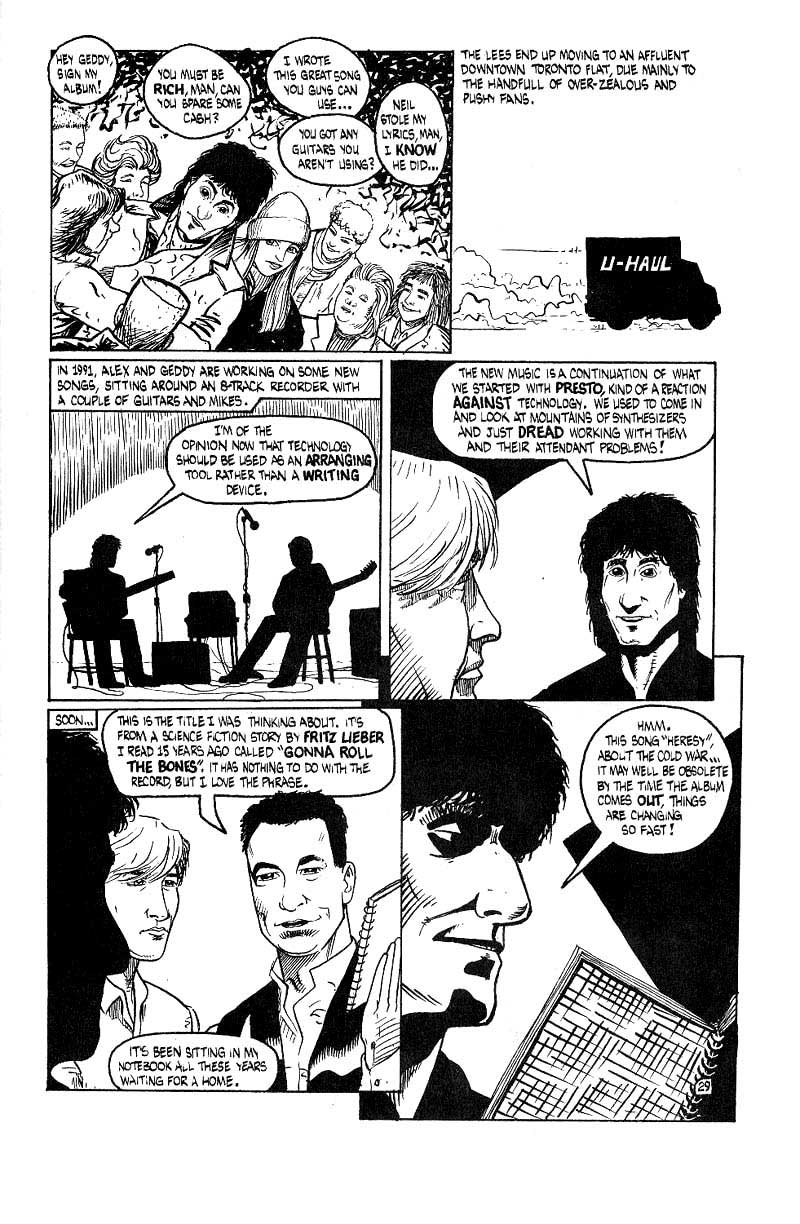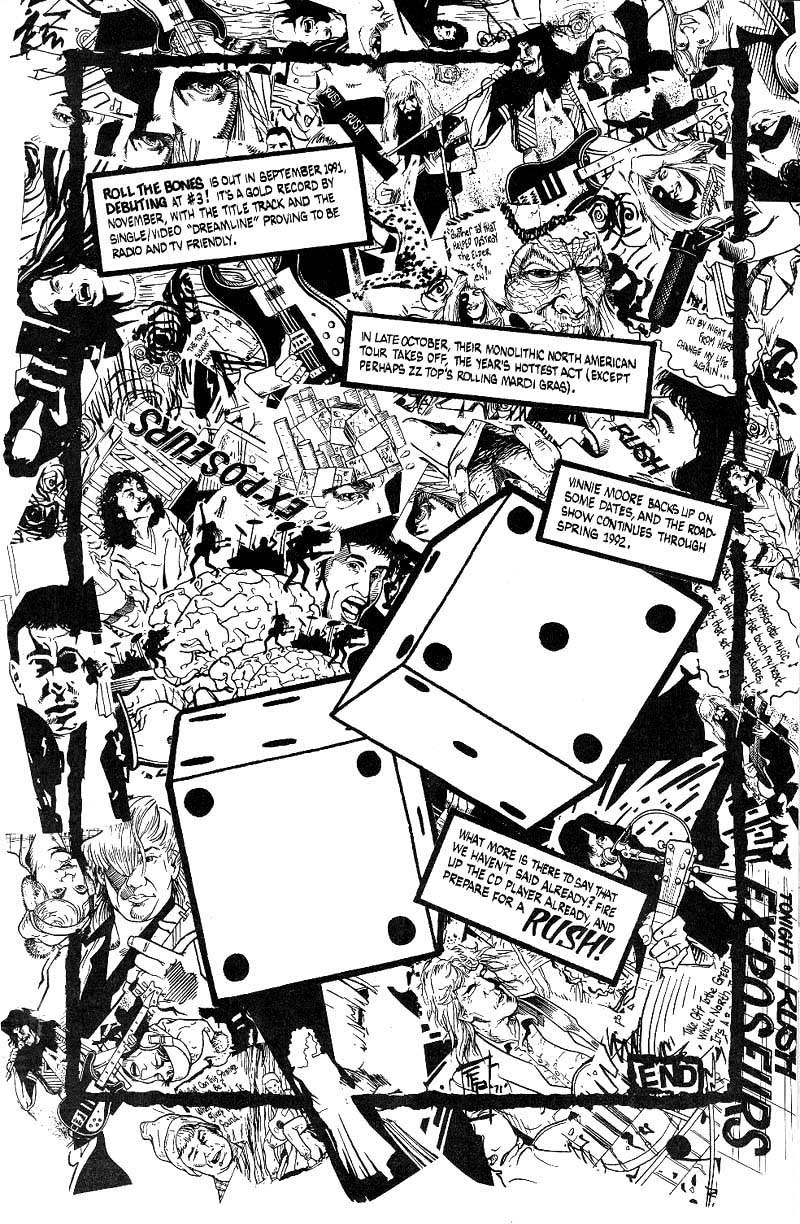 ---
Rush Moves Forward While Looking Back
By Jay Allen Sanford, Revolutionary Comics Canadian Rock Special #1, April 1994
Just when we were all getting used to that well oiled machine-like sound Rush had perfected on Roll The Bones, the boys have decided to strip away the techno veneer and whack us upside the head with some good old fashioned guitar/bass/drums rock and roll! Who'dathunk? Actually, the move back to basics was fairly predictable to those paying attention. "We were not capturing one element of our band," says Geddy Lee. "We weren't achieving on record what we wanted, so we decided to try a complete change of scenery and production." One of the first moves turned out to be a call to their former producer Peter Collins, who'd been moving in hard rock circles himself by running the board for bands like Queensryche.
During the actual songwriting of the new material. Rush found themselves composing digitally, along with a drum machine. The demos were then transferred to 24 track, which Neil would then play along with. Geddy got out his old Fender Jazz bass, which hadn't been dusted off in years, and technocrat Alex was coaxed out of the button-and-slider overkill of the control room to instead plug his axe right into the Marshalls and play on the studio floor. "It was an amazing release, after being so used to using the machines to mold every sound," says Alex. "I'd just about forgotten how raw and natural the tones can be when you do things the old fashioned way, and it gave the songs an organic sound we'd lost a bit."
The new record became known as Counterparts, and the duality and Yin/Yang of its focus is neatly summed up in the opening track, "Between Sun And Moon." The song itself is an intriguing counterpoint to their mega-produced efforts over the last few years. It's a song of opposites and of similarities, with straightforward licks from Alex which resist the temptation to lean heavily into FX-land. "There is a fine line between love and illusion," croons Geddy to a melodic score. Continuing in this thoughtful vein is "Nobody's Hero,' inspired by a friend of Neil's who passed away after contracting AIDS.
"I knew he was different in his sexuality.
I went to his parties as a straight minority.
It never seemed a threat to my masculinity,
He only introduced me to a wider reality."
"For a lot of people," offers Neil, "if their heroes are in sports or the entertainment world, they tend to be bought and sold as 'perfect.' " But the protagonist of the song is a mere mortal, flawed and human but loving and, most importantly, real. Musically, Alex's guitar rings like a bell between verses, but the cut is built around a darkly wandering bass lead and a marching band drum roll backdrop.
"Double Agent" features rumbling spoken word raps (?!), with soaring vocal interludes. It's almost reminiscent of some outtake from Alice Cooper's Welcome To Nightmare, only pumped up with an adrenaline injection. "Animate" consists of some rhymes carelessly strung together - like a rhyming dictionary set to a U2 intrumental! Rather simplistic and stretching, it's not among their lyrical best and the retro sound makes it quite dull edged indeed. The day is quickly saved again with "Stick It Out," a hardcore rockin' footstomper. It boasts and struts like a surefire radio hit, only circa 1975 (that's cool - that's what backwards-thinking radio programmers want nowadays, and all the better if it's a "classic" rock band!).
"Everyday Glory" sports an all too brief solo from Alex which harkens back to the high pitched tonal riffs he kicked out so gracefully over those first few albums. Fellow fretman The Edge should pay royalties, or at least acknowledge the origin of this anthemic sound! "Alien Shore" pumps the air with staccato drum lines rolling all over the place, as well as offering up some positively funky and poppy bass. "You and me, race is not a competition - you and me, race is not a definition." Dan MacDonald, our resident Rush expert, calls it tops and we all agree. Likewise hot is "Leave That Thing Alone," a jazzy little instrumental which could almost serve as soundtrack fodder (a few years too late for Miami Vice though, dudes). For "Speed Of Love," Neil co-wrote the lyrics with his old partner Pie DuBois ("Tom Sawyer," "Force 10"). It's a mouthful of words, kind of ploddingly paced and almost too basic for these particular musicians.
"Cold Fire" is actually a Rush song about romance! How novel! Unfortunately, how unsuccessful. The goofball lyrics bog down what might have been a decent cut.
"I said if love is so transparent,
I don't understand these boundries.
She said just don't disappoint me,
you know how complex women are."
It gets hard to tell just who's saying what in this tug of war between the sexes. If there's supposed to be a counterpoint between them, it's not evident - or is that the point?
The album closes with "Cut To The Chase," with all three instruments (four if you count Geddy's voice) melding perfectly. It's one of the few Rush songs that nearly anyone could sing along with, and one that even a shorthanded bar band could likely pull of with aplomb! Alex cuts loose here with a mathematical guitar lick that still manages to reek of blues and feeling - quite a feat, to be sure. All in all. Rush looks strong in' 94, even as they look back at the sounds which epitomized their early efforts. Still alive and well, and I'm sure this LP will be well worn by the time the next Rush record soars our way.