Gold Is The Color Of Rush's Metal
By Peter Howell, Toronto Star, October 19, 1993, transcribed by pwrwindows
---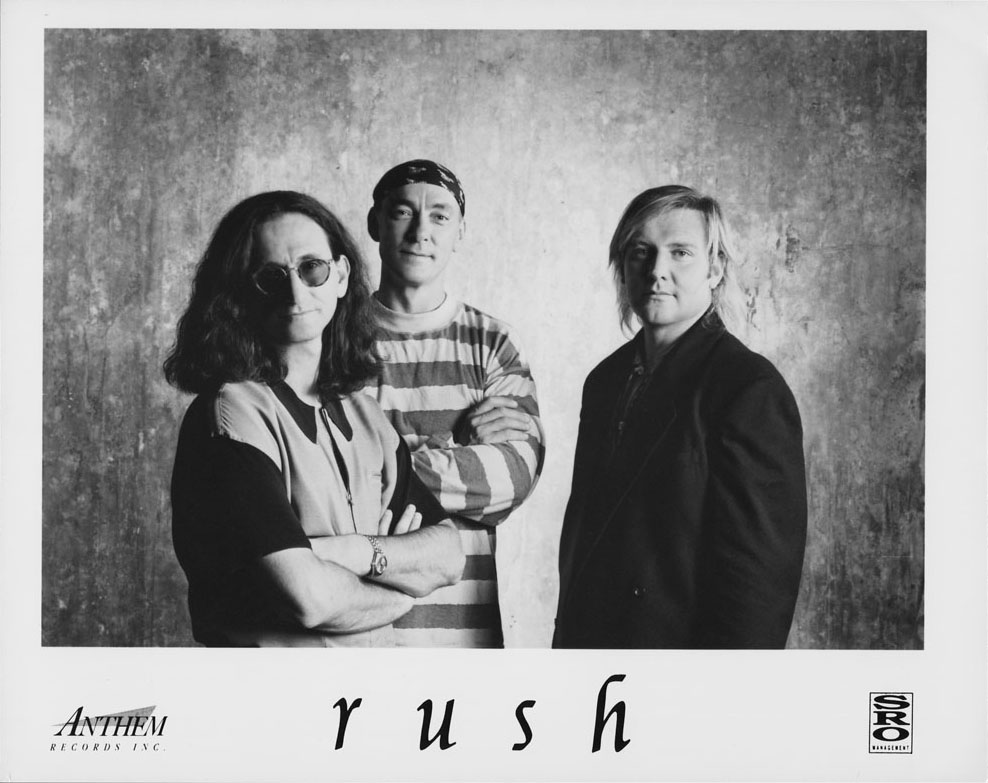 The rock drummer on the phone is talking about dual personalities, secret agents and his favorite Puccini opera - so it can't possibly be anybody else but Neil Peart of Rush.
"I think there's something holistic about it all," says one of the brainiest guys in rock, who also pens the lyrics of the Canadian rock trio's songs.
It sounds like something out of Wayne's World, but it's all about Counterparts, the 19th album by Canada's most successful rock band.
The disc hits record stores today, shipping gold simultaneously in both Canada and the U.S. - 50,000 units here, 500,000 down there.
The album has been exploding all over radio for several days, with lead single "Stick It Out" being listed in music industry journals as the second-most-added song at North American album radio stations - the highest in the band's career.
Counterparts will likely hit the main Billboard album chart with similar force to 1991's Roll The Bones, which set a Canadian record by debuting in the No. 3 slot.
It's sales action like that, plus the trio's unmistakable sound of Peart's drumming, Alex Lifeson's guitars and Geddy Lee's bass playing and singing, that registers most in the minds of rock fans.
But the 41-year-old Peart tries hard to make his listeners think, even if he knows that Rush is appreciated more by Wayne and Garth metalheads than by serious Puccini scholars.
He's got something for both types in the new song "Everyday Glory," which includes a line about a house where "nobody laughs and nobody sleeps."
It works great as a rock tune - one of the best on the album - but Peart says the inspiration came from "an opera piece I've always loved, by Puccini, called 'Nessun dorma,' which an Italian girl told me translates as 'nobody sleeps' . . . and I thought, ah, what a beautiful phrase."
Counterparts refers to a concept Peart explores on the album about the similarities and differences of the many dualities in life, in particular the male/female duality, which is studied in the song "Alien Shore."
Mile-a-minute talker Peart sprinkles his conversation with references to such deep-thinkers as Jung and T.S. Eliot, and he explains that another song, "Double Agent" is based on an upcoming book by an author friend: "It's on the secret war between the CIA and the FBI."
Heavy stuff for a band that can fill New York's Madison Square Gardens two nights running with devil-salute-waving rockers, as Rush did during its Roll The Bones tour in '91.
"It's not preaching," says Peart, who'll be asking deep question of Liberal leader Jean Chretien Friday in a MuchMusic pre-election special.
"It's just saying, 'Here's something to think about, what do you think?' I always want the invitation implicit in there.
"So those people who think about such things, I think it's there, and those people who don't think about them, who does it hurt?"
What people recognize and value most about Rush, Peart ventures, is the attention to detail from the band, whether it's getting Peart's hi-hat to sound just right or making sure favorite artist Hugh Syme's latest cover art creation is appropriately cosmic.
"Everything like that we take the time and trouble with," Peart says. "It altogether adds up to an image of quality: 'Care has been taken here.' That's the message that people receive."
Rush will start touring in January, and 1994 marks 20 years Peart, Lifeson and Lee have been playing together - although Lifeson and Lee, who both turned 40 this past summer, started Rush in '69 in their Willowdale home basements with original drummer John Rutsey.
"I'm still the new guy," Peart jokes.
Expect something special in the new year to mark the 20th anniversary, Peart hints.
"We'd like to make something of it, because I think we're probably the only band in the world with the same guys, after 20 years. I don't think there's anybody who's even close, with the same members.
"I think we'll pay that due tribute."