Resurge With Rush
Counterparts Tour 1994
Applause - The Entertainment Monthly of the Frank Erwin Center, January 1994, transcribed by pwrwindows
---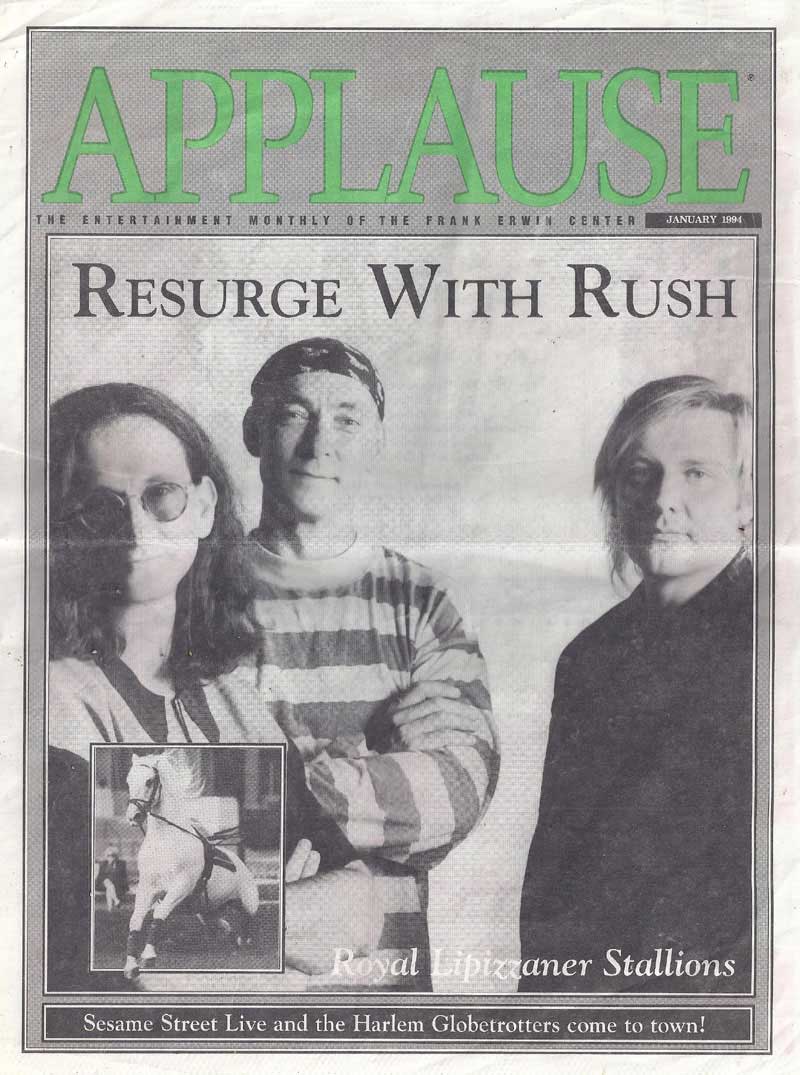 The Toronto-based band remains the vital band that it was 19 years ago. With their 17th album, Counterparts, Rush proves that it still has its hard-rockin' music. On its "Counterparts Tour," Rush with members - Geddy Lee (bass guitar, vocals and synthesizei's), Neil Peart (drums, cymbals and electronic percussion) and -Alex Lifeson (electric and acoustic guitars) are back for the first time since their "Roll the Bones" tour..
Counterparts, is the follow up to the Roll The Bones album in 1991. This album contains the ironic plea of both fortitude and forbearance in "Stick It Out." It also features "Animate," "Cut To The Chase," "Nobody's Hero," "Between Sun & Moon," ''Alien Shore," "The Speed of Love," "Double Agent," "Leave That Thing Alone," "Cold Fire" and "Everyday Glory.".
Peart explains the name of their new album as, "'The Concise Oxford defines 'counterpart' both as 'duplicate' and as 'opposite,' in the sense of 'forming a natural complement to another.' That's what I thought was so interesting about the word: considered this way, contraries are reflections of each other, opposite numbers, and not necessarily contradictions, enemies, the Other. Polarities are not to be resisted, but reconciled. Reaching for the alien shore.".
The process of putting together all the components that make up the album Counterparts was described by Peart. "Writing, rehearsing and recording. Flying and driving and working and laughing. Alex's flashes of dazzling spontaneity, twisted humor and emotional fire, Geddy's melodic instinct, wry wit and meticulous passion, my own obsessive drive and rhythmic bombast. True synergy, I guess: the whole greater than the parts - which are, after all, just humble old us.".
Rush has made a name for itself by being different from other rock bands. But yet, this uniqueness has kept them from falling by the wayside like so many bands have that started out in the early 70's. To date they have produced 19 albums with each one being certified gold or platinum. Rush's long-time manager Ray Danniels says, "They made their first record before they were 20 years old, which puts them 10 years younger than half the icon acts.".
The stability of Rush has continued to astonish fans and the music industry. Peart says, "In 1994 Rush will celebrate twenty years together. But really, can you imagine - the same three guys staying together through a score of years, and finding an audience to keep buying all that racket? I'm not sure which is more amazing, but either way it must be some kind of record, and either way, we're happy. That's the secret, if there is one.".
Billboard quoted Val Azzoli of Atlantic of saying, "with such a strong album as Counterparts, coupled with the momentum provided by the band's previous Roll The Bones album in 1991, the timing for a Rush resurgence is perfect." Now, Central Texas fans of Rush can see this incredible hand on January 25 at the Frank Erwin Center..
Tickets to Rush at the Frank Erwin Center on January 25 at 7:30 p.m. are $22.50, $25 and $28.50 and are on sale now at all UTTM TicketCenters or by phone at 477-6060. The GTE Mobilnet® Emergency Message Center and Mr. Rescue® will be available the night of the show. For emergencies only, call 940-1000. The Frank Erwin Center is a smoke-free facility. Convenient and free parking is available within walking distance in nearby state and University lots. For more information, call 471-7744.