Smart Alex
Alex Lifeson's Mercedes-Benz 380SEC
By Mike Metter, Car Stereo Review, January/February 1994, transcribed by pwrwindows
---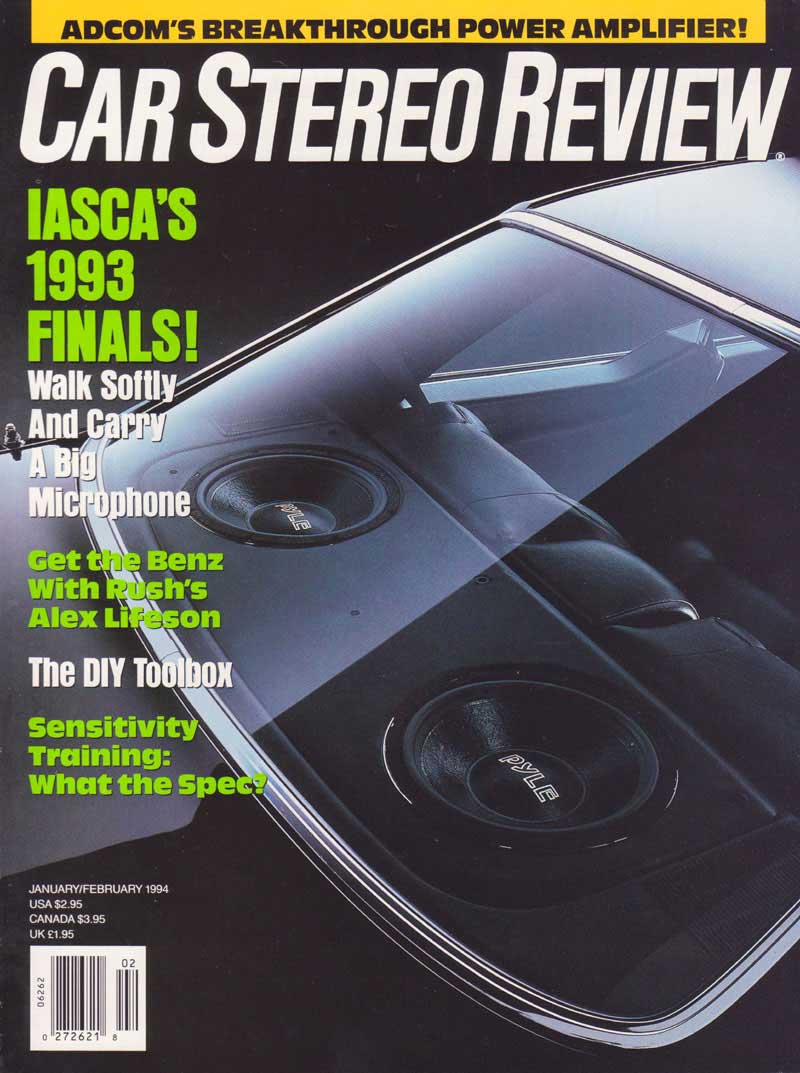 WHOSE DISC IS THIS? Alon Gat and Lahav Reznik were puzzled. Carmine Malatesta, the owner of Stereo Den in Richmond Hill, Ontario, had empowered his installation tech managers to overhaul the system in Alex Lifeson's sleek, black '83 Mercedes 380SEC. Despite their puzzlement, the dynamic duo were tickled: Lifeson is the guitarist for Rush, the veteran Canadian power trio. And there, throbbing in the Merc's Pioneer CDX-M30 changer, was Alice in Chains' '92 bludgeonfest, Dirt.
But whose disc was it? Did it belong to A) the 40-year-old Lifeson, an avowed fan of Seattle grunge bands or B) one of Alex's MTV-generation sons? Actually, the real answer is C) none of the above or, more accurately, C as in Charlene, Alex's wife. No, really.
"Yeah, it's her copy," Lifeson chuckles. "My copy disappeared; I think the kids took it. Her tastes run more to Black Box and Sade, but she likes Dirt."
As it turns out, digging in the Dirt was a very important clue for the installers. "Alex was generally busy working on Rush's new album [Counterparts, their 19th; see "A Day in the Lifeson," below, for details]," Reznik explains, "so seeing the different CDs in the cartridge each time the car came into the shop was sometimes the only way we'd get feedback about the system and how it 's used."
"WHEN DO I GET IT BACK?" Lifeson politely asks Gat and Lahav during a break at our photo shoot in a warehouse studio about an hour outside Toronto. Stereo Den had been tweaking the black beauty for a few extra weeks, so the axman's itchiness to take the mighty Merc out for some serious spin time is understandable. As Rush takes to the road in late January for a lengthy tour to jointly celebrate the band's 20th anniversary and to support Counterparts, Lifeson only has about 2 months of driving privileges before he's gone border hopping.
Scheduling hassles aside, one thing's certain: Stereo Den gave Lifeson everything he wanted. He's owned the Merc since it rolled off the line in January 1983 and has taken great measures to keep its look brand-spankin' new. Recent touches include eight repriming coats of acrylic lacquer (courtesy of Toronto's Concept Cars), customized wheels, a lowered suspension, and other precision detailing (performed by Tom Toomey, of Richmond Hill 's Dynamic Auto Detailing).
"It's a fantastic car," Lifeson marvels. "There's a lot of weight to it and it's very solid. It has less than 100,000 kilometers [about 62,000 miles] on it, and it's not driven much in the winter. It's terrific for long-distance drives - I've taken it to Le Studio in Quebec [a 5-hour-plus haul] a few times. Until recently we were using the stock stereo system, but it was high time to update it."
Lifeson's highest priority was that the system maintain the integrity of the Merc - "as if Germany had designed it that year with those equipment choices as deliberate options," this according to Edison Bozo, service manager and technical director for Canadian distributor Jestar International, who assisted Stereo Den with various aspects of the install. "His request for the trunk was that he would be able to access the spare and put his golf clubs in there without being crowded out by a lot of equipment." As Bozo remembers it, Lifeson told him, "I don 't want to have to rent a U-Haul just to go golfing."
THE SYSTEM'S BONES get a-rolling up front with Pioneer's Premier Series KEH-M900 detachable-face cassette tuner." It's Pioneer's best piece," Gat beams. The M900 was chosen in lieu of an in-dash CD head to accommodate Lifeson's desire to play promo cassettes, demo tapes, and rough mixes at will.
"I find the car environment to be a good reference tool," Lifeson explains. "It's just like listening to a playback in a recording-studio control room." Lifeson's favorite CDs-which include the aforementioned Dirt, Pearl Jam's Ten and Vs., Eric Johnson's Ah Via Musicom, Metallica, and Queensryche's Empire - get plenty of airplay, too, as the M900 lets Lifeson command a six-disc CDX-M30 changer that 's been relegated to the driver's side of the trunk.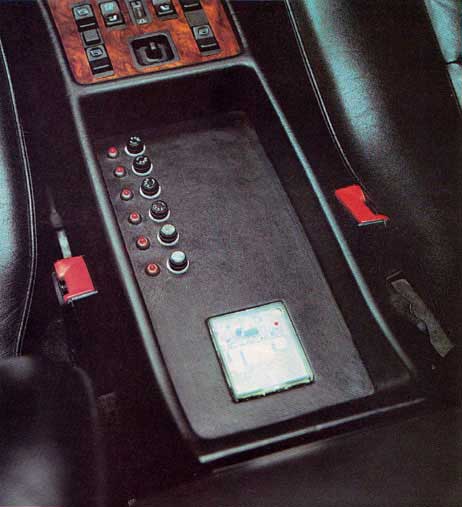 The first dose of processing is provided by Pioneer's DEQ-7550 DSP-driven equalizer/ambience processor/active crossover. whose DIN-size controller is framed by leather trim and located flat on the console a few inches beneath the M900. (The 7550' subchassis brain is stashed under the back seat on the driver's side.) "That unit was chosen for its flexibility and ease of adjustment," Gat explains. "Rather than controlling equalizer and crossover point solely from the [trunk], we wanted to have four different memory presets available up front for the different types of music Alex listens to, or for whatever mood he's in. Plus, it has a far better DSP chip than the head unit."
After 10 hours straight of in-shop curve fiddling, Gat drove the Merc to Lifeson's remote Ontario homestead to gain approval. They listened to the various program EQ curves for about 2 hours, tweaked some more, and whoomp - there it was. The installer had 'em nailed.
"I call the first curve, which is Alex' favorite, the Competition Curve," Gal says. "It results in flat sound, and Alex uses it when he listens to tape. The second curve is a hard-rock setting, which is midrange-heavy and works best with stuff like Alice in Chains. The third setting is for laidback, soft-bass easy-listening music, like Sade. The fourth one is the Fun Curve, a bass-heavy, low-mid setting geared toward serious, long-range cruising."
Pioneer is also responsible for processor number two, a trunk-mounted CD1000 crossover/EQ used primarily for overall system equalization and filtering. Gat says it was picked for its flexibility and sound quality. The 1000 is bolted to the back trunk wall behind uniquely "slotted" Plexiglas panels. The slots were precisely calculated to fix the internal volume of the trunk, which functions as the sub box; a solid Plexiglas window showing off the 1000 would have limited the trunk volume. Gat readily admits that this visually striking arrangement "isn't very user-friendly." But system settings aren't supposed to be monkeyed with. In Gat's words, "It's purposely meant to be a 'professionally adjustable' piece."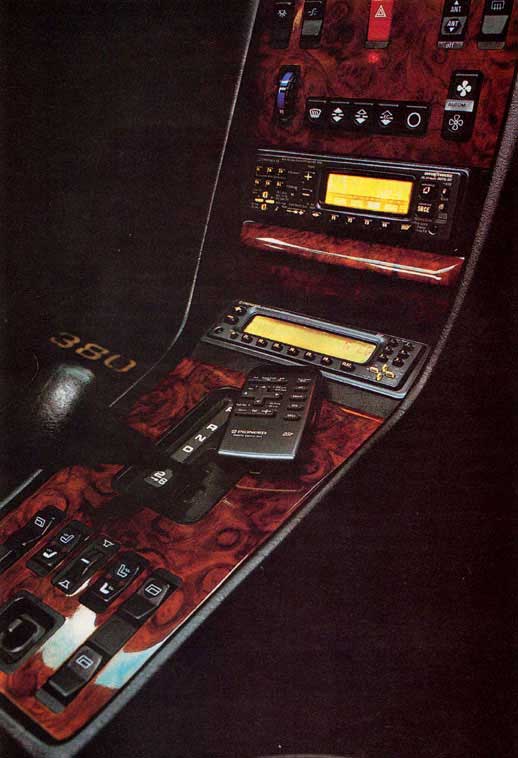 For Gat, EQ isn't all that important anyway. "The system was designed to play just about anything," he intones. "Besides, the sound should come from the design of the system itself. I like to think of an EQ not as something that drastically changes the sound but as something used for finite adjustments. The way I see it, the more EQ you use, the more phasing and noise problems you'll have."
A trio of HiFonics amplifiers sits on a board in the trunk below a rear-decked-out pair of Pyle New Wave DW1240/4 12s, whose bottom ends can be seen through a Plexiglas shield - if you lean into the trunk far enough, that is. The first amp, a 200-watt-mono Hercules, sits flat on a ledge above and behind Pioneer's CD1000 and juices the 1240/4s, which are custom-fitted with chrome baskets. The rear-deck positioning of the 1240/4s, by the way, was directly influenced by the location of the Merc's gas tank, which sits vertically against the back seat." Because of that, we couldn't quite fire the woofers straight through the back seat, as we normally might have," Gat laments.
Oh, yes - the entire trunk is padded with black leather, including installation parts like the amp board.
The other two amps, HiFonics Geminis, flank the CD1000; each runs at 50 watts x 4. Gemini I assigns two channels to opposing pairs of Pyle DW5216/4 5 1/4-inch Pyle Drivers, housed in individual, ported 1/2-cubic-foot cavities within each door. "They port at the front of the door near where your feet rest," Gat describes. "Rather than going with four or five mids per side, we felt that we only needed two each - as long as they were in the proper cabinet and tuned to the proper frequency." Alon, what is the frequency? After a bout with overt boominess, he notes, the port was eventually tuned to 80 Hz.
Gemini I's other two channels goose a pair of Pioneer TS-M101 4-inch woofers, which are tucked in the rear deck's factory slots. Two Pioneer TS-T31 1-inch neodymium-magnet tweeters also join the reardeck party, and all are kept in place by custom brackets and panels built by Reznik and Bozo.
Gemini II uses two channels to exclusively supervise an in-dash pair of Pyle 5216/4s; its remaining two channels juicer· cize dual dash-mounted T31s. All of the dash drivers sit in stock holes. In case you've gotten confused as to which feeds which, Gat reiterates: "The difference is that the door and rear woofs and tweet share channels on Gemini I, whereas the dash speakers have their own dedicated channels on Gemini II." Removing the factory grilles on the dash speakers, he adds, reveals a sharp leather finish-another royal Reznik touch.
When they first started positioning speakers, Gat and Reznik encountered some phasing faux pas. "We ran into a number of phasing problems because of al the materials in the car and the shape of the interior," Gat explains. "So we had to take the dash apart a couple of times. And thee there were a lot of rattles to overcome in the doors, since the door woofers seemed to punch a lot harder than we first thought, even with only 50 watts per side."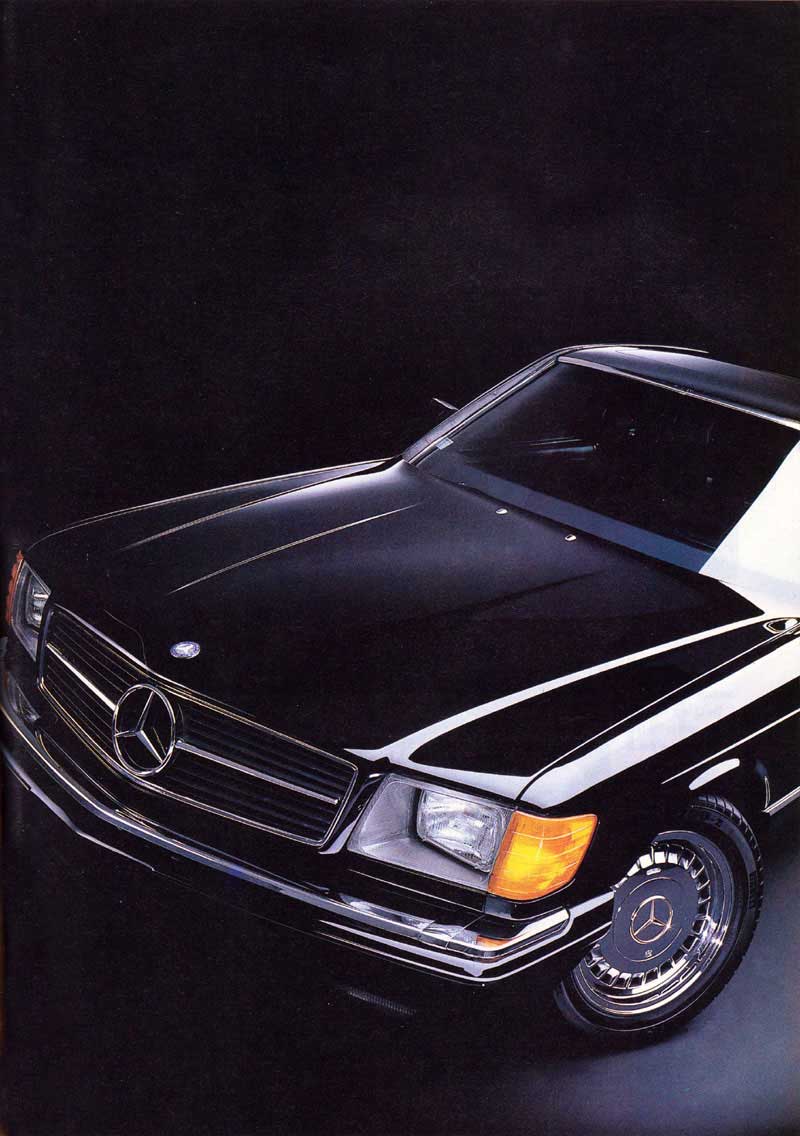 Gat also decided to forego using a center channel. "We specifically decided against a center channel for two reasons. One, we didn't want to modify the dash, and we didn't feel there was enough space in the [central climate] vents to put, say, a 3-inch midrange. Two, we wanted to prove that every car doesn't need a center channel to deliver proper staging."
The design team, respectful of Lifeson's stock-look and open-space desires, also felt the free-air trunk design was a natural. But it wasn't perfect: "We knew there'd be some Q loss since we couldn't exactly weld the trunk shut to mimic a totally sealed infinitely baffled box," Jestar's Bozo relates. "So we sealed all the corners and filled in the rest with as much sound-deadening material as possible."
The trunk saga didn't stop there. "A lot of people figure that if you use a free-air speaker, then you can just throw it in any size trunk and it doesn't matter." Gat claims. "But the fact is, every free-air woofer will work best with a certain enclosure volume." After careful consideration, the installers found 7.2 cubic feet to be the ideal volume - "just right for the New Wave 1240s, because they work best in large enclosures," Bozo notes. Here, the 1240s deliver a sturdy 134 dB SPL.
Total system Q was pegged at 1.1. "We picked that figure-which is deliberately in between an audiophile-grade 0.5 and a full blown rocker's 1.3 - to appease the fluctuation between Alex's classical, jazz, and hard-rock preferences," Bozo says, closing the book on this subwoofer saga.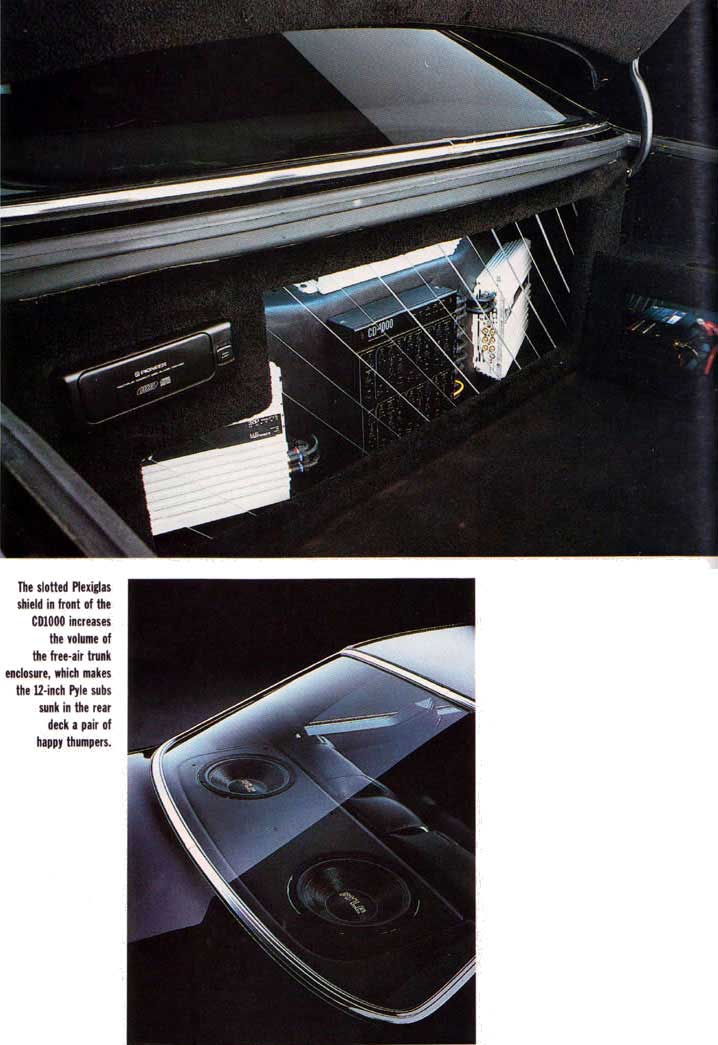 The front-right trunk corner has been dubbed "The Power Center" for obvious reasons: It contains a supplementary Genesis HD Series battery, a Monster Cable MonsterCap MCAP·1FD 20-volt capacitor, and a Monster Cable Powersplit Plus power - and fuse - distribution block (another Powersplit Plus is tucked away under the hood). The Power Center is accessed by lifting a hinged and illuminated cover that's swaddled in carpet and the now-obligatory leather. (The custom carpeting was hard to come by until the Densters discovered Auto's International, a shop in Glendale, California that specializes in accessories for German cars.)
The driver's side of the trunk houses the brain of an Avital AviStar Mark II security system. The Mark II system locks and unlocks the doors and sports two external sirens, one interior siren, a 12-volt battery backup, and pinswitches in the front rear. (Yes, you can Avital.) Also part of the security picture is Autopage's The Shadow AP4000 Plus, whose resonance mics reside in each door.
Thirteen rolls of Sound Quest Deadbeat sound-deadening material, weighing in at a whopping 250 pounds, took over 70 hours to affix. "There's no question it was worth it," Gat states. High-density fiberglass and Dacron filler were also implanted to cut down on feisty resonances.
All $8,500 worth of wiring is from Monster Cable and every terminal and clip are gold-plated; Reznik al so notes that every patch cord was individually soldered high-content silver solder. Gat reveals that there was one surprise lurking under the hood: "The Mercedes had a deficient ground strap, so we used 4-gauge Monster Cable wire to make our own grounds to run from the battery to the chassis." Total install time clocked in at 360 hours and was spread out over a month's time, which rings up to about $33,000 Canadian, including labor (that translates to $26,000 U.S.), on the Stereo Den register.
LIFESON GIVES THE install job the big thumb's-up. " This system has great response, from the low end right through to the top end," he observes. "The impression I have is that it's a difficult job to get in-car sound to a homogenous level - that is, in terms of wherever you move your head or the different places you may sit. But this system sounds great everywhere. I can hear everything clearly - the bottom end is really tight and punchy, the top end sits right on top of it, and the mids are very clear."
With his seal of approval in tow, Lifeson's already handed Gat and friends their next assignment: his family 's "daily car," a '91 Mercedes-Benz 300TE wagon. "It'll be a smaller system," Gat grins, " but it'll be fun." It better be - as Stereo Den well knows, Rush never sleeps.
---
A Day In The Lifeson
To borrow a line from an early eighties Rush song, Alex Lifeson is a digital man. "It's been so long since I've even listened to vinyl," He says. "In fact, not too long ago, my 16 year old son and I were talking about stereo equipment. He looked around our living room and asked, 'What's a turntable?' Not where is it, but what is it. We don't even have one; mine's been stored away for years.
Longtime proponents of cut-and-paste MIDI composition and synthesizer-enhanced arrangements, Rush pulled back on the digital chain while making 1993's Counterparts (Atlantic Anthem). "It's not that you get into a rut, but that you get used to a certain way of doing things," Lifeson explains. "As a response to all that technology, I call this our 'anti-toy' album. For example, there's less competition between the guitars and keyboards, and there's more emotion and weight to our overall sound." Counterparts is certainly more gnarly than its recent predecessors in the Rush canon, thanks in large part to the decision to bring Lifeson's crackling guitar back to the forefront of the mix. The squeaky, grainy riffs that intro songs like "Stick It Out" and "Cold Fire" set an overall rockier stage, and the funky phasing in "Cut To The Chase" and gumshoe groove of "Double Agent" signify a lighter tone and attitude. In short, Counterparts is a lot more in-yer-face than expected.
As 1994 is Rush's 20th anniversary, the band's current live show contains a few surprises. "While we're not particularly interested in writing 11-minute epics anymore," Lifeson relates, "we're thinking of doing a set that's cronologically made up of at least one song from every album we've ever done. So yes, maybe we will hear (1977's) 'Cygnus X-1' again - or at least a little bit of it."
Lifeson realizes the band's fans would rather hear 1976's 2112 in it's entirety and avoid anything after 1981's Moving Pictures, but that's not creatively where Rush is at these days. "Bands evolve, and that's important," he says. "Do I listen to our old material? Seldom. But a few years ago, I went camping in Northern Ontario with some friends, and one of them brought a copy of (1978's) Hemispheres. I hadn't heard it in over 10 years - really. He put it on, and I had to laugh at first. But afterward, I noticed there were aspects of that record I felt we could apply to the way we record our songs today, certainly in terms of the presence of my guitar parts."
Revisionist rock history is in vogue, so Rush, much like Led Zeppelin, find themselves getting better reviews today than at any other point in their career, aided in part by progressive bands like Kings X and Primus citing them as key influences.
Lifeson has another theory, however. "Actually, we've outlasted the critics who hated us," he grins. "Plus there's a new generation of writers who've grown up on our music." Must have something to do with the spirit of radio....