Trio Gives Fans A 20-Year Rush
A combination of art rock and metallic thunder propels veteran band to elder statesmen status
By Harry Sumrall, Tampa Tribune, March 4, 1994
---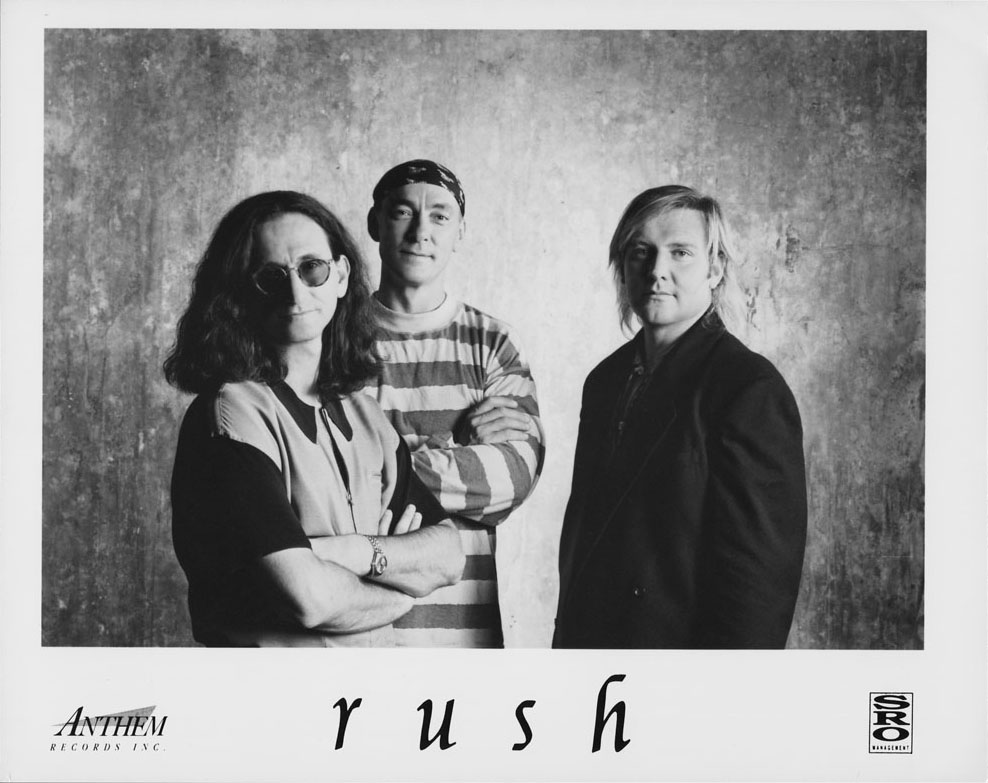 SAN JOSE, Calif.
"Twenty years - it's a weird thing being in a band for that long," said Geddy Lee. He's talking about the years he has spent playing bass with the Toronto rock band Rush.
"Sometimes I think, 'Did the bell ring, and I didn't answer it?' " he said, laughing. "I almost feel guilty for being around this long. Shouldn't we be doing some thing different by now?"
Lee laughs again at the thought. Then dismisses it.
Over the past two decades, Rush which includes guitarist Alex Lifeson and lyricist-drummer Neil Peart - has been one of the more durable and successful bands in the rock world. From its eponymous 1974 debut album to its most recent release, "Counterparts," the group has maintained a vast and devoted following that sells out tours and buys, the group's records by the millions. When "Counterparts," the group's 19th album, was released in October, it entered the Billboard charts at No. 2, just behind Pearl Jam's mega-hit, "Vs."
And now there is a new Rush tour.
"I think that Rush has lasted this long because we have always had a civil relationship between the three of us, and we enjoy what we do. It's like we look at each other sometimes and say to ourselves, 'What a great job!' It's the best of all worlds. We are constantly trying to do new things with our craft and our music."
On "Counterparts," one of those "new things" really proves to be old. Unlike such recent albums as "Presto" (1989) and "Roll the Bones" (1991), which included electronic keyboards, the new album is propelled by the pounding, quasi-metal sound that was once Rush's hallmark.
Such songs as "Animate" and "Stick It Out" off "Counterparts" feature Lee's helium-high vocals, Lifeson's cranking power chords and Peart's agile drumming. While the songs have a rock-based sound, they are also punctuated by complex time signatures and instrumental forays.
"There is a sense of mission-accomplished about this record," Lee said. "We had a sonic goal in mind when we made it, and we're pretty happy. with the way it worked out.
"We wanted a bigger, more aggressive sound than we got on 'Roll the Bones.' We wanted to update our sound by going backward, in a sense, and playing by instinct. We decided to keep it basically as a trio sound and expand it from there."
The result is an odd amalgam of artrock sophistication and metal power, which has been at the core of Rush's sound since the beginning. That sound is also crucial to the group's new tour.
"I think the set for this tour is one of the most musically fluent that we've had in a long time," Lee said. "We're doing a wide variety of songs from our past, including songs from albums like 'Hemispheres' (1978) and 'Moving Pictures' (1981), along with the newer songs. There is a lot of new energy that we get from the older songs. We are able to really look at them more objectively and to add new things to them."
But Lee points out that the current tour is not a 20th-anniversary event. "My fear is that there could be a reunion vibe to the tour," Lee said. "But we're trying not to look at it (that way). That isn't what this group is about. Rush is a current, alive group."
Rush has survived - through punk, techno-pop, grunge and the rest ? and maintained its vast base of older fans while gaining new ones. Hailed by Les Claypool of Primus, Rush has achieved the status of elder statesman to a new generation of rockers.
"There seems to be a great curiosity, but also a contemporary feel about Rush," Lee said. "A tremendous range of fans comes to our shows. There are headbangers and then older people my age," he said. Lee is 40.
And how long can Rush keep going? "Who knows?" Lee said. "We place a high priority on our performances. And our songwriting is a pride and joy. I don't really see an end to that, because doing it is such an elusive thing. You never know how far you can go with it.
"I think as long as we can be vital creatively that we can keep going as a group. I guess we'll keep doing it one record at a time."
---
ON TOUR:
- WHO: Rush
- WITH: Candlebox
- WHEN: Tonight at 8
- WHERE: ThunderDome, St. Petersburg
- TICKETS: $22.50 and $35 (plus service charge), available at Ticketmaster outlets
Harry Sumrall writes for Knight-Bidder Newspapers