It's The Rhythm Of The Search
Members Of Rush Have Stayed Together In Quest For Perfection
By A. Scharnhorst, Kansas City Star, April 5, 1994, transcribed by pwrwindows
---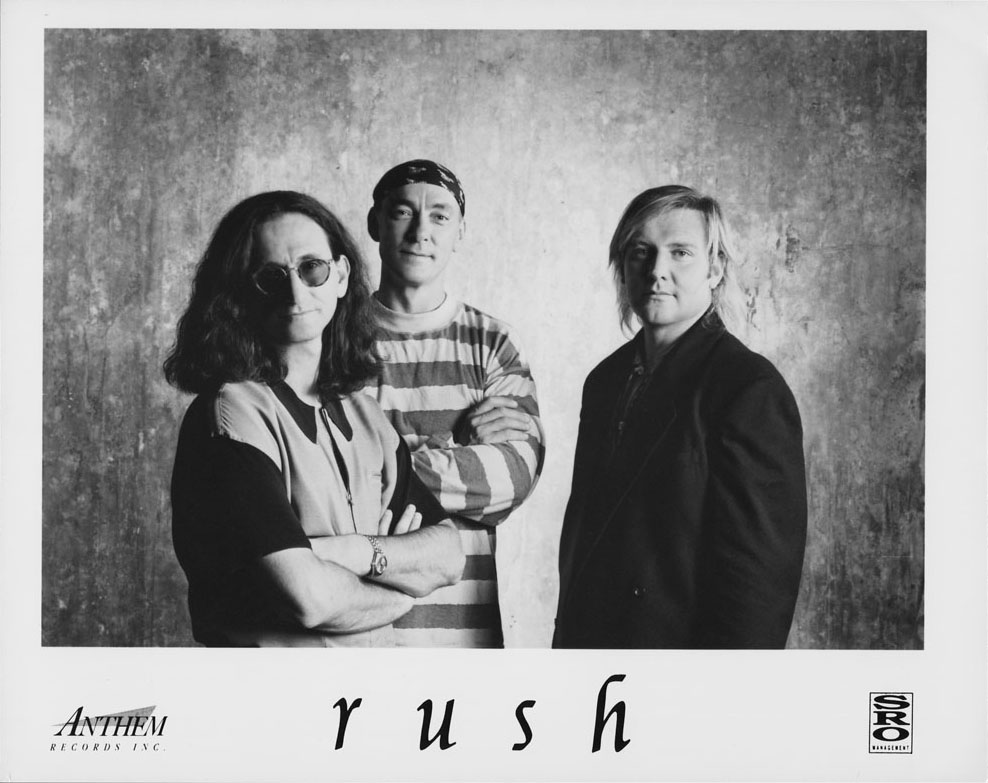 Rush is still recording and touring, drummer and lyricist Neil Peart asserts, because the band is still searching for perfection.
The Canadian trio, which released its debut album in 1974, keeps making music because Peart and co-writers Geddy Lee and Alex Lifeson are still challenged by what they do, Peart said the other day, speaking by phone from a tour stop in Cincinnati.
Rush brings its tour to Kemper Arena today. Tickets are still available from Ticketmaster outlets or by calling 931-3330. They cost $23 plus service charge. Primus opens the 7:30 p.m. show.
"After 20 years of playing concerts you'd think that it would become tiresome and repetitive," Peart said. "But it never does - because you never get it right. " A strong contingent of Rush fans worldwide would probably argue that point. Rush's power-trio glamour rock has appealed to a widespread audience for nearly as long as the band has been recording. Its latest album, "Counterparts," entered the Billboard chart at No. 2 when it was released in October.
Bringing something fresh into each tour is part of Rush's quest for perfection. And as time passes, band members' expectations of themselves increase.
"Doing the job is so difficult at this level, with all the demands we put on ourselves after all these years about how well we have to play," Peart said.
Many bands have crumbled under that kind of pressure, but Rush has maintained a rare unity, he said.
Lee, Lifeson and Peart write each of Rush's songs together.
Peart writes the lyrics; Lifeson and Lee contribute the music.
Years ago Rush vowed to communicate with the audience each night and not lose itself in a series of cliched, pre-arranged statements, Peart said.
While playing, Peart tries to find time to look out into the audience at people's faces - not just a mass of indistinguishable bodies. Doing arena shows allows for that, but going to anything larger would make the concerts too impersonal, he said.
"Sometimes I look at the people in the audience and think, 'Why are they here?'" Band members occasionally ponder the improbability that Rush is still touring (Peart joined on 2nd album) 20 years later. "But that isn't nearly as surprising that the band still has such a fan base," Peart said.
"That we're still successful," he said, "I think is more of a miracle."