Interview: Neil Peart
Rush With Candlebox, War Memorial, May 4
By Rex Rutkoski, Freetime Rochester, April 27-May 11, 1994, transcribed by pwrwindows
---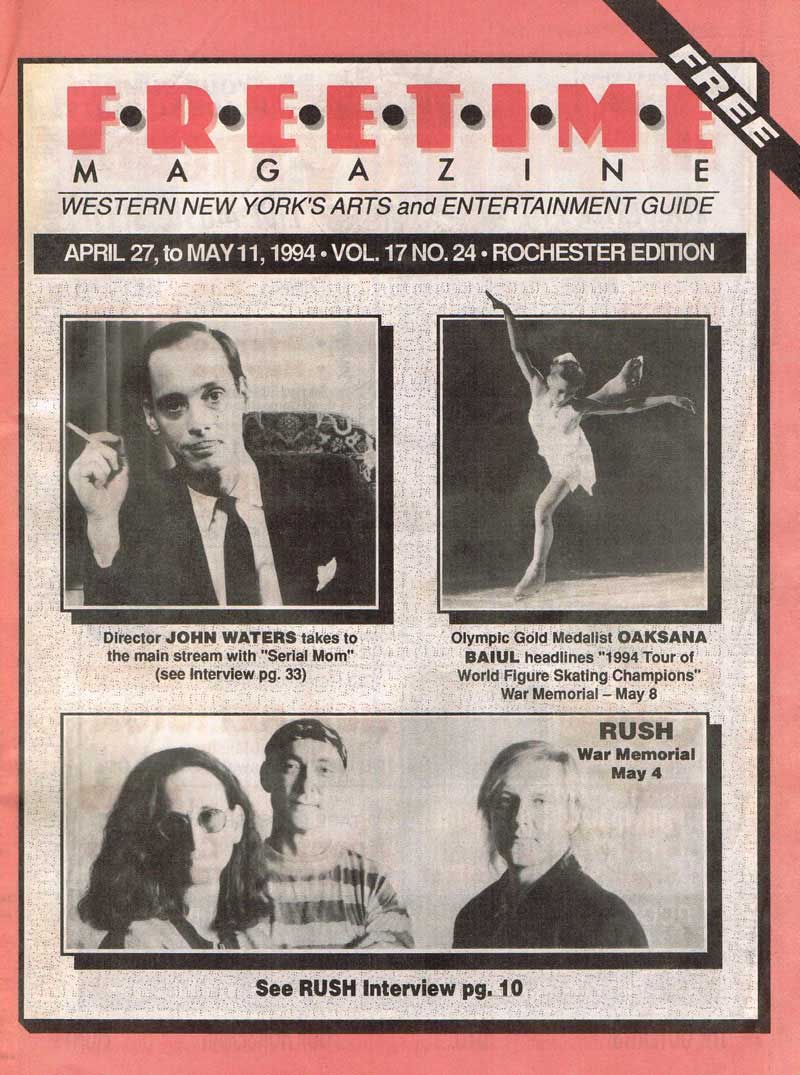 Through the '70s, the '80s and now the '90s, Rush has been Geddy Lee - he of the voice for which a taste must be acquired -on vocals, bass and synthesizers; Alex Lifeson, electric acoustic guitars; and lyricist Neil Peart, drums.
"I don't think we necessarily have brought anything new to rock," says Peart, 41. He prefers to cite what he calls "The torch bearer analogy." "It's down to another generation."
Which might explain why Rush, in addition to longtime fans, finds itself popular on college campuses too. The band has fought "long and hard" for developing new audiences, Peart says. It's no accident. The credibility we have is genuine and very hard won."
"Younger people can sense that it is real for us. With a lot of bands, you wonder if they are trying to be good or popular. It's implicit in our music that we are trying to be good."
The 19th attempt at that arrives in Counterparts, Rush's latest album, which has be riding the Billboard charts for 26 weeks already. The goal for Counterparts was "to get ourselves excited," Peart explains. "That's a crucial thing when we first go in (a studio)."
The source of creativity for Peart, one of rock's most intriguing lyricists, is excitement. "I get excited about things. The joy of creation is a small little spark," he says, "when suddenly you realize it's going to work."
Peart is intrigued by the process of creativity. It's about "enjoying the mountain while we're climbing it," he has said. "I like both the process and the results," he says. "My favorite kind of job is one that is finished. But I do love the process of it." Still, he says, the best part of a long bike ride (and he is an avid cyclist) is when it is done.
There is a spiritual dimension that is part of this creative process, he says, "but not in a religious sense. I'm conscious of the gray zone between conscioius and unconscious ("Double Agent," on the new album explores this gray zone). A lot of my songs talk about that moment between sleep and waking. If there is a spirit and soul in between the conscious and unconscious, mysterious connections come about. That's probably where we must reside. I've had my subconscious make decisions for me."
Ultimately, Peart wants listeners to take a sense of optimism from Rush's music. "Absolutely," he says. "One of the fundamental things is the self-accentuation principle, transcending the tragedies of youth."
Peart says he appreciates being able to address some of the heavy questions of life. "Yes, I have the luxury of time (between albums) to sit and look out the window all day and feel I'm doing my job (compiling material for lyrics). There's a curiosity about life and interest in life and desire to have more. It's a luxury that I'm allowed to be contemplative. There are common interests and excitements I can take time to articulate for people. That should be our role." Rush has been thought of in some circles as a thinking person's rock band." That description is "kind of elitist," says Peart, "which I don't like." But it's certainly true that we think about what we do. Our music is a reflection of our interest. It is made by thinking people for thinking people. We never talk down to our audiences. I presume they are as smart as we are. Anyone who knows us should have the perception that we work hard and enjoy it. We pay attention to the real details. We take care to imprint our set of values on it. The same values that apply to our music extend through our organization."
Our reviewer wrote that for him Rush captures the sense of adventure in a song. "Those things shouldn't be remarkable," Peart says. "There is a sense of adventure about what we do. It's setting on an adventure."
Audiences this time around can expect surprises, he says. "It's quite a remarkable new production. We scrapped a lot of the old production. It is starting to approach Broadway proportions," he says.
After 20 years, he says it can be "the little things" that continue to keep it all fresh for Rush. "Drumming is a perfect example. Finding little things, new techniques that spark my interest for months even after all these years. There are still fresh, little things that turn up."
In the final analysis, the members of Rush are doing what they always wanted to do, he says. "It was our dream as kids to be in a rock band making records and doing tours," he says. "We are still living that dream."
Success, when it comes down to it, is no more nor no less than the pursuit of happiness, Peart says. "It's a very underrated principle of life," he says. "Life is a process and happiness is too. All these things I've mentioned are part of the process. I know a lot of people are living lives that are much lower profile than mine, but are none the less happy. It's inspiring to see that. Happiness is not about economics, that's for sure."
Candlebox was formed in December, 1991, and consists of vocalist Kevin Martin, bassist Bardi Martin, guitarist Peter Klett and drummer Scott Mercado. Since the release of their Maverick debut, Candlebox has been touring extensively. The band continues to be part of the current Rush tour, While performing selected dates as a headline attraction.
Candlebox, the auspicious debut album from the Seattle-based quartet of the same name, has been certified gold by the R.I.A.A., signifying sales in excess of 500,000 units.
The album contains the singles "Change" and "You," along with the group's latest release, "Far Behind." The group recently finished filming the video for "Far Behind" with director Nick Egan (Sonic Youth, Digable Planets) in Seattle. The song was one of the most added songs at AOR radio the week of April 8, 1994.