Rich Field Honors Buddy
Drummer Neil Peart Helped Put Together A Buddy Rich Tribute Album
By Kira L. Billik, Cleveland Plain Dealer, January 20, 1995
---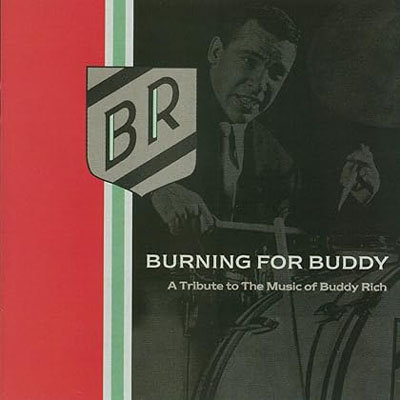 PHILADELPHIA - As a young man, Neil Peart had no time for big band jazz, which he called his father's music. He was a rock drummer, and he went on to keep the beat and write lyrics for the Canadian power trio Rush, a job he's held for the last two decades.
As he matured, he learned to love big band music, especially the stylings of the late drum master and band leader Buddy Rich, who died in 1987. He even played with Rich's band at a 1991 Buddy Rich Memorial Scholarship Concert.
"I always did consider him (Rich) the best drummer in the world, but I was a rock drummer and a rock fan," Peart said. "He was serious. He was a star out there, but at the same time, I was in a different constellation."
He said the concert "didn't live up to my usually high expectations of perfection and excellence."
So to put it right, he hooked up with Rich's daughter, Cathy, and put together "Burning for Buddy: A Tribute to the Music of Buddy Rich." The result was an album by Atlantic featuring some of Rich's classic arrangements -and songs by some contributing musicians - performed by alumni of his band and a selection of the best drummers in both rock and jazz.
Participants included Simon Phillips, who's worked with The Who; jazz drummers Max Roach, Bill Cobham and Joe Morello; and Guns N' Roses' Matt Sorum and Rod Morgenstein of the Dregs.
He credits Cathy Rich for her help in getting the project under way.
"Cathy was tremendously excited about it right away," he said. "With her connections in the drumming community in having all the scholarship concerts over the years, she knew how to get in touch with the people."
Pearl learned how much jazz drumming differs from his own style.
"The technical demands are slightly different, because rock drumming is loud end athletic. That means that in a sense it's harder to do in terms of keeping a steady time and keeping control of the performance," he said.
"There's a lot of delicacy and subtlety involved that every drummer learns, but if you're playing rock, you tend not to be using so much."
He also found the structure of Jazz intriguing.
"The music has a very strict form and a given arrangement, but within that, the players are very free and are allowed to freely interpret the ensemble work and, of course, solo work and accompanying. All of these elements, I thought, were akin to the way I approached music, and certainly in the way Rush approaches music."
Many of the drummers, especially ones from the rock world, were hesitant about stepping into a big band arena. Peart and Kenny Aronoff, best known for has work with John Mellencamp, challenged themselves by taking on traditional big band songs -"Cotton Tail" and "Straight No Chaser," respectively.
And as producer, Peart had to force himself not to listen to the other drummers except as part of the music.
"I wasn't there for drum lessons," he said. "I set behind a speaker where I couldn't see the drummer...I had to take a true producer's role without getting involved in any of the details."