'Victor' Press Release
Atlantic-Records, January 1996
---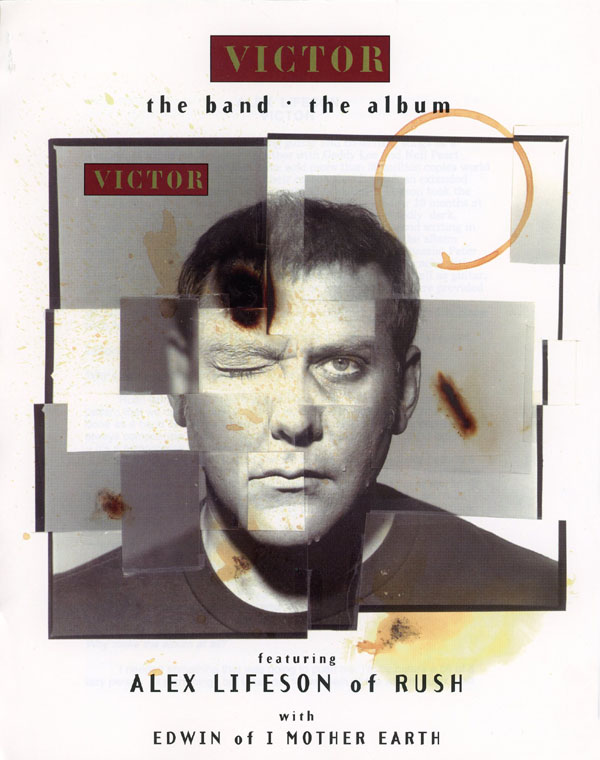 Alex Lifeson has been playing guitar and co-writing songs as a member of Rush for over 20 years. Together with Geddy Lee and Neil Peart, they've released 19 albums that have sold more than 30 million copies worldwide. In 1994, for the first time in their career, the trio took an extended break from their established write-record-tour regimen. Lifeson took the rare opportunity to record his first solo album. Recorded over ten months at his home studio just north of Toronto Victor is an unexpectedly dark, diverse, and aggressive album - with the guitarist playing and writing in anything but a predictable fashion. After recording most of the album himself he called in local session players, guitarist Bill Bell, bassist Peter Cardinali and drummer Blake Manning. Primus' Les Claypool plays bass on one cut. Vocals were provided by Lifeson, Edwin from I Mother Earth, acclaimed Canadian vocalist/songwriter Dalbello, and, on one antic track, Alex's wife Charlene with her friend Esther.
A week after completing the final mix of this, his first solo project, Lifeson answered a few questions about the making of Victor:
Why make a solo record when you're still part of such a successful group?
Rush works in a certain way, and I think that after so long we've established a pattern that we don't deviate from very much. I've always loved what we've done as a band, but at the same time, when you work with other people, there's always compromise involved. And it's the same thing for each of the other guys - it's a compromise for everyone.

Over the years I've learned that if I do hear something in my head in a complete version, I needed to find another outlet for it. And there's no problem with that. I have a much better understanding of that after getting all this music out of my system and hearing it exactly the way I always heard it. I feel much more balanced in terms of where I want to go with Rush now, or where I think Rush should go.
Why make this album now?
Geddy's wife had a baby in May of '94 and he wanted to take a year off, and nobody had a problem with that. We never had a long break. During the last album, I entertained the idea of doing a solo record when I had the time and opportunity. Here was the opportunity - a year off with no other plans. And that stretched out to a year-and-a-half, so it was ideal.
Why make the album at all?
I needed something that was going to push me. By nature, I'm a bit of a lazy person. I'll start things, but I may not follow them all the way through. I felt that, at this point in my life, I needed something that I was going to stick with, that I would work hard on, and that would push me as close to my limits as I could go.
What kind of record did you hope to make?
I set out to make a record that was disturbing, that was going to cause people to ask me questions, that was going to cause me to think, and that was really going to put me in an unfamiliar situation. This wasn't meant to be a showcase for my abilities as a guitarist - I'm pretty confident with how I can play and what I can play. The challenge I was looking for was in writing songs. I wanted to make an emotional statement and I wanted to create things that were disturbing. I didn't want to make a record that would typically be made by someone like me, from a band like Rush, where you'd expect 50 minutes of all this textural guitar stuff and wailing away. I really wanted to downplay that. Even in the mixing I downplayed the role of the guitar... a little. I think everything is still up-front, but solos, for instance, I intentionally pulled back. I didn't push them up so that they were the only thing that you hear.
Was there an overall sound that you were trying to capture?
I wanted it to sound like a band playing off the floor. I wanted it to have that connection, that cohesion, that harmony amongst all the instruments mixed in the music. It wasn't always easy to do, but I didn't want a specific instrument to be a feature. I wanted the song to be the feature.

I also wanted a certain energy to what I was doing. There are some bands I enjoy - like Alice in Chains and Soundgarden - and I wanted to get back that same kind of mood and coloring in what I was doing.
Although all the tracks are very different from one another, is there a common thread that runs through the album?
Lyrically the record is linked thematically from beginning to end. I wanted to make a record solely dealing with the issues of love. I know the whole idea of writing about love has been done a gazillion times, but I wanted to make a record that dealt more with the darker side of love, and the things it can cause people to do - the hurt and the frustration and the anger. There's such a dark side to it that can cause so much grief and angst, and, in a lot of cases, it's for nothing. There's no reason to put yourself through all that. It's easy to talk about, but when you're in the middle of that storm it feels like it will never be over. Those were the things I wanted to touch on.
What was it like playing with musicians other than Rush?
For the most part, I recorded almost all of the music myself before I invited the other musicians to come in and make their contributions. I wanted the songs to sound as finished as possible in the early, embryonic stage. The idea was to develop the songs as much as I could so I wouldn't get people in and say, "Just play what you think." Blake Manning, the drummer, came in and he stuck close to the patterns that I arranged. With the bass, Peter Cardinali came in for just a few songs and those had no guide bass. He's such a pro that I left them completely open for him. I didn't want him influenced by anything that I had done before.

When Les Claypool came in and played, I'd already done a basic bass pattern that worked for the song, but I knew Les would take it way outside. That's what I wanted for "The Big Dance": I wanted it to be kind of annoying. Les is a great bass player, and a very unique one, and I knew he would play something that didn't relate to the song - maybe rhythmically, but his note selection was, just as I knew it would be, totally outside. Lyrically, the song is uncomfortable, and the characterization of Edwin's vocal performance adds another layer of abrasiveness to the song.

I met Edwin when I Mother Earth opened for Rush the last time we played Toronto, and after working with them and listening to their first CD, I asked him if he'd be interested in working on the project. After hearing the demo tapes, he said he was interested, but at the time, his group was working on their next release. To work around his schedule, Edwin came up to my place for all-nighters after spending all day in the studio with I Mother Earth. He did an incredible job.

I also felt it was important to have a woman's voice on the album. I needed someone who could express the emotions and intensity of "Start Today." Dalbello fit the bill perfectly. She was the most professional person I've ever met or worked with. Her sense of everything was so keen it just blew me away. For me, "Start Today" has become one of the most important songs on the album.
Have you ever written lyrics before?
The last thing I wrote was "Making Memories" which was on Rush's second album. I hadn't even tried it in 18 years! I found that once I got the first couple of lines down, it just started flowing out. It's very difficult for me to be objective about the lyrics. To me, reading them, they seem perhaps simplistic or something - they all rhyme in this day and age of not rhyming - but I think that Edwin and Dalbello really got the ideas across emotionally.
Were you consciously trying to make a record that was different from your work with Rush?
No. Victor isn't a 180-degree turn away from Rush - it's a 90-degree detour out into left field.