Even Rockers Can Get Caught In A Rush Of Mid-Life Crisis
By Peter Howell, Toronto Star, January 23, 1996, transcribed by pwrwindows
---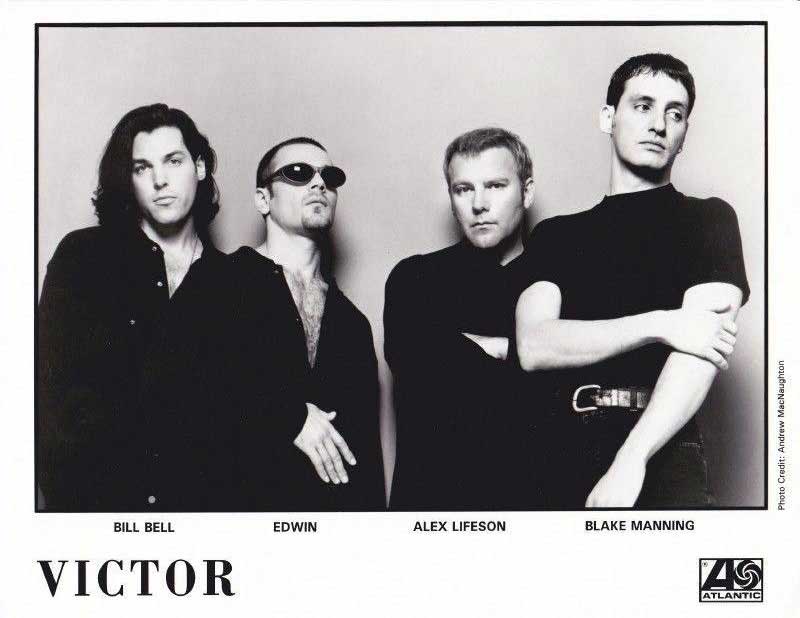 Some guys go and have a mid-life crisis when they hit 40.
Alex Lifeson of rock band Rush decided he'd rather make a solo album instead.
Lifeson, 42, is maybe not the first guy you'd twig to having troubled thoughts about the march of time.
As the guitarist behind Toronto's power-trio platinum sellers, he long has been the cipher of the six-string, the most inscrutable member of a band not given to offstage flash.
For more than 20 years, Lifeson has been happy to just dazzle with his stringplay, while leaving bassist Geddy Lee to the frontman yowls and drummer Neil Peart to writing the deep-thinker lyrics.
But shortly after he turned 40, Lifeson decided there was more to life than just planning the next Rush record, especially as he realized his personal affairs needed some serious attending to.
This kind of thinking led to Victor, his just released solo album - the first by any Rush member, if you don't count the Peart-organized drummers' tribute to Buddy Rich - and a positive feeling about work and life that Lifeson says we'll also hear in the next Rush album.
"I needed to give myself a kick in the pants," Lifeson said, in an interview over coffee and cigarettes in the kitchen of his comfortable rural home north of Toronto.
"I'm a little lazy, and I often start things and don't finish them. We all do, but it really bugged me and it has bugged me for years.
"I really needed to do this for myself, not so much for getting any musical frustration out of my system, because I didn't feel that way. This was something more on a personal level. I needed to set some goals for myself that were outside my life with Rush, because I've been working with Rush since I was 15 years old."
Victor the album and Victor the studio band - which may also tour, if Lifeson gets his way - were put together in a manner most unlike Rush.
While Rush runs like the benign and efficient government we all wish we had, Victor was a crazed despot's mix of vocalists, styles and influences.
True to his shy nature, Lifeson decided he wasn't going to sing all the songs on the album or try to play all the instruments himself, despite the fact he has a fine home studio. His musical partners include guitarist Bill Bell and drummer Blake Manning, both of whom he met while working with Tom Cochrane at the first Kumbaya Festival in 1993, and Les Claypool, of Rush-influenced U.S. band Primus.
Word of mouth and musical connections led the guitarist to the album's two main singers: Edwin of earth-shaking Toronto band I Mother Earth and Lisa Dalbello, a former teen rocker turn respected songsmith.
Two other vocalists - "ranters" might be a better word - were Lifeson's wife Charlene and her friend Esther, who bring comic relief to the album's dark lyrics. They appear on "Shut Up Shuttin' Up," a power funk track featuring two women complaining about their men's messy habits, such as leaving the toilet seat up.
The track ends with the voice of Lifeson shouting at them to shut up, but it's all done in a humorous way. Lifeson said he added the levity because the lyrics he penned on the subject of love are bleak and sexually graphic, including the album-title adaptation of the W. H. Auden poem "Victor," in which a man who suspects his wife of cheating murders her in a jealous rage.
Lifeson framed Victor around the concept of the dark side of love because "it deals with a particular part of my life I wanted to talk about, both as therapy and also as a topic I thought was interesting that a lot of people could relate to.
"My wife and I went through a period of re-evaluation with our relationship. I've been in a well-known rock band for 20 years, and I'm spoiled. We have people around us that look after everything on the road, pampering us.
"You can't come home with that attitude, especially when you have kids. (The Lifesons have two sons, aged 19 and 25.) You have to be willing to share in all the responsibilities that come with a domestic lifestyle, but it came to the point where my wife was mother, father, lover, cook, housekeeper, bookkeeper, chauffeur, everything, and I'd come home and I'd be whining about how I had to wait for room service in my hotel on tour.
"I got a wake-up call, and it turned around our relationship. It's not even related now to what it was. It's a whole new thing, and it's so much stronger and deeper than it ever was.
"We were successful in working out our problems. I feel really at peace with myself for the first time in my life." Lifeson's partners in Rush had their own personal epiphanies. Lee and his wife welcomed a new baby girl into the world and Peart took intensive drum lessons from a respected drum elder to find new zing in his swing.
All this has combined to create an incredible feeling of fun and positive energy in the making of Rush's new album, the band's 20th, which should be completed in April and released in late summer, Lifeson said.
A Rush tour shortly afterward is a good bet, and Lifeson might even do a small-hall Victor tour before then.
"Having gone through this experience, I think we've got quite a few albums in us yet," Lifeson said of the newly revived Rush.