Alex Lifeson
Rush's Guitarist Explores His Own Inner Voices On His First Solo Project
By Bruce Adamson, Canadian Musician, February 1996, transcribed by pwrwindows
---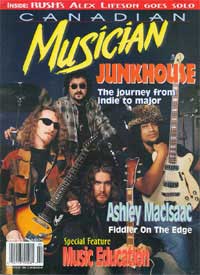 Well folks, it's happened. While Geddy Lee and his wife were off having a baby, and with Nell Peart busying himself with the Burning for Buddy, the Buddy Rich tribute, Rush guitarist Alex Lifeson created a side project entitled Victor. The album is scheduled for release in Canada in January, 1996. For Alex, the timing couldn't have been better. Rush has recorded 19 albums that have sold more than 30 million copies worldwide. In 1994, the band decided to take an extensive break from their hectic write-record-tour cycle. "We've never had that long a break off," said Alex. "In the 21 years we've played together, we never had a break where you feel confident that you can actually unpack your suitcase. Ged, Neil and I did so many different things in this time period, and it was a really great growing period for us. We could each separate ourselves from Rush, which has been our lives, and just do some living."
The idea of doing a solo project was something that Alex had been musing on for a while. "I had been entertaining the idea of doing a solo project, and here was the opportunity - a year with no plans. I started in October of 1994 and, really, it was just kind of a fun thing to do at first; it started to snowball after that." Alex has always loved what Rush has done as a band; and that, by necessity, involved compromise. "Over the years, I've learned that if I do hear something in my head in a complete version, I needed to find another outlet for it. And there's no problem with that, I have a much better understanding of that after getting all this music out of my system and hearing it exactly the way I always heard it. I feel much more balanced in terms of where I want to go with Rush now, or where I think Rush should go."
Although constant touring and recording would indicate otherwise, Alex confesses to being a lazy person. "I'll start things, but I may not follow them all the way through, I felt that at this point in my life, I needed something that at I was going to stick with, that I would work hard on, that would push me as close to my limits as I could get."
Alex intentionally wanted Victor to be different than what people would expect. "I wanted it to be a surprise. I'm an easy-going guy, and the aggressiveness of this album, both musically and lyrically, is a surprise to people that know me. The lead off track 'Don't Care' will startle a lot of people; I don't think they will immediately recognize it as my project."
And startling it is. Victor is a thematic album with explores the dark side of love and the emotional havoc it can unleash upon the participants. "I set out to make an album that was disturbing, that was going to cause me to think, and that would put me in a really unfamiliar situation. At the time, a lot of people I knew were going through crisis in their relationships. Since I was at home for such a long break, I got to know my friends all over again." The observations made by Alex soon became the lyrical format of the album. "Lyrics were a whole new thing for me - the last time I did that was for 'Making Memories' on the Fly by Night album. I can hardly remember them, that's how great the lyrics were! (laughs) [Transcriber's note: Lifeson also penned "Lessons," from 1976's 2112.] Once I'd focused on the darker side of love and relationships as a theme for Victor, everything came fairly quickly. It was like writing a screenplay. For instance, the song 'Victor' was based on a poem by W.H. Auden. It's spoken word, and deals with a relationship that starts out lost in love and ends in death; and I thought it would be good to use as a point in the extreme."
Alex also knew what he didn't want to do on his first solo project. "I didn't want to make a guitar hero record. I've been playing a long time, and I've been in the band a long time, and I don't feel that I have to prove anything. I didn't want to make a record that would be typically made by someone like me, from a band like Rush, where you'd expect 50 minutes of all this textural stuff and wailing away. On solos, for instance, I intentionally pulled back. I didn't push them up so that they were the only thing that you were hearing. I find with those instrumental albums, you listen to them once or twice and that's it. I wanted to do something that would have a lasting impact."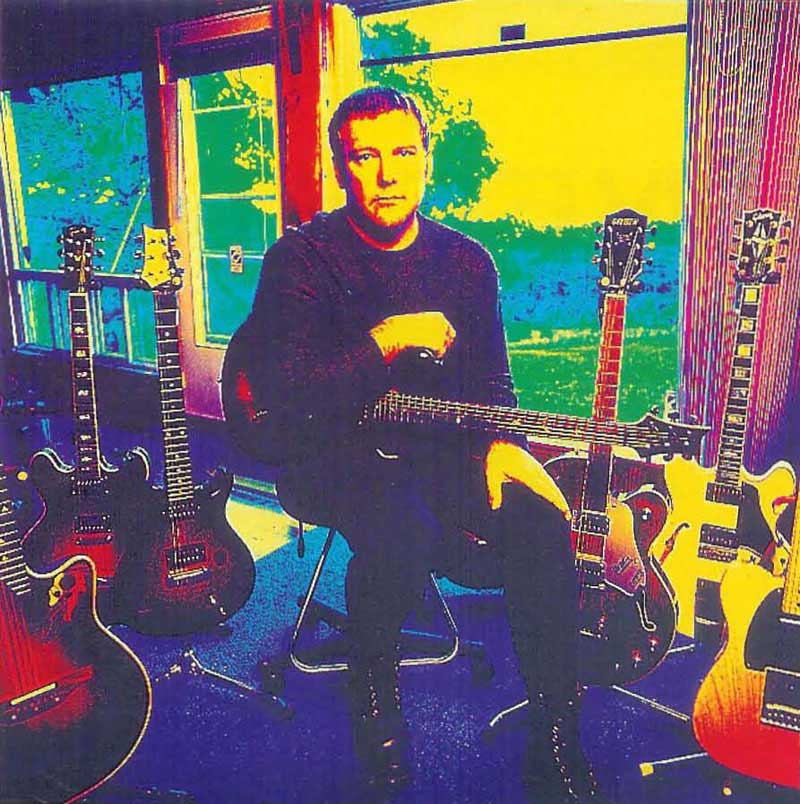 Diversity was also high on Alex's list of priorities. "I wanted a sense of variety on the album, and it was unlikely that I was going to take the project on the road. The people on the album all have commitments, and it's really hard to schedule a tour. But because of that, I felt free in the way I could develop the music, and in what kind of songs I wanted to put on the record. I just took it as it came. If I was in a heavy mood, or a melancholy mood, I would write that way. The project gave me the freedom to explore."
On the first listen, I was taken aback by the album's power. Alex wanted to make sure that the album had a live, energetic sound. "I really enjoy some of the new bands - Alice In Chains and Soundgarden - and I wanted to get back that same kind of mood and colouring in what I was doing. 'The Big Dance' has an industrial kind of influence - Nine Inch Nails, Ministry. But once I start working, I don't listen to much other music. After recording all day, the last thing I want to do is listen to music! (laughs) As a rule, I don't listen to too much stuff while working. Influences can creep in that way, and I think it's better to remain a little more pure."
Once he got rolling with Victor, Alex soon discovered that he had his work cut out for him. "With Rush, we always have a great engineer and a co-producer, as well as the three of us. Responsibilities are divided up and we make collective decisions on other things. When I was there by myself, I recorded everything, I played everything, mixed the album and even worked on the cover. It really becomes yours, completely, but I wasn't prepared for the workload, especially when it came to the recording and mixing, because I didn't have anyone to get feedback from. But at that point, I wasn't going to let my baby go into anyone else's hands!" (laughs)
Rush has been a cutting edge band with state-of-the-art recordings, but Alex wanted to pull back from that. "I wanted to sound like a band playing off the floor. I wanted it to have that cohesion between all the instruments mixed in the music. It was tough to do, but I didn't want a specific instrument to be the feature - I wanted the song to be the feature."
To achieve this end, Alex brought in a diverse mix of musicians to help him realize his musical vision. "Bill Bell (guitarist) does a lot of session work, and has worked with Larry Gowan and Tom Cochrane. I met him at the Kumbaya Festival, and we just made contact, getting into each other's playing; eventually we became good friends. He has a raw, unrefined talent; he's a great player and a fantastic slide player. Bill helped bring a fresh perspective to my songwriting, and I think we both learned a lot from the experience."
A big part of Victor's edge can be attributed to the recruitment of vocalist Edwin from I Mother Earth. "I met Edwin during our last gig here. He would be working with his band from noon until 7:00 p.m., and then would come up to my place and work from 8:00 p.m. 'til 2:00 in die morning. He put in a great effort and was open to the project. Edwin has a great voice - he gets right inside the character and can do a vocally descriptive take on whoever the character is.
"Blake Manning is terrific drummer who does session work around Toronto - he stayed pretty close to the stuff that I had programmed, and what I wanted to hear, and at the same time, provided his own influence."
Alex brought in Peter Cardinali to play bass on three songs. "He's 'Mr. Soul', and although he can play anything, that's where he really shines. I have to plug Pete and his band, The Dexters - they're down at the Orbit Room (a Toronto nightclub co-owned by Lifeson) Thursdays, Fridays and Saturdays as the house band. I used to sit in with them before I got too busy, and during that time we got to know each other quite well."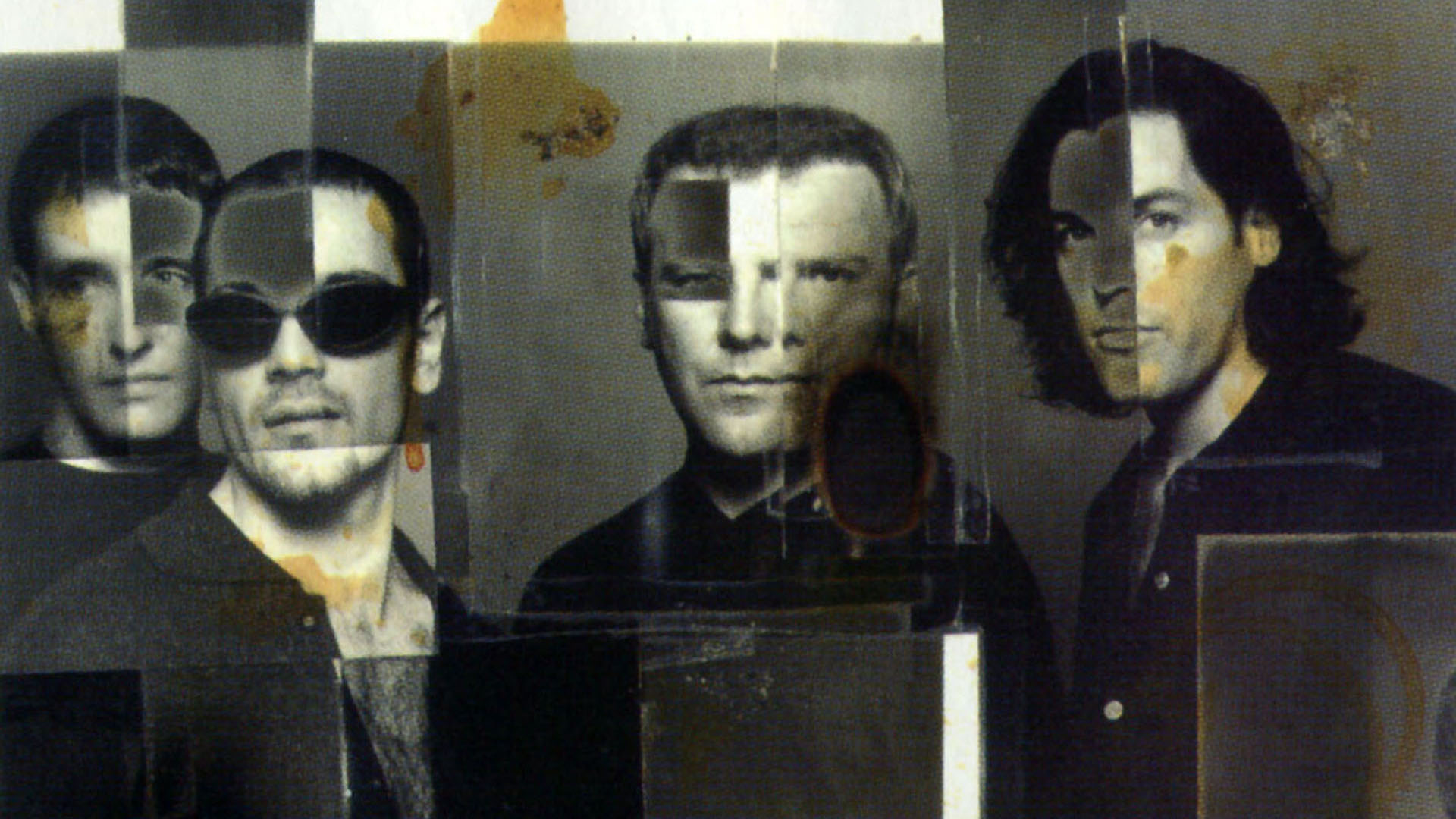 Primus bass wizard Les Claypool was signed on by Alex to contribute his unique stylings to the record. "Les and I go back a few years. Primus toured with us for two tours. I wanted him to play on the 'Big Dance', so we organized our time so that when he was in town, he could fit in a couple of hours. I thought Les would really take it outside. I'm not sure if he's even playing in key - he just took the song and added that element of tension from the bottom end. The track is quite heavy and dingy, and he moved around, just like I thought he would. He did about three takes and went, 'yep, that's good for me!', and it was great, so I went with that."
Colleen Allen played sax on Victor. "She was great - fantastic feel. She also contributed a horn arrangement for me as well."
One of Victor's highlights is the appearance of Dalbello on "Start Today".
"I thought it was important to have a woman's voice on the album. She was in the studio when I was beginning to mix, and I played a track for her and asked her if she'd sing on it. She came back the next week and was unbelievable - man, she is just so professional! I've never seen anything like that. She asked for very specific directions - 'do you want me to put the emphasis on this syllable? Do you want me to back phrase? Who is the character?' I really got into that, and the experience has really triggered my interest in getting involved in production sometime in the future."
Alex further explored women's perspectives in relationships in the tune "Shut Up Shuttin' Up".
"My wife Charlene and her friend Esther did the talking parts on that song. The album is dark, and we wanted to pick it up a little bit. I told them to start whining about dumb things that bug girls about guys, and it was great. There they were bitching and complaining about some elements that bring tension to a relationship. They're always extremely embarrassed when they hear it, which is good in itself! (laughs)."
Although the album is quite diverse sonically, Alex used traditional gear on this project. "In terms of amplification, I kept it pretty straightforward. I had some older Marshall amps - a 50 watt and a 100 watt - as well as my Marshall Anniversary model. I matched them up with an old 4 x 12 with 25 watt Celestions, one of my stock cabinets and an old Fender Bassman cab. I also used a Digitech 2101, which is a preamp that has ten million sounds in it, that was great for reinforcement. That was the basic configuration, and then I would make small EQ and level changes to the mics from song to song. I have a Mackie 32-channel console, recorded onto ADATs, and then transferred from digital to analog for mixdown. The studio is in my basement, which is a completely isolated room within a room; I can crank it up and the new album work as late as I want. I use DynAudio monitors, Bryston power amps, and a load of outboard stuff that I've collected over the years and retired from my rack.
"The Les Paul and Telecaster combination for bed tracks is my standard combination, but I used my Paul Reed Smiths quite a bit. I also got my old 335 in there for a couple of songs. We had about thirty guitars in the studio and I'd go, 'let me try this one now', and would experiment until something worked. It also gave some good reference for the new Rush record, although I do have some of my favourites for recording with Rush."
The process of seeing Victor through from start to finish helped Alex better understand his own musicality. "I think I'm now more aware of my strong points as a player and a songwriter. I'm a very instinctive, spontaneous player. I've come to recognize that those first few ideas that come out are keepers, and that I should not belabor that by trying to overdevelop something. With Victor, the whole record seemed to go that way - I just gave in to the flow of it. For me, it all fell together that way. If it seems good, it is good."
Victor has also helped Alex approach the new Rush album with renewed vigour. "After having had a break from each other for a while, we came back in very enthusiastically. After discussing everything about life, we just started writing and everything just poured out. I also came into it in very good shape, in terms of my guitar playing - normally, I take a few months off after a tour. The benefit now is that when I have an idea in my head, it's just automatic - it just comes out through your fingers. For me, the guitar parts on this record are more orchestrated than they ever have been in the past.
"We just completed writing and preproduction, and are just in the tail end of rehearsals and recording prep. It's tough for me to comment on the material because it's so fresh and new. But there's a real feel to this record that I've never really noticed before in our stuff. The playing on this record is just more liquid, it seems. And the material is getting a really nice 'toughness' to it, combined with some good melodies."
When asked about the prospect of a follow-up to his first solo outing, Alex gave a highly enthusiastic yes. "I'm more interested in production and engineering after this project. Victor opened a lot of new doors for me that way, regarding my abilities in different areas of music. But alter taking 10 months to do this is, I realize that it would have to happen during a long break - I'm planning on having a nervous breakdown after we finish the new Rush record, so I do need some time off (laughs)."