Rush Bucks Trends for the Fans
By Steve Morse, Boston Globe, November 3, 1996, transcribed by pwrwindows
---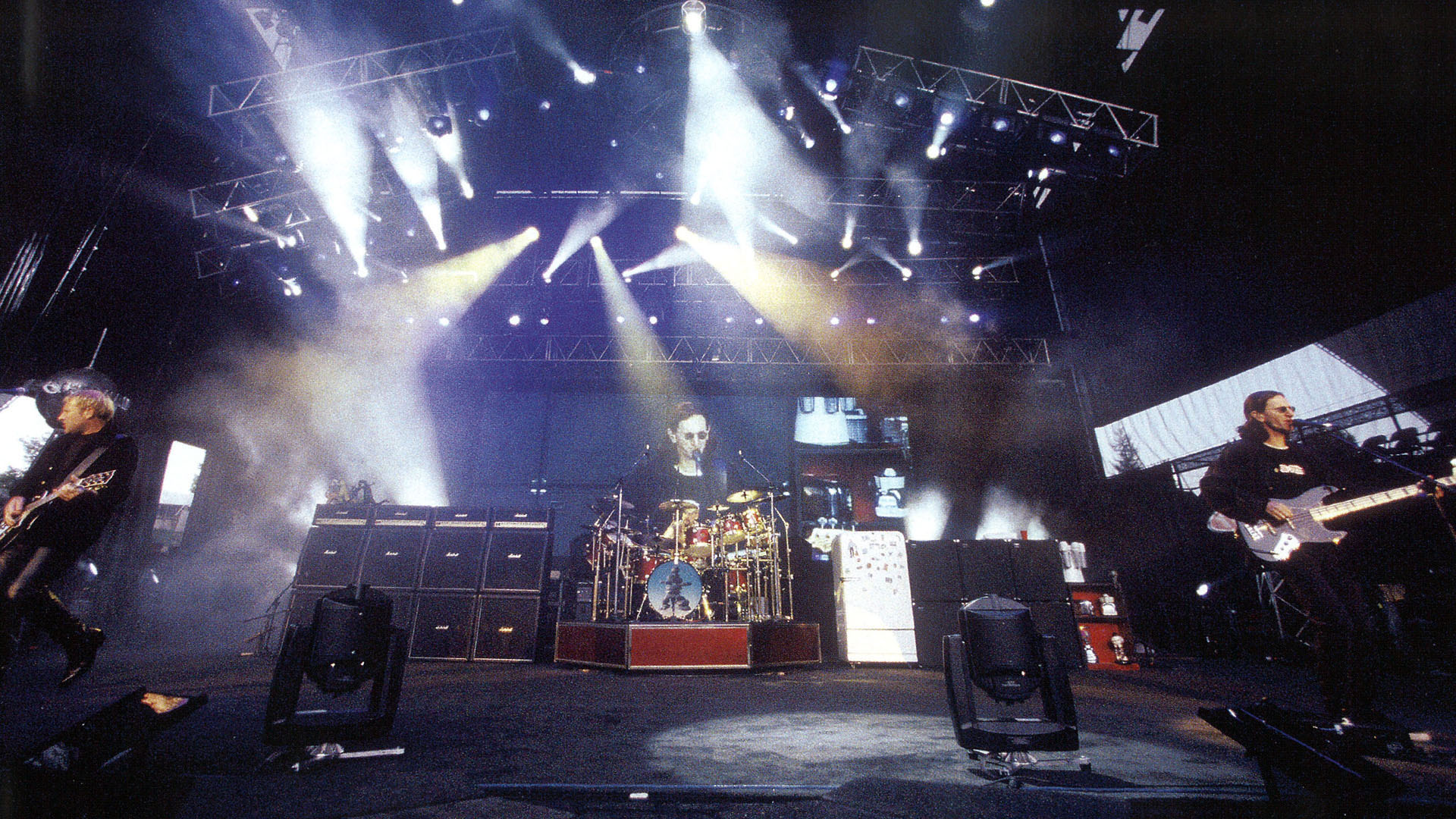 Trends come and go, but Rush remains. The Canadian power trio has bashed away for 20-plus years and has no plans to stop now, despite a radio climate seen as inhospitable to veteran bands. So what else is new?
"Rock music is very fragmented these days, but we've always stood outside the mainstream anyway," Rush guitarist Alex Lifeson said yesterday. "We've had the benefit of a great, very loyal fan base, so we haven't had to compromise ourselves. With every record we make, we try to move forward and not live off past successes. We feel like a fresh, young band with everything we do. And as I look out during the shows these days, I see a lot of young kids coming to check us out, so that feels good."
After a three-year absence, Rush is back on the road. For the first time, it's "An Evening with Rush." That means no opening act, but instead two sets of Rush totaling two hours and 45 minutes. It also means a batch of tracks from the new album "Test for Echo" (a more aggressive, guitar-driven work that shoves keyboards further back in the mix) and archival tunes such as "2112" ("We're doing all of it, which we've never done live before") and "Natural Science."
The tour also has plenty of new video, a Rush trademark.
"We get trapped behind all the (instrumental) pedals and triggers, so it's good to have visuals," said Lifeson. "And we're using a lot of lighting effects, but no pyro like we did the last tour."
Rush had taken some time off to enable Lifeson to make a solo album ("Victor," which showed his heavier, almost punky side). Singer Geddy Lee took time to father a new baby girl, and drummer Neil Peart (who's motorcycing the length of this tour) to make a drum compilation and take swing lessons from noted teacher Freddie Gruber. "Neil has changed his whole style around. It's now more circular and fluid rather than linear," said Lifeson.
"We're all in very good spirits, very healthy and enjoy being back on the road," said Lifeson. "And we still like each other's company, I must say."