Rush Makes A Fine Blind Date In Toronto
By John Powell, Jam!Showbiz, December 19, 1996
---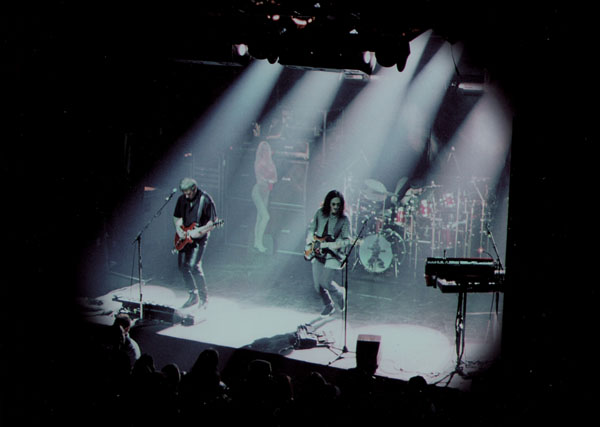 No fog machines. No video screens. No fireworks screams. No laser beams. No floppy-eared bouncing Presto bunnies either. Tonight's Blind Date show at the Phoenix Concert Theatre in Toronto was a Rush fan's testimonial. Stripped of all the appealing high-tech sensory theatrics that are the band's calling cards, what lingered were three guys on a stage playing their guts out and enjoying every minute of it. Like slapping a CD on your player and slipping the headphones on,the distractions disappeared. The music and emotion coming in loud and clear.
"We're gonna play a whole bunch of absurd music for you tonight," said bass player Geddy Lee in his best English accent. And he wasn't joshin'. The 19-song set was a diverse sampling of Rush's 20 album magical mystery tour which pleased the loyal devotee as well as the enthusiastic newcomer.
Tacking a surfin' safari jam onto Big Money was a small hint of the carefree levity in store. Currently on a North American tour (to promote their new disk Test For Echo), the dates are crammed with large stadium shows. Rush, which hasn't played an intimate venue since they dumped that church basement gig approximately 27 years ago, were basking in the atmosphere. Lead guitar god and clown school graduate, Alex Lifeson, was zanier than ever, making faces at Lee behind his back, kidding with the fans and striking your typical "I am a guitar God" poses throughout the show. Lee dabbled in foreign accents and dueled Lifeson. Hell, even Neil Peart whose masterful concentration while bashing the skins couldn't be diverted even if a squad of giggling cheerleaders pranced across the stage, cracked a fleeting smile. Will miracles never cease?
The hometown boys even sprung for a cardboard cutout of Pamela Anderson Lee holding a plastic cup (for spare change?). Hint. Hint. Nudge. Nudge. Wink. Wink.
The air drums were out in full force during Red Barchetta, Animate and Subdivisions but were packed up as the audience loudly gabbed during the slower tunes Nobody's Hero and Virtuality. Roll The Bones, The Spirit Of Radio, Closer To The Heart and Tom Sawyer had the crowd singing along.
The trio onstage tonight wasn't the Rush of 1996, or even 1986 for that matter. They were once again the wild-eyed young 'un's prowling the club circuit pocketing just enough dough to buy that new amplifier. Stealing a swig from the fountain of youth, Lee was hitting those high notes again. Peart taught those drums a lesson or two but spared them the renowned solo. Lifeson strummed those strings as if the group was still opening for Max Webster or The New York Dolls.
It has been said that Rush is closer to the end of their career than the beginning. Flush the Geritol and toss the Depends. They won't be needing them quite yet, thank you very much. In Lakeside Park the grass is still green.
Rating: RATING: FIVE OUT OF FIVE
Set List
Dreamline
Big Money
Driven
Half The World
Red Barchetta
Animate
Virtuality
Nobody's Hero
Closer To The Heart
Test For Echo
Subdivisions
Freewill
Roll The Bones
Resist
Leave That Thing Alone
The Spirit Of Radio
Tom Sawyer
Encores
Force Ten
Yyz