Backstage Pass: Rush
By Allan Hirt, Keyboard, May 1997, transcribed by pwrwindows
---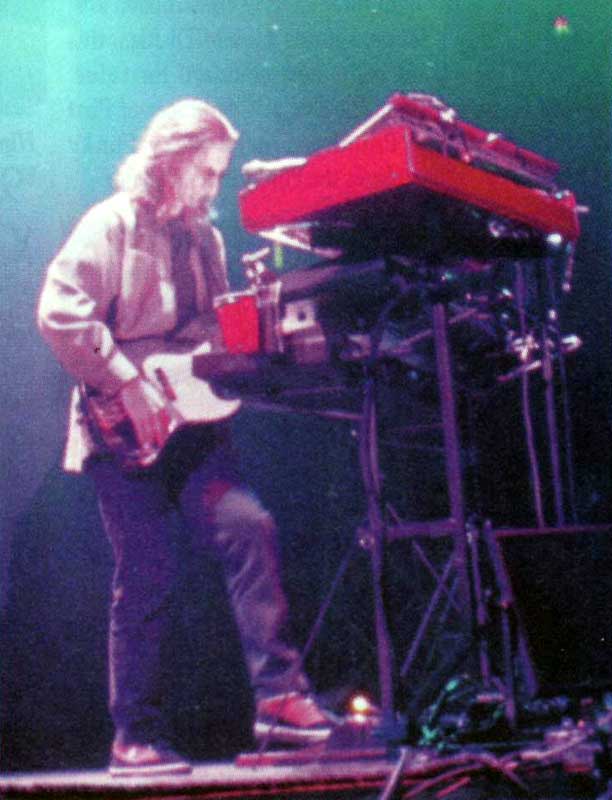 Twenty-three years, 16 studio albums, and three live albums - Rush has more than withstood the test of time. Revered for their technical virtuosity on record and cutting-edge, high-impact performances onstage, the Canadian trio continues to pack stadiums from pole to pole, as the most recent Test for Echo world tour will attest.
Leading up to the record and tour, though, the members of Rush took some time off to pursue a few side projects. Guitarist Alex Lifeson recorded and released a solo album, Victor (Atlantic, '96). Neil Peart, arguably one of the best drummers in the world, took lessons from teacher Freddie Gruber, and produced and played on a tribute to drummer Buddy Rich, Burning For Buddy (Atlantic, '94). And Geddy Lee and his wife had a baby girl and moved into a new house.
Testing, 1, 2, 3. Rush joined forces again in October '95 to begin writing for their latest studio effort, Test for Echo (Atlantic), released in September of '96. They hit the road soon after the CD's release, and are currently on the second leg of the tour, aptly named "An Evening with Rush." This tour is different than previous ones, as there is no opening act. This allows the band a whopping three hours of stage time, with a brief 20-minute intermission between sets.
Geddy Lee explains, "We decided to do 'An Evening With' just because we have so many albums, and there's so much material we wanted to play. So that meant we had to play longer, and when you play longer without a break, I think it's too much punishment for any music fan. An intermission is a necessity, especially with music like ours that's quite dense and demanding. And that meant, sadly, that we wouldn't have time on the bill for an opening act, which went quite against our philosophy. We believe in supporting younger bands out there."
Compiling the set list proved to be a daunting task. "When you first walk into rehearsals, you start with a short list of about 50 songs," says Lee, "and then start whittling it down. There are some tough decisions to make. You have to be happy with the songs you've chosen to play, because if you're on the 60th show of the tour, you shouldn't be thinking about your golf stroke or something like that. You should be focusing on what you're playing, and putting your heart into it."
Tom Sawtooth. Onstage, Lee, Lifeson, and Peart trigger complex sequences, loops, and sound effects via MIDI controllers, all while either singing or playing their respective instruments. Onstage, Lee uses a Roland D-50, a Yamaha DX7, and, making its appearance for the first time in over ten years, a Minimoog. ?There are three or four songs that I play Mini in. And every year we go through this, 'okay, let's try to get the best impression of what Minimoog sounds I used on those songs.' No other instrument does a Minimoog like a Minimoog."
When Lee moved into his new home this past summer, he unpacked the old wooden ax, "and I thought, ?Wouldn't it be fun to plug that up again?' So we took it down to rehearsals just for a laugh. I thought if anything I'd just be able to sample it. It was kinda fun pulling up those sounds. The guys in my crew were trying to talk me into using it. They said, 'Come on, bring it back out.' I said, 'But the goddamn thing never stays in tune!' They drift an awful lot. But it seemed to be holding its tuning, so I said, 'Well, as long as I have a backup sound available to me, which I do for every one of those Minimoog songs, I can switch fairly easily.' So we decided to go for it. It's kinda fun out there - having to manually change the sound between songs."
The current Rush keyboard setup consists of two dedicated MIDI systems. The first is based around the D-50, which is used as a sound source as well as a master controller for three off-stage synths: Roland JD-800 and JV-1080, and a Sequential Circuits Prophet VS. The second is a sample playback system, with five controllers onstage and one offstage: the DX7, two sets of Korg MPK-130 pedals (one under Lee's keyboards and the other used by Lifeson), Roland MK-S pedals near Lee's front microphone, a Dauz drum trigger on Peart's drums, and another Prophet VS offstage. These controllers drive four samplers: three Roland S-770S and one S-750, two of which are heard, and two that are used as backups.
Forward Thinking. The next project for Rush is another live album. "It's going to be kind of a live retrospective," says Lee. "It will include stuff from this tour, the previous tour, and maybe some stuff from the late '705." But don't think for a minute that the trio is ready to become a retro act. "We're not a reunion band," stresses Lee. "We're interested in the music we're writing. To me, it's all about writing. And it's a fine balance between needing to do it - we need to write, we need to keep doing new material and to stay current. You know, that's an arguable point with a band that's been around for 23 years. But I pride myself on the fact that we have not allowed ourselves to slip into this retirement mode and then do the big comeback - you know, try to cash in on that thing. We've never done a tour that didn't accompany new material or a new album. And that's really important for me.
Maybe there will come a time when we've run out of ideas and run out of good new music to play," he concludes, "but I think when that time comes, there won't be any Rush tours. It just seems unnatural to me to do anything other than write material and get out there, championing our new songs. We're quite proud of the work that we do, and our current work, I think, helps keep us in tune with what's going on out there."