What A Rush
After 22 Years, Band Wants To Spend An Evening With Its Loyal Fans
Vancouver Province, May 15, 1997
---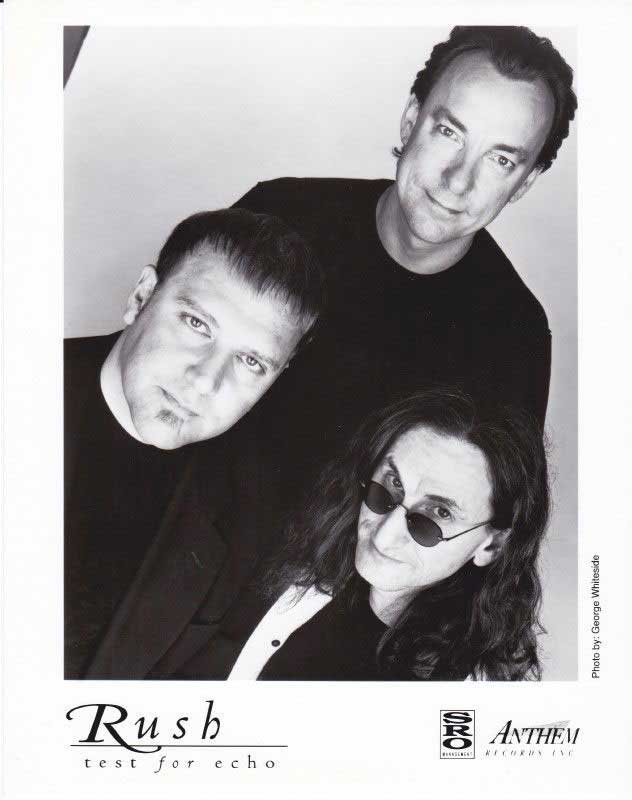 Rush has experienced a lot of firsts in its 22-year career but the two most recent are just a little surprising.
The first is that, until the current An Evening With Rush tour, the band never has headlined without an opening act.
This is partly attributable to Ray Danniels, Rush's manager from the very beginning, who always convinced it of the wisdom of having a promising new band on the bill.
Thus, Tragically Hip, Max Webster, Primus and others got a break in their career and learned how one of the best crews in the business mount a show.
The second is that this tour marks the first time Rush has performed the Ayn Rand-inspired sci-fi parable 2112, from the breakthrough album of the same name, in its 20-minute duration. This is attributable to the circumstances under which the LP was released in 1976.
"They play it far better now," Danniels says when he thinks back to the early days of touring North America with bassist Geddy Lee, guitarist Alex Lifeson and drummer Neil Peart.
"And before, they were never able to do it in its entirety because they'd be the opening act and they'd have to keep the set short. They couldn't fit a 20-minute song into the show.
"For a long time, they wanted to do An Evening With type of show but I always held them back," he continues. "On the last tour, it became apparent that, with 16 albums, two hours was not enough. And the time felt right."
Indeed, the state of the Rush nation seems to be one of its occasional pauses to take stock.
Anthem, the band's label, has released two separate collections, Retrospective One and Two. Following in their wake is the release of the group's entire studio output, remastered and with the original artwork restored.
"The band has always been reluctant to exploit its past," says Danniels. "We held off on this for a long time. Again, the time seemed right."
In Canada, every Rush album has sold at least 100,000 copies and the group's worldwide sales keep mounting, just as year in year out a Rush tour is one of the few stable concert attractions, even during a period of uncertainty and upheaval, such as the one the touring business currently is experiencing.
Rush's consistency in part can be explained by the consistency within the group and its long-serving, loyal organization.
Rush built a loyal fan base early and has never forgotten the importance of putting on a show. The attitude is serving the group well at a time when people want to be entertained at a rock show again.
"Absolutely!" Danniels exclaims. "We were never competitive - certainly not with bands like KISS - but we were always concerned with giving the fans a good show.
"They've got that Canadian work ethic. It's true. These guys are as normal on the stage as they are off and they're not afraid of work. They listen to one another. That's why they've been able to stay together.
"If someone is really, really opposed to something, the others will support him. You have to think that there were times during 17 tours and 22 years in buses and small planes that someone just didn't want to do it.
"You know they still do sound checks for every show?" Danniels continues. "They play 45 minutes together every day and then do a three-hour show at night. Not many guys would do that after all this time - well, the Grateful Dead did it, but they were on drugs, they didn't know."
Joking aside - he WAS joking, wasn't he? - Rush's consistency also translates as integrity. The group started out as a hard-rock band in the early '70s with extremely tall personal goals to be musicians and to progress according to a personal ideology or mandate. It's what Lee, Lifeson and Peart continue to do.
"Rush has never been content to enjoy the spoils of the last tour or album," Danniels said. "They've always taken a few months off and then reconvened to start again. They've never allocated time to being rock stars. To them, it's a big waste of time.
"But they'll go out and do two sets in three hours. They're very aware that in the audience is someone who is seeing Rush for the 15th time and also there might be a 16-year-old kid who is there for the first time because he wants to see Neil Peart play the drums.
"And in the past year they received the Order of Canada," Danniels boasts proudly. "That's not too shabby for a bunch of guys who started by playing rock 'n' roll in their basement."
Where and When
Rush at GM Place (629 Dunsmuir), Friday at 7:30 p.m.
Tickets: $29.50 - $39.50 from TicketMaster