Three Times The Fun Live On 'Different Stages'
By Jeremy M. Helfgot, Launch.com, September 21, 1998
---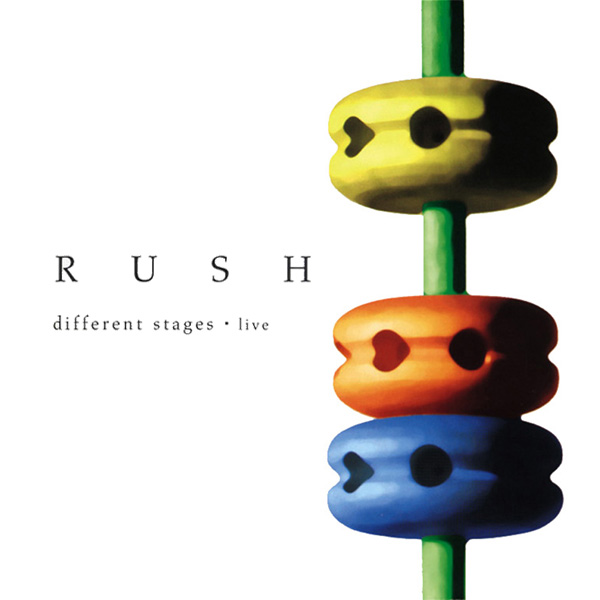 Veteran Canadian rock act Rush is scheduled to release a new three-disc live album, Different Stages, on Nov. 10, according to Atlantic Records.
Comprised of a two-disc live set culled from the group's 1997 U.S. tour and a bonus disc containing the act's often-bootlegged 1978 Hammersmith Odeon concert, the package includes material spanning the group's nearly 25-year recording career. It will carry a suggested retail price tag of $24.95 in U.S.
Featured on the two-disc live set are live takes on "The Trees," "Tom Sawyer," "Closer To The Heart," "Lime Light" and "Freewill," along with 23 other tracks. Also included is a complete live rendition of the group's epic 1976 concept album 2112.
The third, "bonus" disc includes 11 recordings from Rush's famed 1978 date at London's Hammersmith Odeon, including "A Farewell To Kings," "Xanadu," "Fly By Night," "Bastille Day" and "Cygnus X-1." Different Stages represents the first legitimate release of this often bootlegged concert recording.
Formed in 1969 in Toronto, Canada, Rush began as a hard-rock power trio comprised of bassist/ vocalist Geddy Lee, guitarist Alex Lifeson and original drummer John Rutsey, who was replaced by current stickman Neil Peart in 1974.
Different Stages is the group's first release since 1996's Test For Echo, but a new generation may have been exposed to Rush via the Small Soldiers soundtrack. The album includes version of 1981 album rock hit "Tom Sawyer" remixed by DJ Z-Trip.