'Different Stages' Press Release
Atlantic-Records.com, November 1998
---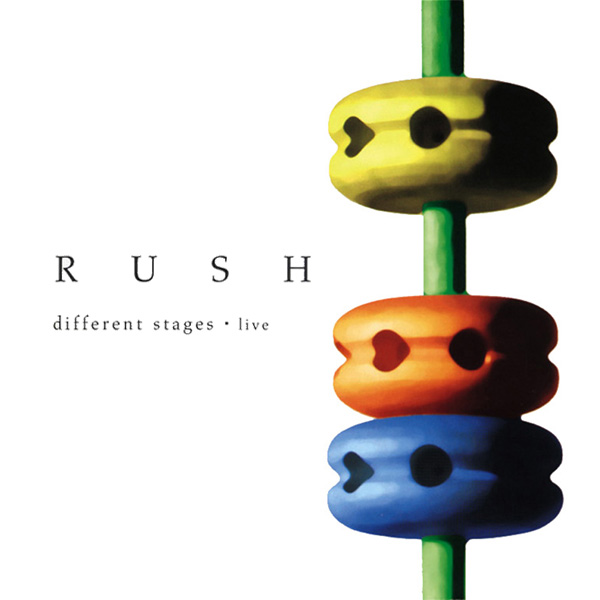 DIFFERENT STAGES - Rush Geddy Lee, Alex Lifeson, Neil Peart
Live albums have become a tradition, even an inevitably for Rush. Long recognized as the quintessential touring band for years their tours averaged ten months and over 200 shows they carved out a unique niche for themselves, independent of the quixotic tastes of trendsetters, taste makers, and radio programmers alike. With the release of EXIT... STAGE LEFT in 1981, a pattern emerged. After every fourth studio album (Greatest Hits sets wouldn't count) a recorded document of the most recent tour would be released. ALL THE WORLDS A STAGE was the first in 1976 and A SHOW OF HANDS came out in 1988. With the subsequent completion of PRESTO (1989), ROLL THE BONES (1991) , COUNTERPARTS (1993), and TEST FOR ECHO (1996), tradition dictates its time for DIFFERENT STAGES.
But each of Rush's live albums have played a much more profound role than merely marking the passage of time or capturing a sonic snapshot of a particular tour. Each release indicates the end of one phase and the beginning of another in the groups still-evolving musical growth. Rush's recording career can be readily divided into four phases. The early years were purely and simply heavy metal. Then followed the experimental years, when the trio pushed the boundaries of progressive rock and established their reputations as virtuoso musicians. The third phase was a reaction to the second the group pulled back from their all-encompassing love affair with technology and studio wizardry and reclaimed their reputation as innovative songwriters. The fourth phase, captured on DIFFERENT STAGES, proves Rush has found the place between rock n roll simplicity and hi-tech complexity while retaining the most attractive elements of both.
Geddy Lee comments: "I remember when we recorded our first live show at Massey Hall. It was over two or three shows and that was it. What we got was what we got and if you happened to be nervous or out of tune, well... it was warts and all. For the next live album we recorded more shows. We reacted to our first live album by having everything polished and repairing the bad notes. It was almost too cleaned up. We overcompensated for the rawness of the first one and wound up with this album that was sterile, I think. By the third live album we reached a happy medium.
"It wasn't my intention to do another. I thought enough was enough with three double live albums out there already. But it also wasn't my intention to have the band keep producing records for this many years down the road. Who knew?"
DIFFERENT STAGES was culled from over 100 performances digitally recorded on a 72-track system during the TEST FOR ECHO tour of 1997. (Three tracks Bravado, Show Don't Tell, and Analog Kid are from the 1994 COUNTERPARTS tour.) Concert sound engineer Robert Scovill listened to every recording while transferring the concerts to a more malleable 48-tracks and selected about a dozen versions of each song for Lee, and his co-producer/mixing engineer Paul Northfield, to choose from. "Remarkably, we found a lot of the performances were coming from the same night. If you look, almost 70 per cent of the album is from Chicago. Its so ironic. You record over a hundred shows and you end up with an album that mostly came from one venue. I don't remember it being a particularly special night, but when I listened back to it, there's something about the sound of that venue that sounded like an event. There was an excitement in the air. Every time we out up the Chicago, Boston, Philadelphia, or one of the Detroit shows even if those performances weren't quite so good as some others as long as they were in the ballpark, the excitement factor made up for it and we would choose it. The irony of the whole thing is that you develop a very extravagant method of recording, where you can record over a hundred shows, and you only end up using about five."
The TEST FOR ECHO tour was unique in several ways. It was the first time Rush had recorded every night of a tour. It was the first time Rush had ever played all seven parts of 2112, the title of their seminal 1976 album. It was also the first time Rush had ever toured without an opening act. It was an incredibly liberating factor for a band that had long felt constrained by the limitations of a conventional concert appearance. (Union rules and volume restrictions generally limit the length of shows.) Freed to play two sets over almost three hours, they were able to include selections from each of their earlier incarnations and still introduce their audience to a wide range of their newest material.
"We could have done an hour-and-a-half and gotten in and out, but that's not our style. Playing is the most fun we have out there on the road. Thats the best time of the entire night. The whole day leads up to the performance, and you can't really enjoy your beer after the show unless youve gotten a good workout. We've always done at least a two-hour show and the idea of being able to play for three hours and do an intermission was always a fantasy we had.
"It was not an easy decision. That was part of the system that gave us an opportunity to do what we do. Being an opening act for other bands for years turned us into what we are. It's not the best thing for the system to deprive someone of a gig. We understood that. But, at the same time, we thought: We've been around for a long time. Many tours later, I think weve satisfied our debt to the system. So well take this one for ourselves and indulge ourselves: we're going to do the two sets."
More than twenty years ago in a Melody Maker interview published on February 11th, 1978 Geddy Lee said something that still rings true today: I think we're something apart from trends. We're neither a trendy nor fashionable band; none of us feel that music is threatening us. More importantly, our audiences are growing so it still has to be in vogue with those people. I think we appeal to a mentality, and there's still a lot of that mentality.
The next day, a Sunday, Rush played the first of two sold-out shows at London's Hammersmith Odeon.
"The reason [a tape of] that show even exists is that we did it for some radio show. I can't remember which. I remember at the time I had a cold and my voice was really raw. During the early part of the show I had very little control vocally so I changed a lot of the phrasing that I normally sang with in order to compensate for the cold. Listening back to it at the time, it probably seemed dramatically weird to me so it never made it on the radio show and we just kept the tapes.
"Twenty years later, I found them again and wondered, 'What do these sound like?' I couldn't remember the circumstances of the show. So Alex and I went into the studio and we put them up and mixed them for fun about a year-and-a-half ago. We were amazed at the energy of the live performance. It was a particular kind of energy that's connected with the age that we were, the kind of players that we were. Playing those songs today would not have that same vibe."
So DIFFERENT STAGES proves to be just that: both a figurative and literal commemorative of Rush's different stages of evolution, as performed on different stages around the word. The 2-CD set of the album proper consists of twenty-two tracks covering the entire scope of Rush's 25-year recording career. The bonus eleven-track CD of the 1978 Hammersmith Odeon show provides a dramatic counterpoint to the refined sound the group honed over the next twenty years of recording experience. What new phase for Rush the album heralds is still anyone's guess.