Cover Feature! Rush - Geddy Lee
By Roger Newell, Bassist, January 1999, transcribed by John Patuto
---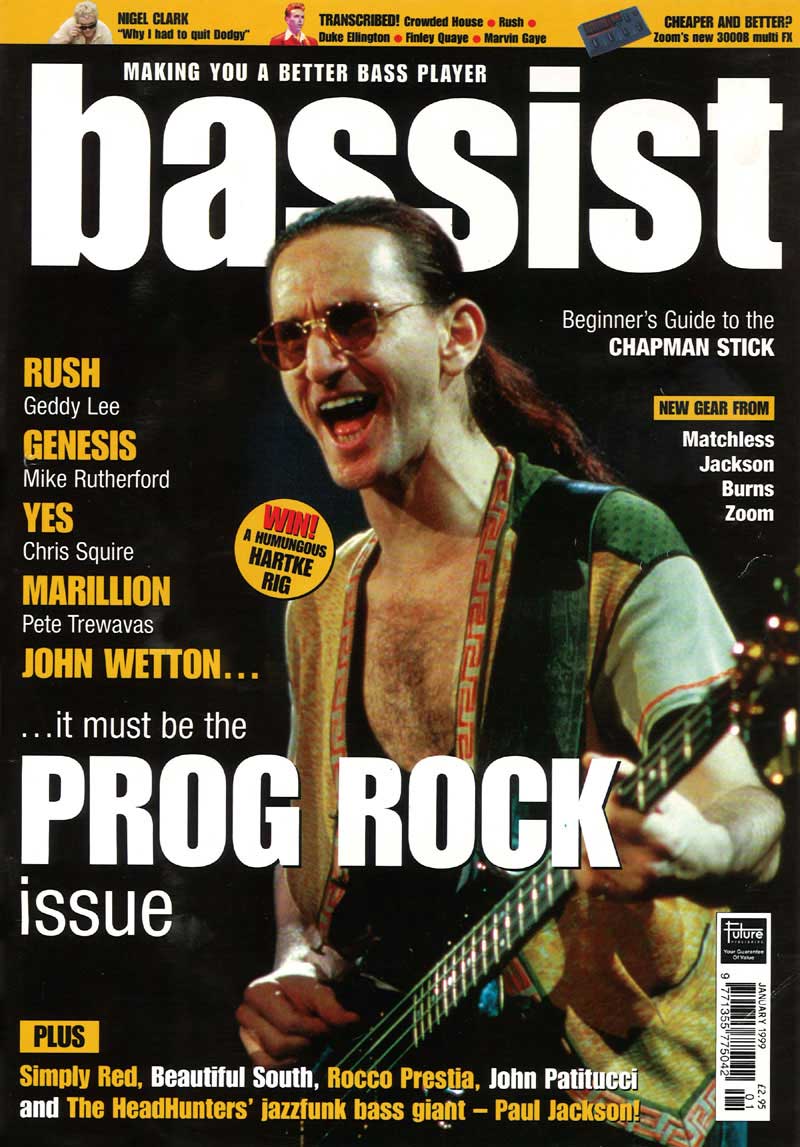 In the wake of recent 'Rush to split!' rumours, drummer and lyricist NEIL PEART reflects on the band's art and plots their journey into the future...
The giant of hard rock/prog bass playing talks about putting together a triple live CD! From hard rockers to triple CD proggers: Roger Newell braves the Rush hour
When Geddy Lee, Alex Lifeson and John Rutsey formed Rush in 1969, their roots were firmly in the Cream and Zeppelin-emulating school of hard rock. With Rutsey's exit in 1974, however, entered drummer-cum-conceptual lyricist, Neil Peart, after which a more experimental song route was adopted. Their first "concept" album, 2112 appeared a couple of years later to great acclaim, setting Rush well and truly on the progressive trail.
Their popularity continued to spread, thanks to ever-stronger and inventive material, peaking around 1981 with the superb Moving Pictures album. In order to maintain that degree of success, a band has to tour big-time, and consequently Rush were almost permanently on the road, taking breaks in order to write and record the next scheduled album. This produced a fantastically tight band but it began to dominate their lives, and ended up almost killing the trio through sheer grind. These days, the band adopts a much less gruelling schedule for touring, and the playing just gets better, as can be heard on their new live CD, Different Stages; a triple live CD featuring material from much of their 30 year career. Apparently, much of the album material actually came from one particularly blinding performance in Chicago.
"It was just one of those special dates that you look for on a tour and represents the whole purpose of us recording every show," outlines Geddy. "You walk offstage on certain nights saying 'Why wasn't the tape running tonight?' Invariably the best, or the most memorable shows, tend to be elusive in terms of recording. So we decided to have a machine running all the time and devised this simple way of recording from all the mic inputs. But mixing 72 digital tracks brings up a whole new range of problems regarding bringing those sounds back to life," he recalls. "The original intent was to mix the album digitally too, but everything sounded very brittle, and we wanted to 'warm' the sounds up and bring them up to analogue reality. Also, the tracks from the Counterparts tour of '94 were notably different, and it was a difficult decision whether to use versions from that tour or this. When in doubt I opted for the most recent version just because of the confidence of the playing, but consistency in sound is desirable because you are effectively simulating the show."
Perhaps more amazing is the recorded quality of the bonus 1978 show, hardly a time known for great live recording ability. Did it need enhancing?
"No," Geddy emphasises with obvious glee. "We didn't have to do very much to it at all. It was very well recorded. We mixed it straight off the analogue and just tweaked the bias of the tape machines until we got it the way we liked. The fact that the tapes hadn't deteriorated in the 20 years they'd sat in my basement was a big help!"
Apart from recording every gig, was there anything on the Test For Echo tour that felt special or different to tours in the past?
"Being able to play 2112 in its entirety was quite unique for us, and immediately put the show in a slightly different category. Also, we were playing two separate sets each night and that allowed us, time to include some of the older material like Natural Science. It was the most enjoyable tour we've done. We've had to slow down, mainly because of a desire to maintain some sort of outside life, and a quality of performance. The downside is that it means we play less shows in less countries, but it's important for us to enjoy what we are doing. If we did it any other way I don't think the band would still exist. The fact that we're very good friends is probably the reason we're still around. We just try to enjoy ourselves."
"I used Fender Jazz basses on this tour," says Geddy when asked about his instrument of choice, "and I've been playing them pretty much over the last few years. I have this '72 Fender that just has a great sound which I used a lot on earlier albums. It's just a great playing and recording bass, one which people have often mistaken, sound-wise, for my Rickenbacker. Fender's Custom Shop has made me some Jazz basses that sound great as well, though with a slightly different sound; a little brighter, with more definition in some ways.
I use three or four during a show and really enjoy them. On a couple of songs I tune my E-string down to D, and on 2112 we tune all our guitars down a tone, giving a heavier, darker vibe to some of the pieces of music."
Perhaps that Rickenbacker connection was due to string contact with the frets from a low action? Geddy disagrees with this style analysis. "Actually, my action's not that low," he says, "but I hit the thing so damn hard that you can hear not only the frets whack but sometimes the string hitting the pickup. I'm a bit of an animal, I'm afraid! I use the first two fingers pretty well and occasionally, if I really get into trouble for speed, I will throw a third one in there."
A member of the select group of bassist-singers in rock, Geddy's notoriously high-pitched voice is very distinctive but quite a strain on the Canadian's throat by the end of the evening. "Especially when there's a high percentage of older material in the set," he says. "Vocally, things did change mid-course and that's helped me pace my voice over the course of a three hour show. Even with a slight tuning difference, it's a difficult range to maintain, but it seems to help a little bit. When I sing and play in different timings, at first I have to concentrate more on the bass until it's kind of cemented, and once my muscle memory is pretty trained on that, I just shift my mind into a vocalist mentality. So most of the time when I'm singing, it's vocals that I'm concentrating on."
Live performances mean that arrangements can vary from night to night: "The changes happen in subtle ways," says Geddy. "Usually it's rhythmic, more than notation-wise. Sometimes when you write a song and record it quickly, you find that playing it live on stage with a drummer, there are ways of changing the accenting or the rhythmic attitude that makes the song groove better. That's what I look for, and try to connect more with what Neil's playing. We feed off each other, and as a rhythm section we've been together a long time, and ought to have figured it out by now ... Neil's quite fussy on the bass drum and that suits me very well. It's fun even though rock music purists have always accused Rush of having a hyperactive rhythm section as they don't like to hear bass and drums going off at a tangent! If you listen to our parts separately, they can sound a little jerky or disjointed, but together they smooth each other out. It gives the guitarist more freedom too, but Alex doesn't listen to us anyway [laughs] so doesn't know what the hell we're doing back there!"
Geddy is no stranger to effects pedals, either. "I use pedals not so much for bass sounds, more as MIDI triggers," he says. "I have quite an elaborate sampler and sequencer set-up off-stage, programmed for me song by song, for keyboard chords, note sequences and sound effects. Whenever I'm drowning in sequences, I offload them to Alex, or Neil who can trigger them via drum pads. That way we can maintain the 3-man trick. For Big Money there's three or four sound effects samples and we just don't have enough feet between us, and all that standing on one leg stuff! I use Trace Elliot amplification but have become quite dependent on speaker simulators, a Sansamp and a Palmer, to create interesting distortion sounds. I use those in conjunction with a Demeter Tube DI, a really warm, great sounding box. With an amp sound as well as a controlled DI sound, it's all very flexible, so we can compensate if we're in a particularly difficult sound situation. I use an earphone monitor system with a mix of the entire band. I put an interesting balance together that helps me to pitch properly. From the bass it's a little deceptive, so I normally pitch from the guitar using a sound which is much cleaner than Alex would ever be able to stand to listen to ... [laughs]. It's the most difficult part of a performance for me, and the earphone system has led to a big improvement in our performance."
Such ambitious live albums occasionally mark the end of a phase for a band. Will Rush be reassessing their future direction? "It's hard to say," he considers. "That has happened in the past: if you get a bad day with a particular sound, that's usually a pointer for going into a different direction. As for what's next, I've no idea. We're taking time off. I've been doing some writing on my own, working with friends and musicians in Toronto. It's been good collaborating outside the band. I love to write melodies and play with rhythm. I write on bass a lot as well as acoustic guitar, and occasionally keyboards. When I'm writing and working on vocal melodies, I prefer to have my bass and a mic, playing my bass chordally like a guitarist. That allows me to focus on the melodic thing, and pay more heed to the lyrics.
"I've been doing that a lot lately, so the creative juices are not drying up," he laughs. "They may not be any damn good, but they're certainly not drying up!"
---
What keeps Geddy playing the bass?
"When I started playing bass at about 14, it was like one of those instruments that no-one wanted to play. Everybody wanted to be a guitar player," he snorts, "so I gave it a shot and liked it a lot. It was Jack Bruce who kinda sold me on it, easily the most powerful influence on me as a bass player. After that it was Jack Casady of Jefferson Airplane, who had a very unusual tone and was a very under-rated player for many years."
Unique Preview
In the past, Rush have actually performed new material prior to recording it. "On one tour in Britain, we played Xanadu and another song I believe, before we recorded it. It was just before we made the Farewell To Kings album. That was the only time we did and it was beneficial for the music but hard to organise. A lot of the time the audience would just look blank. Let's face it, some of our material is not easily digested in one sitting."
Rush's Freewill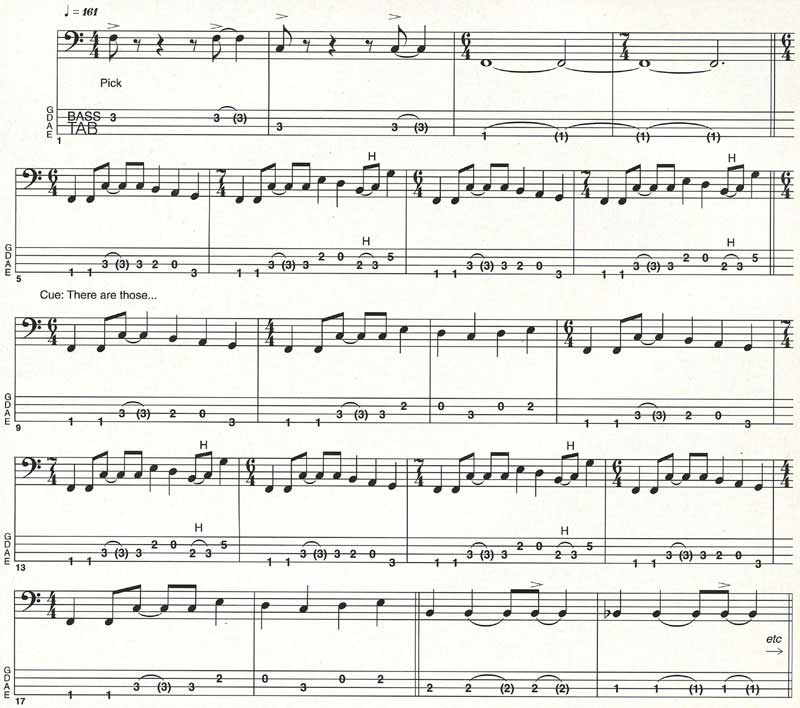 Play some Prog with the track that Rush tribute band YYZ considered the most difficult to learn. Transcribed by Paul Scott
"The body of the song is not difficult," Geddy Lee told Bassist this month. "Alex and I wrote that part together and we kinda mimic each other on that. The guitar and bass are very closely aligned during the riffing part and what makes it interesting is I then lock in with the drums leaving Alex free to play around the rhythm with chordal patterns -that makes it a great trio piece. One moment it's heavy riffing and then you spread out the sound and utilise the rhythm section versus the guitar. The only difficult part of that song was the middle section where there was a bit of free form, we pick up the tempo and Neil and I jam a little bit behind the guitar. Always a fun piece to play and one of the favourites."
As Geddy suggests, the track is built around alternating odd time signatures: The first two bars are in 4/4, leading into the guitar riff which is played over a bar of 6/4 followed by a bar of 7/4. In bar 5, the bass takes up the riff: an F Lydian mode (an F major scale with a raised fourth degree). Be careful.