Rock Of Ages
By Dave Cockett, Hard Roxx No. 39, February 1999, transcribed by pwrwindows
---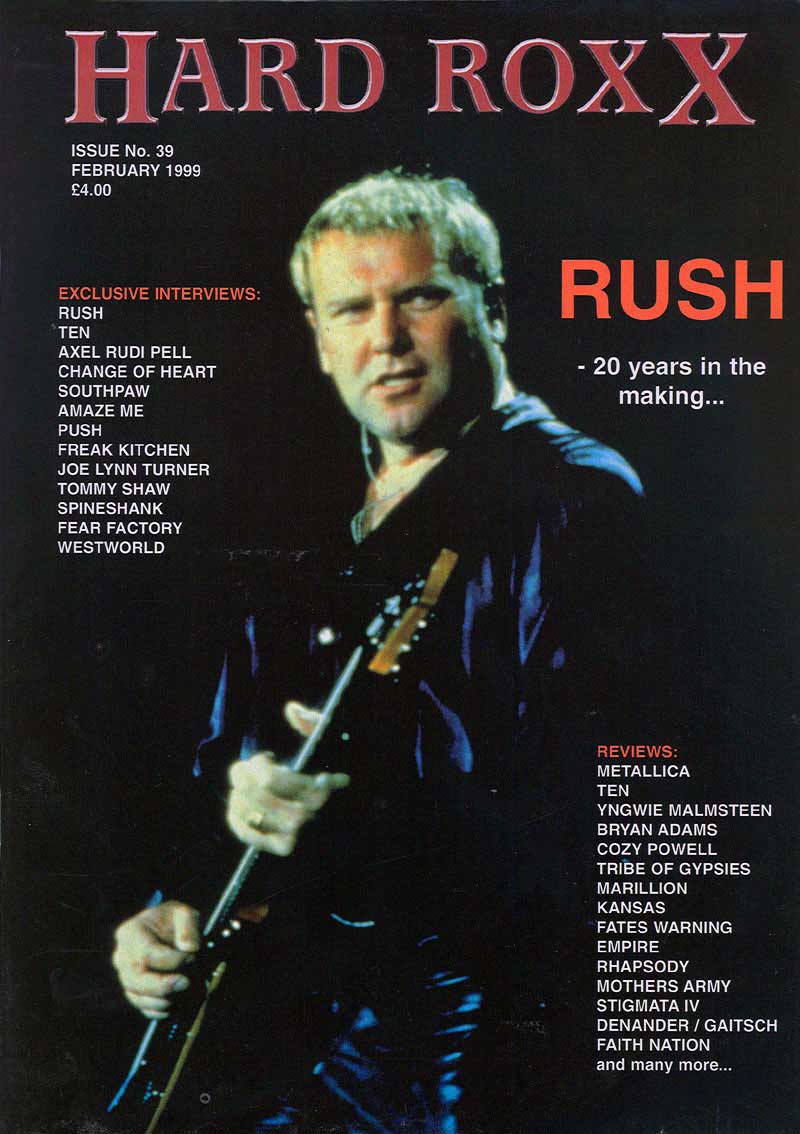 Canadian trio RUSH are something of a musical enigma. Since their debut offering back in the early 70's, they've produced an unbelievable twenty albums (plus numerous compilations) culminating in the recent live opus 'Different Stages'. Whilst the profile of the band in Europe may have taken a bit of a battering in recent years, in the US they remain as popular as ever. Guitarist ALEX LIFESON spoke to DAVE COCKETT about their rich history, and what it is that drives the band forward.
Rush 1998, are a vastly different animal to the fresh faced bunch of debutantes who gave us the 'Rush' album back in 1974. Older for sure, but with that age has come a wisdom, a maturity that keeps the band one step ahead of the game. Take their latest live album 'Different Stages (their fourth) for instance, you'd think that they'd have grown a little wearisome of live releases by now, but the enthusiasm for their art is abundantly self evident throughout. "I guess in a way we were all sort of fired up for it," offers Alex. "I suppose it's become a sort of tradition for us now anyway to do alive album after four studio albums, so we knew that we'd come around to doing another live album eventually, and it does usually buy us a little bit of time to take a break before we try to come up with another direction. I think with this album, rather than closing off a particular period, which I guess would've covered the whole of the 90's from 'Presto' onwards, when we started putting it together it took on a whole different shape and became much more of a retrospective. When we came across the tapes from Hammersmith and then had a listen to the last two tours, we thought it would be kind of cool to have a representation of the band as a live recording band over a twenty year period rather than just the usual seven or eight."
Four live albums in and I wondered how Alex felt this one compared against the previous three. "In retrospect, I think there were problems with all of them," he admits, "but that's a pretty normal thing of course, you could always do things better given more time. With this one, I think we finally managed to capture the right balance between all the elements that we always wanted to have on a live recording, and that's a good live performance, a great crowd and a good sounding venue. It took a bit of time to get things just right, placing the instruments to get the best separation and so on, but after that it all came together fairly quickly. Finally, I think Paul Northfield did a fantastic job mixing the album."
In an effort to achieve the ultimate live album, Rush recorded nearly one hundred gigs from the 'Counterparts' and 'Test For Echo' tours as Alex explains. "On 'Counterparts' we recorded something like 48 or 50 shows out of about 80, so when we went out with 'Test For Echo' we decided to try and record every single show. There were a few nights that were technical nightmares that we couldn't do, but we got a solid 45 or 46 shows out of that last tour. That's not bad considering everything that's involved, and it was just so different doing it that way. In the past we'd get the truck in and record maybe five or ten shows and that would be it, you'd hope that you'd get it all amongst those few shows and then kind of put it together. Very rarely would you get the whole thing from one night, but it's kind of ironic when you consider how many shows we recorded that about 70% of 'Different Stages' comes from one show we did in Chicago! Who knows ... a lot of the time it had to do with the fact that you're not even aware of the recording, you do it on a nightly basis so you don't think about it, you don't worry about it, you just do the set and get on with it. That's a huge contrast to when you get the truck out there, you're so aware of the recording process because there's mic's all over the place, and you wanna play the best that you can. That makes it real tight for starters!"
The sheer number of shows recorded for Different Stages' must have presented Rush with a huge task when it came to editing down the different versions of each song, Luckily for the band, the bulk of the leg work was done by live sound engineer Robert Scovill. "Robert went through just about everything," concedes Alex, "and came down with maybe a dozen shows from each tour that he felt were the best of the lot. Then from there, we'd have a listen and make a few notes so that we always had something to reference back to, so it wasn't too hard. There was a lot of work in the planning stages of course. On the last tour, we recorded the whole of the first half of the tour, then when we came off the road for a mid tour break we had a listen to the stuff but we weren't quite happy with it ... well, Paul wasn't quite happy with the way things were being recorded so we made some mic changes and technique changes for the second half of the tour. So everything that we'd mixed in that period we scrapped and started over again, you know, as these things progress things get a little better, so you tend to go back to the earlier mixes and remix them, and it just goes on and on."
A number of people have remarked that 'Different Stages is the heaviest Rush have sounded live since the 'All The Worlds A Stage' set, so on paper at least it looks like things might have come full circle, "Well I guess they have," muses Alex, "I mean, I think in the 90's that was the sort of approach we were taking with all the albums, 'Presto', 'Roll The Bones', and especially the last two. We just wanted to get back to the essence of what Rush was, a three piece band, and to really develop the power of that three piece unit. As you know, we like to try different things and to go different places, and I think in the 80's we went through a lot of different changes, particularly the keyboard aspect of the band which we developed to quite a degree. And it just felt that it was time to get back to our roots so to speak."
For the first time ever, the 'Test For Echo' tour saw Rush perform their seminal opus '2112' in its entirety from start to finish. "When that album came out we were still opening shows and special guesting," Alex explains, "we did very few headline gigs, and already at that time we had quite a bit of material to do when we did headline, so to do a whole twenty minute piece wasn't really possible. With this last tour, the way we did it in not having an opening act, it afforded us an extra hour of playing time so we could do stuff like '2112', or 'Natural Science', some of the longer pieces. It was great to do it, really a lot of fun. You know, when you play it, you tend to have the whole piece in mind, and the pacing of it, and it was really just very rewarding from a player's point of view to do something like that ... the crowd of course went mental!"
Conscious of the fact that they wanted to make this live album that little bit extra special, the band added a third disc of material recorded at Hammersmith Odeon back on 78's 'A Farewell To Kings' tour. Long forgotten, the original tapes had been gathering dust for years, until a chance move of office unearthed them once again. "When we did it, Geddy had a cold or a throat problem, and he didn't feel that he had a very good night, so we decided not to do the radio special we were planning to, so we just sent the tapes back to our office for storage and kinda forgot about them. Then, three or four years ago I guess it was, they were moving from one office to a bigger one next door and came across these tapes, which they passed on to Geddy. So when we went back into the studio we put 'em up to see if there was anything we could perhaps do with them. At that point, we were just starting to talk about doing the next live album, and as the tapes were playing we really liked what we heard. We'd been listening to live mixes of the tour and thought that this would make a great accompaniment, so the whole process started from there."
Over the years, Rush have always tried to encourage up and coming bands by giving them a shot at opening the show, this time however, as Alex pointed out earlier, the band decided to use that extra time to play an extended set. "We've always felt it was very important to give younger bands that opportunity to play to a larger audience at a bigger show like this," says Alex. "And we've always stuck to that; but after 22 or 23 years we figured maybe it was time to be a little bit selfish and to stretch out a little bit. And to be honest, that extra hour makes a really big difference. When you've got twenty albums it's tough to squeeze everything you want to play into just a couple of hours. When we first sat down in rehearsals for this tour everybody brought in his own little set list, and when we put it all together we had something like five hours of material, ha! They weren't vastly different, but everybody had a few different songs here and there. It's always a little bit of a compromise between what you feel your audience wants to hear and what you want to play. I think the bottom line is that we try to keep ourselves happy so that we can get fired up for each and every show that we do, but there's certain Rush standards that need to be played I guess."
At one point, especially in the early days, Rush were well known for doing well in excess of 200 gigs a year. Such constant touring pressure led to a very well documented dislike of the whole on the road experience. Now however, judging by the fired up performances on 'Different Stages, they seem to have hit upon the right formula. "Yeah," agrees Alex, "I think ... speaking for myself personally, I always enjoyed touring, I think there was just a certain point where I found it a little difficult. It was very wearing, and you know, if you have any personal problems, being on the road really amplifies them, and you're in a position where you can't deal with a lot of them because you're away. Finding the right balance in your life makes touring a lot easier, and I think with this last tour you get to a kind of level of maturity where you look for more out of it, you know, try not to let yourself get bored. We travelled differently too this last time, this was the first time that we chartered a plane. Not a big fancy thing or anything, but it was so much more comfortable travelling for an hour or 45 minutes, rather than 4 or 5 hours on a tour bus night after night. That's OK when you're 23 years old, but when you're 45 it hurts. All of those things combined, plus the set we were playing, made it much easier; it was such a joy to play every night you know, it gave us a much more balanced lifestyle, I think Geddy would echo that too, he had a really good time on the last tour. For Neil, touring is much more difficult, he doesn't enjoy it as much as he used to."
As the conversation steers round to Neil, who tragically, recently lost his wife to cancer, it is immediately apparent that Alex and Geddy are prepared to put the band on hold for as long as it takes. "Well, Neil's trying to find his foundation right now," Alex offers, " ... the strength to rebuild his life. It's been such a terrible time ... I was with him I guess last month for a week, we went away together. We had a good time together, and we talked a lot; he's just basically starting from scratch again and some things take precedence over other things, and right now I don't think that music, or art, or film plays a major part in his life. He's just learning to walk again really, and I think time is a great healer of all wounds and he'll come around to a point where he can function again, and possibly be somewhat happy again, but it's a long road. We're patient though, we're waiting for him to get his strength back together, then at some point in the future we'll sit down and talk about work again, but right now he's a friend who's been through some trouble and we're just giving him a helping hand."
Although the next Rush studio album is some way off in the future I asked Alex if the band were aware that there's a large number of people out there who yearn for a return to that '2112' / 'A Farewell To Kings' period. "It's hard to tell you know, it's all on the day. We don't sit down and discuss what we're gonna do beforehand, certainly not for the last few albums anyway. We go into this little funky studio that we rent for our songwriting preproduction, we set up our gear and sit down, Ged and I look at each other and smile, and then we start playing. There's no preconceived idea of where the next records gonna go, so it's a little difficult to speculate. I think the next studio record we do everybody's gone through so much in the last year and a half, I think it would be a very powerful, emotional record. I think there'd be a lot of blood, sweat and tears ... mostly tears, and I think yeah, it would maybe carry in on a kind of rootsier vein like the last few albums, but it's difficult to tell."
One thing's for sure though, as evidenced on the likes of 'Roll The Bones' or 'Test For Echo', Alex seems to be happy playing guitar again. "I think there was a period that we went through where we used the keyboards more than the guitars," he confesses, "but it was something that we wanted to see through to the end. There were a couple of records though that I'll admit weren't really that satisfying for me. They were really difficult records to make, maybe it was a scheduling thing, but we made the mistake of recording the keyboards before we did the guitars in the belief that we'd have plenty of time to do the guitars later. I found that with 'Power Windows' for example, I had to work really hard to fit the guitars in amongst all the keyboard stuff we'd recorded. I think that was part of the reason I developed a thinner, brighter, more jangly guitar sound, because it occupied a different frequency range and could sit in amongst those keyboards somewhere and not be swarmed by them. My heart wasn't really in there. I think those were interesting records that we made, and I like the songs on there and the sound and everything, but to me, I like to hear the guitar more upfront. I think the guitar is a very important instrument, not only because I play the guitar, I think it's the instrument that carries all the passion, and if it's gotta struggle to be heard, that just doesn't seem right to me. I think the guys felt that way too, both Geddy and Neil, and certainly with 'Test For Echo' the guitar finally was back in that prominent role. There are a lot of songs on there that don't have heavy guitar, but they provide a lot of the melody to support Ged's vocals. Part of that had to do with the 'Victor' album. I was in the studio for eleven months recording that album, playing almost constantly, so when we started recording 'Test ... .' I was very fixed on the sort of things I wanted to get out of the guitar, and the parts came very quickly. I had this new level of confidence that Geddy really respected, he could kind of step out of it and not worry, coz he's a worrier you know! Whenever we're in the studio he worries about every little detail, and if he didn't he wouldn't be happy, that's just part of his nature, he wants everything to be right. That's why him doing 'Different Stages was such a great thing. I mean, I wasn't really into it, I never felt any desire to get involved musically very much because of what had happened, that's the way it affected me, but Ged needed a focus, so he dove into doing the live record. And I think he did a really great job, that's exactly what he needed, it was perfect for him to have to deal with everything."
These days, any band that dares to deviate from the rigid confines of their former efforts will often find both press and fans, not to mention record labels, being extremely unsupportive. Rush however appear to be the exception to that particular rule, their fans in particular remaining fiercely loyal, no doubt playing a major part in their longevity. "Yeah, the fans have been absolutely fantastic," agrees Alex. "they've stuck by us through all the years and allowed us to do what we felt we wanted to. I don't think there are many bands that can say they have that kind of following. I guess in a way, we bought our freedom. When we did 'Caress Of Steel', it was a very difficult album to tour because at that time we were just on the borderline when we were starting headline club dates and smaller halls. Because the record wasn't really that well received, the record company was worried, our management was worried, ... they'd pumped hundreds of thousands of dollars into the band just to keep us on the road, and there was talk of us trying to get back to what the first album was, something more accessible and all that stuff. We were sat in our van one night all kind of bluesed out, talking about what we were gonna do, and I remember that conversation very clearly. In the end we decided you know, 'screw everybody, we'll just do what we do, and if we go down, at least we'll go down in flames, it'll be worth it'. Then we did '2112' which, even in the beginning, was quite a bit more successful commercially, and of course the record company were a lot happier and it was like 'we always believed in these guys', ha! So I think that bought us the freedom to do whatever we felt was right for us, and to pursue it the way we wanted. The way our deal is structured it's our responsibility to deliver the record, the artwork, the whole thing to the record company. Never once have we had one record company employee in the studio whilst we've been there ... as a matter of fact our managers never been in the studio when we've been there, not for one minute ... .so that's always been our sacred territory you know."
One major disappointment to Rush fans in the UK is that the band never made it over with either the 'Counterparts' or 'Test For Echo' tours. "I would have loved to," confesses Alex, "I guess the last time we played over there was on the 'Roll The Bones' tour. We had this limit for the number of dates we could do, 75 I think it was, I think we ended up doing 83 so we kind of pushed the envelope a little, but that was the criteria that Ray our manager had to work with in terms of booking the shows. From a business point of view it's more important for us to concentrate on North America, especially the US ... we only played a handful of dates in Canada this last time. For us, doing 80 shows is really nothing. I think personally we need to do about 120 shows to really do it right, but that was all the time we had to work with, and we didn't get back to Europe. Last time we played in Europe we had a great time and we'd have loved to come back, at least I would, definitely. But again it's just where your priorities are and where you concentrate your energies."
One of the main problems facing the band is the lack of support from the European record company, which doesn't come anywhere near that provided in the States." That was the main reason why we came the last time," Alex confirms. "Ostensibly, there was supposed to be all this support from the record company, they wanted to make a go of Rush again in Europe and all stuff like that. To come over with a big show, it's a huge expense, and in the past when we did more shows we used to eat that, but to come over and not to have any support, no advertising or follow up record sales, which is the main reason to do that sort of thing, it's just not worth it. The record company didn't know who we were, didn't know anything about us, and OK, we should've known that in the first place, but we'd have to change things around a little bit now. I suppose I can understand their position, record companies these days are after the quick fix, and if that doesn't happen they're not interested. And Rush is something that's come and gone in Europe as far as they're concerned ... and maybe that's the case you know, we haven't supported our fans over there for a long time, so ... you know, people lose interest. There's certainly some die hard fans out there, but the majority ... people do lose interest. So it would be a question of rebuilding, but at the same time I don't think it would hurt to come and do a number of dates ... the venues are much improved, certainly in Britain as I recall."