Lifeson Times
With a new live album on the streets, interest in Rush has been rekinded. Guitarist Alex Lifeson takes a walk down memory lane with Simon Bradley
Guitarist, March 1999, transcribed by pwrwindows
---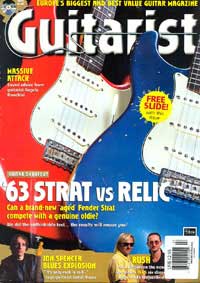 Rush may seem an unlikely group to be mentioned in the same breath as more straight-ahead rawk bands like AC/DC, Judas Priest and Kiss as a major influence on a generation of guitarists. Over the course of their 20-year career, the band's music has swayed from out-and-out Zeppelin worship, through an infamous 'swords and sorcery' phase, and out into the arena of 'thinking man's rock', still with no sign of their world-wide enormo-following diminishing.
Even on the more bludgeoning early albums, the intelligence of the lyrics attracted many more pairs of ears than it repulsed, despite songs telling mythical, long-winded stories concerning the likes of "The Fountain Of Lamneth", "By-Tor and The Snowdog". But it was still time for something truly mould-breaking. The album 2112 featured a piece of music that took up one whole side of the record, a big deal in 1975 for a band that had had limited success outside their native Canada. It told the tale of a futuristic government that attempted to ban free thinking. This earned the band, especially drummer and lyricist Neil Peart, a reputation as nazis.
"'The inspiration was that we were really angry and pissed off," says guitarist Alex Lifeson with a soft Toronto twang to his voice. "We were toying with the idea of doing a whole side piece and we needed to experiment a little first to decide how to do it best. Having gone through that exercise with Caress Of Steel we had the confidence to make 2112 what it was.
"There's a lot of passion there. y'know. It's all up against the system and that's the way we were feeling at the time. We knew what we were doing, what was the matter with everybody else? Why were they so worried? We weren't!"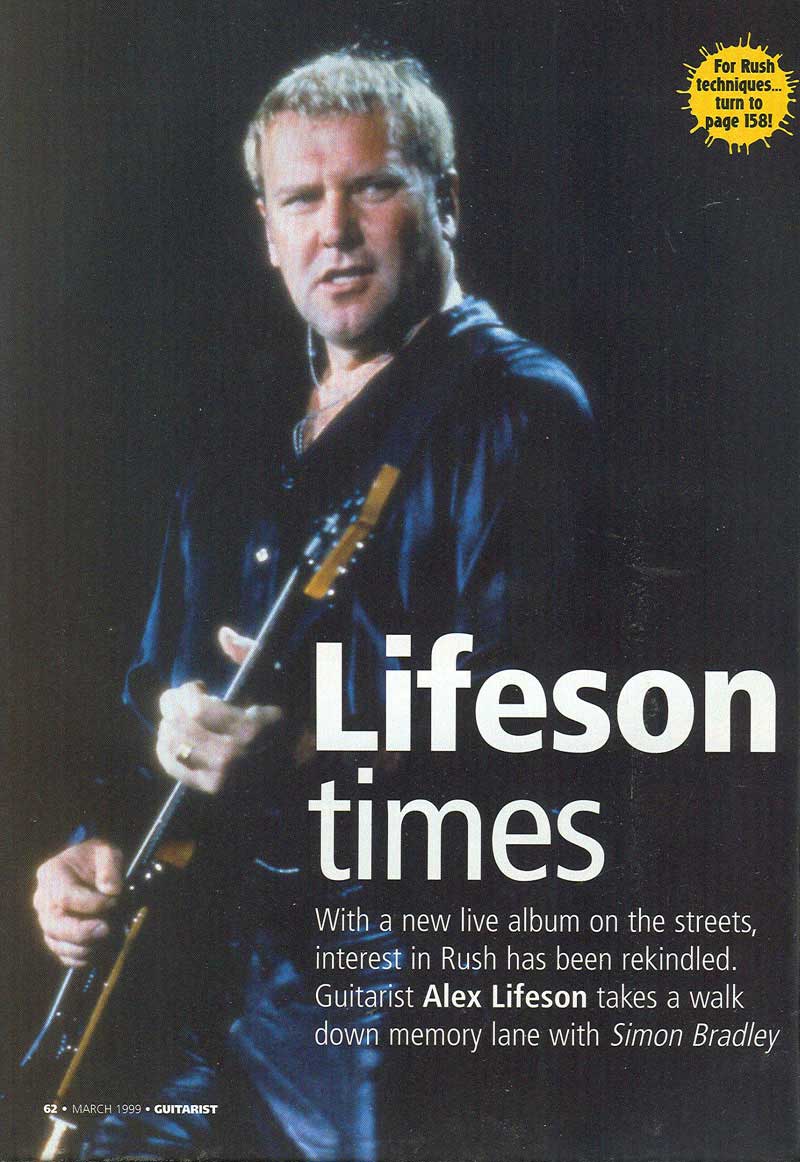 Once 2112 hit, the band's rise was stratospheric, opening for anyone who would have them in 30,000 seaters, while headlining smaller venues on their own. To give themselves a break, the band decided to release the first of what would become something of a tradition; a live album.
This brings us back to the present time and the reason for my calling Alex at an ungodly hour - "It's 10.05 am here, but I've got a coffee, so I'll be fine," says Alex chuckling.
Rush have just released the live album Different Stages, a two-CD package that covers virtually the entire length of the band's output including (one for trivia fans) a performance of "2112" in its entirety. Recorded over the course of two tours, the majority of the music actually came from one night at the Chicago World Amphitheatre.
How did the band actually go about choosing material?
"We were afforded the luxury of being able to pick through 45 or 50 shows from each tour and we were able to pick one of those nights of which only a handful occur on a tour," he explains.
"The band sounds really good, performances are good, the venue's good and the audience is great; all of those really important components work in harmony - you don't find too many of those and, yes, the bulk of the material that was chosen came from that one night in Chicago."
A bonus CD is also included that features an entire set recorded at the Hammersmith Odeon in 1978 which is a world away from the smooth, polished music of recent years. Alex's playing is far more intense; was this something he's conscious of?
"Absolutely yeah! That was the compelling thing about using it. The more we listened to it the wider our smiles got; you know, how different it was, all that youthful energy we had.
"In a lot of ways the current material shows maturity and a confidence in our playing, I think. And it's a great contrast when you view the whole package from beginning to end."
As it happens, the band thought about using this older recording before anything else.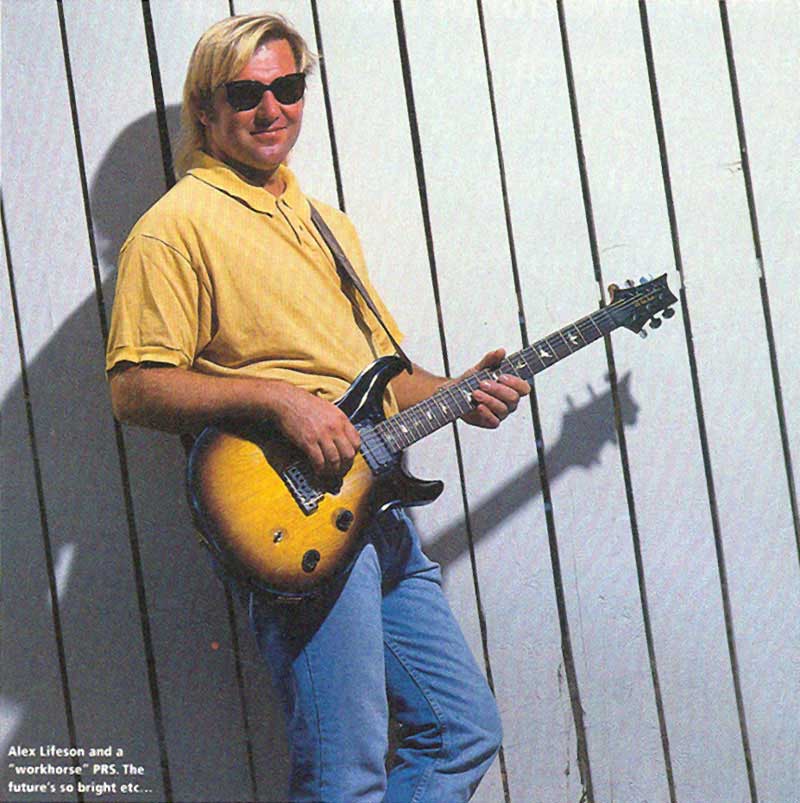 "About four years ago we came across a pile of tapes (from the Hammersmith gig) while we were clearing out our office. We put 'em up there and had a listen, and thought that we could do something kinda nice. We could provide it as a bonus CD or something. Once we started going through current stuff from the last two tours, it gave us a better sense of the retrospective."
For any Rush virgins listening to the more recent live recordings, they'd be hard to convince that the wall of sound is played by a simple trio. Peart utilises all manner of triggers and samples within his acoustic kit, while both Lee and Lifeson have used synth pedals to achieve their musical goals.
"I wouldn't know any different," says Lifeson. "It's been this way since I started, but for me it's always been a challenge trying to make the guitar more than just one instrument, the challenge and pressure to come up with parts and to execute them in such a way that you gain the most value out of it."
Yeah, but surely the band have to compromise certain songs when they play in a live environment?
"We always keep that in mind when were recording - will we be able to play it live? It's always been a kind of rule with us." Alex concedes. "Yeah, it takes more than a little effort to work it all out, but it's never really been a problem."
Alex continues: "For example, getting 'Natural Science' together so that it flowed was dodgy in rehearsals, but by the time we got on the road, it had become my favourite song to play. It was very challenging - acoustic parts to really heavy stuff -and it had a very difficult flow."
When music from different periods find themselves in the mix together, attention has to be paid to the running order, especially when some songs can be over eight minutes long. When I mention that the Hammy O running order sees the A Farewell To Kings epic "Cygnus X-1" followed by the out-and-out HM chordy romp-along "Anthem", Alex can't help but laugh.
"As a breather? Exactly!" He chuckles around his coffee mug.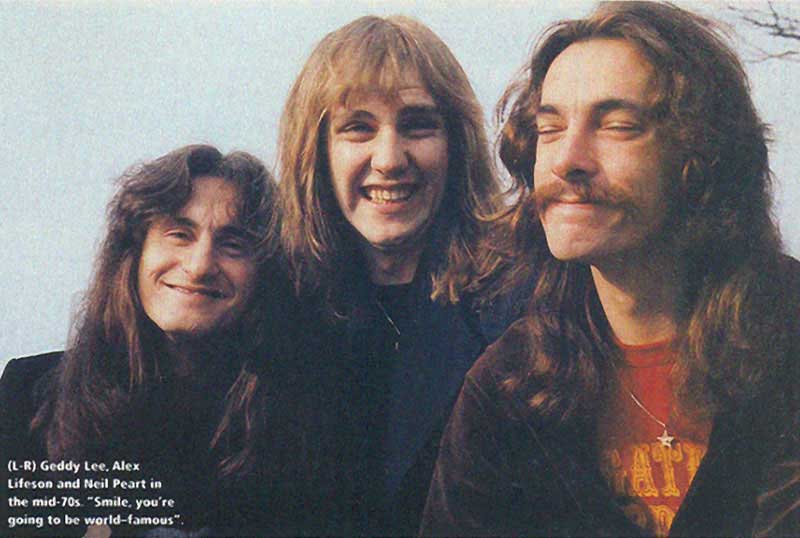 One of the by-products of such a lengthy and successful career is the sheer amount of material to choose from when compiling a live set. These days, Rush play for over two hours and take the luxury of a ten-minute intermission approximately half-way through proceedings. Another breather, Alex?
"Yeah, we had a ten minute intermission and, y'know, I remember thinking that it wasn't gonna work out and that it would really disrupt the flow, but after doing '2112', it was great to have a break!" Another guffaw.
Every band goes through highs and lows and, aside from the tragic turn of events that have struck Neil Peart (see below), can Alex pinpoint any specific periods that stand out?
"The 'Caress Of Steel' album and tour was a really hard time. We lost a lot of support from the record company, we had a lot of debt, we were touring and didn't get paid for like eight months," he says, actually raising his voice at one point.
"Anyways, 2112 came out of all that difficulty and after that, whatever we did was what we thought was right.
Not so much these days, but the Lifeson guitar style on earlier albums screams just one name...
"Jimmy Page was my total hero which was pretty evident, certainly on the first albums," he admits. "As a matter of fact, Page/Plant played in Toronto in the summer and Geddy and I went down. It was my first opportunity to meet with him and Plant; I was really excited.
"You always think of a million things you wanna ask him, things you wanna say but when we sat down to talk to each other, I kept thinking 'how do I tell this guy I was in love with him?"
"I tell you, those two guys were so charming and engaging, it was really a pleasure to meet them, and inspiring to watch them play too. They've really got it together; really good." He finishes, almost breathlessly.
It's nice to know that multi-millionaire rock stars gibber at the feet of their heroes, just like the rest of us.
---
Gear Years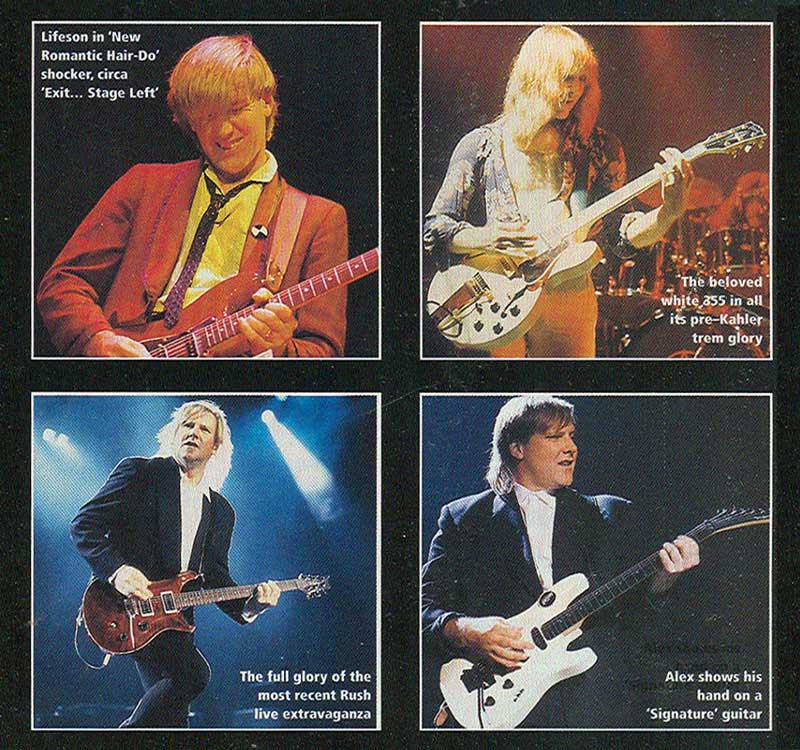 Alex's live gear has changed as radically as the band's music over the years...
ALL THE WORLD'S A STAGE (1976)
"The first one was 100W Marshalls with 4x12 cabinets - I think I had four of 'em at the time. Guitars were primarily a (Gibson) Les Paul Standard and my 355."
EXIT... STAGE LEFT (1981)
"For 'Exit...' I think I was using 2x12 Marshall combos by that time. It was probably my Strat, my 345 and my Howard Roberts Fusion."
A SHOW OF HANDS (1988)
"This was Gallien-Krueger amps and a whole bunch of guitars, I'm not really sure which..."
DIFFERENT STAGES (1998)
"Marshalls again and Bradshaw rigs... well four separate set-ups actually. I had my main stereo effects set-up, the second one was a DigiTech 2101 for cleaner chorusy stuff. The third has no effects on it, just another V-Twin for an extra-bottomy woolly guitar sound, and there was another set-up for the acoustic stuff. We set everything up in such a way that the switches work very close to each other."
---
Neil Peart
To say that Rush's drummer has had a torrid time of it in the last couple of years would be a shocking understatement. After losing his wife Jackie to cancer his daughter Selena was killed in 1998 in a road accident. [Webmaster note: these events actually happened in reverse order; Selena's passing was followed by that of Jackie.]
"It's been a very difficult period over the last year and a half," says Lifeson, "I saw Neil a few weeks ago and he's dealing with the situation the only was he can, a day at a time..." The strain is evident in his voice.
"So we're in a holding pattern right now; our friend is sick and he needs to get his strength back," he continues. "One day hopefully he will and we'll be able to address the whole idea of going back on the road and working. Right now though, it's too premature. He's only thinking about getting up and doing things again.
"From what I saw there's a positive progressive movement in the way he's dealing with it, but time is a great healer and that's just what we need right now."
I'm sure everyone wants to wish Neil well.