Seven Questions With Geddy Lee
By Geoff Harkness, Lawrence Journal World, November 30, 2000
---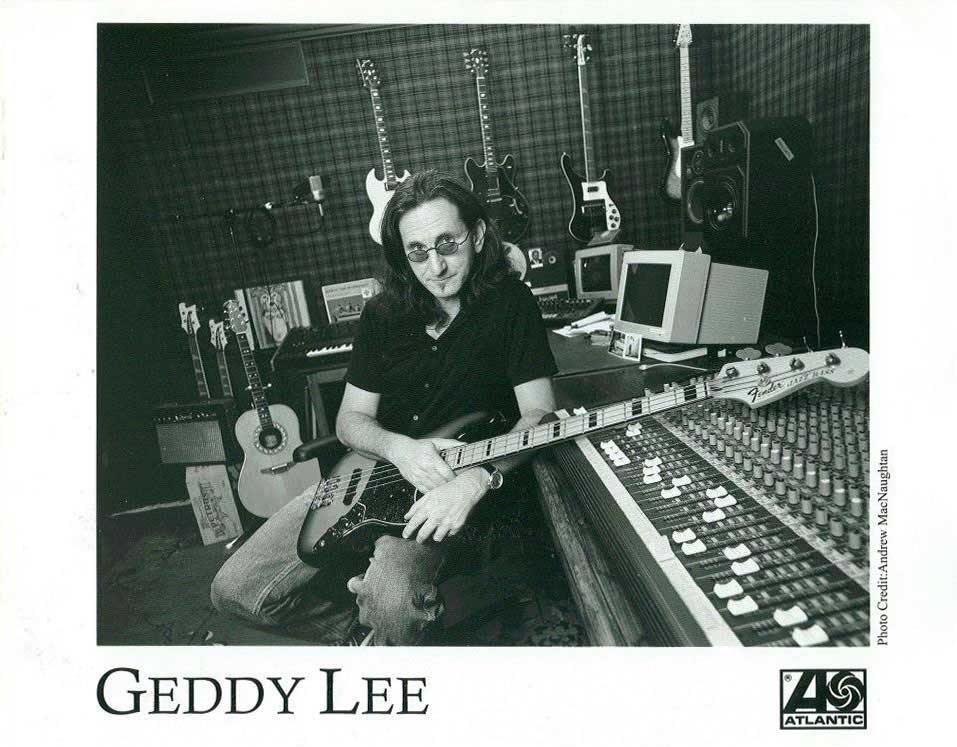 Though Rush was never revered by music critics and other snobs, it has earned a rightful place among rock's elite. For more than 30 years the Canadian power trio has been cranking out its unique brand of computer metal to a devoted following of fans, who hang on the band's every 16th note and puzzling paradiddle.
In the group's heyday, songs such as "Tom Sawyer" and "New World Man" brought true spirit to FM radio and Rush (singer/bassist/keyboardist Geddy Lee, guitarist Alex Lifeson and drummer/songwriter Neil Peart) packed concert halls the world over.
In 1997, the band took an extended hiatus, partially because Peart suffered the loss of his daughter in a car accident and the subsequent death of his wife.
Though Rush has been out of the limelight for a few years, its influence can be heard via contemporary bands such as Rage Against the Machine, whose new record features a cover of Rush's "Working Man."
The band has made tentative plans to enter the studio early in 2001 to record a new album, its first since 1996's "Test for Echo."
With the band on hiatus, Lee recently released his first solo album, "My Favorite Headache," an effort he describes as "less angular" than his work with Rush.
Why a solo album after all these years?
A: I think it was two things, really: a desire to work with my good pal, Ben Mink, who I've known since the early '80s and a very accomplished musician in his own right. We've been really close friends for a long time, and we wanted to see if we could keep our absurd friendship alive while we transferred into the professional world. So we were kind of challenging each other to see if we could be friends and work.
And the other was that I knew I was going to be faced with a long layoff from Rush and knew I couldn't go too long without trying to do some writing. There have been a couple of tragedies in the life of our drummer that were very devastating. It was not going to be a very practical thing to discuss work for a while.
Had you thought about doing a solo record before?
A: No, not really. I've always been happy in the band. I've always found it very easy to satisfy myself creatively in the context of the band. So I didn't really have a wealth of material. I didn't harbor the same kind of frustrations that some people do.
How was playing with (Soundgarden's) Matt Cameron different from Neil Peart?
A: They're very different drummers both excellent drummers, both totally professional and they both work very quickly. So I'm very spoiled by the drummers I've worked with in my life. Stylistically, I think he's more of a groove-oriented guy. He's more of a backbeat, hold-down-the-fort kind of drummer and less histrionic than Neil. But Neil's a legend for good reason the mother can play.
What do you think of the atmosphere right now in terms of popular music?
A: It's kind of all over the place. I think it's probably the most diverse time in the history of rock, in a way. You've got these really, really hard-edged bands that are combining a street-funk groove with rap overtones, like Limp Bizkit and Korn and those bands that are keeping metal alive in a pop format. Then you've got really ditzy top-40 music that has always existed. Then you've got these underground movements like trip hop and math rock and all these kinds of weird, smaller branches off the tree. So I think it's kind of a strangely diverse time.
Do you hear a lot of your own influence in some of these younger bands?
A: I keep being told that we're influencing some of these bands, and I can sometimes hear it in the musicianship. But I don't think our influence is overt in any one of these bands' sound. I think we're just one of many influences that led them down whatever their chosen path was.
Is there a Rush album that you thought was overlooked or underrated?
A: That's a good question. I don't know. "Power Windows" to me is one of my favorite Rush records, and maybe it's a little underrated in the context of some of the other records.
What are your interests outside of music?
A: Oh, hell, where do I start? I love to hike. I love to bike. My wife and I are huge travelers. We like to do all sorts of adventure and exotic travel. I'm a dedicated tennis player and a wine collector and a collector of baseball memorabilia. I'm a huge baseball fan. I collect photographs. I love art. I love to read. I've got two kids; they keep me busy. So you know, I'm a busy guy. I love hobbies. I love to keep active.