Geddy Lee Flies Solo
Rush Frontman Makes An Album While Band Takes A Break
By Steve Morse, Victoria Advocate, December 1, 2000, transcribed by pwrwindows
---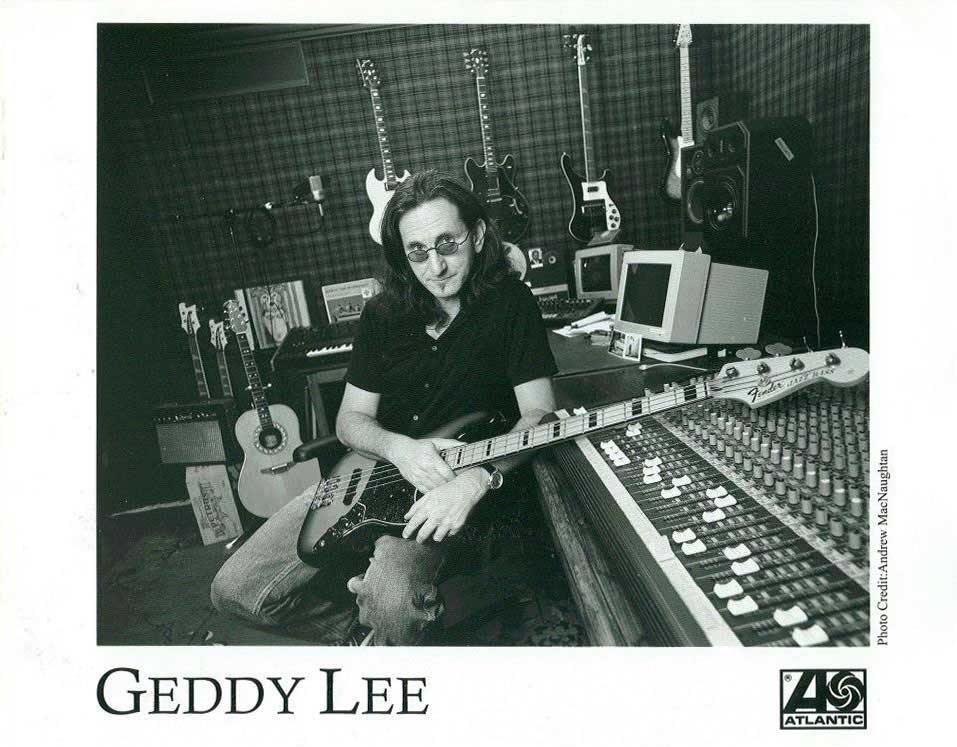 Fans of the Canadian power-trio Rush - and there are many, as the band has sold 35 million albums - were sent reeling two years ago when Rush abruptly canceled future plans. The reason was that drummer Neil Peart suffered back-to-back tragedies. He lost his 19-year-old daughter, Selena (his only child), in a car accident, then his wife, Connie, died of cancer. Peart went into seclusion and later rode his motorcycle to Alaska and down the coast to Mexico in hopes of clearing his head.
Peart's experiences had a profound effect on Rush singer Geddy Lee. "They made me think more about my own life. I've been very fortunate," says Lee, who suddenly had time on his hands and used it to make a solo album that just came out.
The album is entitled "My Favorite Headache," but despite the name, it's not an album about whiney complaining. It's a reflective, but still rocking, record in which Lee writes all the lyrics (that was Peart's job in Rush) and reveals a lot about himself.
"My time off seemed to be an opportunity," says Lee. "I was hungry to write and I needed to be creative. I had gone long enough without doing something meaty."
"Rhythmically, I see it as slightly more groove-oriented than Rush," Lee says. "The edges are rounder and there's more luxuriating in melody. And some of it is softer at the core. But there are definite similarities in the attack from the bass and in the way I write, which was born from being in Rush for 30 years. It's not light years apart, but. at a certain point, I stopped worrying about that. The solo album also allows Lee to have some much-needed fun, as on the rib-tickling artrock of "Moving to Bohemia" ("Say goodbye to suburbia/ I'm moving to bohemia") and "Home of the Strange," a good-natured poke at coproducer/engineer David Leonard, a studio legend who has also worked with Santana and Barenaked Ladies. As Lee playfully sings, "He's a Canadian icon/ He sleeps with his clothes on/ He's an apolitical man... and he don't like change."
Lee actually didn't intend to make a solo record, he just wanted to write some songs in hopes of getting some published. To get started, he called his friend Mink, and that proved to be fateful. "We secretly hoped it would go nowhere and we could just hang out, but then it started to go somewhere...some music started coming out and dammit, we liked it," says Lee.
"It was quite different working with Ben because we were friends first. And that made for a more jovial atmosphere. It wasn't morose by any stretch," says Lee. "And we gravitated to very similar destinations when we were writing - and we were shocked by that. He came from a much rootsier background, whereas what I had written had more exigence and bombast to it. But melodically we responded to the same thing."
As the songs took shape, the decision was made (at the urging of engineer Adam Kaspar) to bring in Matt Cameron from Pearl Jam. "When I called him, he said, 'I'd love to do this, but in three weeks I'm going on a Pearl Jam tour.' So we stopped fooling around and went to Seattle to record him. We said, 'No problem. We'll come to you.' I really like him. He's a real positive drummer ... and he doesn't like to draw too much attention to himself. Sometimes he'd do a (drum) fill and say, 'Well, that's shouting look at me!' But we'd like it." (Drummer Jeremy Taggart from Canada's Our Lady of Peace also played on one song - at the suggestion of Cameron.) Lee doesn't plan to tour behind the new record, but doesn't rule out a few dates if sales really start to take off. Meanwhile, he's got some good news from the Rush camp. He has conferred with Peart and guitarist Alex Lifeson about getting together early next year "and having a shot at writing some tunes. It's definitely looking more optimistic.
"Considering all that's gone down in Neil's life, it was appropriate to take a lot of time away," says Lee, who also got away himself to sightsee in France and Patagonia with his wife and young child.
"When tragedy strikes, there's such a profound loss of spirit," Lee says. "And rock 'n' roll, let's face it, is a rebellious, celebratory art form - and spirit has so much to do with that. It was important to get Neil through all of this. He's now met someone new and has gotten his life back on track. We're still soul brothers, and we'll make more music again."