MSN Chat With Geddy Lee
MSN.com, December 20, 2000, transcript by pwrwindows
---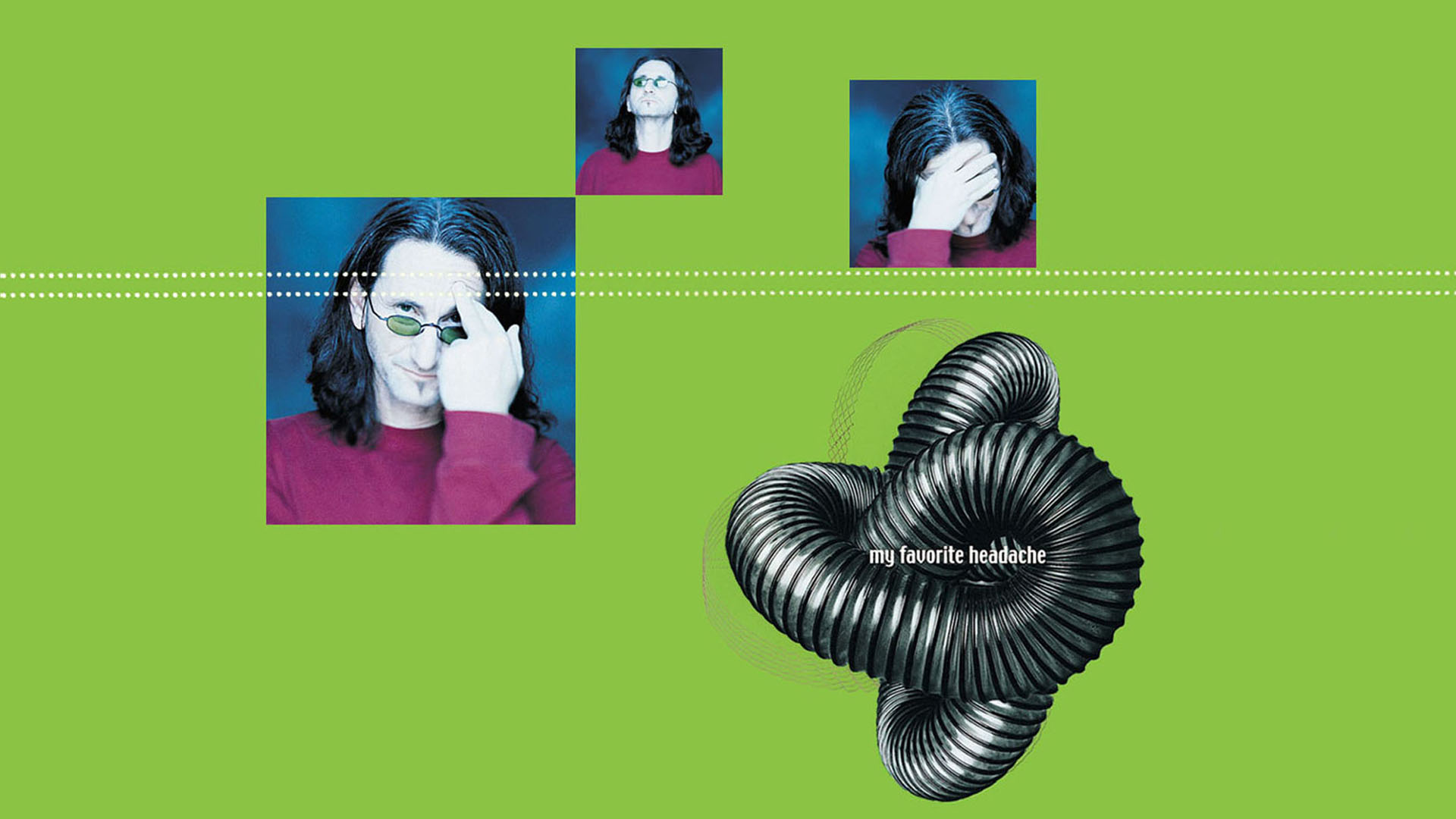 Digital Dish Diva says:
Welcome to MSN Live! Tonight we welcome recording artist, Geddy Lee to MSN Live. Geddy's debut solo CD is "My Favorite Headache." Geddy, welcome to MSN Live!
Digital Dish Diva says:
It's great to have you here for the first time!
Geddy Lee says:
Hey there! Happy to be here and happy holidays to everyone!
Digital Dish Diva says:
How are you doing?
Geddy Lee says:
I'm doing excellently well! I'm excited to get back to Christmas shopping and socializing.
Digital Dish Diva says:
I know you have a long history in music. What's the one thing most people ask you?
Geddy Lee says:
The most commonly asked question for me is "How do I explain the longevity of Rush" which is a hard one from the inside looking out.
Digital Dish Diva says:
And the answer is ...
Geddy Lee says:
The answer is difficult and I can only guess and my guesses always start with the three of us enjoying a similar vision of the music we want to perform and write. Secondly, we enjoy the writing process, when we get together, there's intense moments of course, but there's a lot of laughter and there's never been arguments over the finances. The most common source of bands breaking up is financial, and that was never a problem for us. Also recognizing that we have a dedicated following that has always been there for us and that can't be underestimated. It's easier to stick around when there's someone there to stick around for.
Digital Dish Diva says:
Any nervousness launching out on your own for your new CD?
Geddy Lee says:
I had a few butterflies when the album first came out. I was anxious to get it out there after working on it so hard. I was having some tunnel vision on it, and was glad to get it out in the air finally.
rushnc says:
Hello Geddy, long time fan. Why after all this time a solo album?
Geddy Lee says:
Well it's really a matter of creative survival for me. After the tragedies that surrounded our band in '97 and '98 I knew there would be a layoff for me and Rush would be inactive for a while. For me the best medicine and getting over those events was to work. It satisfied my needs to be creative and to work through, what at the time was a very difficult period.
Digital Dish Diva says:
So was this CD a catharsis for you?
Geddy Lee says:
Very much so.
HighCentaur7 says:
I became a musician because of your band. Do you like the fact that Rush is a band that musicians tend to listen to?
Geddy Lee says:
Yes, I think that to me is one of the most gratifying aspects of being in this band, having other artists find inspiration in this band. When other bands (young and old) come up to me, it's very gratifying and I think it's the highest form of compliment.
RocketScienceFan says:
With Rob Higgins being your nephew, and me being a huge fan of his band RocketScience, I would like to know what you think of the upcoming album and if Rob got the inspiration to play bass and sing after you?
Geddy Lee says:
Well I'm afraid Rob can only answer who is inspiration was, I wouldn't be so presumptuous that it would be me. But I did try to help him as much as possible, although he's done all the hard work himself, I've just come and gone with the advice, the album is under way and doing it on an independent basis, on a limited budget, but he's a talented kid and I have high hopes for him. And I thank you for your interest in that.
RolandBB says:
Hi Geddy, I just wanted to let you know how important your music has been in my life, I was wondering what things inspire you musically these days? Any music or musicians in particular?
Geddy Lee says:
Yes, I enjoy the music of Bjork and I'm always inspired by Peter Gabriel. To me he's a great artist. Radio Head I find very interesting, I like the Canadian band Tragically Hip and also a band called The Perfect Circle.
Digital Dish Diva says:
Geddy, I hear you have a huge Baseball Memorabilia Collection. What's your most treasured piece?
Geddy Lee says:
Good question! Yes I do have a big collection and I have a few pieces that are fairly well treasured by myself. One of them is a ball that was thrown out to open the 1961 baseball season, the first pitch thrown out by John F. Kennedy and signed by him, and Jim Rivera. Also a baseball signed by Christy Mathewson. Those are some of my favorites.
Digital Dish Diva says:
Is it true that you performed on the Doug and Bob Mackenzie single, "Take Off" way back when?
Geddy Lee says:
Yes, it's true, (laughs) I did perform on the Doug and Bob Mackenzie "Take Off." It's an interesting story, I went to school with Rick Moranis from K thru 6 and were in the same class each year. We kept bumping into each other as adults and when that album came up, he contacted me to work on it with them. I went in to record and they were in character, and it was really a hoot! Thus my life in comedy started.
Digital Dish Diva says:
Rick was also in "Honey, I Shrunk the Kids." Did you guys ad-lib on that single?
Geddy Lee says:
Yes. They kidded me about only getting 10 bucks, and I said 10 bucks is 10 bucks. (laughs)
Snapdad says:
Hi Geddy! I'm wondering if the character you wrote about in 'Home on the Strange' is Canada's very own Pye Dubois?
Geddy Lee says:
No, sorry to say it's not Pye. The person I was talking about was a gentleman that was an assistant engineer in Vancouver. It wasn't all about him, he just reminded me of a hard working, not very ambitious Canadian, which is in most ways the backbone of most countries. Happy with their job, not ambitious to grow out of their jobs, but really really good at their job with eccentricities that made them very interesting.
flake 79 says:
What is the significance of "2112". And, "all the gifts of life"? Are they buried below the Sphynx?
Geddy Lee says:
It's a fantasy when the necessity for individual and creative freedom. The gifts of life are the creative spirit that you're born with and the society in the song, these are taken away from the residents of this totalitarian society. So the message in the song is to free yourself from those confines.
Digital Dish Diva says:
Let's talk about your new CD, "My Favorite Headache." What's the story behind the title track?
Geddy Lee says:
The title track is a short comedy that is based around an imaginary person who has been traumatized and he justifies his unintelligent behavior. Life keeps questioning him on why he's taking this task. The positive spin is you can't escape life. I know that all sounds heavy, but it's meant to be positive.
gtrTom says:
Hi, are you planning on doing any collaboration with Kim Mitchell again in the future?
Geddy Lee says:
No. No plans.
rushjam26 says:
Geddy, I saw you have an interest in the band Perfect Circle. What do you think of the evolution of rock music to what it is today?
Geddy Lee says:
Well I think there are a thousand branches on the tree of rock and roll, and to me some are interesting and some are not so interesting. I think essentially it's healthy, but I fear the atmosphere that surrounds the music industry and there's such a demand for commercial music, I fear for the future of more interesting brands of rock. On the other hand, I think, as long as there's a healthy independent music scene, there will always be an outlet for more adventurous music.
signalsfrom2112 says:
Geddy, are there any plans for 'live' incorporation of tunes from "My Favorite Headache" in future setlists with Rush?
Geddy Lee says:
I have no idea. I know when Alex put out his solo album, none of his material was in a Rush set and I can't be so presumptuous that my partners will play anything from a Rush album on this album.
leftyric87 says:
Geddy, which is your most favorite song to perform live?
Geddy Lee says:
That's a good question. I think it changes a lot with me. I seem to gravitate to different songs on different tours. Last tour was "2112" and "Natural Science" those songs I hadn't played in a long time and they were fun to bring back.
facevalue says:
Why is "Working at Perfekt" spelled with a k?
Geddy Lee says:
As a silly joke and an illustration that there's no such thing as perfect, although I keep looking for it.
Don Terhune says:
Geddy, I've been amazed by the way you can play complex bass riffs and sing lead vocals at the same time. Was this developed by piano lessons as a young child?
Geddy Lee says:
No, it really was a matter of necessity. I found myself writing music with Rush and it wasn't until I got to rehearsal that I realized how impossible they would be to perform. That helped me develop how to do it. I just practiced and practiced until I figured out how to do it.
stone2112 says:
Can we expect a Rush tour soon now that Neil's tragedies are behind him?
Geddy Lee says:
I think it's logical to assume if all goes well with the writing, there will be a tour at some point. I can't 100% promise that, but I am optimistic about that.
GCDUDE2 says:
Geddy, how did you learn to play bass? Did you teach yourself because your the best ever!
Geddy Lee says:
*blush* I don't know about the best over. I did teach myself, but I have room for improvement. I am a pretty lazy bass player and I thought if I practiced more I would be able to achieve more. I think a lot of musicians think that about their own craft.
prog_rock_guy says:
Mr. Lee, I'm interested in knowing which bass synthesizer effects pedal is most pleasing to you.
Geddy Lee says:
I haven't used any of those things in quite some time. I used to use Moog synthesizer pedals and in recent days, any sounds that are synthesizer based come from keyboard. There's a devise I love called Virus and I used that a lot on "My Favorite Headache." I perform most from keyboard and when live, I resample them and use my Korg Midi pedal to trigger them.
Digitallman says:
After the roll the bones concert way back, Wagner was playing through the PA system in Montreal. Was that planned and if so what was the reasoning?
Geddy Lee says:
Wagner was not my choice. He's not in my top 10.
Snapdad says:
Do you play those 'Wal' basses any more? And how do you feel about the 'Signature' Fender Jazz basses that are out there now with your name on them?
Geddy Lee says:
I don't play the Wals anymore. They are hanging on my walls actually. I think Fender has done a great job to remake my favorite bass. They went to great lengths and detail, although they can't match the wood and the age of the body has taken on a particular hardness to make a particular sound. So it doesn't sound exactly like my bass, but it's pretty close.
RushFanFromWayBack Asks:
Hi Geddy!! I've always wondered which part of the creative process you enjoy most: writing or performing?
Geddy Lee says:
Writing by far. There is no greater feeling on earth than making something happen out of nothing. When a song is written and finished, to me, it feels like a miracle.
akelawolf says:
Geddy, I find that you sound just as good live, if not better, than what is recorded. How difficult is it for you to produce sounds in concert that were added to the tracks after you recorded them?
Geddy Lee says:
It's a matter of fancy footwork sometimes, especially in regards to keyboard sounds and special events. Aside from the bass guitar and unusual vocals, the sounds on the Rush albums are made with various samplers and trigger those sounds by the use of my pedals. So that gives us a very full, live rendition. Although those sounds are not just triggered by myself but also Alex and Neil. Which means there's a whole choreography while we play our instruments. It's turned me into quite a lively dancer. (laughs)
GoGed Asks:
Can't seem to stop playing your album. I love the humor and positivity in "Moving to Bohemia." How did that song come about?
Geddy Lee says:
Thank you for the kudos on that one. I really love that song. I think Matt Cameron playing is sensational. That song was started by thinking of a line from an old Woody Allen movie "Sleeper" when he wakes up in the future to discover that everything his parents taught him was bad, is now good. It got me thinking how frightfully politically correct the world has become. I would rather have a disorganized world and my creative expressions were protected instead of an overly protective world. We just had some fun with melodic processions. I found what Matt came up with in the middle and end to be inspiring.
karl95 Asks:
I'm impressed by your MFH website. Have you any plans for an "official" Rush site on the Internet?
Geddy Lee says:
I haven't given that much thought, to be frank, but I've been happy with the work everyone has done developing this website and I hope it keeps going and use it as a conduit between myself and Rush fans and fans of my solo work. Hopefully Rush will develop one as well, I can't say.
GilbertsSmile Asks:
Geddy, who is your favorite bassist?
Geddy Lee says:
I certainly have had many over the years. Jack Bruce from Cream, Jack Cassidy from Jefferson Airplane, Chris Squire, John Entwhistle, Jeff Berlin, the bass player from a band called Curve (I'm sorry I always forget his name, no offense), and my good friend Jeff Berlin, who is the greatest bass player on the planet. Also Les Claypool, I would be remiss if I didn't mention his name.
jock Asks:
How do you and the guys fill in time when on the road?
Geddy Lee says:
Alex loves to play golf and he drags me along with him, because I'm a terrible golfer I always make him play. I love playing tennis and play that as much as I can on the road. Of course I'm a wine collector, so every town I get to, I try and seek out the local wine store and find a gem that I take back with me for a reward at our after the show meal. I spend my free time going to art museums. As far as Neil is concerned, he spends his days motorcycling. On the "Echos" tour, he traveled separately with a friend and every day they would plot a different motorcycle route to the next gig, so that's a passion of his.
Digital Dish Diva says:
Have you found an area in the U.S. that has extraordinary wine? Seattle? Napa Valley? Martha's Vineyard?
Geddy Lee says:
Of course California makes wonderful wine. I'm a French wine fanatic myself. I like some of the cabernets that are made in Washington.
a 1 realtrusa says:
The esteemed Geddy Lee, what is RUSH an acronym for?
Geddy Lee says:
Nothing. We used to joke with our manager it stood for Ray U S*** Head. (laugh) But that's not very polite.
SweetlnnocentBiliiam Asks:
The longtime rumor is that you have a degree in music from University. Is this true? Or are you simply that monumentally talented?
Geddy Lee says:
Neither, I'm just lucky! I have no degree. I only have a degree in being neurotic, thank you for the kind compliment, but I'm just a self-taught musician that reads music very badly.
cmorrow99 Asks:
Geddy, how do you motivate yourself to play a song like "Closer to the Heart" or "Working Man" for the 10,000th time? Can you still find something exciting in the older material?
Geddy Lee says:
That's a very good question. You can, but it becomes increasingly more difficult and it means something about the song has to change every year, even if it's subtle. Sometimes it's best to give the song a rest because sometimes you get to changing it so much that fans of that song might not appreciate it as much. So I think rotating older songs in tours is better. I think that's why "Closer To The Heart" is getting longer and longer. (laughs)
Digital Dish Diva says:
Geddy, I know you need to head out. Last question: In twenty years, what do you hope people will say about Rush and Geddy Lee?
Geddy Lee says:
That's a really difficult question. I hope people can look back and realize we did have a sense of humor in what we did and we tried REAL hard. (laughs)
Digital Dish Diva says:
Geddy, thanks for being with us tonight on MSN Live!
Geddy Lee says:
Thank you all for being so welcoming to me as a solo artist and I appreciate all your kind words in regards to my recent work.