Geddy Lee: My Favorite Headache (Review)
By Ken Richardson, Sound&VisionMag.com, January 23, 2001
---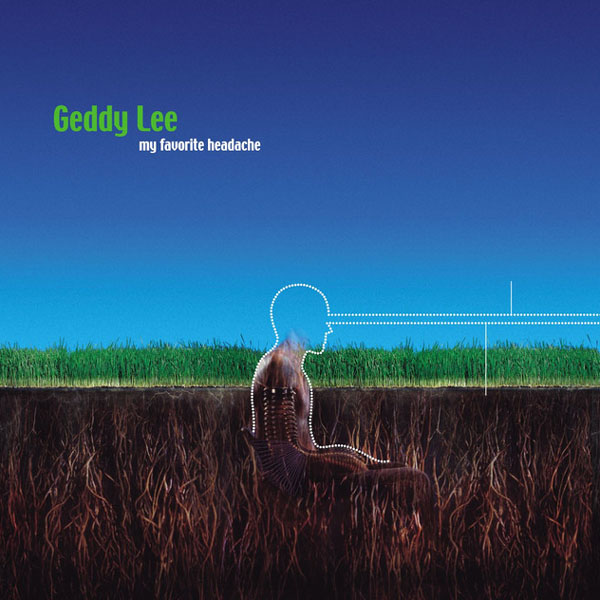 Four years and counting ... and still no follow-up to the super Test for Echo, the last we heard from Rush. In the vacuum, the "Tom Sawyer" teaser in that Nissan commercial sounds pretty damn good, thank you. But now we can thank bassist/vocalist Geddy Lee for breaking the silence big time with his first solo album since the dawn of Rush way back in 1974.
This ain't no Wayback Machine, however. Lee hooks up with guitarist, co-writer, and co-producer Ben Mink (k.d. lang) and drummer Matt Cameron (Soundgarden, Pearl Jam) for a set that sounds hip 'n' fresh. It opens with an aggressive bass, but just when you think this might be an Aggressive Bass Album, a delightfully skanky guitar butts in, followed by a killer buzz-riff - all in the title track's first minute.
This also ain't no Victor, where Rush guitarist Alex Lifeson was so desperate to sound Of the Moment that he often went Over the Top. So I'll happily allow that buzz-riff to paraphrase Radiohead's "Airbag" (ditto the melody of "Still" to paraphrase the same band's "Fake Plastic Trees"). There's more than enough original stuff here, be it rocker ("The Present Tense"), ballad ("The Angel's Share"), or rocker/ballad ("Working at Perfekt"). And in "Slipping" and "Runaway Train," there's a pair of choruses so grand, so sweeping, that they remind us why Lee, Lifeson, and Neil Peart call their record-label imprint Anthem.
As for lyrics, Lee steps out nicely from Peart's formidable shadow, mixing the metaphysical with the matter-of-fact: "One man standing on the plains of Abraham, watching the damaged sunrise / One man standing near the edge of a quiet breakdown." And then: "I watch the sea / It helps to anchor me ... / I watch TV / Whaddaya want from me?" As for That Voice ... well, since many critics always bring it up first (their "favorite headache" indeed), I thought I'd bring it up last. And since those critics are so behind the times that they're still living way back in 2112, I'll point out that Lee's vocals have never sounded more assured. Add them to the solid songwriting and playing here and you get a fine disc that - four years and counting nevertheless - will leave you feeling in less of a hurry for your next Rush.